2001
JOURNAL
NUMBER 12
DECEMBER 2001
"understanding, enjoying & caring for our oceans"
---
CONTENTS
Entangled Southern Right whale dies in Head of Bight whale sanctuary
Nicolas Baudin's Scientific Expedition To The Terres Australes
Rapid Bay Jetty
"A Whale by Any Other Name...."
---
EDITORIAL
Although this Journal is a little slimmer than previous editions I am certain everyone will judge the articles to be of an extremely high quality. They are very varied in content even the two dealing with the subject of "our" Southern Right Whales .
As in all cases the hard copy Journal is mainly printed in black and white as a colour print run of all the picture pages would be beyond our finances. We have, however, made the cover a colour feature of a selection of our Photo Index pictures this year. This is not shown on this website.
In 2002 South Australia will be celebrating the bicentenary of the charting of the SA coast by both Matthew Flinders and Nicolas Baudin and their 'encounter' at Encounter Bay in April 1802. The article by Steve Reynolds sets the scene for this event by describing the exploratory voyage of Nicholas Baudin around the coast of Australia. It gives some background details of the expedition, describes some of the people involved, recalls some incidents and summarizes the results of the expedition. It describes how many of the locations around Australia's coastline came to be named. The voyage of Matthew Flinders is possibly better known and so this is an excellent opportunity to expand your knowledge of another great exploration of our coastline.
Two articles on whales are included this year. The first is by Sue Gibbs from the Office for Coast and Marine, National Parks and Wildlife, SA. She describes the efforts involved in the attempted saving of an entangled Southern Right Whale from the Head of Bight whale sanctuary and the subsequent retrieval of the skeleton from where it was washed up in July this year. The picture gives a good indication of the size of the mammal and thus an indication of the difficulties involved with this task.
The second whale article is by Dr Elizabeth Reid who is the Coordinator of the SA Whale Centre at Victor Harbor. This is the story of a visit by Bruce who is an 18m Southern Right whale. He was studied in detail by a team from Macquarie University and New Zealand led by Dr. Nathalie Patenaude and Dr. Rob Harcourt.
Chris Hall has contributed an article on Rapid Bay Jetty that was published earlier this year in the Irish dive magazine SubSea, Summer 2001 Edition, Number 104. The article will surely encourage everyone to visit the jetty, especially as the entry platform and ladders have recently been greatly improved. Don't forget your camera!
---
Entangled Southern Right whale dies
in Head of Bight whale sanctuary
by
Sue Gibbs
Office for Coast and Marine, National Parks and Wildlife, SA
Each winter Southern Right whales migrate north from their sub-Antarctic feeding areas into warmer waters to find mates and to calve. The base of the spectacular cliffs, in the Great Australian Bight Marine Park, South Australia is one location where many of these great whales gather. The 2001 winter was no exception with more than 120 sighted since the first arrivals in May.
On 2 July a young adult arrived at the Head of Bight with rope and a buoy tangled around her tail. National Parks and Wildlife, SA (NPWSA) quickly sought advice from around Australia to assess if it was possible to remove the entanglement from the whale – 14 metres long and 50 tonnes in weight. Advice and offers of help were generously forthcoming while news footage and aerial photographs were examined. The South Australian Research and Development Institute (SARDI) research vessel, Ngerin was made available to assist and a team from the Western Australian Department of Conservation and Land Management, with experience in disentangling whales, was willing to help. Equipment was located and purchased from Quinn Marine, and a satellite tag designed for tracking elephant seals was kindly loaned by the sub-Antarctic Division of CSIRO, based in Tasmania.
Soon plans for disentangling the whale took shape. A mammoth task, involving a remote, almost inaccessible location, rough seas and many sharks. The entangled whale was in a nursery area of the whale sanctuary amongst others with newborn calves. The consequences of disturbance to cows and calves were considered.
Careful preparation was needed, the nearest hospital being several hours flight by helicopter away, we could not afford accidents. This rescue was made especially hazardous as the entanglement was around the whale's very powerful tail. Further danger came from sharks following the stricken whale. Near perfect weather conditions were required to even attempt the difficult rescue while minimising risk to rescuers, and the weather was not on our side. Forecasts indicated wind speed would drop to less than 10 knots the following Tuesday and Wednesday and the rescue attempt was scheduled for this window of opportunity. Meanwhile, the whale was monitored from the cliffs and by aerial surveillance. After that two-day window, long range forecasts indicated impossible weather for the next five to ten days.
Saturday morning, as the Ngerin was preparing to leave Adelaide for the sixty-hour journey to the Head of Bight, we received news from a spotter plane crew that two sharks had been seen very close to the whale. A second spotter plane sent up Saturday afternoon, found her floating motionless on her side with up to eight sharks (one white pointer reported to be five meters long) feeding on the body. The buoy was no longer attached, although the rope was.
As whale, seal and sea lion numbers increase concurrently with human use of the oceans, linked with the use of new, stronger and longer lasting marine gear, entanglements are likely to occur more frequently. NPWSA now has the equipment to deal with marine mammal entanglements and has planned workshops for training staff in its safe and appropriate use. A response team with a strategic plan will be put in place.
The Great Australian Bight Marine Park is closed to fishing each year prior to the arrival of the whales. Inspection of video footage of the buoy suggested that it did not come from the local fishing industry. The whale may have picked it up anywhere on its journey from the sub-Antarctic to the Head of Bight.
The Southern Right whale skeleton was retrieved by the SA Museum and will become part of their permanent collection.
NPWSA thanks SARDI, CALM, especially Doug Coughran and his team, the CSIRO Sub-Antarctic Division, especially Nick Gales for their generous advice and assistance and the numerous other individuals and organisations involved. These include (in no particular order):
Environment Australia
The South Australian Police
Transport SA
Channel Seven News
RSPCA
PIRSA, especially Fisheries SA
The Ceduna Hospital
Royal Flying Doctor Service
The people of the Yalata community
The Port Lincoln Dive School
And everybody else who was involved – you know who you are. The cooperation and generosity of spirit you demonstrated was incredible.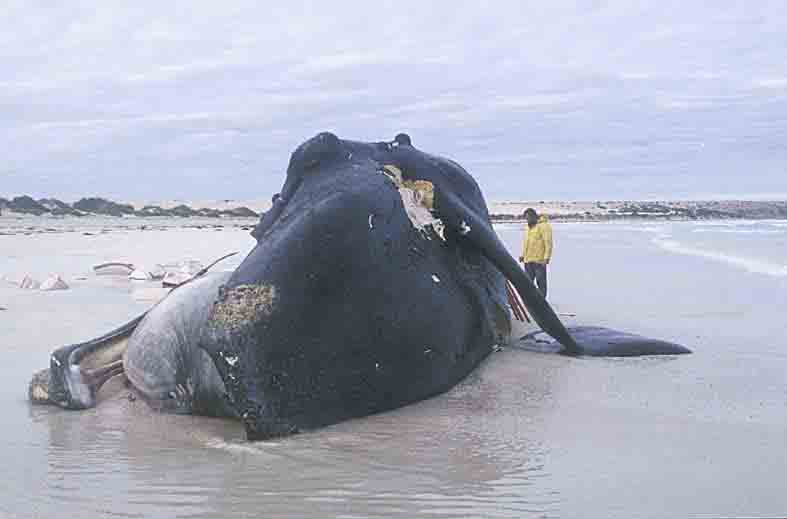 ---
Nicolas Baudin's Scientific Expedition

To The Terres Australes
by
Steve Reynolds
INTRODUCTION
Much has been written over the years about Nicolas Baudin's expedition to Terres Australes (Australia). A fair bit of the written work has been published only recently. I have researched much of this work to be able to compile these details. I found there to be, however, much confusion, contradiction and error. Don't be surprised if something that I say conflicts with something else that you have read. That seems to be the norm in these matters. I am simply trying to present certain aspects of the expedition as best as I can under the circumstances. Any questions that may arise from my work may involve much more research to resolve.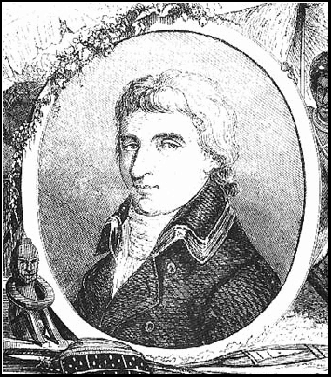 Nicholas Baudin
This article gives some background details about the expedition, describes some of the people involved, tells of some incidents and summarizes the results of the expedition. Mostly, though, it describes how many of the locations around Australia's coastline came to be named as a result of the expedition.
Captain Nicolas Thomas Baudin, born in 1750, became a well-known navigator and naturalist. When General Napoleon Bonaparte was made First Consul of France, Baudin appealed to Napoleon to allow him to command a scientific expedition.
It was then decided to have an expedition concentrate on the coasts of New Holland and New Guinea. It would be an ambitious expedition to conduct a scientific examination of the Terres Australes (Australia) and also possibly find an opening for a French settlement. The (then) Institut National of France sponsored the expedition.
In 1800 Baudin was to be placed in command of two ships. He rejected two corvettes offered to him and chose instead the 30-plus gun corvette Galatee and the 20-gun store ship Menacante. Both ships (each 350 tons) had their armaments reduced to just 8 carriage guns plus a few other guns.
The Galatee was renamed the Geographe and the Menacante became the Naturaliste. They were possibly so-named (in keeping with the expedition's scientific aims) because they were carrying several geographers and naturalists. Geographe is French for geography and naturaliste is French for naturalist.
The two ships left Le Havre, France on 19th October 1800 with well over 100 people on each. There were 23 scientists onboard of the two ships including astronomers, geographers, mineralogists, naturalists (botanists & zoologists), geologists, hydrographers, gardeners and a pharmacist. There were also portrait, natural history and landscape artists on board. Each discipline had two or three representatives that were spread between the two ships.
Baudin himself was sailing on the flagship the Geographe whilst her consort the Naturaliste was under Captain Jacques-Felix-Emmanuel Hamelin. Born in 1768, Hamelin was second-in-command to Baudin. He mostly just went under the name of Emmanuel.
From Le Havre, the two ships sailed south through the Atlantic Ocean to the Canary Islands and down the African coast. They rounded Cape of Good Hope in early February 1801 and sailed north-easterly through the Indian Ocean on to Mauritius.
Mauritius was called Isle de France at the time. Apparently Mauritius is French for Maurice. The Dutch named it in honour of Count Maurice when they occupied the island in 1598. The Dutch abandoned the island in 1710 and the French colonised the island in 1715. Even though the island already had a French name, the French renamed it Isle de France (or Ile de France). The British captured the island during the Napoleonic wars. It has been a British colony since 1814 and was renamed Mauritius.
Baudin arrived at Mauritius mid-March 1801. Many officers, midshipmen, scientists and artists left the expedition whilst the ships were there, mostly from the Naturaliste.
From Mauritius Baudin sailed easterly across the Indian Ocean towards Australia. They reached the shores of New Holland (Western Australia) late in May 1801. Against instructions, they spent a couple of days sailing northwards along the coast.
It seems that Baudin had decided to examine the western coast en-route to Timor. He was deviating from his orders because of concern about the approaching winter weather. Rendezvous for both ships were planned at Rottnest Island and Shark Bay in case they became separated.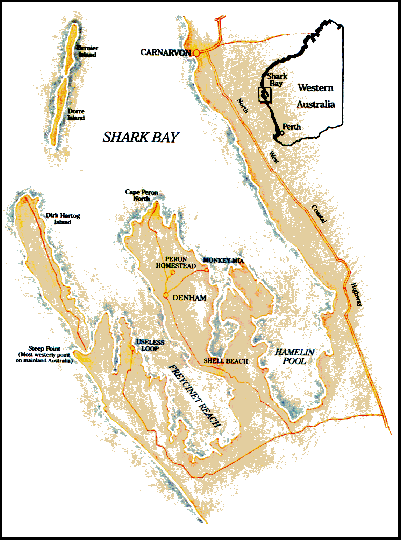 Many locations along the WA coast have French names and most appear to have been named by Baudin and/or his staff, although some places would have been named after the expedition at a later date.
Although the naming of many locations is often credited to Baudin as the leader of the expedition, he died before its completion. Louis De Freycinet and Francois Peron who prepared the expedition's charts and reports for publication may have named most locations.
Peron may have applied the names to most locations but since Freycinet prepared the charts showing the names the credit goes to him.
According to Professor Radok in his book "Capes and Captains", "Most of the time, Le Geographe was far away from the mainland, so that many islands and only very few capes were named".
Baudin sighted WA's Cape Leeuwin on 27th May 1801. Matthew Flinders later named the cape after the Dutch ship Leeuwin which had reached Australia's shores near the cape in 1622. Leeuwin means "Lioness".
Baudin then sailed past a cape, which is now named Cape Naturaliste after the Naturaliste. They sailed into a great bay, which was not shown on the old maps. It was the first significant discovery of the voyage in Australia. The bay was discovered on 30th May 1801 and is now named Geographe Bay after the Geographe.
Like Cape Naturaliste, nearby Naturaliste Reef (Recif Naturaliste) was also named after the Naturaliste in 1801.
Just before midnight on the 30th May both ships almost collided in a sudden squall. They then spent the next few days in the bay and exploring its coast.
A sailor called Thomas Timothee Vasse became lost from the Geographe off Wonnerup Beach, near Busselton, in Geographe Bay in June 1801. Vasse was a helmsman second class and, by all accounts, an excellent seaman. He was dumped by a wave during a storm, disappeared without trace and was presumed drowned.
Baudin later revisited the area hoping to find trace of Vasse but missed the spot and sailed on. The Vasse River behind the present town of Busselton and the Wonnerup Inlet was named 'Riviere Vasse' after seaman Vasse in 1801. The river winds through salt flats at the inlet before flowing through Vasse Estuary into the Indian Ocean at Geographe Bay.
In 1834 some Aborigines showed British settlers the grave of a white man who they said used to spend his days gazing out to sea waiting for his ship to return. It seems that this man was Vasse and he was waiting for the return of Baudin in the Geographe.
Both ships encountered difficulties due to storms in Geographe Bay and they became separated from each other. Even though their orders were to chart the great unknown southern coast of the continent, after the disastrous storm in the bay, Baudin turned north to head for Timor to await the summer. This action was the reason that Matthew Flinders beat the French to their long-desired south coast survey.
Hamelin sailed the Naturaliste to the first arranged rendezvous, which was Rottnest Island, but the Geographe was not there. She had been driven south back to Cape Leeuwin. The Naturaliste spent some three weeks alone in the Rottnest Island area.
Rottnest Island had been discovered and named by Willem de Vlaming, or Vlamingh (William Fleming) in 1696. 'Rottnest' is Dutch for 'rat's nest' which refers to the Quokka on the island, although these are marsupials.
A long-boat party was despatched from the island to explore Vlaming's 'Riviere des Cygnes' (river of swans). Willem de Vlaming had discovered and named the Swan River (Black Swan River) in 1696. The longboat party included Francois Heirisson, Charles Bailly and Charles Moreau. They found an island within the river, which has been named Heirisson Island after Sub-lieutenant Heirisson who was in command of the longboat.
Another long-boat party which included Louis de Freycinet and Pierre Faure surveyed Rottnest Island. The two capes at opposing ends of Rottnest Island were named Cape Faure and Cape Boullanger after the geographers Pierre Faure and Charles-Pierre Boullanger.
Lieutenant Louis-Claude de Saulses de Freycinet (or Desaules de Freycinet) was a navigator and cartographer. He was born at Montelimar, France in 1779. He was a junior lieutenant in the French Navy when he joined Baudin's expedition in October 1800. Cape Freycinet (halfway between Cape Naturaliste and Cape Leeuwin) was named either after him or his brother Henri. South of Cape Freycinet there is a Hamelin Bay, which was named after Captain Hamelin.
Francois Auguste Peron was one of the naturalists sailing with Baudin. He had fought in the revolutionary army on Rhine but was wounded and taken prisoner. He had apparently lost one of his eyes by the time that he was released in 1794. He then studied medicine and joined Baudin's scientific expedition. He was a last-minute inclusion as a trainee zoologist but became one of just two naturalists on the expedition. He is credited with being the first man to write from first hand experience a true account of Tasmanian Aborigines. He studied most of the natural sciences on the voyage.
Louis de Freycinet prepared the charts of the expedition for publication. It can be said that either he or Francois Peron gave most locations their names. Baudin tended to either give locations descriptive names or name them after the situation that he found there. He generally used, for example, names such as Jellyfishes Cape and Magpies Point (in French). Such names were entered in his unofficial log book.
Baudin died before the completion of the expedition and the official reports were compiled by Francois Peron and Louis de Freycinet. According to Geoffrey H. Manning in his book "The Romance of Place Names of South Australia", "The names used by Peron and Freycinet for the features along the coast were the names of the Napoleonic family and their supporters and favourites (Generals, Admirals, academics etc.), most of whom were virtually unknown when the expedition first left France".
Many locations, however, were named after members of the expedition and their vessels, especially prior to them reaching South Australia's shores.
Freycinet wanted to name Garden Island (near to Rottnest Island) 'Ile Buache' after Phillipe Buache, a French geographer and historian who died in 1773.
Baudin managed to sail the Geographe back into Geographe Bay and on to Rottnest Island where a storm drove her out to sea. Baudin decided to head for the second arranged rendezvous of Shark Bay when the weather improved.
Baudin sailed past Dirk Hartog Island, which is named after the Commander of the Dutch ship the Eendracht. Dirck Hatich (Hartog) visited the area in 1616. On 29th June 1801 Baudin anchored the Geographe at the northern end of an island at the northern entrance to Shark Bay. Baudin referred to the island as being part of the Barren Islands. The long, narrow island was later given the name Bernier Island after Pierre-Francois Bernier, the expedition's astronomer.
One week later Baudin took the Geographe into Shark Bay and anchored off a peninsula in the middle of the bay. Shark Bay had been discovered and named by William Dampier in 1699. The peninsula was named Peron Peninsula (Presqu'ile Peron) after Francois Peron.
On 5th July 1801 Baudin sailed the Geographe back to Bernier Island. By 13th July the Geographe sailed out to the open sea and headed north. Meanwhile, the Naturaliste was heading for Shark Bay hoping to find the Geographe there.
On 17th July the Naturaliste anchored in the strait between Dirk Hartog Island and Dorre Island (one of the Barren Islands). The strait was named Naturaliste Channel (Passage du Naturaliste) after the ship. Captain Hamelin stayed at Shark Bay until 4th September. His men surveyed and mapped the area and collected lots of specimens.
The Captain's name was given to the locations Hamelin, Cape Hamelin and Hamelin Pool ("Havre Hamelin") in WA's Shark Bay. The small island in Hamelin Pool near Monkey Mia was named 'Isle de Faure' after Pierre Faure who first saw it. It is now known as Faure Island.
A chart of Shark Bay by Louis de Freycinet and Pierre Faure referred to the bay as "La Baie des Chiens-Marins" which means "Bay of Marine (or Sea) Dogs". The chart names one of the channels in Shark Bay as "Havre Henri-Freycinet" in honour of Louis' older brother. The area is now known as Freycinet Estuary and Freycinet Reach. Henri-Louis de Saulses de Freycinet was a sub-lieutenant on the expedition. The participation of the two brothers is the reason for some of the confusion about the expedition.
The Shark Bay chart also names the channel north of Bernier Island 'Passage du Geographe'. It is now known as Geographe Channel. Francois Peron's name was given to many locations on the shores of the bay besides the Peron Peninsula. Cape Peron, Francois Peron Park, Peron lighthouse and the Peron Homestead are some of the locations in the area.
(Francois Peron's name was given to many other locations around Australia including WA's Peron, Point Peron and Point Peron Road on the shores of WA's Shoalwater Bay, Peron Islands in Anson Bay near Darwin in the Northern Territory and Peron Dunes on Tasmania's northeast coast.)
Freycinet and Faure's map of Shark Bay shows locations such as Cape Levillain, Cape Bellefin, Baie Lharidon, Isthme Taillefer, Ile Leschenault, Entrée Depuch and Cape Lesueur, all named after other members of the expedition.
Cape Levillain was named after Stanislas Levillain, a zoologist who died on the Naturaliste on 23rd December 1802. Cape Bellefin was named after DR Jerome Bellefin, the surgeon on the Naturaliste. Baie Lharidon (Lharidon Bay) was named after another surgeon, DR Francois-Etienne Lharidon de Cremenec, one of two surgeons on the Geographe. Isthme Taillefer (Taillefer Isthmus) was named after DR Hubert Jules Taillefer, the second doctor on the Geographe. Ile Leschenault (Leschenault Island) was named after Jean-Baptiste Leschenault de la Tour, the expedition's botanist on board the Geographe. Entrée Depuch (Depuch Entrance) was named after Louis Depuch, the mineralogist on the Geographe. Cape Lesueur was named after Charles-Alexandre Lesueur, one of the natural history artists on the expedition.
Lesueur started out as an assistant gunner but became one of the artists when three artists left the expedition at Mauritius. He seems to have continued Francois Peron's work by describing some marine fish species (together with Peron) after Peron's death in 1810.
Peron and Lesueur described the Tiger Shark, Galeocerda cuvieri, in 1822. The shark was named Squalus cuvier at the time, presumably after the naturalist George Dagobert, Baron Cuvier.
Peron and Lesueur also both described the Crocodilian Longtom in 1821. Peron himself described the Seven-gilled Shark, Notorynchus cepedianus, in his report on the expedition which was published in 1807. He named the shark Squalus cepedianus at the time.
The Southern Right Whale Dolphin, Lissodelphis peronii, is named after Peron because he provided an early description of the species.
Lesueur described the Black Whaler shark, Carcharhinus obscurus, in 1818 although the name that he used at the time has been changed. The "Marine & Freshwater Fishes of South Australia" briefly credits Ramsay & Ogilby with describing the Black Whaler which in 1974 (at least) was known as Carcharhinus macrurus.
According to my friend David Offord, Peron and Lesueur were both quite young during the expedition. Due to their relative inexperience, they just collected everything that they could get their hands on. They collected, for example, lots of medusa (jellyfish) even if they were damaged. They apparently couldn't tell the difference between a damaged specimen and something with all of its tentacles intact.
Lesueur and other naturalists and artists from the crews of both ships would have studied and sketched thousands of Australian plants and animals for the first time. Nicolas-Martin Petit was another assistant gunner who became one of the artists on the expedition. Petit Point in Shark Bay was named after him in 1801.
Lesueur went on to become the first director of the Museum of Natural History at Le Havre in 1846. The Lesueur collection (Collection Lesueur) of art treasures is housed at the museum.
Other locations in the Shark Bay area include Cape Inscription, Cape Ransonnet, Refuge Point, Point Moreau, Isle Lefebvre and Cape Heirisson. Cape Inscription (Cap du l'Inscription) refers to the spot where Dirck Hartog and Willem de Vlaming left plates with inscriptions about their voyages in the 1600s. Captain Hamelin left a plate of his own at the spot.
Cape Heirisson is named after Francois Heirisson and may also be known as Heirisson Prong Peninsula. It is in the area of Useless Loop and Useless Inlet, other names apparently given by Freycinet. His map shows a spot called 'Havre Inutile' which means 'Useless Harbour'.
Further locations in the Shark Bay area include Recif Gerard, Pointe Gerard, Baie des Tetrodons, Isle des Tetradons, Ile Aux Trois-Baies, Pointe Moreau, Pointe des Hauts-Fonds, Baie de Dampier, Recif de Dampier, Le Coin de Mire and Baie de L'Attaque.
Recif Giraud (Gerard Reef) and Pointe Giraud (Gerard Point) were both named after Etienne Giraud, an officer on the Naturaliste.
Baie des Tetrodons (Tetrodon Bay) and Isle des Tetrodons (Tetrodon Islot) were both named due to the large numbers of 'sea hedgehogs' (Porcupine Fish) found there. Porcupine Fish and related species are from the Family Diodontidae and are related to toadfish from the Family Tetraodontidae. Both families belong to the Order Tetraodontiformes and the Sub-order Tetraodontoidei. The naturalist George Dagobert, Baron (Georges?) Cuvier, described the porcupine fish species called Globe Fish in 1818.
Meanwhile, Baudin sailed up the north-west coast of WA charting locations which were later given names such as Cape Cuvier, the Forestier Archipelago, Lacepede Islands, Cape Borda, Cape Depuy, Cape Leveque and the Bonaparte Archipelago (north of Derby).
Cape Cuvier was named by Freycinet in honour of Baron Cuvier who had published his system of comparative anatomy in 1800. Francois Peron had been one of Cuvier's pupils. Cuvier described many Australian fish species, many of them with Valenciennes, during the 1820s & 30s. Georges Cuvier is referred to as the founder of vertebrate palaentology.
An island in the Forestier Archipelago was named Depuch Island after Louis Depuch, the expedition's mineralogist.
The Lacepede Islands are located off of Dampier Land, WA. They are named after Etienne de Lacepede, Count Bernard Germaine Etienne de la Ville Lacepede, who was a member of the Institut National of France. Lacepede was a French politician who died in 1825. He was also a naturalist who described many of Australia's fish species between 1798 and 1804, mostly during the time of Baudin's expedition, which his son was a member of.
Perhaps the most notable of Australia's fish species that Lacepede described is the Weedy Seadragon, Phyllopteryx taeniolatus. He described the Weedy in 1804 when he named it Syngnathus taeniolatus.
Lacepede also described some cetacean (whale) species such as Commerson's Dolphin, Cephalorhynchus commersonii and the Minke Whale, Balaenoptera acutorostrata, both in 1804.
There is a Lacepede Bay in South Australia. It was named "B.Lacepede" on Freycinet's charts although Baudin had named the bay "Baie des Orphelins" (Bay of Orphans). On the French map, SA's Investigator Strait was named "Detroit de Lacepede" after Lacepede.
There is a Bedout Island north of Port Hedland. It was probably named after Admiral Bedout of the French navy, just like Cape Bedout at Kangaroo Island in South Australia. Bedout Island was named by Freycinet in 1801 "in honour of the brave officer of that name who sustained . . one of the most glorious combats which the French navy can boast".
There is a Gantheaume Point north of Roebuck Bay at Dampier Land and a Gantheaume Bay south of Shark Bay in WA. They were probably named after Admiral JA Gantheaume, just like Cape Gantheaume at Kangaroo Island, South Australia.
The explorer Phillip Parker King had named Roebuck Bay in 1821 after William Dampier's ship the Roebuck. Presumably, Dampier Land was named after Dampier himself.
Baudin reached Timor late in August. He anchored the Geographe at the entrance to Kupang Bay on the 22nd. This was about two weeks before Hamelin left Shark Bay to head for Timor, the final arranged rendezvous. The Naturaliste reached Kupang Bay on September 22nd, one month after the Geographe.
The voyage, to this point, had been full of drama and sickness. As Captain, Baudin was often in the middle of all of the drama and he, himself, suffered much of the sickness. Many of the crew did not survive the early part of the expedition.
Baudin stayed at Kupang (Koepang?) for 84 days, eventually leaving whilst still sick with fever on 13th November 1802. Baudin's second-in-command on the Geographe, Captain Alexandre Sainte Croix Le Bas, was left behind in Kupang. He had been disloyal to Baudin who found out about the matter. Le Bas confronted the engineer Francois Michel Ronsard for having told Baudin. The two men fought a duel and Le Bas suffered a flesh wound in the arm. The surgeons DR Lharidon and DR Bellefin both declared Le Bas unable to continue on the voyage.
Both ships were sailing together again once more. They sailed south, well wide of the WA coast, heading for Terre de Diemen (Van Diemen's Land, now Tasmania) which had been discovered and named after Anthony Van Diemen by Abel Tasman in 1642.
They arrived in Tasmania's D'Entrecasteaux Channel, on the southeast coast between the mainland and Bruny Island, on 13th January 1802. The channel and island were both discovered and named by Chevalier d'Entrecasteaux, whose name was Antoine de Bruni, in 1792. Entrecasteaux was a naval officer, explorer and a governor of Ile de France in the late 1700s.
The Naturaliste, because it drew less water, led the Geographe into D'Entrecasteaux Channel. The two ships dropped anchor at the entrance to Great Taylor's Bay, near Partridge Island.
The ships then spent two months exploring the east coast of Tasmania and the shores of Bass Strait. On 17th February 1803 both ships anchored in Oyster Bay between Maria Island and the mainland. Abel Tasman named Maria Island in 1642 after Anthony Van Diemen's wife.
The next day four boat-parties were sent out to do some exploring. One boat carried Boullanger, Maurouard and Peron. They surveyed Maria Island, which has three capes, which now bear each of their names. A bay on the east coast of Maria Island is named Riedle Bay, probably after Anselm Riedle, the expedition's gardener who had died on Timor on 21st October 1802.
Faure and Bailly both surveyed Schouten's Islands whilst the Freycinet brothers both explored the mainland coast in separate boats. Francois-Pierre Bernier accompanied Henri de Freycinet. They surveyed the coast south of Cape Bernier, named after Francois Bernier who was the expedition's astronomer.
They discovered that Tasman Island was, in fact, two joined peninsulas. The northern peninsula became Forestier Peninsula and the southern one became Tasman Peninsula.
Faure and Bailly found that the northern Schouten Islands were, in fact, a long peninsula. Abel Tasman had named the Schouten Islands in 1642 after Willem Schouten, an explorer who had surveyed parts of Papua and New Guinea in 1616. Tasman had mistaken the peninsula for an island. Only the most southern 'island' is now called Schouten Island. The Freycinet Peninsula is now the main location for the Freycinet National Park, which extends south onto Schouten Island.
The Freycinet National Park became Tasmania's first national park, along with Mount Field, in 1916. Mount Freycinet and East Freycinet Saddle are both found on the Freycinet Peninsula.
There is a Cape Baudin on the east coast of Schouten Island and a Cape Faure on the west coast of the island. It seems that Willem Schouten the explorer also became Counsellor of India.
Louis de Freycinet surveyed the coast north from Cape Bernier to Point Bailly, which was probably named after Charles Bailly, the expedition's mineralogist.
The ships left Maria Island on 27th February to sail north towards Bass Strait together. A cape close to the northeast tip of Tasmania has been named Cape Naturaliste after the Naturaliste, just like the cape of the same name in WA.
Around the 21st March a heavy gale in Bass Strait separated the two ships as they left Tasmanian waters. On 24th March Baudin sailed across Bass Strait to Wilson's Promontory on the mainland. It seems that Governor Hunter had named Wilson's Promontory at the recommendation of George Bass and Matthew Flinders. The name is apparently in compliment to a Thomas Wilson of London.
The Geographe headed west along Australia's south coast and Baudin began charting Victoria and South Australia's shores.
During this time, Hamelin in the Naturaliste reached and surveyed Western Port Bay and found a second island in the bay behind Phillip Island. The second island became known as *French Island. The Naturaliste then sailed to Port Jackson (Sydney).
*According to the BP publication "Explore Australia" (Ken Fin), it was Baudin who so-named the island. All I know is that Baudin was not on the Naturaliste and he did not write the reports of the expedition. Most credit for the names is given to Louis de Freycinet. The web address for "Explore Australia" is:-www.exploreaustralia.com .
On 28th March Baudin began charting the coast west of Wilson's Promontory. Freycinet called the region (Western Port Bay to Nuyts Archipelago) 'Terre Napoleon' (Napoleon's Land) after Napoleon Bonaparte. They sighted a bay (Port Phillip) but did not enter it. Baudin just marked it on his chart and Freycinet later called it 'Baie de Talleyrand', probably after the French statesman Prince Charles Maurice de Talleyrand-Perigord.
Governor Philip Gidley King named Port Phillip Bay after Vice-admiral Arthur Phillip. The bay had originally been named in honour of Governor King but he re-named it.
Two hundred miles west of Port Phillip Bay Baudin found and charted Portland Bay which had been discovered and named by Lieutenant James Grant some fifteen months earlier. It was named after William Bentinck, Prime Minister of England who was the Third Duke of Portland.
Sailing westerly from Discovery Bay, Baudin charted the southeast coast of South Australia. The cape where Southend is now located is Cape Buffon. It was named after the French naturalist George Louis Leclerc, Comte de Buffon, a French naturalist.
There has been lots of confusion over Cape Buffon and I don't want to make matters worse.
The spot now called Cape Buffon was named 'Cap Bourru' (Gloomy Cape) by Baudin. On Freycinet's charts it became 'C.Lannes'. It is, however, now Cape Buffon and Cape Lannes is at the southern tip of Guichen Bay. Baudin had wanted to name Cape Buffon 'Pointe Marbree' (Mottled Point) and Cape Lannes 'Pointe des Filoux' (Rogues Point). Freycinet (it seems) had wanted to name Cape Lannes 'Cape Dombey' after Joseph Dombey, a French botanist and physician.
Now hands up all those who are not yet confused! Cape Lannes is named after Jean Lannes, Duc de Montebello, Marshal of France.
The bay north of Cape Buffon is now named Rivoli Bay after Andrea Massena, the Duke of Rivoli, said to be Napoleon's greatest General. It seems that Rivoli was a Napoleonic battlefield. Baudin named the bay 'Baie de Quiberon' (Quiberon Bay) but on Freycinet's charts it became 'B. de Rivoli'.
The cape on the north side of Rivoli Bay is named Cape Martin after a mariner called Captain George Martin. Baudin had named it 'Cap le Noir' (Cape Black). On Freycinet's charts it was named 'C. de Jaffa' but Cape Jaffa is now further north-west.
The bay where Robe is now located is named Guichen Bay in honour of Admiral de Guichen who had fought against the English. Baudin named the bay 'Ance des Albatros' (Albatrosses' Cove) but on Freycinet's charts it became 'B. de Guichen'.
In the bay, close to Robe, is the Baudin Rocks Conservation Park. According to Manning, Matthew Flinders named Baudin Rocks after the French navigator. The Guichen Bay Conservation Park is located on the mainland near Robe (which was named after an SA Governor).
The Geographe rounded a cape which Baudin called 'Cap Barre' (Obstructed Cape). On Freycinet's charts it was named "C. Bernouilli'. It is now named Cape Jaffa and said to be named after Israel's Tel Aviv-Jaffa, which is in the Mediterranean nearest to Jerusalem. "Jaffa" is a generic word for 'beauty' in several ancient languages. In the Portuguese, Danish and Hebrew languages it means "fine" or "beautiful".
According to Manning, however, Cape Jaffa was probably named after an illustrious family in the annals of science who originally came from Antwerp.
Beyond Cape Jaffa was a large bay now named Lacepede Bay. Baudin named the bay 'Baie des Orphelins' (Bay of Orphans). On Freycinet's charts it was named 'B. Lacepede', probably after the French naturalist and ichthyologist Count Bernard Germaine Etienne de la Ville Lacepede. Islands named after Lacepede are off WA's Dampier Land.
The Geographe then sailed along the shores of the Coorong into a bay. Baudin had charted just 120 miles of the SA coast up to the bay. Unfortunately for him, the English explorer Captain Matthew Flinders had also been mapping the SA coastline from the opposite direction. Flinders was on board the sloop HMS "Investigator" which was a converted collier. He was in the process of circumnavigating Terra Australis (Australia) looking for a great river system to take him inland. In the afternoon of 8th April 1802 the "Investigator" sailed into the opposite (western) end of the bay that the Geographe was in and sighted her white sails. Flinders took the "Investigator" closer (to investigate) this unknown ship in uncharted waters.
There are several versions about what transpired next but according to Flinders' journal it went like this:-
The Investigator approached the Geographe late in the afternoon. Flinders and Baudin both raised their country's flag and then Baudin also raised a Union Jack upon which Flinders raised a white flag to signal a friendly encounter. Different versions of the flag raising vary and some say that Baudin raised the white flag. As the Geographe passed the Investigator "to leeward with a free wind", Flinders recognized the Geographe. The Investigator veered around so as to keep the Geographe "broadside to her, lest the flag of truce should be a deception". Perhaps Baudin had raised a white flag of truce.
Whatever the case, Baudin and Flinders had meetings together to discuss their findings with each other. Flinders then called the area "Encounter Bay" whilst Baudin wished to call it 'Baie des Invalides' (Invalids Bay). On Freycinet's charts it was named 'Baie Mollien'. Cape Jervis was apparently still in sight during the 'encounter'.
It is interesting to note that Freycinet used the name 'Mollien' for Encounter Bay and also used that name for a location that Baudin wanted to name 'Encounter Cape'. When Baudin used the name 'Cap de La Rencontre' (Encounter Cape) for a location, Freycinet called it 'C. Mollien'.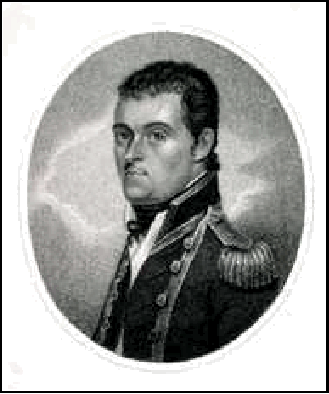 Matthew Flinders
The unfortunate thing for both Flinders and Baudin is that, when they met in Encounter Bay, they were within a couple of miles of the Murray Mouth, the inland river that they were both searching for. Both of their ships met just to the south of the Murray Mouth. Having been distracted, neither Baudin nor Flinders got to explore Encounter Bay at all and missed discovering the mouth of the River Murray.
During the meetings with Baudin, Flinders found that Baudin's men were sick with scurvy and very discontented. After the meeting, despite the ill health of the crew, the Geographe sailed to Kangaroo Island but was unable to find anchorage. The ship then sailed into Gulf St Vincent, which had been named by Matthew Flinders.
According to Anthony Brown's book "Ill-starred Captains", Baudin wanted to name the gulf 'Golfe de la Mauvaise' because of the bad conditions there. It seems, however, according to Manning, that in his log Baudin named the gulf 'Golfe de la Misanthropie' (Man-hater Gulf). On Freycinet's charts the gulf was named 'Golfe Josephine' after Napoleon's wife, at the time, Josephine.
The Geographe entered Spencer Gulf on 16th April 1802. When Flinders and Baudin met in Encounter Bay, Flinders had already charted SA's two gulfs which he had named. Although Flinders had already named Spencer Gulf and Gulf of St Vincent, it seems that Baudin named a location in Spencer Gulf, on the west coast of Yorke Peninsula, 'Cape St Vincent de Paule' (after Saint Vincent), in the region to the south of Fishermans Bay.
Bad conditions were also experienced in Spencer Gulf which Baudin wanted to name 'Golfe de La Melomanie' ( Music-mania Gulf). On Freycinet's charts it was named 'Golfe Bonaparte' after General Napoleon Bonaparte.
After just two days the Geographe had sailed close to Moonta on Yorke Peninsula where it turned back down the gulf. It spent the next three or four days caught in a heavy gale which forced it to zigzag backwards and forwards in the middle of the gulf.
The Geographe then sailed almost to the Head of the Bight in the Great Australian Bight. Matthew Flinders had named the Bight after a nautical term for a loop of rope. He first called it the Great Bight or 'Gulph of New Holland'.
Baudin reached Cape Adieu before turning back to return to Tasmania. Baudin had wanted to name Cape Adieu 'Point du Depart' (Departure Point) but on Freycinet's charts it was named 'C. des Adieux'.
On 20th May 1802 the Geographe anchored in Adventure Bay at Tasmania's Bruny Island and prepared to sail to Port Jackson (Sydney) where they hoped to find the Naturaliste once more.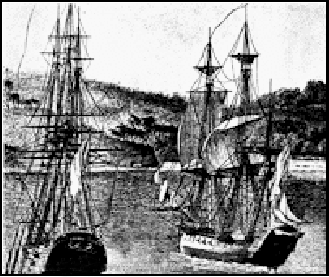 Geographe and Naturaliste
James Cook had named Port Jackson in 1770 after Sir George Jackson, a secretary of the Admiralty.
The Naturaliste had reached the Port Jackson Heads on 24th April and passed through the Heads the next day. They were welcomed by the Governor, Captain Philip Gidley King and permitted to anchor at the entrance to Sydney Cove.
Matthew Flinders arrived at Port Jackson on 9th May and reported his meeting with Baudin at Encounter Bay in South Australia. Hamelin set sail again in the Naturaliste on 17th May.
Baudin had spent about two weeks surveying the east coast of Tasmania and arrived at Port Jackson one month after Hamelin had left. Like Hamelin, Governor King welcomed Baudin who also had meetings with Flinders.
It was at this time that Baudin's officers were said to have complained that their commander had been too obsessed with catching butterflies during the expedition. Lieutenant Henri de Freycinet is said to have remarked to Matthew Flinders that his expedition would have beaten Flinders to the south coast if only they had not spent so much time picking up shells and catching butterflies at Van Diemen's Land (Tasmania).
It seems that Hamelin did not have sufficient food on the Naturaliste and soon returned back to Port Jackson for more. Both ships badly needed a thorough refit and Baudin and his staff spent some six months in Port Jackson.
Governor King gave two of Baudin's men a boat, a guide and some food so that they could go on an excursion to the Hawkesbury River to collect specimens. The two men were Peron and Louis de Freycinet who, it seems, spent much of their time spying out the land and gave French authorities details of how best to attack the colony.
The expedition at that point had made very extensive natural history collections from around Australia. Baudin informed Governor King that the Naturaliste would be sent back to France with the collections. King is said to have even supplied them with a small boat to help send the specimens back to France with the Naturaliste.
Pierre-Bernard Milius had been the second-in-command on the Naturaliste. He had been suffering continuing ill health and left the expedition at Port Jackson. He managed to find his own way back to Isle de France.
With the Naturaliste heading back to France, Baudin acquired another ship. He got King's permission to purchase a 30 ton schooner which was being built on the stocks. Baudin called it the Casuarina after the she-oak timber (Casuarina stricta) used in her construction.
On 18th November 1802 the Geographe, the Casuarina and the Naturaliste all sailed through the heads and on towards Van Diemen's Land. They all made for King Island from where the Naturaliste was then to sail for the Isle de France with the natural history collections.
The ships arrived at King Island's Sea Elephant Bay on 6th December. The Naturaliste left the island on 8th December. At the end of December the Geographe and the Naturaliste set sail for Kangaroo Island in South Australia to chart more of the coastline there.
The two ships rounded King Island to the south and were heading for South Australia, which they referred to as "Terra Napoleon". They first sighted the eastern-most tip of Kangaroo Island on 2nd January 1803. They then crossed Backstairs Passage to reach the island.
Flinders had named Backstairs Passage because he considered that it "formed a private entrance to both gulfs". Baudin (or Freycinet) had wanted to name it 'Detroit de Colbert' (Colbert Strait) possibly after any one of several famous Frenchmen.
Although Flinders had already named Kangaroo Island ('Kanguroo Is.') Baudin wanted to name it 'Isle Borda' after Jean-Charles de Borda, the celebrated French navigator, mathematician and astronomer who had died in 1799. Freycinet preferred to name it 'Isle Decres' after Admiral Denis Duc du Decres, a French Minister of Marine and Colonies who died in 1820.
Francois Peron died in 1810 but in 1816 his second volume about the voyage of discovery to Australia was published ("Voyage de Decouvertes aux Terres Australes, Vol.II). Chapter XXIV details the charting of Kangaroo Island or, as Freycinet called it, "Decres Island". The chapter was reproduced in "Natural History of Kangaroo Island" by the Royal Society of South Australia (Chapter 15 – Historical Perspective: Kangaroo Island – 1803").
Peron believed that Kangaroo Island was "the largest island known linked to the New Holland system". He wasn't far from being correct. He just wasn't including Van Diemen's Land (Tasmania), which is Australia's largest island, because it was considered to be a separate country or colony. He was, however, overlooking Darwin's Melville Island which is officially Australia's second largest island, although it doesn't look any larger than Kangaroo Island on maps. (The gulf between the Northern Territory and Melville Island is called Van Diemen Gulf and there is a Cape Van Diemen on Melville Island.)
The two ships headed for the south coast and started charting it from Cape Hart which they called 'Cap Sane'. From there they charted and named locations such as D'Estrees Bay, Cape Linois, Cape Gantheaume, Vivonne Bay, Cape Kersaint, Cape du Couedic, Cape Bouguer, Cape Casuarina, Maupertuis Bay and Cape Bedout.
Freycinet named D'Estrees Bay after the French author Jacques d'Estrees. There is a Cape D'Estrees near St Peter Island in the Nuyts Archipelago. Baudin had wanted to name the cape 'Pointe Defies-vous-en' (Point Bear-away-from-it) but Freycinet called it 'C. D'Estrees'. The cape is on the eastern side of Decres Bay.
Freycinet probably named Cape Linois after Count Linois of the French navy.
Cape Gantheaume was probably named by Freycinet after Admiral JA Gantheaume, just like Gantheaume Bay and Gantheaume Point in WA.
Freycinet probably named Vivonne Bay after either a French Marshal of the time or after Catherine de Vivonne, Marquis de Rambouillet who died in 1665. There is a Cape Vivonne on the western side of Decres Bay in the Nuyts Archipelago region.
Cape Kersaint was named by Freycinet after Comte Kersaint, a French politician.
The rocky Cape du Couedic was named by Freycinet after Chevalier du Couedic, a French Navy Captain who died in 1780. At Cape du Couedic are two small islands that were named the Casuarina Islets after the Casuarina. These two islands are generally referred to as "The Brothers". It also seems that there is a cape that Baudin (or Freycinet) called 'Cap Casuarina' somewhere nearby.
Freycinet named Maupertuis Bay after PLM de Maupertuis, an astronomer and mathematician. Cape Bedout was named by Freycinet after Admiral Bedout of the French navy, just like Bedout Island north of Port Hedland, WA.
Beyond Cape Bedout was a deep ravine, which is where Baudin is said to have observed the Kangaroo Island Dwarf Emu, but mistaking them for cassowary, called the area Ravine des Casoars.
The Dwarf Emu are now extinct and there are no reliable illustrations in existence since Flinders' artist drew them with legs even longer than those of the mainland emu. Baudin's artists, on the other hand, were more familiar with cassowary and drew the emu as a short-legged bird similar to those birds.
On January 4th 1803 the ships rounded the island's northwest cape which they called Cape Borda after Jean-Charles de Borda, the navigator, mathematician and astronomer who died in 1799.
From there they charted Cape Forbin, Cape Dutton (which they called 'Cap Prony'), Cape Cassini, Cape D'Estaing, Point Marsden (which they called 'Cap Vendome'), Cape Rouge and Nepean Bay.
Cape Forbin was named by Freycinet after the French Admiral Claude de Forbin who had died in 1733.
Cape Cassini was named after the distinguished astronomer Caesar Francois Cassini de Thury. Cape d'Estaing was named after Charles Hector Theodat, Count d'Estaing, a French Admiral who died in 1794.
Matthew Flinders had named Point Marsden on 21st March 1802 after William Marsden, Second Secretary to the Board of the Admiralty. Cape Rouge, south of Point Marsden, was known as Shoal Point until 1913.
Nepean Bay was also named by Flinders on the 21st March after Sir Evan Nepean, First Secretary to the Board of the Admiralty. Freycinet wanted to name it 'Baie de Bougainville' after Louis Antoine de Bougainville, the French navigator who had sighted Australia's Great Barrier Reef in 1768.
Bougainville was a soldier, mathematician and navigator who died a few years later in 1811. In the late 1760s he had sailed right round the world and only the Great Barrier Reef prevented him from reaching Australia's shores.
His name is commemorated in the South American shrub bougainvillea. Although the Bougainville name has not been applied to Nepean Bay, there is a Cape Bougainville on Tasmania's east coast and also on WA's north coast, both apparently named by Baudin.
According to Professor Radok in "Capes and Captains", Tasmania's Cape Bougainville is named after Louis de Bougainville's son Hyacinthe de Bougainville who was a member of the Baudin expedition. He had returned to Isle de France with Hamelin on the Naturaliste.
The Geographe anchored in Nepean Bay on 6th January but the Casuarina was slightly behind them and it arrived the next day. The Casuarina needed some repairs before being able to sail alone to chart the gulfs of 'Terre Napoleon' (South Australia). The French called the whole coastline from Western Port to the Nuyts Archipelago 'Terre Napoleon'.
Freycinet was in charge of the Casuarina and he was told to take just 20 days charting the two gulfs of South Australia. The engineer-geographer called Charles-Pierre Boullanger was assigned to help Freycinet. They left Nepean Bay onboard the Casuarina on the night of January 10th and went on to map the upper regions of Gulf St Vincent and Spencer Gulf.
Meanwhile, the Geographe went on to chart the north-eastern coast of Kangaroo Island. Baudin charted locations such as Bay of Shoals (which he called 'Anse des Hauts-Fonds' (Shoal Cove), Western Cove (which he called 'Anse des Phoques' (Seal Cove), Point Morrison (which he called 'Cap des Kangaroo'), Eastern Cove (American River) (which Baudin called 'Port Dache') and Kangaroo Head (which he called 'Cap Delambre').
('Cap Delambre' was named after Jean-Baptiste Delambre, a French astronomer).
Matthew Flinders had named Western Cove, Eastern Cove and Kangaroo Head at the eastern end of Nepean Bay.
Whilst in Nepean Bay, Baudin's men "lay a new sloop on the stocks and prepared the wood necessary for its construction". Further details of this new sloop are unknown to me. Peron, Leschenault, Bailly and Lesueur were all with Baudin whilst Freycinet charted the two gulfs. They were busy gathering samples of minerals, plants and animals.
It was Australia's summer season and there was little or no freshwater on Kangaroo Island. The Geographe anchored at a cove beyond Kangaroo Head (Penneshaw) and a party of men landed to search for water. They had to dig a few holes in the cove to get enough water for their daily consumption. One day, while waiting for one of the water casks to fill, one of the French sailors roughly inscribed a message onto a nearby rock. The inscription read: - "Expedition de decouverte par le commandant Baudin sur le Geographe 1803". Baudin called the bay 'Anse des Sources' (Cove of Springs). The spot at the bay is now called Frenchman's Rock. The original rock deteriorated so much that it was removed and a replica was put in its place. The original rock was returned to the island in 1996 and is now located in the Gateway Information Centre at Penneshaw.
The bay there is now called Hog Bay. There are several reasons given for this. One version attributes it to the wild pigs that were reported to have been left on the island by Baudin as a food source for shipwrecked sailors. Another version says that it is because of Governor Wallen's pigs which would wallow in the water springs that Flinders discovered. Henry Wallen came to the island in 1820. He apparently moved from Cygnet Bay to the area and soon became the leader (Governor) of a small community. Another version given by Keith Conlon on a "Postcards" special is that an old chap insists that it is because of the mysterious way that pigs used to arrive at the spot (out of the sea?).
Freycinet named the Dudley Peninsula 'Presqu'ile de La Galissonniere' (Galissonniere Peninsula) after (in memory of) Admiral Bing's vanquisher. The peninsula had been known as MacDonnell Peninsula after Governor MacDonnell from 1858 to 1986. It was then re-named the Dudley Peninsula in 1986. One story is that it was named by Governor Musgrave after his father-in-law Dudley Field, an American jurist. A second story says that it was named after Australia's Governor General from 1908-1911, the Earl of Dudley. Whatever the case, I would have thought that 'Galissonniere Peninsula' would have had precedence over the other names, so something about this is not quite right.
Flinders named Antechamber Bay but Baudin (or Freycinet) wanted to name it 'Baie du Gay-Trouin'. A French warship apparently called DUGAY TROUIN visited Port Adelaide in 1893. There apparently is a spot called James Point somewhere in SA which Freycinet wanted to name 'Cape du Gay-Trouin'.
In the English version of Francois Peron's report published in "Natural History of Kangaroo Island" (Chapter 15), 'Gay-Trouin' is spelled 'Guai-Trouin' for some reason.
It seems that either Baudin or Freycinet wanted to name Beare Point at Kingscote 'Cap du Geographe', although I cannot understand why 'Cape Geographe' is not used since the name Beare Point was only first used years later.
Whilst Freycinet surveyed Gulf St Vincent he sighted and named many locations on the east coast, starting with Cape Jervis.
Flinders had already named Cape Jervis after Sir John Jervis, Earl St Vincent on 23rd March 1802. Baudin wanted to name the cape 'Cap de La Secheresse' (Cape Barren) whilst Freycinet called it 'C. d'Alembert'.
Freycinet named the peninsula that ends at Cape Jervis 'Presqu'ile Fleurieu' (Fleurieu Peninsula) in honour of Napoleon's Navy Minister, Charles Pierre Claret, Count M. de Fleurieu, who had financed Baudin's expedition. Fleurieu was a prominent French navigator and also a member of the council, which prepared the instructions and itinerary for Baudin's voyage.
It seems, however, that the name of the Fleurieu Peninsula only became official in 1911 when a grandnephew of Baudin visited the area. The year of official recognition, however, is given as 1913.
The Fleurieu name has also been applied to one of the islands in the Hunter Group of Islands in Bass Strait off the northwest coast of Tasmania, although that island is now known as Hunter Island. In December 1802 Baudin had sent Freycinet to the Group to survey the islands there.
Freycinet wanted to name the peninsula between the two gulfs 'Prequille Cambaceres' after Jean-Jacques Regis Cambaceres, Duke of Parma. Matthew Flinders had, however, already named the peninsula the Yorke Peninsula after the Right Honourable Charles Philip Yorke of the Admiralty on 30th March 1802.
Flinders had named Cape Spencer on Yorke Peninsula after Earl Spencer, the First Lord Commissioner of the Admiralty. Freycinet wanted to call it 'Cape Berthier'.
Despite having a light draught to allow exploration of rivers and shallow seas, the Casuarina ran aground on an extensive sandbar on the Yorke Peninsula's south coast in January 1803. She was, however, not damaged and floated off.
Flinders is said to have named the Althorpe Islands in Investigator Strait after the eldest son of Lord Spencer. Spencer's eldest son and heir was John Charles Spencer, Viscount Althorp (without an 'e'). There is, however, an Althorpe (with an 'e') on the River Trent in Lincolnshire where Flinders was born.
Althorp is now the name of the Spencer family estate in Northamptonshire, north of London. It is the location of the memorial to the late Princess Diana. (I am typing this on what would have been her 40th birthday, 1st July 2001. Yesterday's Advertiser tells us that Althorp was pronounced Awtrupp until signs were erected in the 1950s (my era) carrying the spelling Althorp.)
Baudin wanted to name the Althorpe Islands 'Archipelago de L'Est' (Eastern Archipelago) and Freycinet wanted to name them 'Is. Vauban' for some reason.
Flinders had named the Gambier Isles in Spencer Gulf on 24th February 1802 after Admiral James Gambier. Gambier was First Baron Gambier and became the First Lord of the Admiralty. He had a seat in Admiralty when the Investigator was being fitted out. Freycinet wanted to call the islands the 'Berthier Islands'.
Flinders had named the Joseph Banks Group of Islands in Spencer Gulf. Freycinet wanted to name them the 'Leoben Islands'.
Baudin wanted to call Wardang Island in Spencer Gulf 'Isle Sterile' (Arid Isle) but Freycinet wanted to name it 'Is. Dalberg'.
Historian Paul Mazourek found that Freycinet mapped upper Spencer Gulf in January 1803 when the navigator was just 23 years old. Mazourek found that Freycinet's cartography of the gulf was the first to reach Europe and be published.
Freycinet named the Jussieu Peninsula south of Port Lincoln after Professor Antoine-Laurent de Jussieu, a French botanist at the Museum National d'Histoire Naturelle (National Natural History Museum) in Paris and a member of the Institut National of France. Jussieu Bay on the southern coast of the peninsula is also named after the botanist. Cape Tournefort at the western end of the bay is named after Joseph Pitton de Tournefort, another French botanist.
Baudin was the first explorer to do a thorough coastal survey of Kangaroo Island. The Geographe set sail from Kangaroo Island on 1st February 1803 without waiting for the return of the Casuarina from SA's two gulfs. After just a few hours sailing though, the Casuarina was sighted in pursuit, but the two ships became separated once more.
Baudin (and Freycinet?) sailed west along the coast of southern Australia, passing the Eyre Peninsula. They then headed north-west towards the Nuyts Archipelago in the Great Australian Bight. The archipelago had been named after Pieter Nuijts who had first sighted the area in 1627 as a passenger onboard the Dutch ship Gulden Zeepaard (Golden Seahorse).
Nuijts was a high official of the East India Company which owned the ship. When the captain of the Gulden Zeepard, Francois Thyssen, decided against continuing further and turned his ship back around he named the area Pieter Nuijts Land. Although this name has been anglicised to become Peter Nuyts Land, the positioning of an apostrophe is questionable. Either the name was Nuijt or Nuijts (Nuyt or Nuyts). Some references suggest that it was Nuyt by referring to "Nuyt's Land".
The Nuyts Archipelago comprises some eight isles and a rock. Matthew Flinders apparently named the archipelago after Nuijts in 1802. He also said to have named the various islands, although this is not completely clear. Pieter Nuijts is also said to have named St Peter's Island and Francois Thyssen is said to have named the island and St Francis Island.
Baudin wanted to name the island 'Isle des Olives' (Isle of Olives) whilst Freycinet wanted to name it 'Isle Eugene' (Eugene Island) after Napoleon's stepson and viceroy of Italy.
Flinders is said to have named the Isles of St Francis after St Francis of Assisi who had established the Franciscan Order of monks. Baudin apparently wanted to name the isles 'Isles St Francois' (Isles of St Francis) after Francois Thyssen, commander of the Gulden Zeepaard. It seems that, surprisingly, Freycinet stuck with the name 'Isles St Francois'.
The islands of St Peter and St Francis in the archipelago were to be the next rendezvous for the two ships.
The ships missed sighting each other at the islands in the Nuyts Archipelago in early February 1803. The Geographe had sighted St Peter Island on 5th February.
On 7th February she anchored close to the mainland in a large inlet that Baudin named 'Baie des Saints' (Bay of Saints). Freycinet, however, gave it the name 'Baie Murat' after Joachim Murat, Marshal of the French empire.
Murat was Napoleon's brother-in-law, having married Caroline, Napoleon's youngest sister. He became King of Naples in 1807. The location is now called Ceduna but the name of the bay there continues to be Murat Bay.
On 8th February Baudin sent two of his men to nearby Denial Bay which had been named by Flinders one year and one day earlier. On 7th February 1802 Flinders had so-named the bay because of "the deceptive hope we had formed of penetrating by it some distance into the interior of the country".
Nearby Thevenard is said to have been named by Freycinet after Antoine Jean Marie, Count of Thevenard (the French Minister of Marine at the time or the Maritime Prefect at Lorient in France?).
Jean-Baptiste Leschenault and Charles Lesueur both went with other scientists to St Peter Island in the archipelago. Freycinet named the island 'Isle Eugene' (Eugene Island) after Napoleon's stepson, viceroy of Italy. The scientists formed two groups on the island. Leschenault's group studied the island's botany whilst Lesueur's group hunted for animals.
Leschenault's group collected a number of new plants whilst Lesueur's group caught birds, possums and kangaroo rats. Kangaroo rats or Rat-kangaroo are the smallest member of the kangaroo family Macropodidae. Bettongs and poteroos are part of this group which are the only members of the Sub-family Potoroinae in the kangaroo family.
St Peter Island may well be where Lesueur found specimens of a bettong which now bears his name. The Burrowing Bettong has the scientific name Bettongia lesueur. Also known as the Boodie, it is said to be a 'locally extinct mammal', a species which has now vanished from the Mt Lofty Ranges.
Meanwhile Freycinet had decided to sail on to King George Sound in southern WA. Captain George Vancouver had named King George Sound in 1791. He had named it King George III Sound after that King but the 'III' has since been dropped. The Casuarina arrived at the Sound on 13th February.
Baudin also sailed to the Sound, arriving there on 17th February 1803. They found that the Casuarina had anchored in the narrow entrance of the port beyond the Sound, where Albany now stands. Vancouver had named the port Princess Royal Harbour after Princess Charlotte.
WA's first settlement was established at King George Sound in 1826 to prevent possible colonisation by the French. The settlement was first named Frederickstown after King George III's second son called Frederick. He was the Duke of York and Albany. The name of Frederickstown was dropped in 1832 in favour of Albany.
A bay to the east of Princess Royal Harbour, near Flinders Peninsula, is named Frenchman Bay. A whaling station operated there until 1978.
Both ships left the Sound together on 28th February but were separated again when Baudin sent Freycinet to examine the inland waters between Cape Howe and Point Nuyts. When Freycinet did not return after two days, Baudin decided to sail on.
Baudin sailed around WA's Cape Leeuwin then sailed north up the coast of Western Australia and spent four days surveying the coast from Cape Leeuwin to Rottnest Island.
During this time Baudin charted Cape Hamelin, Cape Mentelle and Cape Clairault. Cape Mentelle was named after Edme Mentelle, a French Geographer. Cape Clairault was named after the mathematician Alexis Claude Clairault.
Baudin then passed Cape Naturaliste and sailed into Geographe Bay. This was when he was hoping to find some trace of seaman Timothee Vasse but missed the spot due to the evening mist and sailed past it. By the time that Baudin realized it he could not be bothered to turn back.
He anchored close to the present site of Bunbury in Geographe Bay the next day. A boat was sent to examine a promising inlet at the shore. It was found to be only suitable for small vessels. They named the inlet Leschenault Inlet after Louis Leschenault de la Tour who was a botanist onboard the Geographe. Leschenault was later left behind at Timor in 1803 when he became ill, but he returned to France in 1807.
On the way to Rottnest Island Baudin also charted Cape Bouvard which is named after Charles Bouvard who was a French chemist.
As Baudin continued sailing northwards he charted Cape Peron. He then sailed past 'Ile Buache' (Garden Island). There is a Baudin Point just north of South West Point on Garden Island. East of the island and Cape Peron, on the mainland, is a new area called Casuarina.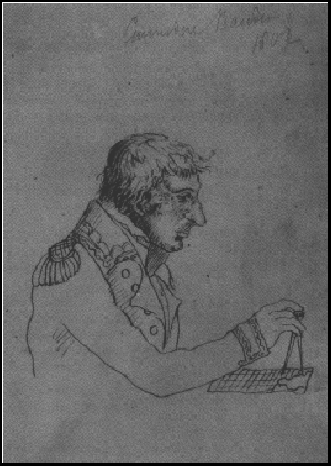 Nicholas Baudin
Baudin sailed on to Rottnest Island, arriving there on 13th March 1803. The Casuarina had already anchored there the previous day. The two ships then sailed past Gantheaume Bay and headed for Shark Bay. They arrived there about three days later. They anchored in Dampier Bay on the 17th March and stayed in the area for a few days.
On 23rd March they both sailed through Naturaliste Channel and on towards North-west Cape. They sailed through the Dampier Archipelago which they named in honour of the famous navigator. They named several islands in the archipelago including Lowendal, Trimouille, Montebello and Rosemary islands.
They had already named several islands in the archipelago in 1801, including Hermite, Legendre, Hauy and Delambre islands. Legendre Island was named after Adrien Marie Legendre, a French mathematician. Hauy Island was named after Rene Just Hauy, a French mineralogist. Delambre Island was named after Jean Baptiste Delambre, a French astronomer.
They sailed further north passed Cape Keraudren which they had charted in 1801 and named after the surgeon on the Geographe. Further north they charted Lagrange Bay which they named after Joseph Louis Lagrange, a French mathematician. They then passed and charted Cape Latouche-Treville which was named after an Admiral of Napoleon.
They charted Roebuck Bay further north, naming it after Dampier's ship. Still further north they charted Cape Gantheaume which is named after the French Admiral Comte Gantheaume. Then they charted Cape Boileau which is named after Nicolas Boileau Despreaux, a French poet.
They then charted Point Coulomb, which was named after Charles Augustin Coulomb, a French natural philosopher and physicist. Coulomb stated the inverse square law of magnetism in 1784. He founded the mathematical theory of electric and magnetic action. The Coulomb, the unit of quantity of electricity, was named after him. It is defined as the amount of electricity carried by a current of one ampere flowing for one second.
Approaching King Sound, where Derby is now located, they charted Cape Leveque.
They then sailed on to the Bonaparte Archipelago where they passed Cape Voltaire which they had named in 1802 after Francois Marie Arouet (de Voltaire), the famous French philosopher who spent two terms in the Bastille. Arouet was a philosopher and satirist who later used the pen name of Voltaire.
Off of Admiralty Gulf, Baudin searched the vicinity of Cassini Island. They had arrived at the island on 24th April 1803. The island is said to be named after a family of French astronomers (four generations) in charge of Paris Observatory between 1669 and 1793.
North of Admiralty Gulf Baudin charted Cape Bougainville, which was named after Louis Antoine Bougainville.
It was at about this point that Baudin sailed to Kupang in Timor again to avoid the north-west monsoon which was thought to be approaching. They arrived at Kupang on 7th May and they only stayed for four weeks this time.
The botanist Jean-Baptiste Leschenault de la Tour became so ill on Timor that he declared himself unable to continue and left the expedition.
Baudin left Kupang on 3rd June and returned to the WA coast. On 12th June he reached the coast about the spot where he had left it. He entered Joseph Bonaparte Gulf where he charted Lesueur Isle, Cape Rulhieres, Cape Bernier, Cape St Lambert and Cape Dussejour.
They named Joseph Bonaparte Gulf after Joseph Bonaparte, the oldest brother of Napoleon Bonaparte and King of Naples and Spain.
Lesueur Isle was named after Charles-Alexandre Lesueur. Cape Rulhieres was named after Claude Carloman de Rulhieres, a French poet and historian. Cape Bernier was named after the astronomer Pierre-Francois Bernier who died just a little later. Cape St Lambert was named after Jean-Francois de Saint-Lambert, a French poet who died the same year. Cape Dussejour was named after Pierre DuSejour (or Dussejour or du Sejour?), a French mathematician.
After sailing out of Joseph Bonaparte Gulf they entered Anson Bay where they charted two islands which they named after Francois Peron. They are named Peron Islands, with the southern island being called Peron's South Island and, presumably, the northern one is Peron's North Island.
Anson Bay is a large inlet into which the Daly and Reynolds rivers flow.
Baudin sailed to Bathurst Island where he charted Cape Fourcroy on the island's south-west coast. The cape is named after Antoine Francois, Comte de Fourcroy, a French chemist. A cape in nearby Gordon Bay was named Cape Helvetius after Claude Adrien Helvetius, a French philosopher.
Baudin then sailed past Cape Van Diemen on Melville Island into the Arafura Sea. He planned to sail into the Gulf of Carpentaria but bad weather caused him to change course and head for New Guinea. After several days of continuing bad weather Baudin set course for Isle de France.
By this time the Naturaliste was back in France. She had left Isle de France on 10th February 1803 to sail back to France. Just as she was within sight of France she was stopped by an English frigate, which escorted her to Portsmouth, England. To keep the story short, she left England on 6th June and arrived back at Le Havre in France the next day. The Naturaliste was carrying numerous plants, shrubs, animals and birds from the early part of the expedition.
It was on 7th July that Baudin had decided to return to Isle de France. He was so ill that he put Henri de Freycinet in charge of the Geographe. The journey back to Isle de France took the Geographe one month. She arrived at the former Port Louis (now called Port North-west temporarily) on 7th August 1803. The Casuarina had been lagging behind and arrived there five days later.
On 16th September Baudin died from tuberculosis on Isle de France. Pierre-Bernard Milius, who had been second-in-command on the Naturaliste, had found his own way back to Isle de France. He was still in Port North-west (Louis) and the Governor of Isle de France, General Charles Decaen, placed him in charge of the Geographe for the remaining distance home to France.
The Geographe left Port North-west (Louis) on 16th December 1803. She did not reach Cape Town until 26th January 1804 and finally reached Lorient in France on 23rd March (with or without the (Casuarina?).
It seems that there had been another Baudin onboard the Geographe with Nicolas Baudin. Charles Baudin des Ardennes had sailed as a junior officer on Geographe under Baudin but the two were not related. Charles' father was a member of The Convention in the late 1700s. Charles Baudin later became an Admiral despite having his shattered right arm amputated in 1807 whilst he was a Lieutenant. The arm was amputated at Port Louis, Mauritius.
Matthew Flinders was imprisoned at Mauritius from December 1803, only months after Nicolas Baudin's death there. Flinders arrived at Port Louis (which seems to have reverted to its original name) on the Cumberland on 17th December, the day after the Geographe had left for France. He was held as a prisoner there for 6 ½ years. He had known Charles Baudin at Port Jackson and he paid him a visit at Port Louis and later wrote to him. The loss of his arm did not compel Charles Baudin to leave the navy. He became a vice-admiral in 1839 and was made an Admiral in 1854, the year that he died.
Flinders also befriended a community of planters on Mauritius. One of them was Toussant Antoine de Chazal, a French colonial artist. Chazal was to paint the only portrait of Flinders from life. The result was the "Portrait of Captain Matthew Flinders 1774 – 1814" which is now in the Art Gallery of SA.
Baudin is said to have been shunned by Napoleon because of his failure to claim South Australia before Matthew Flinders did. Baudin is said to have been detested and reviled by his officers and staff and also that he died in disgrace. It seems that the naturalist Francois Peron, who wrote the history of the voyage, particularly hated him. He portrayed Baudin as malicious, venal and incompetent.
Baudin deserves more credit and recognition than that. The scientists on his expedition returned significant collections of flora and fauna back to France. They collected tens of thousands of biological and ethnographic specimens.
Their discoveries included some 1500 botanical and 3900 zoological species. That was apparently more specimens and more species new to science than all previous European voyages combined.
Anthony Brown says that the expedition brought back an unrivaled collection of living animals and plants and of botanical specimens. Invaluable observations on Tasmanian Aborigines were also made.
It is interesting to note that, just like the Burrowing Bettong has the scientific name Bettongia lesueur, the Western Barred Bandicoot * is known as Perameles bougainville and some scrub fowl are called Megapodius freycinet. Then there is the Peron's Side-gilled Sea Slug, Pleurobranchus peroni and Peron's Venus Cockle, Katelysia peronii. The list, no doubt, goes on and on.
Peron had collected many biological specimens during the voyage and classified them later on. He wrote one volume on the history of the voyage titled "Voyage de Decouvertes aux Terres Australes, Vol.I". It was published in 1807 before he died in 1810. Freycinet then completed Peron's work with Vol.II which was published in 1816. Vol.III compiled by Freycinet had been published in 1815.
Peron, as already mentioned, died just a few years after returning to France. He had also had tuberculosis like Baudin and died in Cerilly, the village of his birth. There is a monument to Peron in the Village Square. Beneath a bust of him are brass plates illustrating Tasmanian Aboriginal funerary monuments and Australian wildlife.
Author Tony Brown says that Peron hated Baudin and was vindictive in his account of the voyage. Some writers say that Baudin was a courageous navigator who was poorly supported by his staff.
Freycinet returned to New Holland (Australia) in 1818 as commander of the Uranie on another scientific expedition. The voyage ran from 1816 to 1820 visiting New Holland, the Pacific and South America. WA's Shark Bay was surveyed and lots of marine specimens were collected during the voyage, thanks largely to the two naturalists Quoy and Gaimard. All was lost, however, when the ship was wrecked in the Falkland Islands in 1820. Freycinet survived the tragedy, however, eventually dying in 1842 aged in his sixties. Quoy and Gaimard both survived also and returned to New Holland in 1826 on board the Astrolabe commanded by Count Dumont d'Urville.
* It was Quoy and Gaimard who described and named the Western Barred Bandicoot in 1834, naming it after Louis de Bougainville. Perhaps they had made even further voyages to Australia after 1826.
A team from the WA Maritime Museum found the remains of Freycinet's ship, the Uranie, in March 2001. Dr Jeremy Green, the museum's head of archaeology, hoped that authorities from the Falklands would eventually allow the museum to borrow and display some of the historic treasures found on the vessel.
ENCOUNTER 2002
In 2002 South Australia will be celebrating the bicentenary of the charting of the SA coast by both Matthew Flinders and Nicolas Baudin and their 'encounter' at Encounter Bay in April 1802.
"Encounter 2002" was launched in Adelaide on 1st December 2000. It is a community-based project managed by Tourism SA.
An event called "A L'occasion de Bicentenaire du Voyage en Terres Australis de Nicolas Baudin" was held in Paris on 13th June 2001 to start the celebrations.
An international series of activities and celebrations are planned from November 2001 to April 2002. Alliance Francais held a French Festival at Carrick Hill, SA in November to celebrate the start of Baudin's voyage.
There will be a series of associated community-based exhibitions, festivals and regattas held in SA between 16th February and 14th April 2002.
Hundreds of choristers from the SA Country Choral Association will perform a choral tribute to Baudin and Flinders at the Victor Harbor Recreation Centre in April 2002. The tribute titled "Two Captains – a Musical Tribute" was written by Rosemary Nairne. It will be performed by the 60-piece Unley Chamber Orchestra.
Several ships plan to retrace Flinders' voyage along the SA coast. Tall ships (and warships?) will visit coastal towns 200 years to the day from when they were first visited by Flinders. The tall ships will conduct a re-enactment at Encounter Bay on 8th April 2002.
Educational programs are planned to inform students of the importance of the voyages by both Flinders and Baudin.
A $500,000 grants program was instigated to celebrate Encounter 2002. Grants were given to assist community-based projects such as a walking trail at Ceduna and a botanic exhibition at Port Augusta. Some 31 projects and events were given grants under the Encounter 2002 Community Grants Program including a festival at Port Pirie.
A thousand diving clubs in France were targeted as part of the campaign. One of the keys to the project is the proposed recovery of the Casuarina's lost anchor somewhere off the south coast of Yorke Peninsula.
It is hoped that the anchor's position can be pinpointed using modern technology. The navies of France, England and Australia will then jointly be able to help to recover the anchor.
Early in 2002 the SA Maritime Museum in Lipson Street at Port Adelaide will be showing the Matthew Flinders Bicentennial Exhibition. I understand that it will feature a display of artifacts concerning the expeditions of both Flinders and Baudin.
When I visited the museum in 2001 I found a model of the Geographe close to the anchor from Flinders' ship Investigator.
I know of plans for a scientific symposium focusing on the work done during Baudin's expedition.
The former SA Tourism Minister, Joan Hall, anticipated that "Encounter 2002" would attract over 20,000 visitors to SA. These visitors could have an economic tourism impact of over $6m.
I wish to thank Philip Hall, David Offord and Mark Churchman for their assistance with much of the above information.
BIBLIOGRAPHY
Books studied for this article include the following:-
"Matthew Flinders" by Thea Stanley Hughes, Fourth Impression, 1991, Movement Publications.
"Capes and Captains" by Professor Rainer Radok, 1990, Surrey Beatty & Sons P/L.
"Terra Australis: Matthew Flinders' Great Adventures in the Circumnavigation of Australia" edited & introduced by Tim Flannery, 2000, Text Publishing Company.
"Ill-starred Captains Flinders and Baudin" by Anthony J. Brown, 2000, Crawford House Publishing.
"What's in a Name ? : nomenclature of South Australian place names" by Rodney Cockburn.
"The Romance of place names of South Australia" by Geoffrey H. Manning.
"Australia's Heritage – the making of a nation" published by Hamlyn House, Sydney.
"Australia since 1606 – A History for Young Australians" (1959) by GV Portus, Oxford University Press.
"Australia – From the dawn of time to the present day" (1964) published by Oswald Ziegler Publications Pty Ltd.
"Journal of Nicolas Baudin" (1974) published by the Libraries Board of South Australia.
"Terre Napoleon – Australia through French eyes 1800-1804" (1999) by Susan Hunt & Paul Carter, published by The Historic Houses Trust of New South Wales in Association with Hordern House.
"The Captain and The Convict Maid – A chapter in the life of Nicolas Baudin" (1998) by Anthony J.Brown.
---
by
Chris Hall
The marine plants and animals of Southern Australia have developed in isolation for over 65 million years. This combined with a number of other factors such as varied water temperature, wave energy, low nutrient levels and varied coastlines has provided the richest heritage of marine biodiversity in the world!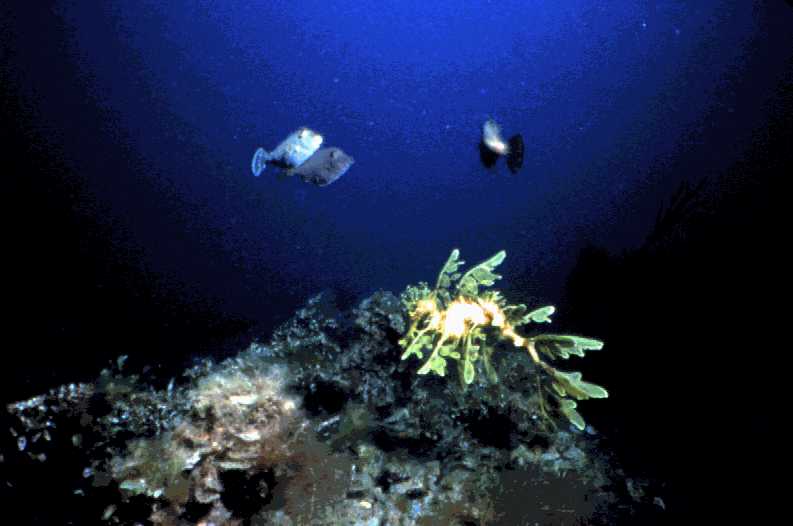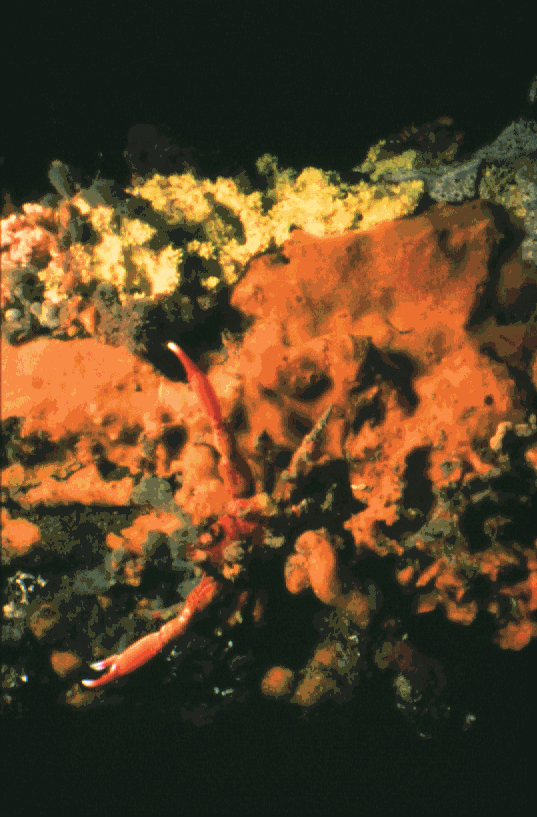 Southern Australia boasts an estimated 1155 species of algae, with more than 70% endemic to the area.
Twenty-two species of seagrass are recorded in Southern Australia, Australia having the greatest diversity of species in the world. Nearly half of all these seagrass meadows occur in South Australia, comprising the largest and most diverse temperate seagrass ecosystems anywhere.
These algal forests and seagrass meadows provide the ideal habitat for the leafy seadragon, which is endemic to South Australia.
Rapid Bay jetty is also the home of the Weedy Seadragon as well as approximately 600 other species of fish, 110 species of echinoderms, 189 species of ascidians and seemingly countless bryozoans and sponges.
Approximately 85% of fish species, 95% of molluscs and 90% of echinoderms are endemic to our area.
Considered by a number of local and overseas divers as one of the best jetty dives in the world, Rapid Bay is approximately 70Km south of Adelaide, South Australia.
Built in the 1960's so locally quarried limestone could be loaded onto ships for transporting around Australia the jetty fell into disuse in the 1980's when quarrying the limestone became uneconomical. Recently it has become the centre of attention for fishers and divers alike as the Government wanted to remove a large part of the structure. However, with strong lobbying from both groups and the proclaiming of the Leafy Seadragon as the South Australian marine emblem, the jetty appears to have been saved.
Diving the jetty requires a small amount fitness as the walk out to the entry point into the water is almost a kilometre from the carpark and carrying all your gear on a hot day can be bit tiring. However, that is a small drawback to what awaits you underneath.
The jetty is generally well sheltered with the visibility 5-15metres with a depth varying from about 9-12metres, so there is plenty of bottom time to explore.
Once in the water the experience begins as you see all the invertebrate life covering the pylons. Following one of these pylons down to the bottom, look up to the surface to see the sunlight beaming down between the pylons and shimmering off the schooling silver drummer. Choose any direction using the pylons for navigation and you won't be disappointed.
If you head to the seaward side of the jetty, then turn north and find a seagrass patch you might get lucky and find a Leafy Seadragon. They are a fascinating creature to observe and if you're lucky enough to have a camera with you they make an excellent subject to photograph. At certain times of the year male 'leafies' might be seen carrying eggs on their tails waiting to be hatched. Contrary to popular beliefs not all 'Aussie' males are chauvinists and do their share of child rearing. Check on your air, as observing these creatures can take up a whole dive, then fin over to one of the many pylons.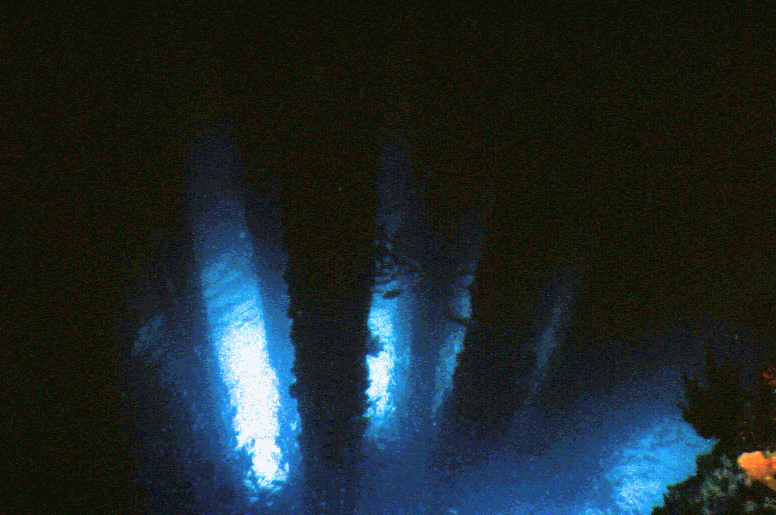 Here you'll see a myriad of colour and life. There are sponges, ascidians, anemones, bryozoans and tunicates. Hiding amongst all these invertebrates are sea stars, nudibranchs, weed whiting, decorator crabs and many sponge crabs hiding under an ascidian or sponge it has cut off to use as camouflage. Or maybe a Tasmanian Blenny poking its horned head out of a small hole and giving you a cheeky grin.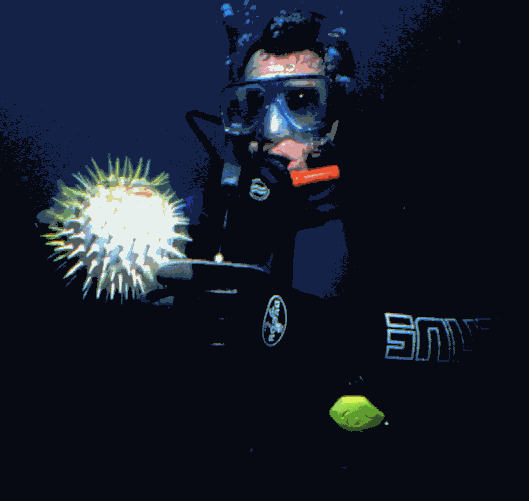 By now you'll want to do a bit more exploring before you exhaust your air supply. Finning through the pylons and looking all around you will see a multitude of fish. Schooling and flashing in the sunlight are hundreds of old wives. Other fish commonly seen are Globefish, Dusky Morwong, Magpie Perch, Western Talma, various Cowfish and various types of leather jackets. The edible fish such as Garfish, Tommy Ruff and our famous King George Whiting (great eating) can be seen nibbling away at baited hooks of the expectant fisherperson.
If you are very observant and get extremely lucky you might see a Weedy Seadragon or a Western Blue Devilfish. Both are very spectacular and very rare under the jetty but would certainly top off a great dive.
At last it's time to surface and head back to Adelaide to book a dive on HMAS Hobart. This is a decommissioned destroyer which served Australia during the Vietnam War which is due to be scuttled late this year and will probably prove to be one of the best artificial reef dives in Australia.
If anyone is coming to Australia and intend including Adelaide (Barossa Valley, Flinders Ranges, etc) in their itinerary and wanting to dive they can contact me at home on 08 8294 7273.
---
by
Dr Elizabeth Reid
Coordinator, SA Whale Centre
"Bruce is back at Bashams Beach!" With these words, a small party of whale experts from Macquarie University and New Zealand kicked into high gear and turned their research vessel east toward the sandy bay at Middleton. Having received word from the SA Whale Centre Sighting Team, Dr. Nathalie Patenaude and Dr. Rob Harcourt were on a mission to catch up with 'Bruce' for yet another photo opportunity, and to see if he had any interesting company today.
'Bruce' is an 18m Southern Right whale, who was very popular during the 2001 whale watching season in Encounter Bay. Not only was he the object of intensive study for the research team, but he was also a star attraction for thousands of eager whale watchers who lined the local coast.
Believed to be male (from brief glimpses of his genital slits), Bruce had arrived in search of a mating opportunity. As a sexually mature adult, he would be at least 6 or 7 years old, and interested in mating with as many females as he would encounter along Australia's coast. Should other frisky males turn up with the same intention, they might even help each other manoeuvre into position to gain access to females. Southern Right males compete for the right to pass on their genetic good looks by means of the fittest sperm, thus making aggression unnecessary. 'The more the merrier' is the breeding whale's motto, and Bruce had settled in as part of the local singles scene.
Encounter Bay is well known as a preferred habitat for Southern Rights, and in particular, for breeding groups on the constant search for some action. The research team was keen to capitalise on the frequency of local whale sightings, and to genetically sample and photograph as many different whales as possible.
A major part of their study was to obtain close up photos of each whale's callosities – the thickened, raised skin patches found on the heads of this species. Each Southern Right whale has different callosity pattern, so decent 'head shots' of the whales help distinguish between individuals – a bit like a whale fingerprint. The photos are an important contribution to a national catalogue of 'known' whales that visit Australia's south coast, and coupled with genetic samples, they shed light on the size, movements and composition of Southern Right populations. Once sure that Bruce wasn't already catalogued by previous research, they gave him a name and played the waiting game for his intended 'mates.'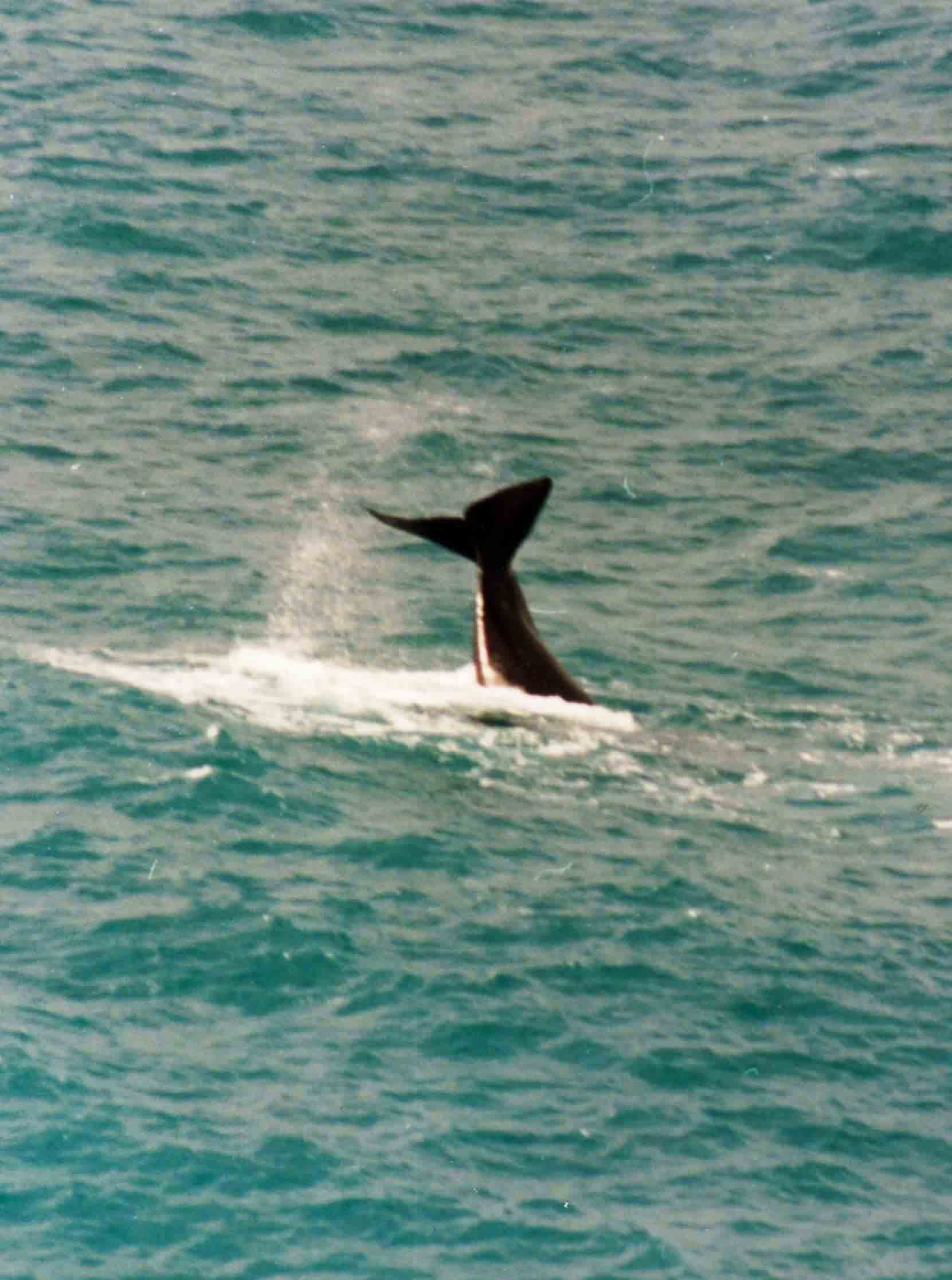 Bruce could be pretty sure of company sooner or later, and sure enough he was eventually seen in the company of other whales on at least 13 occasions. It is unknown how many of sightings included females or resulted in successful breeding, but at least one potential partner was off limits... Bruce and a pal once approached a mother whale and her young calf, but there would be no nonsense from the busy mum. She was feeding her calf 125 litres of milk a day (while she herself would not have a decent meal until the summer), and preparing it for a long journey to the Sub-Antarctic. After weaning the calf next year, the female would not be interested in breeding again for at least another 12 months – after all, giving birth to a 1 tonne infant is not something you want to do every day.
Although of no use to Bruce, it was promising to see the cow/calf pair in the local area. Unlike the Head of the Bight on SA's far west coast, or Warrnambool, VIC, the southern Fleurieu is not considered to be a significant nursery area. However, mothers and calves certainly do make appearances, and it possible that some are born close to the local shores. In fact, when this calf was first spotted by the SA Whale Centre, it was only 1 day or so old – it was still the milky brown colour of a newborn, which only endures for the first 48 hours of its life. Instead of taking up winter residency (as whales do in true nursery areas), this pair only lingered for a few weeks before moving on.
Bruce was of particular interest to whale watchers because he did stay put in the Bay for nearly a month, rather than pass through like most whales. He first appeared midway through the season on July 17th, and his visit stretched over 25 days. Even more interesting is that after a brief absence, researchers again spotted the boisterous whale on a return visit to his old haunt near Middleton. Most years, such an occurrence is likely to have been recorded as separate sightings of different whales, simply because of the lack of equipment and human resources to identify and track individuals with any certainty. The presence of the research team temporarily changed this for the better, and a great deal of knowledge was gained about the use of the Bay by Southern Rights.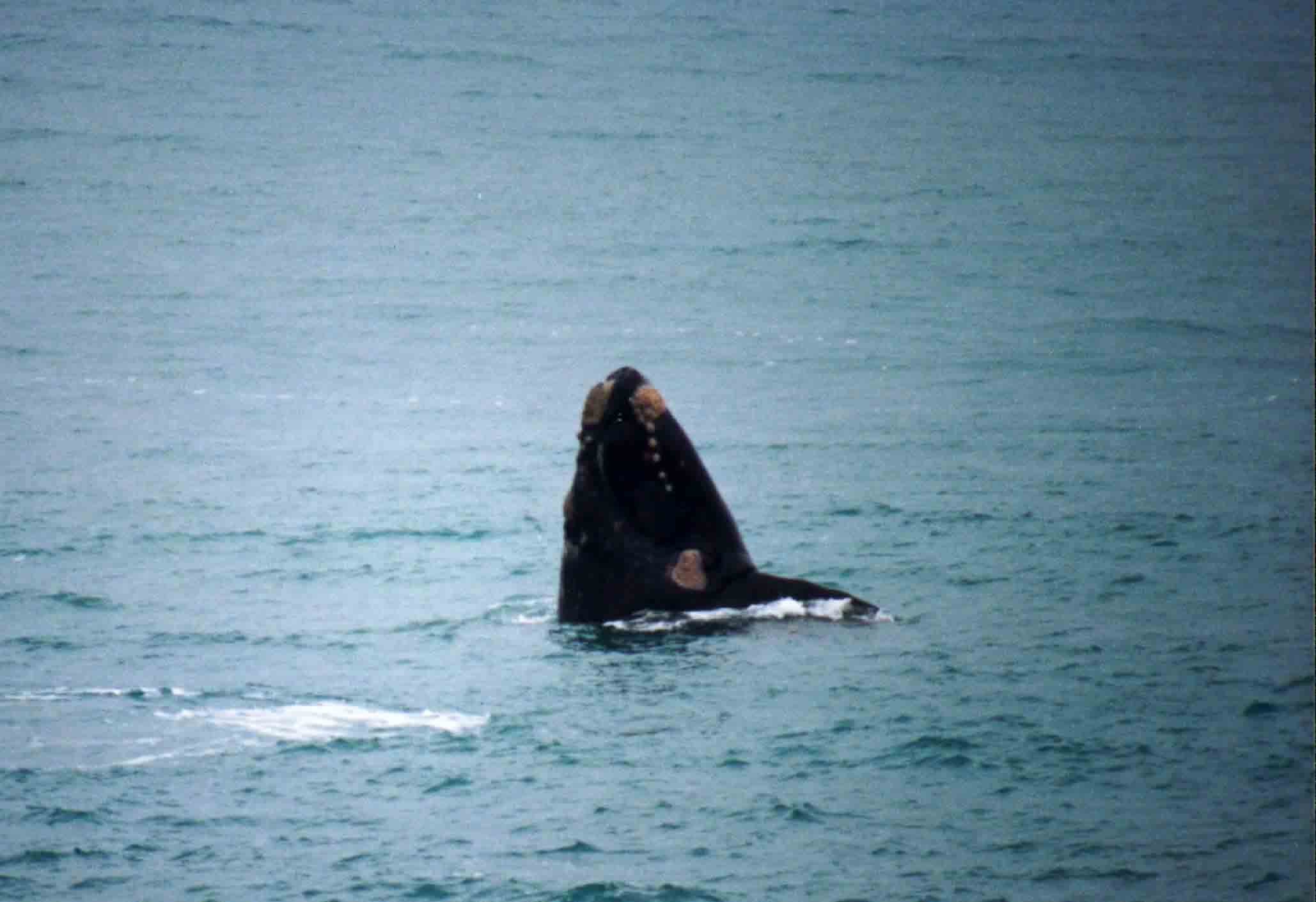 Daily comparison of photos during the study allowed the research team to keep a close eye on Bruce (and others), and he was a busy boy. More than half of his time was spent with at least one other adult, and when he wasn't 'entertaining' at his bachelor pad near Bashams Beach, he kept the researchers on their toes by travelling from Goolwa Beach to Petrel Cove, and everywhere in between. When things were quiet on the social front, Bruce became known for spending lonely hours waving his massive, 1 tonne tail in air like a beacon for passing whales, and for whale watchers.
On lazier days, Bruce was still a relatively easy whale to pick out due to the distinct cluster of callosities on his top jaw, and his apparent marine lice problem. His callosities almost glowed orange with the massive colonies of the tiny crustaceans that infested him. Whilst in many cases, photos are essential to capture the subtle differences between callosity patterns, it only took a quick glance to identify Bruce by his brightly coloured 'bonnet'.
Bruce became a bit of a media presence, featuring on weekly TV and newspaper whale reports. Not since "Blaze" in 1991 had Encounter Bay christened its own whales, and soon many whale watchers began to ask for Bruce by name. Thanks to the researchers, if Bruce 'wasn't available', visitors still became excited by the prospect of seeing any of the other whales named by the team: Clarence and Joe (more males on the move); Melanie and her young calf; Caesar, a large, imposing male; old Whitey and more.
Whale watchers this season also got to witness the whale research in action, and in the process, learn more about what is being done to protect these animals. The bright yellow Surf Life Saving boat used by the team was a common sight in the Bay, and although the researchers were keen to be discreet and expeditious with their work, they did attract a few comments and curious onlookers. An ongoing public information campaign kept interested punters up to date on their goals, methods and progress, and created more than a few ambassadors for the study.
An ever vigilant bunch, some whale watchers were anxious about the presence of the research vessel so close to their focal animal. A close approach (within 10m) was crucial for the genetic sampling techniques, and concerned people were assured that the team had all necessary permits to conduct their activities. However, the whale watcher response hopefully means the public is becoming more and more familiar with whale watching regulations, which now limit the distance of approach to whales to 300m in Encounter Bay. Raising awareness of the regulations is a primary management task of District Office of Dept. of Environment & Heritage, and the issue of responsible whale watching also features regularly in SA Whale Centre publications and promotional activities. Whether research-related or not, it's a good sign that people notice and care if any boat is "too" close to a whale.
The genetic study conducted by the research team is endorsed by the Draft Recovery Plan for Southern Right Whales, and results will determine whether or not the Southern Rights who visit Australia's southeast coast are a different stock than those in New Zealand and Western Australia. This should provide an indication of the 'status' (genetic make-up & diversity) of the Australian/New Zealand population(s). The research efforts were already proving to be invaluable to the SA Whale Centre's sighting database and interpretation of the season statistics, and of course, in Bruce they have created a new friend who captured the hearts of thousands.
By now, Bruce will be on his 8 week journey south to the Sub-Antarctic, where he will spend the summer gorging on truckloads of krill and copepods. With his 'face on file,' we look forward to identifying him and tracking his movements next May-September, should he choose to revisit his fans along the Fleurieu. In the meantime, we are happy to learn that genetic tests confirm that Bruce is indeed a boy, and as a virile and active 'player' in the whale mating scene, who knows, perhaps future research will reveal how many "Bruce Juniors" call Australia their (winter) home.
---
Acknowledgements

Sue Gibbs

-

"

Entangled Southern Right whale dies in Head of Bight whale sanctuary" photographs

Chris Hall

-

"

Rapid Bay Jetty" photographs

SA Whale Centre

-

"A Whale by Any Other Name...."

photographs
---