MLSSA
NEWSLETTER
APRIL 1999 No. 254
"Understanding, enjoying & caring for our oceans"
This Newsletter
This is the MLSSA Newsletter, the monthly publication of the Marine Life Society Of South Australia Inc. Our Society is active in trying to protect our marine environment and this Newsletter usually contains articles about marine life and the marine environment.
Copyright - the contents of this Newsletter are copyright and may not be reproduced without prior permission of the Society.
Disclaimer - The opinions expressed by authors of material published in this Newsletter are not necessarily those of the Society.
Subscriptions
You can join the Society or just subscribe to our Newsletter and Journal. To do either, please download the form from the Subscriptions page of this webpage and mail it with the appropriate payment to:
MLSSA Inc.
120 Wakefield Street
ADELAIDE 5000
South Australia
Please send all general correspondence, subscriptions or Newsletter and Journal contributions to this address. Correspondence may be marked to the attention of the Secretary. Subscriptions may be marked to the attention of the Treasurer. Newsletter or Journal contributions may be marked to the attention of the Editor.
Meetings of the Society
General Meetings of the
Society are held on the 3rd
Wednesday of each month
at 8 pm sharp, at the
Conservation Council
120 Wakefield Street
Adelaide
5000
South Australia
Parking is adjacent to the rear door entry.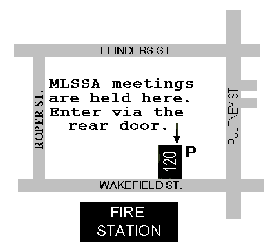 ---
This Month's Meeting
The 1999 AGM - Wednesday 21st April
This will be held in the Conservation Centre beginning at 8pm. We encourage all members to attend. The majority of positions are already decided, or we have sufficient nominations already, so do not feel inhibited by the understandable fear of being dragooned into an unwanted situation. This is an evening to enjoy!
Following the Formal Business there will be time to mix and mingle. Please bring a plate to share. Drinks will be provided.
We have received the following nominations for Committee positions:
Committee Position Nomination
President Philip Hall
Secretary Steve Reynolds
Treasurer Phill McPeake
Committee (2 Required)
David Muirhead
Rob Walsh
Chris Hall
Where there are the required nominations there is no need for an election under the MLSSA Constitution. Therefore those persons will be elected to the Committee. Where there are more than the required number of nominations an election will be conducted, viz: Committee positions.

Membership Fees
Please note these fees become due as at 1st April. Please pay promptly. You may pay at the AGM or send your subscription by post. If this is done soon it will save us from having to send out reminder notices.

---
MLSSA Collection
Past member Evan John takes his year 11 class from Westminster School to a reef near Witton Bluff as part of their studies each year. He has a 20 specimen collecting permit for all reef areas. To enable the class to see the creatures up close they are placed in a makeshift rock pool. This is sited in the shade and the water is frequently refreshed to reduce the stress to the organisms. After inspection and study by the class the organisms are then released
For the last couple of years I have been doing the collecting but this year I asked Ralph Richardson if he would do it. In the event he said yes and new member Jeff Prince agreed to help as well.
We went on Friday 26th of February. The day was warm with perfect snorkeling conditions - a flat sea with brilliant visibility.
The area has steadily deteriorated over the years and the range of specimens was somewhat limited. However we were able to show the class various starfish, urchins, weed, chitons, crabs, a toadfish, a horned blenny, brittle stars and several different shellfish.
The class was delighted to be able to study the creatures up close. The pupils showed a very good standard of knowledge and asked many intelligent questions. Eventually the creatures were all returned to the sea. This proved to be a very worthwhile educational experience for the class.

---
The Power of the Internet
At the February General Meeting I spoke of a petition I had received from Tony Wu in Singapore regarding the serving of Shark's Fin Soup to first class passengers by Singapore Airlines.
After the meeting I E-mailed the Singapore Airlines with our concerns. Three days later I received a reply stating that the menu was to be changed.
The airline must have been inundated with E-mails and decided to cut its losses. The power of the Internet indeed!
---
In our state, all the above fish plus the enigmatic Tubemouth constitute the Family Odacidae, within which there are four genera.
Genus Haletta has only one species, the Blue Rock Whiting H. semifasciata.
Genus Neodax likewise has only one species, the Little Rock Whiting N. balteatus.
Genus Odax has two well known species, the Rainbow Cale 0. acroptilus and the Herring Cale 0. cyanomelas.
Genus Siphonognathus contains six species, as follows:
S. argyrophanes - Tubemouth
S. attenuatus - Slender Weed Whiting
S. beddornei - Pencil Weed Whiting
S. caninus - Sharpnose Weed Whiting
S. radiatus - Longray Rock Whiting
S. tanyourus - Longtail Weed Whiting
Apart from the readily identified Rainbow and Herring Cale, several Odacids are actually quite common in our shallow coastal rock, algae and grass habitats, but as most are small, slender and difficult to approach they tend not to be noticed much by divers. This is a pity as the males can be very colourful, especially the Sharpnose Weed Whiting.
Despite nearly thirty years of diving in SA waters I am only now taking more interest in this family, thanks mainly to the increased ability to photograph smaller, shy fish afforded by my recently acquired 105mm macro lens.
I've only ever seen one Slender Weed Whiting (see my article in MLSSA Newsletter No. 112, June 1995) and I cannot recall with certainty having ever seen a Tubemouth but I have seen all the remaining species and now have reasonable photographs of Neodax balteatus (male and female), S. beddornei (male and female) and S. caninus (male) to add to the Photo Index. I hope to get a photo of S. tanyourus and H. semifasciata before too long, as these are reasonably common species.
By way of example, on a one hour dive at 10 metres at Moana Reef on 31/1/99, I saw male H. semifasciata and S. caninus and male and female N. balteatus, 0. acroptilas and S. beddoinei.
Although Herring Cale are common in this area I didn't see any on that particular dive, but if I had that would make a total of 6 out of our 10 species of ODACIDAE on the one dive!
Finally I must mention an interesting observation on 23/1/99 at the Stanvac Dump, just north of the jetty at 9 metres depth. Here I photographed an adult female Pencil Wee Whiting removing external parasites from two red mullet. Common, Glover and Kuiter in The Fishes of Australia's South Coast remark of this species: "At least in some areas, it ha been reported to remove external parasites from other fishes as do certain distant tropical relatives of the wrasse family".
S. beddornei seems to be the commonest of the small Odacids in waters close to Adelaide, and small aggregations of juveniles of this species also are often seen. S. beddornei, S. caninus and Odax acroptilus all show a strong preference for ecklonia kelp beds.
David Muirhead

---
June Long Weekend
The June long weekend is rapidly approaching. The traditional stay by MLSSA at Edithburgh is generally a very pleasant break with much good cheer, diving, snorkeling and generally having a good time.
Have you booked your accommodation yet?
I have been receiving messages from some who have done so. If you are intending to go then don't forget to let me know. I have to have the numbers for the Saturday night meal booking. I would prefer to have final numbers by 15th May if possible.
Philip Hall
---
British Marine Life Study Society
TORPEDO 33 - March 1999
http://ourworld.compuserve.com/homepages/BMLSS/homepage.htm
Reports of marine wildlife from all around the British Isles, with pollution incidents and conservation initiatives as they affect the flora and fauna of the NE Atlantic Ocean.
February 1999
Four Risso's Dolphins, Grampus griseus, have been found washed up dead on Cornish beaches this year. Like the Common Dolphins, Delphinus delphis, which are always washed up at this time of the year, the dead cetaceans showed evidence of fishing net entanglements. Risso's Dolphins have only been recorded on Cornish shores 16 times since 1914. One specimen was stranded at Northcott Mouth, Bude, on the north coast.
Report by Colin Speedie, Seaquest SW.
12 February 1999
A Sturgeon, Acipenser sturio, of 8.05 kg (nearly 18 lb) was caught in gill nets off Looe, in south Cornwall, and brought into Plymouth Fish Market.
Report by Alan Knight.
12 February 1999
The World of Seahorse Exhibition at the National Marine Aquarium at Plymouth opens. Seahorses were already on display, but the new extended Exhibition opened to the public on this date.
6 February 1999
A mystery animal accidentally brought home with a lump of rock from Beer Cove, near Seaton, south Devon, on 1st May 1998, by Richard Huggett (Eastbourne) has been identified by the finder after lots of discussions as the Green Ormer, Haliotis tuberculata. It is 37 mm long and about 17 mm wide. This is the first published record from the seas off the mainland Britain. It is well known from the Channel Islands. Further information can be found on Sue Daly's site. The animal is still alive in Richard's aquarium, so the identification has not been verified from the dead shell. The live specimen has not been formally identified by an expert. More information to be posted later.
1 February 1999
A 3 metres* long Mako Shark, Isurus oxyrinchus, (the consensus now seems that it is a Porbeagle) was caught three miles off Brighton by cod fishermen and brought into Monteum Fish Market at nearby Shoreham-by-Sea. The shark weighed 172 kg (378 lb). The largest shark normally caught in Sussex seas is the Tope, Galeorhinus galeus, and then only occasionally. Rarely Porbeagle Sharks, Lamna nasus, have even been caught, but this is my first report of a Mako.
Reported in the Shoreham Herald.
[* One report said 2.2 metres, excluding the tail fin?]
PS: On further examination the shark looks like a Porbeagle.
Andy Horton 11/2/99.
Further investigation underway.
The consensus now seems that it is a Porbeagle.
Doug Herdson, Marcus Goodsir, Pål Enger, Steve Barker & others.
Shark Page
16/2/99.
5 Porbeagle Sharks were landed at the fish market in Plymouth from September 1998 to February 1999, the largest being a female of 243 cm (115 kg).
Doug Herdson.
The Porbeagle has a secondary caudal keel. The Mako is a southern species, whereas the Porbeagle is a temperate water species and found all around the British Isles.
28 January 1999
A 12 metre long Sperm Whale, Physeter macrocephalus, was discovered swimming around in Weisdale Voe (off Hellister) at around 7.30 am. It gave excellent views to the numerous folk who congregated on the shoreline to watch it as it swam around the voe, at times no more than 50 metres from the shoreline, occasionally lifting its head clear of the water. By noon it had moved further south, into the mouth of the voe, but was still not clear of the Scalloway Islands.
More information including photographs can be found at:
Shetland Wildlife News Web Site
28 January 1999
A steel canopy is moored over the war grave and wreck (sunk in 1939) of the Battleship "Royal Oak" in Scapa Flow in the Orkneys to ameliorate the continual oil flow from the ship.
23 January 1999 to February 1999
A vagrant Bearded Seal, Erignathus barbatus, has made a sustained visit to Hartlepool in north-east England. It is over 2 metres long (6-8 ft), grey (more silvery on underside), very short snout, dark chestnut eyes, long white 'moustache' reaching to well below chin. It sits in water with head and back out of water (apparently typical). It has been much photographed and featured on the local NE BBC TV News on 27 January 1999.
Report by Jeff Higgett (Ipswich).
Seals Web Page
Bearded Seals are a non-migratory Arctic species that feed on molluscs including clams. It is so far out of its normal range (there have only been 8 records in the Shetlands, all since 1977) that I expressed doubts about its correct identification. Of the two species of seals resident in British waters it is the Common Seal that has the longest whiskers and the one that be most likely mistaken for a Bearded Seal, if was not for the overall size. Common Seals do not exceed 2 metres in length. Grey Seals reach 3 metres long, are commonly found off north-east England.
Andy Horton
---
The monthly MLSSA dive was scheduled for a day when the weather forecast was very unfavourable. On the day, the rain poured down and the wind blew strongly - in Adelaide and local environs. When we crested the hill overlooking Victor Harbor the sea was calm and there was no rain and little wind.
Unfortunately neither of the Diving Officers could be present so Phill McPeake (the D. O.) took charge. At the appointed time we met at the carpark and transferred the gear to Phill's van. Everyone except Phill, who had to drive the van, walked across the causeway encountering a penguin in a space in the rocks at the side of the track on the way.
From the jetty ramp the water appeared very clear. The ladder has rusted away leaving only one rung far above the water making the return a bit of an effort. A complete line of "X" bars have been recently replaced. The fishing boat "Vixen" had just arrived and was preparing to unload from the causeway side making life a little more difficult. The skipper asked if we could inspect his propeller as he thought rope had become entangled. In the event, Phill found there was no problem.
The divers began to gear up, including Jeff Prince for whom this was his first Screwpile dive. The only collecting to be done was by Phill who wanted weed for his aquarium.
Soon the divers and snorkellers entered the water to find it was 18°C and causing some to contemplate undoing zips! The visibility was excellent at the surface and in mid water but did deteriorate to some extent near the seabed. Here it was about 30 centimetres.
The snorkeling was done from the beach below the restaurant and along the rock wall and some pylons were inspected. Not much fish life was found but Danny Gibbins reported that it was very enjoyable. The divers found many of the usual fish, including a pair of Long-snouted Boarfish, Globe Fish, Magpie Perch, a school of Old Wives, Moonlighters, Sweep, several Zebra Fish, Leatherjackets and one fish described by Ralph as resembling a Hawkfish. Many starfish and much beautiful coral was seen, plus one gigantic shrimp.
As it has been some time since the Society made a dive at the Screwpile we were disturbed by the deterioration of the jetty and by the increasing depth of the seabed silt layer. The proposal for a floating aquarium adjacent to the rock wall, opposite the Screwpile, was discussed and the question of the clarity of the water was seen as a very difficult problem confronting the developers.
All in all a very successful dive. Indeed, if the sun had been shining it would probably have been one of the best MLSSA dives ever! If you were put off by the weather forecast then you really missed out.
Philip Hall

---
President's Report for 1998/9
Over the many years since I first joined the Marine Life Society (MARIA as it was then) the directions taken by the Society have varied considerably. However the basic aim has always been the same, to educate the general public about the need to create a pristine marine environment. The methods used have also been very varied. They were usually aimed at the members, government and the local area. As a consequence the public profile of the Society in South Australia has not been high. Internationally it was virtually non-existent.
With the emergence of our Internet webpage the local and international profile has improved considerably. Now we are contacted by people world wide and have received many requests for information from America, the UK and Russia. We are also linked through our webpage to organisations in Britain, America and in Australia.
Whilst this is all very pleasing we must continue to inform anyone locally who is interested in the marine environment about the Society and its aims. People often remark that they have never heard of the Marine Life Society. The production of the 1999 calendar was a major publicity boost and this alone has done more to bring our name to the notice of the general public than many of our previous efforts.
Other matters that come to my attention include the Royal Show successes which are only of a limited publicity benefit to the Society. The tank area needs to have someone there every day for the major publicity gain, which is impossible, so the main boost is on the financial side. The talks given by David Muirhead this year created a lot of interest and were very well received and demonstrates the value of the Photo Index as an educational tool.
Although we promote ourselves as a dive group there was not much done in 1998/9. A greater effort is needed as we must monitor the marine environment and be aware of any changes in the local area. It also raises our profile and enables members to talk to the fishing and diving community about conservation.
Our General Meetings continue to attract good speakers on a wide variety of interesting topics and it would be pleasing to see more members attending. The usual meeting place of the Conservation Centre is most convenient but the visits this year to the Discovery Centre at Henley Beach and to the Hallett Cove School Marine Centre were both very interesting and informative.
The Newsletter continues to be produced with the help of the many articles produced by a few members. Their quality is very good. This is essentially the main means of communication for the Society and as such merits close reading.
The annual Journal was well received and contained a wide variety of articles. The inclusion of a colour section of pictures generated from the Photo Index was mainly due to the work of Ralph Richardson who made the calendar possible by his hard work.
Unfortunately the main running of the Society falls on just a few shoulders. We really need more input and assistance from other members, even if it is only your attendance at meetings. This at least would show that the Committee efforts are appreciated and we are proceeding in the right direction. Articles for Newsletters and the Journal would be appreciated as would attendance at Society dives.
In conclusion I hope the Society progresses well this year in view of the several interesting projects that are on the drawing board. These include the Glenelg Proposal, the request for a tank display at the Whale Centre at Victor Harbor and the year 2000 calendar.
Philip Hall
MLSSACommittee Report 1998
Another memorable year for MLSSA, my contribution has again centred on input to the photo index together with articles for the newsletter. Several opportunities for MLSSA involvement, notably the City of Holdfast Bay Historical Display Project, have arisen during 1998 and whilst we endeavour to respond to such openings the size of our Society dictates that we display discretion in committing to large or ongoing projects. Never-the-less this particular project is such a wonderful way for MLSSA to promote SA's marine biodiversity (and MLSSA itself!) that we must seriously pursue involvement in 1999.
Meanwhile new memberships appear healthy and our public profile has definitely lifted through the website, better interaction with the Conservation Council via (eg.) Reefwatch and personal efforts by all active members. Most importantly(!) I've greatly enjoyed my MLSSA membership and had an excellent year's diving, both locally and on K.I.
David Muirhead
Treasurers Report for 1998/9
This report will be presented as an audited account of the years financial transactions and balances at the Annual General Meeting.
Phill McPeake
Secretary's Annual Report
The past twelve months have certainly been interesting enough. We published our quota of eleven newsletters and a journal. We owe Philip Hall and Phill McPeake a great deal of thanks for their efforts in producing these two quality publications on time, every time. A quick look through these publications reveals Society happenings over the past year.
We had an excellent array of guest speakers at our monthly meetings. These were David McGlennon, Sheryn Pitman, John Hill, Lynda Walsh from Redpath Technical Services and two of our members, Chris Hall and David Muirhead. David McGlennon is from SARDI Aquatic Sciences. Sheryn Pitman is from Greening Australia. John Hill is the State ALP's Shadow Environment Minister. Dorothy Kotz was unable to attend one meeting but she sent a representative from her office instead. Our two members, Chris and David, both showed us their underwater slides. David showed us his slides on three occasions.
The only proper Society dives during the year occurred during the June long weekend trip to Edithburgh but, unfortunately, I missed out on those. Ralph and Phill did a dive of sorts when they assisted Redpath Technical Services with a research project.
Members gave talks to other groups. David Muirhead spoke to the Junior Field Naturalists at the Adelaide Zoo and the SODS dive club.
We managed a couple of aquarium displays during the year. One was at the Healthy Oceans Conference held at the SA Sea Rescue Squadron premises. The other was our Royal Show entry which won three firsts and a Champion award.
A couple of our meetings were held away from the Conservation Centre. One was held at the Hallett Cove School. The other was held at the Star of the Sea School's Marine Discovery Centre.
We recognized Geoff Mower's twenty years membership by awarding him one year's honorary membership. We gained several new members such as Chris Hall, Sharon Liefrink, Scott Marshall, Tim Hoile, Bridget Milanowski, Danny Gibbins, Liz Raymond, Jeff Prince and Alex Suskin.
Dragon Search went national, more or less. We produced our first calendar which was well received. Our web page, Photo Index and library all made good progress. We published a list of items in our library (MLSSA No.5033). A Diving Officer's Code of Practice (MLSSA No.5032) was prepared by P. Hall and adopted by the Society. It has since been adopted by other organisations. Our list of fish sightings at the Glenelg Barges continues to grow. Other divers are now adding their sightings to David Muirhead's comprehensive list. We have published reference lists for seahorses and seadragons.
Several members continue to report their observations and thoughts through our two publications. Some of these have turned out to be important discoveries.
We are indebted to David Muirhead for his constant flow of quality underwater slides. These are building up our Photo Index which is replicated on our web page. They are used in talks and displays and were used for our highly successful 1999 calendar. One slide was used for a framed print that we donated to the SDF's Fundraising Ball.
Our November 1998 Newsletter was our 250th in just over 22 years. We have now published 16 Journals over 19 years. Next October will be the 20th anniversary of our Journal.
Many thanks to Philip Hall for his assistance with my secretarial duties. His help with minutes, agendas, E-mails, etc. is appreciated.
Apart from being the Society's Secretary, I am also the current Diving Officer. At the time of writing, however, I have not supervised any dives as yet. I was also the SDF Rep for part of the year. Although Chris Hall has replaced me as our rep, I continue to be a Committee Member for the SDF. I am also the Society's Library Officer and Photo Index Officer. I have combined reports for these positions within the above report.
Steve Reynolds
---