Marine Life Society of South Australia Inc.
Newsletter
August   2009   No. 368
Next Meeting
The August meeting of the Marine Life Society will be held at the Glenelg Marine & Scuba upstairs training room on the Patawalonga frontage at 8.00pm on Tuesday 18th August. Please enter via the stairs at the side of the building. If you cannot find us on the night then phone me on 0407395566 and I will give you directions.
Fish Ecologist Dr. Michael Hammer (SA Museum & Native Fish Australia SA) will give a talk on Goby diversity in South Australia: habitats, genetics, and a call for help.
The talk will summarise an ongoing project at the SA Museum that is systematically sampling near shore habitats across the state, targeting some of the smaller and often overlooked members of a diverse community. Gobies come in an array of shapes and colours, and to date there have been some exciting discoveries on our back doorstep. Molecular genetic techniques are being used as an additional tool for identifying species and distinct populations and provide much needed clarification on groups that are tricky to ID. With so much area to cover, any MLSSA collecting will add to the project, and in-turn the Museum can provide feedback on species identification. Goby photos are also a great start to identify interesting forms and sites for further collecting, so bring any photos along on a USB or CD for a quick ID session.
CONTENTS
Jill Hudson Award 2009
Return To 'RAPID'  (Steve Reynolds)
Drainage Scheme Threatens Unique Habitat (Contributed by Neville Skinner)
Jill Hudson Award 2009
<![if !vml]>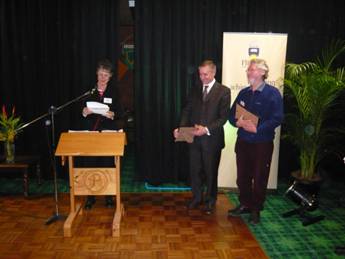 <![endif]>
Cheryl Hill, Minister Jay Weatherill, Peter Laffan
Picture by Philip Hall
The Jill Hudson award for 2009 was presented jointly to Peter Laffan for his work with the Save our Gulf Coalition and the Aldinga Bay Coastcare Group in trying to save our waterways, on Thursday 25th June by the Minister for Environment and Conservation, the Hon Jay Weatherill MP.
The award was shared with The River Lakes and Coorong Action Group which was recognised for its work in opposing the Wellington Weir, its work on the over-allocation of water from the Murray-Darling River system and many other significant activities.
The MLSSA nominee, Janine Baker, had a ringing endorsement of her work read to the gathering by the CCSA President Cheryl Hill.
by Steve Reynolds
Recreational scuba divers have only recently been able to return to Rapid Bay in search of seadragons. A new steel and concrete jetty has now been built there, 30 metres from the old one, providing a base from which to swim out to the 'T'-head of the old jetty.
<![if !vml]>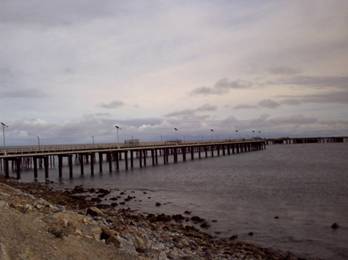 <![endif]>
This was my first 'live' view of the new jetty at Rapid Bay.
The 'new-three-point-nine-million-dollar jetty' was going to be officially opened by Premier Mike Rann on 11th March 2009, but many (most, if not all) divers could not wait that long to try out the new jetty. Some eager divers had probably tried to be the first to dive from it during February. A few others decided that Clean Up Australia Day on 1st March was a good excuse to dive at Rapid Bay.
The SA Adelaide Cup holiday long weekend provided a good opportunity for those that were a little slow off of the mark (like myself) to visit Rapid Bay.
Apart from boat dives and awkward shore dives, divers had not been able to dive at Rapid Bay jetty for more than four years. The old jetty had been allowed to fall in to disrepair until it was closed for good, two days before Christmas 2004.
I, myself, had been fortunate in that I had managed to dive at the old jetty just a matter of days before it was closed on 23rd December 2004. The announcement of the closure right on Christmas was a huge shock to the diving fraternity. Many families would have been planning to visit the area during the Christmas/New Year break.
As I was busy typing this report on 8th March, word has come through that Patrick Conlon, our Infrastructure Minister, had issued a media release on 25th February stating that the new facility was now open to the public and would be officially launched by himself (not the Premier) at a community celebration to be held at the site on 11th March.
Mr Conlon described the new jetty as a "brand new $4 million structure", adding, "This brand new 240-metre long jetty has reinforced Rapid Bay's reputation as one of South Australia's premier recreational fishing and diving locations. The completed jetty provides fantastic access for fishing and a wonderful piece of infrastructure for divers wishing to access some of Australia's premier diving spots. The local community, recreational fishers and divers and the project team on site have worked together extremely well to deliver such an impressive structure to Rapid Bay. The new Rapid Bay Jetty features ample space for fishers and a convenient launching platform for divers drawn to the location by the rich diversity of marine life, including the Leafy Seadragon."
(The media release can be read in its entirety at
http://www.rapidbayjetty.org/docs/MediaRelease-RapidBay-25Feb09-Conlon.pdf .)
Work on the new jetty began in August 2008 and, despite some minor delays for bad weather, it was apparently completed on time and on budget. The piles and crossheads for the new jetty were assembled on shore before being hammered into place using a 13-tonne piling hammer.
The Friends of Rapid Bay Jetty group was largely responsible for having the new jetty built. They deservedly won a SARFAC award for their efforts. The Friends are now organising for star droppers & chains to be laid down as an underwater trail between the two jetties. Their web site at http://www.rapidbayjetty.org/ has the latest information about the new jetty. There are also some photos of the new jetty on the website (main page) and the Flinders University Underwater Club site at
http://underwater.flindersclubs.asn.au/gallery/index.php?album=14-Feb-2009+Rapid+Bay+Jetty . (Note the date in this URL.)
The Flinders University Underwater Club was one of the clubs which organised a clean up under both jetties on Clean Up Australia Day (1st March).
According to http://www.rapidbayjetty.org/, the Rapid Bay "camping ground is presently open, and is a great place to unwind, without breaking the bank! Cost of camping is $5/night for adults, and $2.50/night for kids. Two electric BBQs, open air cold showers and toilets are available. Water is trucked in, so please use it wisely. The managers do not take bookings, but even at peak times, there is usually somewhere to squeeze in. The campground managers (Reena & Lucas), will typically call by twice a day to collect camping fees and make sure everything is OK. The campground managers are available on 08 8598 3003 (just call later if there is no answer), but if you just want to know what the local weather is like, then please do not call them - check the BoM on the link below for the latest local weather conditions:
Parawa West automated weather station (just up the hill) –
http://www.bom.gov.au/products/IDS60801.94811.shtml . Please be considerate of others camping at this fantastic site, as inappropriate behavior will not be tolerated, and you will be asked to leave."
The old jetty at Rapid Bay had been built between 1939 and 1942. Its length was 487.7 metres, plus it had a 'T' head. In recent years, Adelaide Brighton Cement used the jetty for several years until 1998, when they no longer needed it. Demolition work was then done on the redundant ship-loading equipment. Within one year of the demolition work, the dolphin platforms attached to the 200m T-section end of the jetty were under threat. There were plans to remove the dolphin platforms from the T-section for safety reasons. The Scuba Divers Federation of SA was assured that the jetty itself was in good shape and successfully fought for the dolphins to be retained.
By mid-2000, a meeting between Transport SA, the government agency responsible for the jetty, the SA Recreational Fishing Advisory Council, the Fleurieu Peninsula Recreational Fishing Committee and the SDFSA had been held. Dragon Search reported that the meeting arrived at a verbal agreement that "no part of the jetty – including the dolphins at either end of the T-section – would be demolished, and in fact an upgrade to a reasonable recreational standard (was) likely to take place during the next 2-3 years".
Within 3 years we started receiving reports that the jetty was now in such poor shape that, firstly, the whole T-section would be demolished. Before we knew it, the whole of the jetty was so bad that it could all be demolished. Figures of around the $2m mark were being suggested as necessary to repair the jetty to a safe standard.
It wasn't long before we discovered that the T-section end of the jetty had been closed to the public. The next thing that we knew was that the new floor of the divers' platform had been removed. This meant that SA's premier jetty dive had become a good boat dive only. The Scuba Divers Federation was warning divers that shore-based dives at the jetty were unsafe due to the swimming distance required.
The divers' platform was re-located to the accessible outer end of the jetty in February 2004. I managed to use the new platform on 13th April that year. The seas were flat calm but the skies were mostly overcast. We had very good vis for our 90minute-plus dive. My buddy and I saw a few leafy seadragons between us.
I was fortunate to return to the jetty in December that year, just days before it was closed for good. My buddies and I had flat calm seas for our dive once more. The hot sunny conditions provided us with excellent vis for our 72-minute dive. The fish life was great, although we didn't see any seadragons at all this time.
<![if !vml]>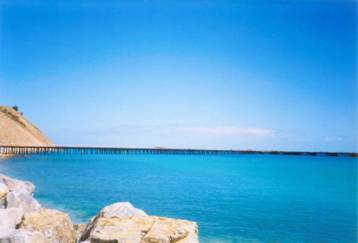 <![endif]>
View of the proposed site for the new Rapid Bay jetty
The jetty was closed on 23rd December, just in time for Christmas. Hard work by the SDFSA and other stakeholder groups such as the Friends of Rapid Bay Jetty and SARFAC (the SA Recreational Fishing Advisory Committee) finally paid off. The SA State Government's announced its plans for the building of a new jetty at Rapid Bay on 8th September 2006.
(Incidentally, Rapid Bay was named after the ship HMS Rapid from which Colonel William Light made his first landing on the mainland of South Australia, 170 years earlier, on the 8th of September 1836.)
Premier Mike Rann made the announcement of plans for the building of a new Rapid Bay jetty on 8th September 2006 down at Rapid Bay in front of the media and stakeholders. Work on the construction of the new jetty finally commenced in August 2008.
<![if !vml]>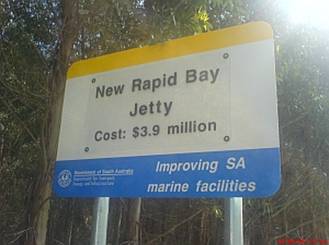 <![endif]>
Road sign advising motorists of new jetty's construction at Rapid Bay
(courtesy of Hank van der Wijngaart)
<![if !vml]>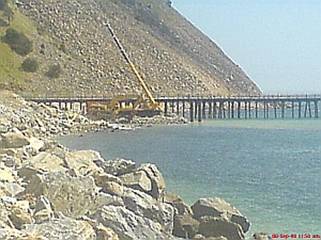 <![endif]>
Groyne under construction at Rapid Bay jetty
(courtesy of Hank van der Wijngaart)
A replica anchor from HMS Rapid forms part of another memorial at the site, adjacent to the rock with Col. Light's initials.
<![if !vml]>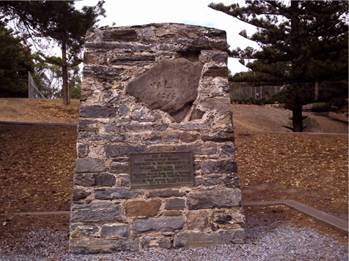 <![endif]>
Col. Light carved his initials in a rock at Rapid Bay.
The rock now forms part of this memorial at the site.
<![if !vml]>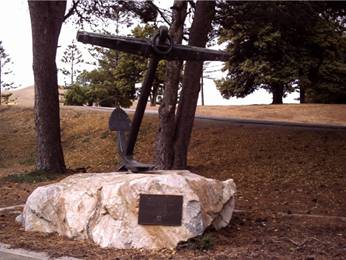 <![endif]>
The adjacent memorial with a replica anchor from HMS Rapid.
As stated earlier, it was announced on 25th February 2009 that the new jetty was open to the public and that it would be officially opened on 11th March. About this time, I was receiving all manner of enquiries from eager divers seeking word on just how soon they would be able to dive there again. I could only tell them some of the details related above, adding that I intended to dive there myself on 7th March. That was the Saturday of the Adelaide Cup holiday long weekend in SA.
I was meeting up with a few diver friends at the jetty that morning. It soon became obvious that a few other divers had the same idea. One pair of divers had already dived there the day before and then stayed nearby for another dive just after 9am. These two divers showed us their underwater scooters before they started off along the new 240-metre long jetty for their dive.
Once that the last of my friends had arrived, we started gearing up by our cars. We were soon on the new entry platform in knee-deep water, ready to revisit one of the best jetty dives in Australia. Once again, we had flat calm conditions and the vis was quite reasonable for our 80-minute dive.
The 30m-swim on the bottom to the old jetty was soon accomplished, and we proceeded to swim out towards the 'T'-section at the end of the old jetty. The large numbers of fish and invertebrates that we encountered along the way hindered our progress.
We soon met up with our earlier acquaintances with underwater scooters and we were initially cautious in their presence. One of them, however, called us over to point out a large sea hare to us. I took a couple of shots of the creature before moving on further.
<![if !vml]>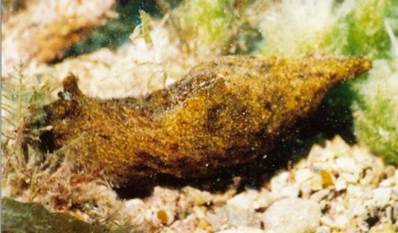 <![endif]>
A large sea hare found under the old Rapid Bay jetty.
Although the fish life was quite prolific, one species that I noticed was particularly plentiful was the mosaic leatherjacket. There seemed to be numerous large specimens just about everywhere. One of my two dive buddies (Allan) eagerly pointed out a nice vermilion biscuit star, Pentagonaster duebeni, to me so I took a photo of it to show my appreciation to him.
<![if !vml]>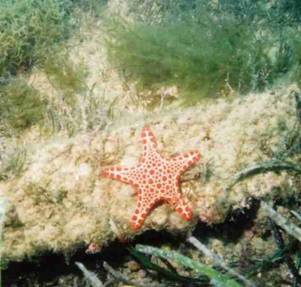 <![endif]>
Vermilion biscuit star, Pentagonaster duebeni,
found under the old Rapid Bay jetty
We didn't quite make it to the 'T'-section of the jetty at first because we were taken in with the many fish species which seemed determined to attract our attention throughout the dive. Apart from the many mosaic leatherjackets, I saw the usual number of old wives, magpie perch, trachinops, scaly fin, yellow-tail scad, talma, wrasse, zebra fish, long-finned pike, etc.. Sighting highlights included 2 or 3 juvenile blue groper, a black-banded sea perch, a rock ling, a long-snouted boarfish, a large snook and a senator wrasse.
We eventually made it out to the heavy superstructure of the 'T'-section but an air check caused us to decide that it was time to make a start on the long swim back. A couple of groups had thoughtfully marked a pair of jetty piles to indicate when it was time to turn and swim the 30m back to the new jetty.
<![if !vml]>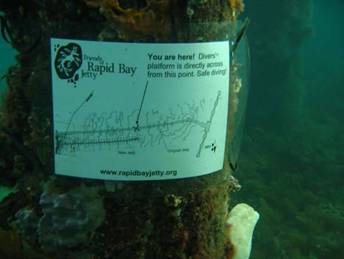 <![endif]>
Sign installed on jetty pile by the Friends of Rapid Bay Jetty group
(Photo courtesy of Hank van der Wijngaart)
Although our compasses were trying to confuse us a bit (due to the steel in the two jetties?), it was just a case of swimming at a 90° angle away from the old jetty. The 5-10m vis was enough for us to find our way back to the new jetty.
(I noticed that a recent report in our newspaper said "it is a short swim for divers from the old jetty". I though that perhaps the report should have said "it is a short swim from the jetty for old divers".)
I noticed that quite a few large 11-armed sea stars, Coscinasterias muricata, had already settled on some of the piles of the new jetty. In most cases, there would be a single 11-armed sea star at the bottom of most piles. Just as I had made up my mind that they must each like to be alone, I saw two of them close together at the bottom of a pile. They may, of course, have been fighting over the spot on the pile, or they may well have been trying to get to know each other better.
Despite a recent cleanup effort beneath the new jetty, rubbish was already beginning to accumulate once more. We started to pick up a few items as we explored the seabed under the new jetty. We picked up a few rectangular plastic plates that appeared to have been from the construction of the new jetty.
We were shocked to discover some piles of dead fish, apparently dropped by fishermen. One buddy (Allan) noticed another rectangular plastic plate amongst the dead fish and went to pick it up. He quickly dropped it again when he saw that he had disturbed a blue-ring octopus.
My buddy and the octopus had both received the shock of their lives. The blue-ring quickly swam to the new jetty pile and put on a threatening display with two of its arms. Since I was out of film by this time, we gazed at it for a moment before moving on. (I had taken my film camera on this dive because the housing for my digital is limited to 10m. I needn't have worried though, since our maximum depth for the dive was just 9.4m.)
We were close to the shore about this time, so we elected to keep swimming for a shore exit, although one of our 3-man team (Peter) decided to return to the entry/exit platform. He certainly beat us back to our cars.
Our two other friends (Dennis & Geoff) were already back at the car park and showed us their video footage of cuttlefish that they had encountered. Unfortunately, none of had seen the seadragons that we craved for. We were all happy, nevertheless. A quick change, a trip to the toilets at the camping ground and a lunch with coffee at the picnic tables was the perfect end to a perfect dive. It had also been the perfect start to the holiday long weekend.
Things got even better for the long drive home when my chauffer (Peter) became ill and asked me to drive his 'pride & joy' (a Honda Impreza) for him whilst he slept most of the way. That was enough to keep a smile on my face for days, until a few dive friends started sending me photos of the leafy seadragons that they had photographed at Rapid Bay on both the same day and the next day too. Oh well, some divers have all of the luck. I at least have their photos. I am also endeavouring to get my friend Dennis's video of his cuttlefish sightings.
The seadragons are obviously still there, so a return trip should happen fairly soon. The sooner, the better!
In the meantime, it was reported that the Premier would, in fact, officially open the new jetty at 9am on 11th March. The time was later changed to 11am on the day. The end result was that Pat Conlon, the Infrastructure Minister, ended up opening the new jetty himself (at 11am?).
<![if !vml]>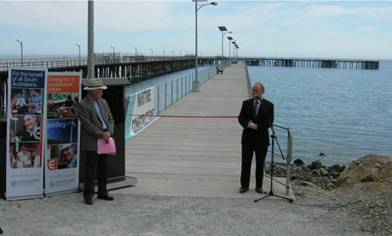 <![endif]>
Minister Pat Conlon officially opening the new jetty
(Photo courtesy of Hank van der Wijngaart)
Hank van der Wijngaart, President of the Scuba Divers Federation of SA, attended the opening, as did Dive Log's Christopher Deane and Greg Perry.
Greg is the former owner of the Dolphin Dive shop at Normanville. He says that he was forced to close his shop when the old jetty first closed in 2003. He came prepared to dive (solo?) from the new jetty on the day of the opening.
Hank was apparently interviewed by one of the TV channels for their news service. My dive buddy Peter saw the 5pm new on Channel 10 and I, myself, watched the 6pm news on Channel 9. Unfortunately, Hank thinks that Channel 7 interviewed him.
The following two excerpts from "The Border Watch" newspaper were supplied by Neville Skinner
Please note a few corrections:
1. "partially blamed high nutrient levels for a decrease in the flow of water through the system" should have read 'partially blamed high nutrient levels and a decrease in the flow of water through the system.'
2. "In 2004 Mr Skinner wrote a report to" (the SEWC&DB) should have read co-wrote a report, as I was one of three authors.
3. "Today, the process involves the use of excavators to do the same work" - no longer true, the Drainage Board have gone back to use of two caterpillar tractors and two ton of steel.
4. And the article failed to point out the 4cm drop in water level was recorded at Ewens Ponds (measuring station on the end of the first pond entry jetty).
That aside, I am happy this debate is getting some intelligent input for a change and look forward to reading some more intelligent debate in future issues of The Border Watch.
<![if !vml]>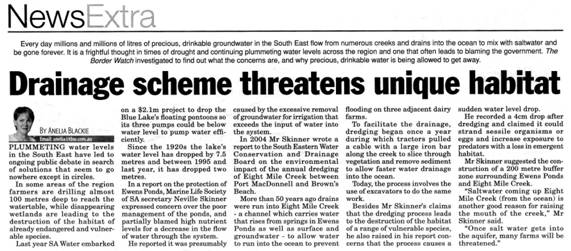 <![endif]>
<![if !vml]>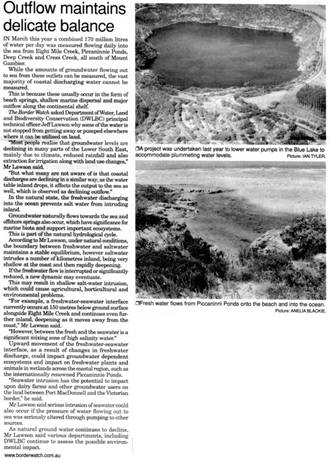 <![endif]>
KANGAROO ISLAND PENGUIN CENTRE
KINGSCOTE WHARF.
P.O. BOX 536,
KINGSCOTE. K.I. SA 5223 PH: 08)8553 3112
FX: 08)8553 3025
OPEN EVERY EVENING
TOURS TAKE 1 HOUR AND INCLUDE OUR GUIDES FEEDING SOME OF THE SEACREATURES IN OUR SALTWATER AQUARIUMS FOLLOWED BY A TORCHLIT FORESHORE WALK AMONGST KINGSCOTE'S LITTLE PENGUIN COLONY WHERE ON DARK NIGHTS WE LOOK AT THE EVENING STARS.
IN BETWEEN THE TOURS THERE IS AN OPPORTUNITY TO LOOK AT THE AQUARIUMS ONLY at $2.00 EACH.
TOURS & OPENING HOURS
(times change during the year due to daylight saving)
Opening Hours: April, May, June, July, August, September.
7.00 pm. Tours: 7.30 pm & 8.30 pm
Opening Hours: Early October, November, February, March.
8.00 pm. Tours: 8.30 pm & 9.30 pm.
Opening Hours: November, December.
8.15. pm. Tours: 8.45 pm & 9.30 pm
PRICES to 1/4/09 (Phone to check after this date)
Adults: $15.00
Child: $ 6.00 (3 years old to 14 years inclusive)
Family: $36.00 (2 adults & 2 children, extra child $3.00)
Concession/Student: $13.00 (must show card)
PELICAN FEEDING
5.00 PM EVERYDAY AT THE KINGSCOTE WHARF.
A popular lively & informative talk at the water's edge at a cost of $3.00 per person.