MLSSA
NEWSLETTER
AUGUST 1999 No. 258
"Understanding, enjoying & caring for our oceans"

---
August General Meeting

This meeting will be held on Wednesday 18th August at the Hallett Cove R - 12 School. A map of the school and surrounding area is on the bottom of Page 2. The entrance is from Sandison Road. See the map below.

If you become lost then phone me on mobile 0407395566 for assistance.

We will begin the meeting at 8 pm with general business.

After the tea/coffee break, during which you can view the superb marine aquariums which Tony Isaacson has had installed, we will spend some time identifying flora and fauna on some of the MLSSA Photo Index slides.

We therefore ask you to bring along any reference books you may have to assist us. The more books the merrier and the more accurate we may be.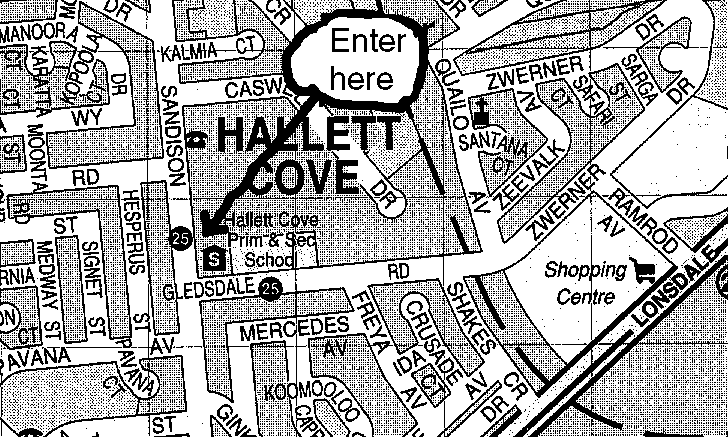 ---
This Newsletter
Copyright - the contents of this Newsletter are copyright and may not be reproduced without prior permission of the Society.
Disclaimer - The opinions expressed by authors of material published in this Newsletter are not necessarily those of the Society.



---
Welcome to New Members

We would like to extend a warm welcome to Heather and Mingyon Bird. Mingyon first attended our June General Meeting and is a Senior Student at Hallett Cove R - 12 School. She has a keen interest in the marine environment and in her letter of application posed an interesting question for us to consider. She asked about the proposed dredging off Moana and wondered if it would have any effect on the local dolphins. As this dredging was news to us it is a question we will certainly take up.


---
Seagrass Die-back

In the July Newsletter article by Sheryn Pitman the main reason for the loss of seagrass was given as the sediment entering the sea from freshwater creeks and rivers.
It was pointed out at the July General Meeting that the nutrient load from the various sewage works along the coast is an even greater factor in this seagrass loss.


---
ANZAC
Day
Dive
At
Port
Hughes
Jetty.

Introduction
In the 1970's I kept clown fish in tropical marine aquaria. Over the Christmas break in 1977 I stayed at Port Hughes. I collected sea anemones from the rocky shore to take home for my clowns. I don't recall how successful this was, taking temperate anemones for a tropical tank, etc.. I will never forget, however, that whilst at Port Hughes I purchased a skindiving book - "The Skindiver's Underwater World" by Graeme Dodd. I decided that when I returned to Adelaide I would learn how to scuba dive. I soon enrolled into a course which was held during January 1978. On 4th February I did my test dive at Port Noarlunga reef. I happened to know one of the dive instructors and told him that I kept tropical fish. He told me that he was President of the Marine Aquarium Research Institute of Australia's SA branch (MARIA). He invited me to dive with him at the Bluff the day after my test dive. It was a MARIA research dive that day (see Newsletter No.17 & MARIA Journal Vol.1, No.2). I may have attended a MARIA meeting later that month and then I took part in another MARIA dive at Myponga Beach. Well the rest is history as they say. I have now been a member of MARIA / MLSSA for some 21 years, but this article is not about me, it's about Port Hughes.

My dives at Port Hughes
I didn't return to Port Hughes for a dive until over six years later. I did a dive under the jetty there with Philip Hall & Phil & Barbara McPeake in May 1984. It was flat calm and visibility was 6m but it was only 15 degrees C. (see Newsletter No.85). Another four years passed before I dived at the jetty again. It was at the end of an Easter trip to Edithburgh in 1988. Peter Gilbert, Jean Cannon and myself visited Port Hughes on our way back to Adelaide. Although the water was choppy and became rougher, I enjoyed a dive with excellent visibility (see Newsletter No.130). Those were the days - I managed no less than 14 dives that same month!
Another four years passed before I was able to dive at Port Hughes again. This time I dived alone but I seemed to have enjoyed it. I am now lucky to do a dozen dives a year. After almost 500 dives I had only done three dives at the 'birthplace' of my diving. The last one was almost seven years ago (June 1992). On ANZAC Day this year, however, I did my fourth one there.

My ANZAC Day dive at Port Hughes 25/4/99
I had excellent visibility for a 100 minute plus dive. I can't understand why I haven't dived more often there. I saw so many beautiful sights including a large school of fish (Trevally?), two large Stargazers, two seahorses and a Fiddler Ray. I saw lots of Globe Fish, Little Weed Whiting, Red Mullet and Bullseyes. There were numerous beautiful leatherjackets including Pygmies and Mosaics. Other fish sighted included cowfish, Magpie Perch, flathead, pipefish, cardinals, Old Wives, Squarebacks, Dusky Morwong, Moonlighter, Ringed Toadfish, Snook and Castlenau's Wrasse. My buddy and I followed the two Stargazers around, admired the two seahorses, patted Globe Fish and Cuttlefish, and held the Fiddler Ray. I swam after a large jellyfish which was surrounded by tiny fish. We also saw some comb jellies and, of course, the beautiful soft corals and nudibranchs grazing.
What more could I ask for? Well I could have taken my camera for a start! I might have been able to photograph one of the three juvenile Scaly Fin that demanded our attention from time to time. Then there was the Grubfish. I simply must return again soon with a camera to record these beautiful creatures.

Steve Reynolds


---
The South Australian Aquarium Society Inc. Talk 13/7/99

Phill and Barbara McPeake, Margaret and I went to the Paynham Community Centre to talk to the above Society about MLSSA.
We spoke after the General Business, which included a very interesting member talk about the captive breeding of Bristlenose Catfish.
I began our talk by describing the evolution of MLSSA. This was followed up with a brief description of the aims and objectives of the Society. We then showed a selection from the Photo Index. Subsequent comments indicated most of the audience had never realised the wonders in our local waters.
Question time was ably handled by Phill who had to field questions on the setting up and running of marine aquaria.
Following the talk we had the opportunity to mingle with the audience.

Philip Hall


---
Rapid Bay Seadragons Future Still Murky
One of South Australia's most important jetty dive sites for watching leafy seadragons may be under threat from demolition. Dive groups and 'dragon-lovers' fear that Transport SA may demolish the end of the Rapid Bay Jetty* destroying the marine life and possibly impacting on the seadragon colony there.

Possible changes to the jetty range from total removal of the end section - including pylons, to removal of upper decking. Divers are worried about the removal of the end 'T' section of the jetty. This is where the seadragons are usually seen. The least extreme option of removing planking, which shades the pylons, may change light conditions, resulting in permanent loss of some of the shade-tolerant marine life, including the dragons apparent feeding habitat.

A significant number of sightings (23.1% of all dive sightings) from the Dragon Search records, are from Rapid Bay Jetty. The seadragon colony at the Rapid Bay Jetty have featured in international dive and wildlife publications including BBC Wildlife, and the site is known nationally and around the world as one of the 'spots' to dive with dragons. Most other dragon dive sites require boat access. Seadragons are protected in South Australia under the Fisheries Act 1982, and recently Tourism SA has been promoting the leafy seadragon in its international literature as a focus for marine tourism.

The Minister for Transport has stated to the SA Recreational Fishing Advisory Council that options for the repair of the areas of the jetty, such as the dolphin decking (the end 'T' section) are marginally cheaper than demolition. However the Minister adds that irrespective of cost of repair, consideration has also to be given to the costs of maintenance. The jetty itself is no longer used for commercial purposes and is classed as a recreational jetty. Funding which was made available for the upgrade of recreational jetties is only available on the condition that local councils assume responsibility for on-going maintenance. An unnamed consortium has apparently expressed interest in the jetty to the Minister's office for an as yet unclarified proposal. There was rumour that a developer had expressed interest to use the jetty for fish farming activities.

The problem would appear to be perceived risk for any future lessees of the jetty. Also the local District Council of Yankalilla is understandably reticent to take control of the structure, with associated long-term maintenance expenses.

Concerned divers and others may wish to contact the Minister for Transport The Honourable Diana Laidlaw at Parliament House, North Terrace, Adelaide 5000, phone (08) 8303 0940, or the District Council of Yankalilla on phone (08) 8558 2048 with any concerns over this proposal.

*Whilst it is not generally Dragon Search policy to release site specific information, it is well known within the diving community and the general community as a whole that seadragons occur at Rapid Bay Jetty. Extensive recent media coverage - both electronic and print - has emphasised this fact. Dragon Search feels it is appropriate to inform the community of conservation issues relating to seadragon sites.

Tony Flaherty
MCCN & Dragon Search (SA)

(This article is published with permission, from "The Dragon's Lair Vol. 4, No. 1 July 1999".)


---
Seadragon
Survey
The seventh of September every year is National Threatened Species Day. The Threatened Species Network (SA) is encouraging groups such as ours to do something towards promoting National Threatened Species Day. Any activity which involves the care of our waterways, catchments or marine and coastal environment would be appreciated but the focus theme for 1999 is the Leafy Seadragon.
Our Society has suggested making September 'Seadragon Survey Season' in SA in support of Dragon Search. Starting from the first Sunday in September, snorkellers and scuba divers are asked to select a site to search for seadragons. Searchers spotting seadragons will be asked to submit details on a Dragon Search sighting form. The form simply seeks sighting details such as site, species, size, sex, sea conditions and swell size. The SDF is supporting our Society and scuba clubs will be encouraged to search for seadragons during September. See Steve for more details about 'Seadragon Survey Season'. Suggestions from Society members regarding the survey would be welcome. Sighting forms are available from Steve for those searchers fortunate enough to spot seadragons during their surveys.

Steve Reynolds

---
National
Threatened
Species
Day
1999
The Leafy Seadragon - the land and sea connection

National Threatened Species Day is celebrated on 7 September each year and marks the day the last known Tasmanian Tiger died in captivity in the Hobart Zoo. The day is used to highlight the plight of Australia's threatened species and to encourage the community to become involved in recovery actions in their local area.
The theme in SA for the 5th annual National Threatened Species (NTS) Day is 'The Leafy Seadragon - the Land and Sea Connection'. There are two species of seadragon, the Leafy Seadragon (Phycodurus eques) and the Weedy Seadragon (Phyllopteryx taeniolatus). Both have spectacular leaf-like appendages on their heads and bodies. Seadragons are found only in southern Australian waters. Along with seahorses and pipefish these spectacular fish belong to the family Syngnathidae. Syngnathids are long, slender fish with bony plates surrounding their body.
One of the truly amazing features of the seadragon is that they resemble swaying seaweed, which can make them difficult to find in their natural habitats. Their bright colours are revealed in the sun dappled waters or under bright camera lights.
There is increasing concern about the future of seadragons which are threatened by both habitat destruction and collection for the aquarium fish trade. Seadragons rely on seagrass meadows and algal beds which are under threat off the coast of South Australia. The seadragon's habitat is largely disappearing as a result of decreased water quality, primarily due to land-based pollution and sediment run-off. The direct impacts of some fishing operations are also a potential threat.
Groups such as Dragon Search (SA), Reef Watch, Our Patch and the Leafy Seadragon-friendly Catchment Project are highlighting the importance of catchment care to the seadragon. A free booklet will soon be available to inform the community about 'leafy events' planned by many groups and organisations across the state during September that involve the care of SA's waterways, catchments or marine and coastal environment. Fun and informative guided walks, hands-on activities at the beach and interesting bird surveys are just some of the activities that you, your family and your friends can become involved in during the month.
The booklet will be packed with interesting facts, activities and practical ways to help threatened species. It will contain interesting information about the TSN and NTS Day. Find out about 'leafy events' and other 'leafy' groups and contacts. There will also be a section dedicated to important work being done to help threatened species across the state.
A free public talk 'Into the Dragon's Lair' by Tony Flaherty, SA Dragon Search Coordinator, will focus on the seadragon and the community-based monitoring program Dragon Search. The talk will be held on NTS Day 1999, September 7 at 7pm in the Armoury at the SA Museum. Everyone is welcome to come along to find out about this fascinating creature and this innovative program.
For more information about NTS Day 1999 or to order a copy of the free booklet, please contact Vicki-Jo Russell or Eva Squire at the TSN (SA) on 8223 5155. To find out more about the Dragon Search project or to request seadragon sighting forms, please contact Jeremy Gramp, also on 8223 5155.
Steve Reynolds


---
Wanted
- Dead or Alive!

This is part of an E-mail received at the end of May. Since then MLSSA divers have been looking unsuccessfully for this fish. Indeed, nobody in the Society except Ralph Richardson seems to have ever seen one. Have you? If so where?
Time is getting on so if you do see/capture one then let me know ASAP! Live specimens can go into Phill McPeake's tank or to Hallett Cove School for temporary storage.

"Subject: kelpfish request

I am a PhD student at the University of Tasmania, working on the evolutionary genetics of cirrhitoid fishes. At the moment, I am very interested in obtaining tissue samples from the western kelpfish, Chironemus georgianus (Chironemidae).
I am conducting phylogenetic analysis of the Chironemidae, based on DNA sequence data, in collaboration with a morphological study underway in Chile. I'm also comparing the levels of genetic divergence for southern Australian species pairs with east-west allopatric distributions.
Unfortunately, I am due to finish my work in 3 months, so it would be nice for this fish to be collected during this period, but if not possible any time thereafter would still be OK.
Sincerely, Chris Burridge"
Philip Hall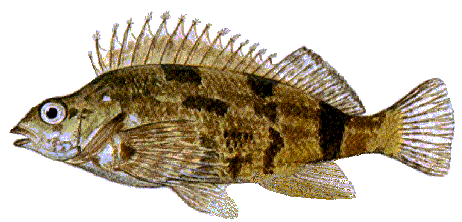 Western Kelpfish


---
Blast
From
The
Past

Knights Of The Night

Part 1

Well seeing this is part 1, I had better start at the beginning.

My first encounter with cat fish was in 1955. I was keeping some tropical fish in a large battery container which was previously used during the war for radio communications. It was 36 x 24 x 13 inches, one piece of molded glass about ½ thick, this sat on a piece of 1/8 inch thick copper plate and was heated by a kerosene burner out of an old fridge which I found at the local tip (would be worth a bob or two now).

To say I experienced problems with keeping my fish alive would be an understatement. I did not have any filtration nor lighting. I use to change half a tank of green murky water every week because the tank sat in front of the shed window. At that time I used to work selling papers in the morning and after school on the Sydney trams. On Saturdays I sold sweets and ice creams in the local picture house (cinemas). It was one morning (Friday, I think) whilst swinging along the side of a tram selling my papers the tram hit a truck. This brought about my first experience at free flight and was very exhilarating until the flight came to an abrupt end a couple feet away (pain, hurt, where I am, all this water running from my eyes, O'dear my pants are wet and it's not raining). To make matters worse the sun disappeared (along with my papers and money). When I looked up there was the biggest copper (no not a thing to boil water in, a policeman) I had ever seen blocking out the sun. He was a big as the side wall of our back yard dunny (toilet to you less informed), Oh sugar he's gonna lock me up for spilling this red stuff onto the road and Dad's gonna give me a flogging for tearing my shirt. Bloody hell, its the end of the world!!

Anyway this big "copper" picked me up and put me in his sidecar (that's a motor bike with a box along side of it) and took me to the hospital. By the time they had finished with me I was in more pain then when they started. They had put iodine on everything including my pants (Dad's gonna kill me). Then down to the Redfern Cop Shop (they're gonna lock me up). Yep straight into a cell and onto a bed (their gonna torture me!). I ain't gonna tell them nothin, my lips are sealed, not even this bowl of soup that he's brought me will loosen my tongue! Then came the questions. Name, age, address, where does your father work, is mum at home? I took a deep breath, a defiant look on my face, clenched my mouth shut. I held this pose for at least five seconds and then blurted out everything he wanted to know including that my fish would die because there would be no one to look after them cause Dad's gunna KILL ME!!!!

Well dad never killed me, my boss at the paper shop never killed me, but the fat pig at the theater gave my job to someone else (he will get his).

A knock at the front door, dad opened the door (Oh no, the sun's disappeared) "Guess Who!" (now I'm gonna get it). Father called son to door, son plays deaf, father threatens violence, these dumb legs take me to the door (have I no control of my body). This huge hand hurtles towards my face (I knew I was gonna get it). I close my eyes waiting for the pain, pause, no pain! I opened my eyes to see a jam jar with two fish in it. The jam jar was held in front of my face held by this huge hand, I looked again it must be Christmas Two catfish, "are they mine to keep!" I ask. "Yes, if you give me a look at your tank" said the big copper.

Well this changed my life in two ways. First, I've got two catfish and second coppers, I mean policeman, are beaut blokes, (I must remember not to give them the royal thumb anymore).

Next Issue part 2

( I can hardly wait isn't it exciting).

Barry Gooley

NOTE

Barry is both the Treasurer and Editor for the South Australian Aquarium Society Inc., both of whom are thanked for allowing us to include this series of articles in the MLSSA Newsletter.


---
July General Meeting
- Report

This was a very busy meeting indeed. We began soon after 8 pm with the first part of the General Business.
Then Brett Gillett, from Im-Press promotions, showed us some of the items on which we could have the MLSSA logo put for fund raisers or gifts. These ranged from mugs and wine glasses to caps, T-shirts, key rings and pens. We will discuss his products and prices at the August Committee Meeting and report back to the August General meeting.
We then hastily finished the general business, with some items being left to the next Committee Meeting, before the tea break during which Liz Raymond demonstrated our MLSSA web page on a CD ROM which she has just cut. If you are without Internet access and have a ROM drive then you may like to borrow the disk to see what we have for the world to see. Also if you do have Internet access then this is a cost free way of studying our Photo Index in detail.
Then it was the turn of Chris Hall who showed us his June Long Weekend Edithburgh slides. We saw some very colourful examples of the Flora and Fauna that was sighted on his dive.
Finally, our main speaker, Helen Castle was able to give us a fascinating talk on marine algae. She has an excellent command of this subject and made it a very interesting talk. Everybody had a taste of one particular seaweed she brought for us to try.
Even after this very crowded meeting we ended before a quarter to eleven.
Philip Hall


---