MLSSA
NEWSLETTER

FEBRUARY 1999 No. 252

"Understanding, enjoying & caring for our oceans"

This Newsletter

This is the MLSSA Newsletter, the monthly publication of the Marine Life Society Of South Australia Inc. Our Society is active in trying to protect our marine environment and this Newsletter usually contains articles about marine life and the marine environment.
Copyright - the contents of this Newsletter are copyright and may not be reproduced without prior permission of the Society.
Disclaimer - The opinions expressed by authors of material published in this Newsletter are not necessarily those of the Society.

Subscriptions
You can join the Society or just subscribe to our Newsletter and Journal. To do either, please complete the form inside the back cover of this Newsletter and mail it with the appropriate payment to:
MLSSA Inc.
120 Wakefield Street
ADELAIDE 5000

Please send all general correspondence, subscriptions or Newsletter and Journal contributions to this address. Correspondence may be marked to the attention of the Secretary. Subscriptions may be marked to the attention of the Treasurer. Newsletter or Journal contributions may be marked to the attention of the Editor.

Meetings of the Society

General Meetings of the
Society are held on the 3rd
Wednesday of each month
at 8 pm sharp, at the
Conservation Council
120 Wakefield Street
Adelaide

Parking is adjacent to the rear door entry.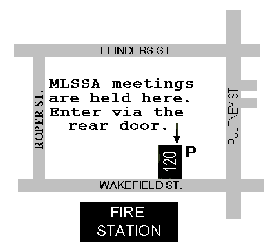 ---
This Month's Meeting

The February General Meeting will be held on Wednesday the 17th at the Conservation Centre 120 Wakefield Street, starting at the usual time of 8pm.
After the business part we will be viewing some of the latest slides taken by David Muirhead. I would encourage anyone who has some marine slides to bring them along. If time permits, we will be able to have a look at them. Please also read the article on the Photo Index later in this Newsletter.

---
1999 Annual General Meeting

This will be held in April at the Conservation Centre.
All reports by Committee persons are to be sent to me ready for printing by 31st March at the latest. These will need to be sent out with the April Newsletter.
Committee positions are always declared vacant so I ask all members, whether on the current Committee or not, to consider nominating for them. You may also phone me with a nomination. All nominations must reach me in time to be published in the April Newsletter.
Please note that membership fees also become due as of the 1st April. They may be paid at the AGM or sent to the Treasurer prior to the meeting.
Philip Hall

---
Yorke Peninsula Report 14/12/98
Now I have not been doing a lot of diving of late and the last time was at Rifle Butts Beach which is a kilometre from Port Victoria and this was a snorkel dive.
This area never seems to amaze me, as it is such a pretty little place and you would expect to see quite a bit of fish life around, but wrong as usual, as the area has been hard hit by spearfishing persons over the years.
First a bit about the area, to the right of the car park there is about 1 kilometre of rocky shore line and to the left there is sandy beach for a quarter of a kilometer and rocks once again. The area where I usually concentrate is around the rocks, but each time I swim in this area it seems that there are becoming less and less fish varieties to be seen, I have found though if you are willing to go that extra distance along the shoreline then you may be rewarded with what you see.
My last dive Sandra and I came across juvenile Dusky Morwong, squid, a large school of Garfish, Silver Drummer and some rock species, such as Weedy Whiting and the occasional Old Wife (not mine either folks ).
I have not ventured too far out as at this time of the year it has been well documented that a couple of large White Pointers frequent the area. The talk around the area at the moment is that the large White that has been in the area for years was the one caught at Port Germein earlier this year as it has not been seen this year.
The local Aboriginal people are spearing quite a lot of fish. Their main catch has been and usually is Dusky Morwong, mainly because this has always been a traditional fish for them to eat and spear and this even goes back before the Europeans landed here in Australia. The local tribe (being the Narungga Tribe) used a bush that grew around the area to sort of drug the fish then they would spear them with their long fish spears.
Ron Bellchambers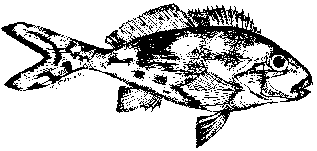 Dusky Morwong drawn by Emma Kinge

---
Why
Port
Victor
Became
Victor
Harbor

In our 1995 Journal (MLSSA No.6) I wrote an article about the origins of names associated with Victor Harbor. My article explained how Victor was named so by Commander Crozier in 1837 after the brig HMS Victor*. The area then became Port Victor in 1865. It seems, however, that this created some confusion with Port Victoria and so the name was then changed to Victor Harbor in 1921. In 1991 Neil Cormack was able to describe an incident that led to the name change. He said that a French Captain called Jean Schoerff reported at Cape Borda, Kangaroo Island for orders. He was told to report to Port Victor but incorrectly sailed his barque to Port Victoria. He signalled for a pilot at Port Victoria but there had never been a pilot there. The Frenchman was seen running his barque into danger amid frantic signalling from the shore. The barque was called the Eugene Schnieder and she had been built in Nantes. She ran onto Eclipse Rock but was able to get off again. Captain Schoerff angrily departed for Port Victor whic he didn't like either. He reportedly left Victor in a rage, and in ballast, and departed for Melbourne. So, it was due to mistakes such as this that Victor became known as Victor Harbor. The change was proclaimed in the Government Gazette of 16/6/21. Five and a half years later the barque Eugene Schnieder sank in the English Channel after being cut down by a ship. It happened on Christmas night in 1926. She sank in four minutes, taking all but four of her crew with her.
(* According to Ronald Parsons in his book "The Navy in South Australia", HMS Victor was a 382 ton brig-sloop which had been built at the Bombay Dockyard in 1814. She had 18 guns on board [At that time sailing ships were classified by rates, the rating depending on the number of guns. A first rate ship had more than 10]. Parsons calls Commander Richard Crozier, Captain F.R.M. Crozier. He says that Crozier and his brig-sloop arrived at Holdfast Bay in 1837 before surveying (and naming) Victor. The ship was later lost in the Atlantic Ocean in 1842.)
I don't know what a brig-sloop is. A brig is a two-masted square-rigged vessel whereas a sloop is a one-masted vessel. A Naval sloop would spread clouds of canvas from its single mast. A barque (such as the Eugene Schnieder) could have from 3 to 5 masts, fore and aft rigged on the after mast, and square-rigged on all of the others.
Steve Reynolds

---
Photo Index Update
During 1998 the Committee decided to expand the Photo Index. The following list is of invertebrates which are now included in the Index. All of the photographs were taken by David Muirhead. We encourage anyone who has a picture of an invertebrate which is not listed to bring it to this months meeting for us to view for possible inclusion in the Index. Pictures of any other marine subject are also welcome.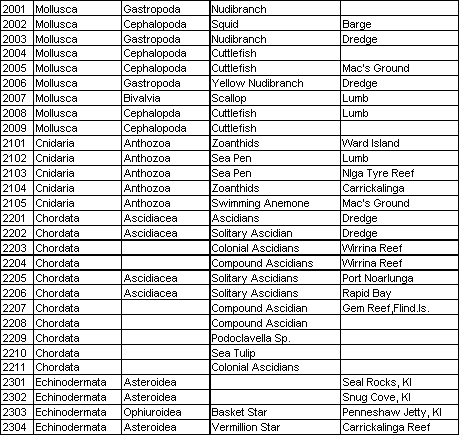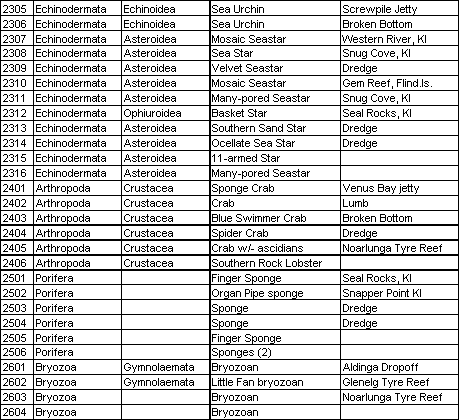 ---
Indonesia Dive Adventure

MLSSA recently received an E-mail regarding the following dive trip to Indonesia.
DIVE ALOR, INDONESIA
The Worlds Best Dive Location
Travel Dates: May 15th - May 26th 1999.
Cost A$1850 Dive Package + A$ 975 Airfares to Kupang Indonesia
Total Cost A$2825
For further details contact the organiser:-
Jonathan Ping
(Alor-Addict & Trip Coordinator)
Politics Department
The University of Adelaide
Telephone 8303 4464
E-mail jping@arts.adelaide.edu.au

---