MLSSA
Newsletter
JANUARY 2003
No. 295
"Understanding, enjoying & caring for our oceans"
Next Meeting
Our first meeting of 2003 will be held at the Conservation Centre, 120 Wakefield Street, Adelaide on Wednesday 15th January commencing at 7.30pm.
Our speakers will be Chris Hall and David Muirhead who will be showing more of their underwater slides.
---
Contents
Members Visit To Ningaloo Reef - October 2002
After The Encounter Part 1
Marine Discovery Centre bursting at the seams!
Launch Of Moorings On Shipwrecks
More About Some of the Shipwrecks
---
Contributors
This month our authors are all members. They are: Val Adamson, Steve Reynolds and Tim Hoile. Thank you all.
---
2002 Journal
No Journal was possible in 2002 as insufficient articles were given to the Editor and the printing of the publication became very difficult to arrange.
An article that was sent in will be published over several 2003 Newsletters.
If members want a Journal in 2003 then could they please produce articles and give them to the Editor well before the end of September.
---
After reading the article about Coral Bay in the November newsletter, I thought you might be interested to hear some comments in reply. We spent a week at Coral Bay in October this year. We had passed through it in 2001, and decided we just had to get back BEFORE they build a resort and marina and spoil it.
We are not divers unfortunately, but spent a wonderful week snorkelling and looking from the glass-bottom boats. The reef is amazing, being within about 200metres to the shore. After wading in for a short distance from shore, the sea drops steeply to a deep shelf, and there the reef and the wonderful sea life begins. When the tide is out the reef and many of its coral formations are easily seen and explored.
Coral Bay consists of 2 caravan parks, one average size resort and a few shops. The normal population would be less than 100, but from March to November over 1000 visitors per week are now heading there, many from overseas as well. It is 2 days drive north of Perth, on the most western peninsula of Australia. Nearest town of any size is Exmouth, about 200kms away, on the other side of the peninsula.
We talked to numerous locals about the proposed resort -These are some of the comments made by them -
"The WA govt. is now becoming embarrassed by the lack of services here, we have finally received a grant of $7 million to put in proper sewerage. They have neglected the reef badly." (Tour operator who lives there)
"We have no doctor, no police, no bank, no fresh drinking water (it's too salty), - and only one ranger to handle any problems that come up. Last week my husband had to help the ranger to run a suspected paedophile out of town, as he was approaching some young girls. Apart from the environment issues we don't have the infrastructure to handle a big resort being built here". (Young woman working in the pub and caravan park)
"Both caravan parks and the existing resort are fully booked April to October - people turn up and when there is no accommodation they camp anywhere, leaving garbage, and not using adequate toilets etc. One group that comes up every year has left about a dozen large drums of sewerage buried in various places near the sea. The ranger knows about it but has to catch them in the act. We do need more accommodation, but only if we get the infrastructure to support it" (Tour operator).
"The resort will happen, it's just a matter of how big and how soon".
Mauds Landing, where the proposed marina and resort would be built, is even more beautiful than Coral Bay itself. The sand is pure white, and fabulous dunes protect the area. Ningaloo Reef extends past here and all the way up the coast of the peninsular. There is currently a bird sanctuary nearby as well. We walked one day and then sat in the dunes for an hour watching a turtle swimming calmly a few metres from shore. Mauds Landing is about 2 kms walk from Coral Bay. No way does Mauds Landing need a multi-million dollar resort and a marina. I believe there is no way that such a complex could be built there and operate without extreme environmental impacts - no matter what any reports to the contrary may claim!
As described above, the current accommodation at Coral Bay is very average, but the families and individuals there did not need a luxury resort or marina to appreciate this wondrous place. Young children were learning and experiencing so much from the natural, adventurous holiday they were having. In a letter I wrote earlier to a WA newspaper I reminded them that it is this very kind of environment that is bringing people to Coral Bay; and indeed to the beautiful WA coast. A coast that is so much less commercialised than many other parts of Australia (parts of Queensland, for example).
If you get the opportunity - go there, and fight to save it for future generations!
Val Adamson
(member)
---
Part 1
By Steve Reynolds
"Encounter 2002" was South Australia's celebration of the bicentenary of the charting of the SA coast by Matthew Flinders and Nicolas Baudin. It was a community-based project managed by Tourism SA and was launched in Adelaide on 1st December 2000.The theme of Encounter 2002 was "Celebrating the coming together of Three Worlds, Visions, Cultures".
In October 2000 The Advertiser had announced the purchase of a rare portrait of Matthew Flinders by the Art Gallery of SA. It was a gift of David Roche and the SA Government. The "Portrait of Captain Matthew Flinders, RN, 1774-1814" by French artist Toussaint Antoine de Chazal was apparently unveiled for permanent display in the Art Gallery in October. Chazal was a French colonial artist on the island of Mauritius whilst Flinders was imprisoned there (1803-1810). This painting was done between 1806-7 and it remains the only portrait of Flinders painted from life.
During 2001 the Postcards team on Channel 9 premiered a one-hour special program called "The Encounter" which I have kept on video tape for reference and inspiration.
An event called "A L'occasion de Bicentenaire du Voyage en Terres Australis de Nicolas Baudin" was held in Paris on 13th June 2001 to start the celebrations.
Former French Prime Minister (1988-91) Michel Rocard arrived in Adelaide in August 2001 to discuss preparations for Encounter 2002. Now in his 70s, Rocard is Chairman of the Terra Australis Association in Paris. He was honoured at a lunch at McLaren Vale. His Association was organising similar celebrations to mark Baudin's voyage.
Although the opening event for Encounter 2002 was to be in February, the first official event actually took place on 1st September 2001 when two Australian flags were unfurled at the redesigned Flinders Lookout at Whyalla at noon. The redesigned look out now also honours Louis de Freycinet, the Frenchman who explored Spencer Gulf as part of the expedition headed by Nicolas Baudin. The lookout is now known as the Flinders- Freycinet Lookout. SA's Honorary French Consul, Anne Levy and local MPs attended the unveiling of life-size sculptures of Baudin and Flinders which had been sculpted by Lindsay Herewane. The Whyalla Choral Group apparently sang three national anthems. Which three? Well, they probably sang the Australian national anthem "Advance Australia Fair" as well as France's "The Marseillaise" and, presumably, the third 'anthem' was "Waltzing Matilda".
My article "Nicolas Baudin's Scientific Expedition To The Terres Australes" in our 2001 Journal gave details (at the end of the article) about the (then) forthcoming "Encounter 2002".
In my article I said that an international series of activities and celebrations were planned from November 2001 to April 2002 and a series of associated community-based exhibitions, festivals and regattas would be held in SA between 16th February and 14th April 2002. Alliance Francais held a French Festival at Carrick Hill, SA in November 2001 to celebrate the start of Baudin's voyage.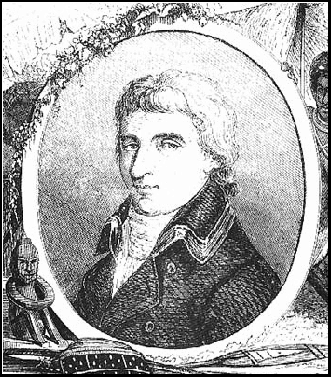 Here is a picture of Nicolas Baudin (taken from our last Journal).
Now that "Encounter 2002" has ended I want to reflect on some of the events that took place during the project.
There were, indeed, many exhibitions, festivals and regattas. I either witnessed or heard about all manner of displays, concerts and re-enactments. There were numerous scientific exhibitions and art exhibitions, memorial services, unveilings and openings. The many openings that took place included interpretive walking trails (11), lookouts and a park. Then there were lots of petanque games and many fireworks as well.
In November 2001, then Premier, Rob Kerin announced that AusBulk were the principal sponsor of Encounter 2002.
An exhibition was held at Port Augusta from February 2nd to 17th 2002. It was called "Striving for Excellence – The Art of Scientific Accuracy" and was an exhibition of the primary scientific publications (botanical related works) by the scientists with Flinders (Robert Brown and Ferdinand Bauer). The same exhibition was on at the University of Adelaide Waite Campus (Urrbrae House) from 6th March to 8th April.
On 15th February 2002 the exhibition "The Encounter 1802 – Art of the Flinders and Baudin Voyages" opened at the Art Gallery of SA. The exhibition ran until 21st April and I was fortunate to have the opportunity to see it at some stage.
That same day a new exhibition opened at the SA Whale Centre at Victor Harbor. It was called "Encounters of the Fleurieu: Dreamtime and Discoveries" and, again, I was fortunate to have the opportunity to see it later on. The exhibition included Ngarrindjeri legends, especially the story of Kondoli the whale (as published in Ian Milne's book).
Encounter 2002's Regional Events Program was declared open by the Governor, Marjorie Jackson-Nelson, at Ceduna on SA's west coast on Saturday 16th February 2002. "Life on the Edge" was the title of the opening event. Other events included a festival, a feast, concert, races, competitions, fireworks and the official opening of the SA Maritime Museum's travelling exhibition "The Encounter: Flinders and Baudin". Our Society, with assistance from the SA Museum, provided eight specimens for the exhibition (as reported in our February 2002 Newsletter, No.285).
Then there were the official openings of both the interpretive trail "Tracks along the Coast" and the Pinky Point lookout and much more. Total attendance was estimated to be about 7,700 people.
Four tall ships were taking part in this first part of the project and they then featured in events at most of the later locations. The four tall ships were the Enterprize, Falie, One and All and Young Endeavour.
The 27m Enterprize is a replica of a topsail schooner that brought the first settlers to Melbourne in 1835. A topsail schooner is a normal (fore & aft) rigged schooner carrying square sails on the top of the fore mast. She took eight years to build before being launched in 1997. She is said to be typical of an 1830s coastal trader. The ship's mate described her as "a rugged, nuggetty little boat. She belts into rough seas. It's a world-class standard ship. All of the standard and running rig is made from natural fibre and they're all hand-sewn sails. You're not going to get a more authentic 1830s sailing experience anywhere else in the world."
The 45.72m-long ketch Falie was built as an auxillary-engined schooner in Holland in 1919-20 and sailed to Port Adelaide in 1923. She was retired in 1982 and laid up before being bought by the SA Government for restoration. She was re-rigged as a ketch, a two-masted sailing vessel, rigged fore and aft, the aft mast (mizzen) being shorter than the main mast.
The 42.68m-long STV One and All was based on an 1850s brigantine rig. A brigantine is a two-masted vessel with the fore mast being square-rigged, and the after mast fore and aft rigged. The One and All was built in SA and was launched in 1985 and fitted out at Port Adelaide.
The 44m-long brigantine Young Endeavour was built in England in 1987 and was Britain's official Bicentennial gift to Australia in 1988.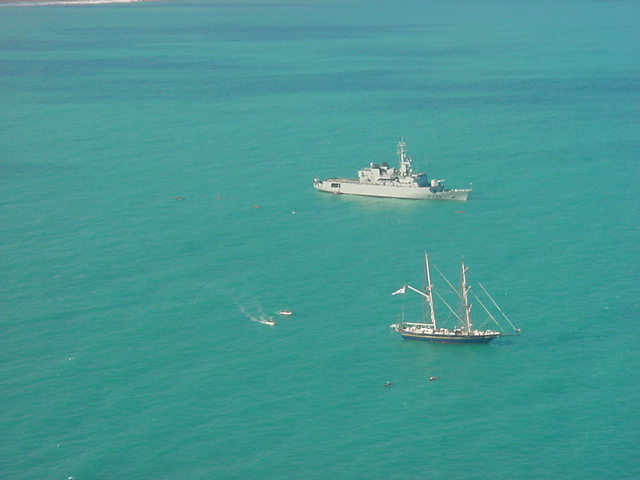 Here is a photo of the brigantine Young Endeavour anchored close to the French Navy frigate Vendemiaire .
---
The Marine Discovery Centre (MDC), based at the Star of the Sea School at Henley Beach is looking to expand its capabilities to deliver a quality marine educational experience to all children in South Australia.
The Centre is currently housed in an old cottage by the seafront at Henley Beach and has been in operation for 5 years. The Centre is currently booked out for 15 months in advance and needs to expand to keep up with demand.
In a bold new plan, the Centre has engaged architects to develop an initial concept and design for a major expansion.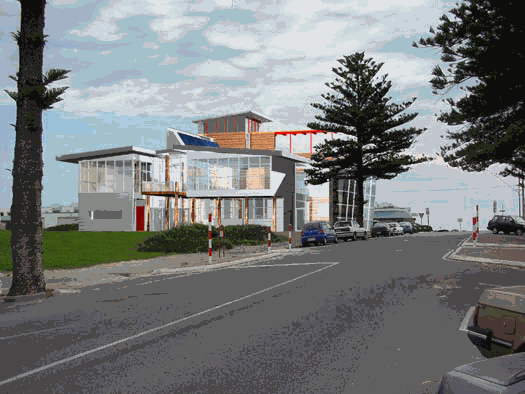 The proposed new centre will double the capacity of the current centre and at the same time provide a facility that promotes environmentally sustainable building practices and cheaper individual costs for students attending.
However, a state–of-the art marine education facility does not come cheaply. Early estimates put the total cost at more than $2 million. Features in the new centre would include:
- a two storey design to take advantage of the views of Gulf St Vincent
an exemplary learning environment for marine studies
awesome temperate marine aquaria with a low energy cooling system
maximum use of daylight and ventilation
return of stormwater to aquifer and minimal water use
the use of alternative energy systems
Marine Discovery Centre, Director, Tim Hoile said the specific goal will be to have a purpose built marine centre incorporating facilities that can adequately cater for 2 classes per day. This would enable the Centre to double its educational service and cater for over 12,000 students each year. The new MDC would then be able to meet the current demand.
"The Centre would become an iconic environmental building in South Australia. The important environmental and conservation messages taught from inside will be reflected in the building itself."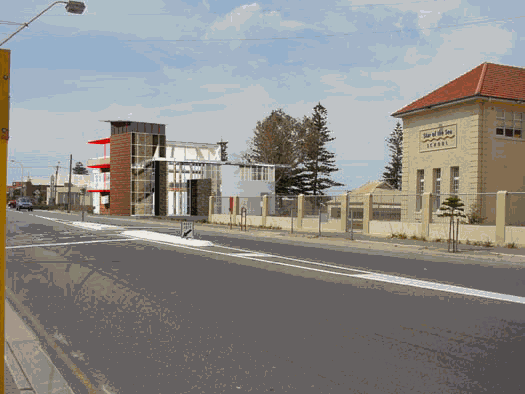 The Centre will be looking for sponsorship for the next twelve months. Paul Campbell Architects have developed the Concept Plans and, because of their commitment to the environment, they are charging 25% of the real costs. The local Mayor made a personal donation of $500 at the "Marine Discovery Centre Sponsorship Celebration" last week.
The new MDC Development Committee including Tim Hoile (Director), Michael Honey (Principal), Chris Gallus MP (Federal), Paul Caica MP (State), Mayor Harold Anderson and Greg Walkington (Chair of School Board) has the awesome responsibility of finding the funds for our new vision.
For more information please contact Tim Hoile: 08-8356 8943 or
thoile@star.adl.catholic.edu.au
---
On Wednesday 30th October I took the day off of work (legitimately) so that I could drive down to the Star of Greece Café at Port Willunga. I had been invited to attend a State Government launch as the Secretary of the Marine Life Society of SA. Under a national initiative, the Department of Environment & Heritage has installed mooring buoys at several SA historic shipwreck sites. The Department (Heritage SA) sent me an invitation to attend the official launch of the project down at the site of the Star of Greece. John Hill, the Environment Minister, was to launch the program. The official title of the program is the "SA Moorings Program" and its aim is "to protect sensitive marine sites".
I allowed plenty of time for the trip down to Port Willunga and arrived early enough. Three members of the SDF committee were already there in the Star of Greece Café car park before me. After a quick chat with them all I met up with Terry Arnott, Principal Maritime Archaeologist with Heritage SA, and Rick James. It was still quite early so I ceased the chance to rush down to the beach. Once on the beach I decided to head for the old jetty to the south. It was a brisk walk since the tide was rising quickly. I managed to take three quick photos of the old jetty before rushing back to the others in the car park. More people had arrived by then and others continued to arrive. There was a cold breeze blowing and everyone was rugging up against the cold. At least the rain was holding off. I managed to chat with several people such as Terry Drew and Mike Koch whilst waiting for proceedings to get underway. It was getting late when John Hill finally arrived and mingled with the growing throng. The show finally got tarted and John Hill was introduced and then took over the microphone. During his speech he acknowledged visitors such as myself, as Secretary of MLSSA. He went on to describe the SA Moorings Program, with reference to the new buoy positioned seaward of the Star of Greece wreck to the north. He then unveiled a new sign about the Star of Greece and the program at the bottom of the car park. Signs to be positioned at other locations were then unveiled. People from the crowd took lots of photos and I managed to take a couple. I found Tony Flaherty taking a few photos of the signs. Once that all the speeches were over we all retreated into the Star of Greece Café at the top of the car park. It was much warmer in there and we were all offered a variety of wines and exotic foods. There were a few displays to inspect, including a short video of the installation of the buoy at the Star of Greece. We were all able to continue chatting together in the café. I managed to chat with Kevin Jones from the Maritime Museum and Adrian and Cathy Brown from SUHR & AMCS. Unfortunately, I couldn't stay for too long and, after another quick chat with some of my SDF colleagues, I reluctantly left for the long drive back home.
Now some more about the buoys themselves:-
Ten new moorings have been established on SA Historic Shipwrecks. These help divers and fishermen to locate the wrecks and also warn mariners of the possible hazards they create. They are navigational buoys and have mooring bridles fitted to them. These bridles facilitate attaching vessels up to 12m length or 15 tonnes displacement instead of anchoring. Only one vessel can make fast at any time. Mariners are advised to anchor well away from the wrecks so as not to damage or disturb them. Buoys have been placed on five Wardang Island wrecks (Songvaar, Investigator, Australian, MacIntyre & Moorara), KI's Portland Maru and four in Gulf St Vincent (Norma, Star of Greece, Zanoni & the *Ardrossan Barge).
(* As far as I know the Ardrossan Barge is not an Historic Shipwreck. It was sunk on 11th April 1984 1nm (1500m) south of the Zanoni to act as an alternative fishing spot.)
All but the buoys on the Zanoni and Ardrossan Barge are orange in colour with a yellow St Andrews cross topmark and a flashing white light every 5 seconds. The Zanoni and Ardrossan Barge buoys are both yellow in colour with a yellow St Andrews cross topmark and a flashing amber light every 4 seconds.
I have all of the coordinates and general details for each of the buoys. The one at the Star of Greece wreck is 30m from the wreck on the west side. Generally approach the buoy from the west. Depending on tides some sections of the wreck are lying in 3m of water and are elevated to just under the water surface and sometimes expose at low tides. Site can be affected by large swells and breaking waves.
My thanks to Heritage SA for inviting me along to represent our Society.
More About Some of the Shipwrecks
Chris Hall wrote an article about the steamer Portland Maru in our November 2002 Newsletter (No.294). The ship was wrecked near Cape Torrens on KI in 1935.
As for the Star of Greece wreck, I last wrote about the subject in our May 2001 Newsletter (No.277). She was a iron clipper ship which was wrecked at Port Willunga on 13th July (Friday 13th) 1888. There was a ceremony on the beach at 3am in 1988 to mark the centenary of the shipwreck.
I have written about several of the other shipwrecks at various times,
i.e. Zanoni – June 1983 N/L (No.73), December 1983 (No.79) & May 1984 (No.84)
The main article in the May '84 Newsletter was written by Ian O'Donnell, the joint finder of the wreck.
Norma – July 1983 (No.74)
The barque Zanoni was wrecked off Ardrossan in 1867 and is one of the most intact shipwrecks in Australia. The wreck was rediscovered in 1983 and the "Ardrossan Barge" was sunk nearby for use by fishermen when access to the Zanoni was restricted to permit holders.
The schooner Moorara was sunk in 1975 at Wardang Island. An article about her featured in our very first Journal (MARIA Journal Vol.1, No.1, October 1979).
I wrote some articles about Wardang Island's shipwrecks in our January 1992 Newsletter (No.174). One of the articles particularly focused on the Moorara and Songvaar wrecks.
Steve Reynolds
---