MLSSA
NEWSLETTER
JANUARY 1999 No. 251
"Understanding, enjoying & caring for our oceans"
---
This Newsletter
This is the MLSSA Newsletter, the monthly publication of the Marine Life Society Of South Australia Inc. Our Society is active in trying to protect our marine environment and this Newsletter usually contains articles about marine life and the marine environment.
Copyright - the contents of this Newsletter are copyright and may not be reproduced without prior permission of the Society.
Disclaimer - The opinions expressed by authors of material published in this Newsletter are not necessarily those of the Society.
Subscriptions
You can join the Society or just subscribe to our Newsletter and Journal. To do either, please download the form in this webpage and mail it with the appropriate payment to:
MLSSA Inc.
120 Wakefield Street
ADELAIDE 5000
South Australia
Please send all general correspondence, subscriptions or Newsletter and Journal contributions to this address. Correspondence may be marked to the attention of the Secretary. Subscriptions may be marked to the attention of the Treasurer. Newsletter or Journal contributions may be marked to the attention of the Editor.
Meetings of the Society
General Meetings of the
Society are held on the 3rd
Wednesday of each month
at 8 pm sharp, at the
Conservation Council
120 Wakefield Street
Adelaide
Parking is adjacent to the rear door entry.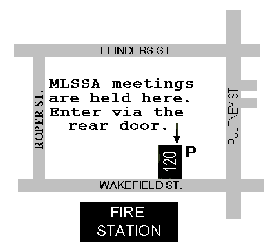 ---
EDITORIAL
I hope you all had a splendid Christmas and are entering the New Year full of hope and high expectations.
The last year for MLSSA was full and very exciting with many new projects started and some (like the 1999 Calendar) actually becoming a great success.
One thing we do need to achieve this year is to have more members actually taking part in Society activities, eg meetings, writing articles for the Newsletter and Journal and especially taking part in the monthly dives. Without more member participation the load falls unfairly on only a few shoulders.
None of this need be onerous, the old saying of "many hands makes light work" is very true.
So please make your New Year resolution to really support this Society.
Philip Hall
---
This Month's Meeting
This will be held at our usual meeting place, the Conservation Centre on Wednesday January 20th. The meeting will begin at 8pm with the business part of the evening.
After the break Sheryn Pitman from Greening Australia will be explaining how the Leafy Seadragon became the "Our Patch" symbol.
(A photo of the Leafy Seadragon taken by David Muirhead is the one used in the publicity material.)
She will then explain this land based environmental project which should be of great assistance to the marine environment.
This promises to be a very informative and interesting evening so please do your best to attend.

---
The 1948 Hurricane That Wrecked The Glenelg & Brighton Jetties.
Glenelg's first jetty was so badly damaged during a storm in 1948 that it later had to be rebuilt. The storm was a freak severe hurricane which reached speeds of over 130km/hour, lashing the jetty and its buildings throughout the day.
The storm brewed around midnight on Saturday 10th April and the police launch "Archie Badenoch" had to be dispatched from the end of the jetty. Two men, however, were left stranded on the jetty, one of them a police constable.
The winds intensified during the next few hours causing the jetty to start to disintegrate by 5am Sunday morning. The policeman managed to escape from the jetty but the other man, Archibald Pudney, stayed behind on the skeleton of the kiosk platform which was rocking and rolling. The jetty soon collapsed and large sections were swept away but Pudney still opted to sit out the storm. The seas subsided on the Monday and Pudney was eventually plucked from the jetty wreckage.
The nearby jetty at Brighton also had several large sections washed away in the 1948 storm. From the coast to the foothills dozens of buildings lost their roofs, chimneys were toppled, fences flattened, trees felled and powerlines torn down.
Several boats and ships were also damaged on the day. The 1420 ton naval survey frigate HMAS Barcoo ran aground on a sand bar at West Beach. Three freighters broke their moorings in the Port River and were badly damaged.
Steve Reynolds

---
Yesterday I had a call from the Abalone Farm Manager out on Reef Point to see if I would go out with him to several locations on Wardang Island to check on the condition of several Sea Urchin communities. The reason for this is to find where the best quality Urchins may be located, as in some areas urchins do not contain enough meat. This seems to be due to the lack of available food in those areas, as good tidal flows seem to be the key to them producing more meat.
While out and around the north western side of Wardang I also took note of what fish life was around. It seemed very quiet in a few areas, not much fish life was seen except for the ever present tide of dead pilchards which are all over the area. For some reason there were not a lot of Sea Urchins present in the first couple of areas that we visited, but we changed location to the northern end of Wardang Island and at this location a reef runs out to a small Island. On this reef we found scores of Sea Urchins and the quality was very good.
By this time you are wondering why I am raving on about Sea Urchins. Well the Japanese are very interested in us growing these creatures in the aquaculture industry and the Manager at the Reef Point Abalone Farm has just made an application to farm these creatures as well as the abalone.
I have to admit the weather was delightful and seas calm and I was a bit glad about that as we were out in a 14 foot dinghy doing this survey. The visibility was not over great and would have been around three to four metres, the water was not over cold, but reasonably warm, unlike last year at this time when it was still a bit too cold for me that is. (ha! ha!)
The northern end of Wardang did not only produce plenty of good quality Sea Urchins, but also a lot of different varieties of fish life, such as Old Wife, Magpie Perch, Herring Cale and the Dusky Morwong, which the Aboriginals in the area call Butterfish. This is a sacred fish to them. Once a year they have a get together and go spearing for these fish, which they then love to eat.
The other thing noticed coming back in was the sighting of two Penguins that were dead and drifting on the incoming tide. I notified the Fisheries this morning as these deaths could be a consequence of the Pilchard deaths.
Before I say farewell, we also saw a number of bull seals out on the rocks sunning themselves. This was enough to brighten both Sandra and my day to start with. A very good days outing had by both of us.
Ron Bellchambers
---
The Marine and Coastal Community Network is assisting the National Parks and Wildlife SA and the Coasts and Marine section of the Environment Protection Authority in obtaining records of wildlife deaths that could be related to the recent pilchard die off.
Many marine animals such as penguins, cormorants, seals, dolphins and small whales utilise pilchards as a food source. Just how important pilchards are is unknown. After the large kill of pilchards in 1995 there were widespread reports of deaths of Little Penguins, possibly due to starvation, while an unusually large number of sea-lion pups appear to have been abandoned by their mothers. There was no coordinated investigation into the cause of these deaths or any possibly related strandings of other birds and mammals.
Researchers are hoping to gain a better understanding of how important pilchards are for wildlife, and what the impact of the current pilchard kill may be. Such information may also be useful in assessing sustainable levels for commercial pilchard fisheries in some areas.
The network is asking people involved in its Dragon Searchproject to help in reporting observations of stranded seabird or marine mammals.
We would like you to watch out for and report (but not interfere with or remove) carcasses of seabirds (particularly Little Penguins) or marine mammals that wash up on the beaches during 1999.
Regional National Parks and Wildlife and Fisheries staff will be briefed to accept your reports and to follow them up as required. It is important that you report any strandings as soon as possible, so that there is a good chance to collect the animal and carry out an autopsy to try and determine the cause of death. Early reporting is of course even more important if the animal is still alive. In this case the RSPCA will coordinate any possible rescue and rehabilitation that may be required.
Please record and pass on the following details with your report:
Date & time found
Condition of animal - ie dead or alive
Species - (little penguin, cormorant sea lion etc)
Number of individuals
Location - (directions to find carcasses, ie nearest town, landmarks and distances along the beach)
While we all hope there will not be a problem with marine wildlife deaths following the pilchard die-off, your assistance with this project will provide a useful index to assess the impact of this event on wildlife populations.
(Ron Bellchambers, on Yorke Peninsula, has already reported the sighting on 23/10/98 of two dead penguins. See the previous article in this newsletter.)
Contacts
National Parks and Wildlife Regional Office contacts for reporting stranded wildlife:
Adelaide Ph (08) 8204 8888
Kangaroo Island Ph (08) 8553 2381
Stenhouse Bay Ph (08) 8854 4040
Victor Harbor Ph (08) 8552 3677
If you cannot contact NPWSA staff then contact Fisheries SA PIRSA Fisheries Regional office:
Kadina Ph (08) 8821 3242
Kingston SE Ph (08) 8767 2358
If the animal is alive the RSPCA will coordinate any possible rescue and rehabilitation:
RSPCA Lonsdale Ph (08) 8382 0888
Strandings of marine mammals can also be reported to Dr Catherine Kemper at the SA Museum:
Dr Kemper Ph (08) 8207 7500
Pager(Strandings only, not sightings)
(08) 8378 1111 and quote # 111806

---
Our July 1998 Newsletter (No.246) listed 48 species of fish sighted at the "Glenelg Barges" by David Muirhead since they were sunk over 14 years ago. David has since added another five species to his list and Chris Hall has added a couple of his own sightings. David has also pointed out that three of the species listed in the July 1998 Newsletter are included in our Photo Index. We had incorrectly listed the Brown-spotted Boarfish, Zebra Fish and King George Whiting as missing from our Index. David's new sightings are:- Western Cleaner Clingfish, Opalescent Goby, Ornate Cowfish, Scaly Fin & Beardie. Chris's sightings were a Wobbegong shark and a Numbfish. We now present the total list of 55 species for your interest.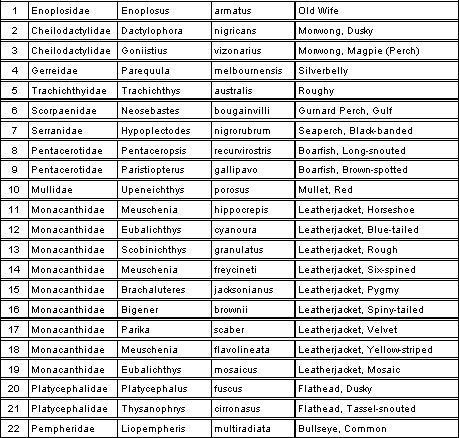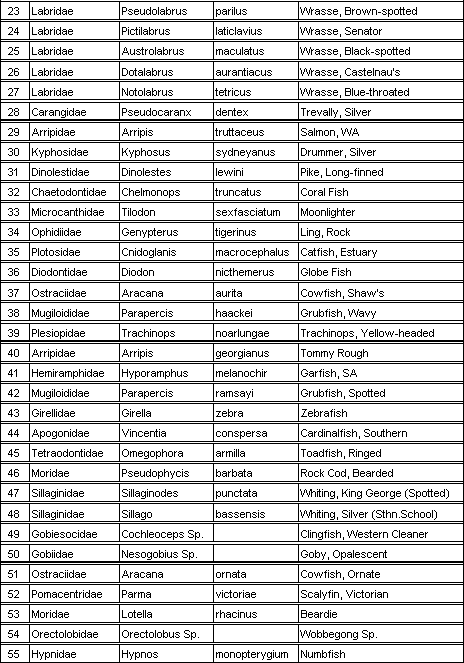 Steve Reynolds

---
DRAGON SEARCH
Did you all notice the new national logo for Dragon Search which features both the Leafy and Weedy Seadragon in the Dragon Search report in our 1998 Journal?
This replaces the old South Australian Dragon Search logo which featured only the Leafy Seadragon.
In case you missed it then I have reproduced it here.
For those who are interested, there is a Dragon Search Newsletter called the Dragon's Lair. This contains much useful information and a copy may be obtained by contacting Dragon Search on 08 8223 5155.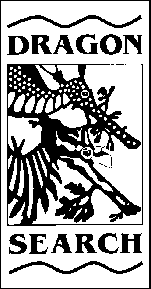 ---
Some items from the November SDF Newsletter which might be of interest. Jetties were the main item of concern. For example, did you know the Port Noarlunga Jetty is in danger of losing its ladders? Read on ---
Noarlunga Jetty
The Government is still insisting that local councils should take control of local jetties. In view of this and the problems with the liability arising from people jumping from jetties and other associated structures a risk assessment is taking place at Port Noarlunga. The SDF was asked to attend a meeting on Monday the 16th November regarding the future of the steps at Port Noarlunga Jetty and other related issues. Comments regarding the removal of the first set of steps have all ready been made.
All members are being asked to provide comments on what this means to us and other users. Also if we have any ideas on how Jetty jumping could be stopped or controlled, or if we have any other comments on what could be done to enhance steps that are already in place.
Rapid Bay Jetty
The SDF has been investigating the possibility of being able to drive vehicles closer to the jetty. The current discussions with Adelaide Brighton Cement have not been successful as they are still using the area immediately adjacent the dirt barricade.

Debate is still on regarding the removal of the dolphin platforms from the jetty. Hopefully we will be able to convince the Government to leave them and create a void between the main jetty and the dolphins. The removal of the dolphins will cost around $200,000.00.
Edithburgh Jetty
Warning To AllDivers
All divers should be aware that the jetty is a working jetty and that the Enigma and the Faile may use this jetty without warning. Divers should tow a "Diver Below Flag" at this jetty to make obvious their presence.

A large timber beam has been sighted hanging from the jetty away from shore. Beware it does not fall on you or your buddies. The SDF has been in contact with the relevant authorities.

---
1999 MLSSA Calendars
These Calendars were a spectacular success! The first production run of 100 was all sold in three days. We produced a second similar run and this naturally took a little longer to sell. The final result for the Society is great publicity and also a cash boost for our Photo Index fund. If we do this again this year we will begin work much earlier and hope to have them on sale by October at the latest. Any suggestions for improvements are welcome.
The idea was first proposed in the middle of the year by Peter Gilbert and after some unavoidable delays, Ralph came up with the present beautiful effort. It really was an effort. Ralph spent countless hours putting it together.
He also obtained the assistance from Cobweb of a person to scan the slides (Di) and printer (Jeff) and they each gave several hours of their time completely freely to create this calendar.
Margaret and I then spent several periods of six or more hours folding the pages (it had to be done by hand, each page individually), collating and then stapling them. The printer, Jeff, who had already given a day to the printing task guillotined them and I finally was able to punch the hole in each.
The second run was quicker as the design and layout had been done. The printing and putting together was still very labour intensive, as outlined above, and tedious. Hopefully next year we will have volunteers from the Society for the putting together, which is very repetitive, boring and time consuming.
Margaret and I took one copy and presented it personally to the Premier. He was most impressed and very encouraging. This was in line with our Educational Objectives and we also suggested to the Premier that the Tourism section might like to use the calendar to publicise the South Australian marine environment. Other copies went to the Conservation Council, Adelaide Skin and Southern Diving as promotional material for the Society and for sale.
Thanks must go to the two photographers, David Muirhead who contributed the majority of the slides used and also to Chris Hall, for the beautiful photographs they allowed us to use.

Philip Hall

---
Welcome
Memberships are still rolling in. We extend a welcome to Bridget Milanowski who joined the Society at the November General meeting. An apology to Danny Gibbins. I inadvertently gave his name as Danny Glover in the November Newsletter.
---