MLSSA
Newsletter
JULY 2003
No. 301
"Understanding, enjoying & caring for our oceans"
Next Meeting
Our meeting will be held at the Conservation Centre, 120 Wakefield Street, Adelaide on Wednesday 16th July commencing at 7.30pm.
Our speaker will be Associate Professor Chris Daniels from the University of Adelaide. His topic will be "Fish with lungs".
---
Contents
After The Encounter Part 7 (Final)
Rainbow Trout Really Do Feel Pain, Study Says
Fish Do Feel Pain
Applying Pain Theory In Fish Spine Envenomation Part 4 (Final)
MARINE WILDLIFE NEWS
British Seahorse Sightings
The Seven Gills and The Single Shield
Announcements
---
Contributors
This month our authors or contributors are Steve Reynolds, David Muirhead, The BMLSS, Roger Highfield.
Reefwatch Officer
Ben Brayford has agreed to become our Reefwatch Officer. This was confirmed at the June General meeting.
---
Part 7 (Final)
By Steve Reynolds
Personal experiences
My own program for celebrating Encounter 2002, apart from the various visits already mentioned, included climbing to the top of the Bluff at Victor Harbor to re-visit the plaque placed there in 1902 and soak up the atmosphere of the location whilst gazing out across the Southern Ocean. I also visited the statue of Matthew Flinders in North Terrace, Adelaide and a plaque at Port Wakefield. I saw an Encounter display at the Victor Harbor Tourist Information Centre and another one at Cleland Wildlife Park.
Photos used
I have collected many pamphlets promoting Encounter 2002 events. One of them featured David Muirhead's famous male Leafy Seadragon with eggs.
National Parks and Wildlife SA released an SA National Parks 2002 calendar in October 2001. This calendar celebrated the expeditions of Flinders and Baudin and it featured photographs of locations in SA visited by the two explorers. A few of David Muirhead's photos from our Photo Index were included in the calendar.
All events covered?
Well, I have tried to cover all of the events that occurred in connection with Encounter 2002. There is no doubt though that some details have been left out. Hopefully, these missing details are just minor ones.
Awards
On November 8th 2002 "Encounter 2002" was awarded for being the year's best "Significant festival & event" in the Yellow Pages 2002 SA Tourism Awards. At about the same time "Encounter 2002" was also recognised in the SA Great 2002 Regional Awards. It took out the Yorke Peninsula "Tourism Award". On Friday 21st February 2003 "Encounter 2002" was also rewarded in the National Tourism Awards when it picked up the award for the Significant Festivals & Events.
Congratulations
My congratulations to the organisers of Encounter 2002 which certainly was a great and successful celebration. The sight of the four tall ships was a great spectacle and to experience sailing on one of them would have been magnificent.
Thanks
My thanks to everyone who participated in Encounter 2002, especially Anthony Brown and John Ford. Thanks to the SA Maritime Museum who were a great help to me and thanks also to The Advertiser for their extensive coverage of Encounter events and relevant history. Thanks also to both David Offord and Philip Hall for all their assistance and guidance.
Many thanks in particular to Evan John whose aerial photos of the tall ships at Granite Island, Victor Harbor were the inspiration for this article.
Further reading
* = available from the author's collection
*Australian Stamp Bulletin No.264, March-May 2002.
* "Australia's Heritage: the making of a nation", Hamlyn House Pty Ltd, Sydney, 1971 (especially Vol.2 "the formative years", or Vol.1, Parts 8 & 9, pages 186 – 200.
Badger, Geoffrey "Explorers of Australia", Kangaroo Press.
Bonnemains, Jacqueline et al (Eds.) "Baudin in Australian Waters: The Artwork of the French Voyage of Discovery to the South Lands" 1988.
Brown, Anthony "Ill-Starred Captains Flinders and Baudin", Crawford House Publishing, Adelaide, 2000.
*Brown, Anthony "The Captain and The Convict Maid – A chapter in the life of Nicolas Baudin", 1988.
Brunton, Paul (Ed.) "Matthew Flinders: Personal Letters from an Extraordinary Life", Horden House, Sydney.
*Colwell, Max "The Voyages of Matthew Flinders", Paul Hamlyn, Sydney 1970.
*Dunlop, EW & Pike, W "Australia: Colony to Nation", Longmans, Green & Co. Ltd, Victoria, 1965.
Flannery, Tim (Ed.) "Terra Australis – Matthew Flinders' great adventures in the circumnavigation of Australia", Text Publishing, Melbourne, 2000.
Horner, Frank "The French Reconnaissance: Baudin in Australia 1801 – 1803", Melbourne, 1987.
*Hughes, Thea Stanley "Matthew Flinders", Movement Publications, 1991.
Hunt, Susan & Carter, Paul "Terra Napoleon - Australia Through French Eyes 1800 - 1804", Historic Houses Trust of NSW in association with Horden House, Sydney, 1999.
*Mabberly, David "The Legacy of Flinders' Naturalist: The life & work of pioneering botanist Robert Brown", Australian Geographic, Oct – Dec 2000, No.60.
*Portus, GV "Australia Since 1606", Oxford University Press, Melbourne, 1959.
Retter, Catherine & Sinclair, Shirley "Letters to Ann", Angus & Robertson, 2001?
*Reynolds, Steve "Nicolas Baudin's Scientific Expedition To The Terres Australes", MLSSA 2001 Journal.
*SA Geographical Journal – Journal of the Royal Geographical Society of SA – Vol.99, 2000 – Special issue for Encounter 2002.
Scott, Earnest "The Life of Matthew Flinders", Angus & Robertson, 1914 (Re-issued 2001?).
*Shaw, AGL "The Story of Australia", Faber & Faber Ltd, London, 1975.
*"Tall Ships Australia 1988", a Bulletin/Australian Bicentennial Authority Official Publication.
Vallance,TG, Moore, DT, Groves, EW "Natures' Investigator – The Diary of Robert Brown in Australia 1801 - 1805", Australian Biological Resources Study (ABRS) Publications.
Watts, Peter et al "An Exquisite Eye: the Australian Flora & Fauna Drawings 1801-1820 of Ferdinand Bauer", Historic Houses Trust of NSW, 1997.
*Younger, RM "Australia and the Australians", Rigby Ltd, Adelaide, 1974.
Locations
For further study visit any of the following locations:-
Encounter Coast Discovery Centre, 2 Flinders Parade, Victor Harbor 1 – 4pm
Art Gallery of SA, North Terrace, Adelaide
SA Maritime Museum, Lipson Street, Port Adelaide
SA Whale Centre, Railway Terrace, Victor Harbor 11am to 4.30pm
Royal Geological Society, State Library
Web sites
Finally, here are some web sites which may still be providing relevant background information :-
Encounter 2002 – www.encounter2002.com
Young Endeavour – www.youngendeavour.gov.au
One and All – www.oneandall.org.au
Falie – www.falie.com.au
Enterprize – www.enterprize.com.au
Windeward Bound – www.theaustralian.com.au
Flinders Exhibition, State Library of NSW – www.slnsw.gov.au/exhib/flinders
Newspapers In Education – www.theadvertiser.com.au/nie
Mariners' Museum – www.mariner.org
The Navigators (ABC TV) – http://www.abc.net.au/navigators
Credits
I thank Evan John whose aerial photos of the tall ships at Granite Island, Victor Harbor were the inspiration for the article. I must also mention that the photo of the Matthew Flinders statue in our March Newsletter was taken by Philip Hall.
---
Rainbow Trout Really Do Feel Pain, Study Says


By Roger Highfield, Science Editor (Filed: 30/04/2003)

©Telegraph Group Ltd 2003

http://www.telegraph.co.uk/

Evidence that fish do indeed feel pain is published today, a finding that will reopen hostilities that have raged for decades between anglers and animal rights activists.

Earlier this year, an American study seemed to let anglers off the hook: Prof James Rose of the University of Wyoming concluded in the journal Reviews in Fisheries Science that awareness of pain requires consciousness, which fish do not possess.

Now a study of rainbow trout suggests that they not only possess the equipment to feel pain, but react in a way consistent with suffering.

This is the the first conclusive evidence indicating pain perception in bony fish such as trout, salmon, cod and haddock, according to one of the authors, Dr Lynne Sneddon, who led the research at the Roslin Institute, near Edinburgh, and is now working in Liverpool.

"The study shows that the trout not only possesses nerves that can detect pain but also shows the kind of behavioural changes that would be associated with discomfort and pain in 'higher animals'," said Dr Penny Hawkins, senior scientific officer of the RSPCA.

"All vertebrates should be given the benefit of the doubt and assumed to be capable of suffering."

Not everyone is convinced. Rodney Coldron of the National Federation of Anglers said yesterday: "We believe the Prof Rose study went into more depth and supports our view that fish do not feel pain."

Prof Rose told The Telegraph that the study "in no way justifies a conclusion that these fish have a capacity for the conscious experience of pain", attacking it as "anthropomorphic speculation".

The new findings are published by Dr Sneddon in Proceedings B, a journal published by the Royal Society. The work, also at the University of Edinburgh, was funded by the Biotechology and Biology Research Council.

Based on her findings, Dr Sneddon said yesterday that she had no problem with anyone who caught and quickly killed a fish for eating. But she drew the line at catching fish and throwing them back, which could cause suffering. "Some studies have shown high mortality after angling."

Her study, undertaken with Dr Victoria Braithwaite and Dr Michael Gentle, found that rainbow trout have nociceptors - nerve receptors that respond preferentially to tissue damaging stimuli. "We found 58 receptors located on the face and head of the rainbow trout," said Dr Sneddon.

The 18 "polymodal nociceptors", which responded to all potentially painful stimuli in the trout, were the first to be found in fish and had similar properties to those in humans, said Dr Sneddon.

Fish Do Feel Pain

I now feel a little vindicated since the announcement of new findings that fish do feel pain. Back in 1988, when I was our newsletter Editor, our July Newsletter (No.132) included the two articles "Fish Have Feelings" and "Fish Feel Pain". I had written the first article and the other was written by the Animal Liberation group. The following month our newsletter (August 1988, No.133) included a letter to the Editor from Geoff Mower on the subject and my response. I agreed at the time that Geoff had "quite rightly shot all of my suggestions down in flames". Although I don't yet know the details of the new findings concerning fish pain, it is nice to know that there is still some belief that fish do in fact feel pain.

Steve Reynolds
---
Applying Pain Theory In Fish Spine Envenomation
By David Muirhead
Part 4 (Final)
Two questions are posed. Has hot water immersion been trialled for above-water envenomations, such as arachnids, hymenoptera and arthropods? Some of these toxins are heat- stable so a demonstrable efficacy would challenge the role of heat-lability as already discussed. Interestingly, although application of hot packs to jellyfish stings has been found to have only mild analgesic effect, immersion of the affected part in hot water has been found to be very effective.6
Secondly, would hot-water immersion of the contralateral limb also be effective in marine fish spine envenomations, or even an upper limb immersion where the lower limb is envenomed, or vice versa?
In conclusion, an extensive literature search has failed to find evidence supporting the denaturation theory. Further research is needed to investigate the mechanism(s) underlying pain relief by hot water immersion of the affected limb following fish spine envenomation. The author hypothesises that modern pain theory provides a better explanation than heat denaturation of toxins.
This article is reproduced by kind permission of:
South Pacif

ic Underwater Medicine Society (SPUMS) Journal Volume 32 No. 3 September 2002

Acknowledgements

I thank Ms Eva McLusky without whose insight this article would not have been written, and Ms Sandra Mangion, formerly Clinical Pharmacist of DATIS (Drugs & Therapeutic Information Service, Repatriation General Hospital, Daw Park, S.A.), for help with the literature search.

References
1 Hawdon GM, Winkel KD. Venomous marine creatures. Aust Fam Physician 1997; 26: 1369-1374

2 Judd M, White J. A South Australian handbook on bites and stings: the animals, the injuries, first aid. Women's and Children's Hospital, The South Australian Museum, The Advertiser 1994 (revised 2000). Adelaide: 41-42

3 Fulde G. Emergency medicine quiz. Current Therapeutics 2001; 57: 96.

4 Power I. How to treat: Management of acute pain - Pt 1 'Australian Doctor Pull-out Section' Australian Doctor 9 March 2001: III

5 Kakigi R, Watanabe S. Pain relief by various kinds ofinterference stimulation applied to the peripheral skin in humans: pain-related brain potentials following CO, laser stimulations. Peripher Nerv Syst 1996; 1: 189-198

6 Taylor G. Are some jellyfish toxins heat labile? SPUMS J 2000; 30: 74-75

7 Mann JW 3rd, Werntz JR. Catfish stings to the hand. J HandSurg [Am] 1991; 16: 318-321

8 Shiomi K, Takamiya M, Yamanaka H, et al. Hemolytic, lethal and edema-forming activities of the skin secretion from the oriental catfish (Plotosus lineatus). Toxicon 1986;24: 1015-1018

9 Scoggin CH. Catfish stings. JAMA 1975; 231: 176-77

10 Burnett JW, Calton GJ, Morgan RJ. Catfish poisoning. Cutis 1985; 35: 208

11 Birkhead WS. The comparative toxicity of stings of the ictalurid catfish genera Ictalurus and Schilbeodes. Comp Biochem Physiol 1967; 22: 101-111

12 Pacy H. Australian catfish injuries with report of a typical case. Med J Aust 1966; 2: 63-65

13 Russel FE, Fairchild DM, Michaelson J. Some properties of the venom of the stingray. Med Arts Sci 1958; 12: 78 (Quoted in Pacy)

14 Halstead BW. Dangerous marine animals. Cambridge, Maryland: Cornell Maritime Press: 1959. (Quoted in Pacy)

15 Isbister GK. Venomous fish stings in tropical northern Australia. Am J Emerg Med 2001; 19: 561-565

16 Williamson JA, Fenner PJ, Burnett JW, Rifkin JFVenomous and poisonous marine animals: a medical and biological handbook. Sydney: University Of New South Wales Press; 1966.

17 Klasco RK (Ed): POISINDEX™ System. MICROMEDEX, Greenwood Village, Colorado (Healthcare Series Vol 110 expires 12/2001).

18 Sutherland SK, Tibballs J. Australian animal toxins. 2nd ed. Melbourne: Oxford University Press; 2001.
David Spencer Muirhead, MB BS, Dip RACOG FRACGP is a General Practitioner in full-time practice at Rose Street Clinic, I Rose St. Glenelg SA 5045.
Phone: +61-08-8295-2167
Fax: +61-08-8376-0906
E-Mail:
dmuirhea@bigpond.net.au
---
MARINE WILDLIFE NEWS
http://ourworld.compuserve.com/homepages/BMLSS/News2002.htm
Reports of marine wildlife from all around the British Isles, with pollution incidents and conservation initiatives as they affect the flora and fauna of the NE Atlantic Ocean. Full details of these reports and their authors can be found on the BMLSS webpage.
19 April 2003
The discovery of a Giant Goby, Gobius cobitis, found in a rockpool above the half tide mark at Les Ecrehous, Jersey, was a notable discovery. This goby is a protected species under the Wildlife and Countryside Act Schedule 5. It has always been known from the shores of Jersey but it is virtually unknown on the northern English Channel coasts with occasional records from Cornwall only. As it name indicates this goby is a 'giant' amongst the Gobiidae, a family of small fishes. The Giant Goby attains lengths of up to 25 cm.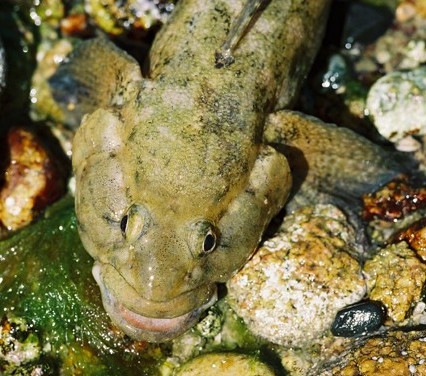 15 April 2003
The Strawberry Beadlet Anemone, Actinia fragacea, has been observed discharging eggs in an aquarium. This method of reproduction has been suspected but there have been no observations in print before.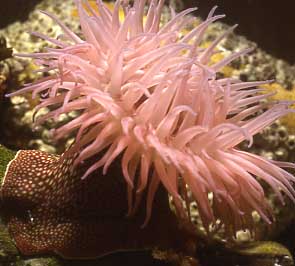 Report by Mike Guye via the Wet Thumb Smart Group
---
When I first read the paragraph about the seahorse capture in "Marine Wildlife News" (taken from the BMLSS [British Marine Life Study Society] web page) in our February 2003 Newsletter (No.296) I thought that I was reading an article from the past. The paragraph, however, was dated late November 2002. It said that "A Short-snouted Seahorse, Hippocampus hippocampus, is captured by an oyster fisherman in the Solent. In Victorian times, there are records from off Dorset and the Solent."
(Dorset is a county on the mid-south coast of England. The Solent is a channel that runs between the Isle of Wight and the mainland, just off Dorset.)
I had first read a similar report about seahorse sightings in British waters in 1996. I had included details of the report in our July 1996 Newsletter (No.224). That report had said that seven seahorses had been caught off Dorset (at Weymouth) late in 1995. The report went on to say that two seahorses had also been discovered there in 1992. A seahorse caught off of nearby Sussex in 1990 had been the first one recorded off of England for decades.
Then, according to our August 2001 Newsletter (No.280), a lobster fisherman from Swanage (in Dorset) caught two seahorses in one week that year. They were both identified as Hippocampus ramulosus. The report (taken from the BMLSS magazine "Torpedo") went on to say that "Seahorses have been found from Weymouth Bay and the Fleet in Dorset and there are anecdotal reports of seahorses from Studland eelgrass beds, but about 20 years ago." That would have been about 1980.
The latest report (Nov 2002) harks back to sightings of seahorses in "Victorian times". Queen Victoria died in 1901.
I decided to check out the BMLSS web site and I found much information about seahorses and their sighting around Britain. The following reports for example :-
Late August 2002
Three specimens of the Short-snouted Seahorse, Hippocampus hippocampus, were discovered about 95 miles east of the Solent in the English Channel. They were picked up during DEFRA sponsored fish habitat studies by the University of Wales Bangor research vessel Prince Madog. Each came up in separate gear deployments, though at a single sampling station. On UWTV the benthic biotope where they came from was seen to be sand with a dense bed of tube worms, Lanice conchilega. All three seahorses were "pregnant" males.
1 November 2001
There have been further reports of Short-snouted Seahorse, Hippocampus hippocampus, from around the Channel Islands. Fisherman Steve Ryall hauled them up in his nets together with Lumpsuckers and large Soles over 3 kg in weight. The Seahorses were returned alive. Lobster and crab fisherman Andy Egre reports catching two large Seahorses in his pots about a mile and a half off Rozel in 30 metres of water in an area of strong tides.
27 September 2001
A commercial fisherman, Rick Ferbrache, caught a 63 mm (2.5 inch) long brown Short-snouted Seahorse, Hippocampus hippocampus, in a parlour crab pot while fishing 1.5 miles north west of Pembroke off Guernsey's north coast.
10 November 1999
A Seahorse, Hippocampus hippocampus, was caught in gill nets about one mile south of Guernsey in about 10 metres of water. The seahorse capture was in another net set along another part of the south coast of Guernsey at 49° 25.06' N and 2° 33.41' W. This capture was near rocks called Pecheresse to the east of Icart Point.
The Seahorse, Hippocampus hippocampus, was recorded off the Netherlands coast in the late nineties.
February:
3 specimens of the Seahorse, Hippocampus hippocampus, caught in deep water, over 30 metres, off Jersey by lobster fishermen. These attractive small fish are regularly caught during the winter. The Sea Horses have found a home at the National Aquarium in Plymouth.
On 14 February 1997, William Falla, caught a Seahorse. Hippocampus hippocampus, at a depth of about 55 metres south of St. Martins Point, Guernsey. This specimen was recovered alive and housed in a home aquarium.
On 13 February a female Seahorse, Hippocampus hippocampus, was caught by Mark Blondel fishing for spider crabs in 60 metres (200 ft) 8 to 10 miles SE of St. Martins Point, Guernsey.
On 30 January 1996, a Short-nosed Seahorse, Hippocampus hippocampus, was caught by an Alderney fisherman in a lobster trap. This is the rarer of two seahorses recorded in the English Channel and is caught with some frequency in deep water (over 30 metres) around the Channel Islands. One individual was caught off Jersey a week before, and another one just before Christmas off Alderney. There are 13 records from off Jersey for 1995. The latest specimen was returned to the sea.
Wales
The Marine and Estuarine Fishes of Wales shows confirmed records of the Seahorse Hippocampus ramulosus in north Cardigan Bay, Pembrokeshire and the Severn Estuary.
And then this information about the seahorse Hippocampus ramulosus.
Hippocampus guttulatus. This is still known as Hippocampus ramulosus until the identification and renaming has been approved in Switzerland by the nomenclature society. They start to breed at about 6 months but are seasonal.
And these details about a seahorse book: -
"Seahorses - Conservation and Care" by Neil Garrick-Maidment, t.f.h./Kingdom 1997 ISBN 185279071-7 . Neil Garrick-Maidment runs the Seahorse Nature Aquarium (now in the
National Aquarium at Plymouth) and he passes on his knowledge of keeping and breeding them in captivity in this small book. The most important snippet of information is on page 15 when it says that adult seahorses eat about 40 mysid shrimps a day.

"Every year, huge numbers of seahorses die in aquaria as a result of the lack of accurate information on how to keep them. This book redresses the balance by giving a comprehensive account of how to care for these most difficult of marine fish, but also stresses the need for conservation in the wild".

Feeding live food to seahorses is more likely than not to be an insurmountable problem for the home aquarist, and anybody wishing to keep this fish will need to buy this book. If you are just interested in these fascinating fish the 48-page book contains information not published elsewhere.

The details from our July 1996 Newsletter were also included in my "Seahorses" article in our December 1996 Journal (No.7). In that article I explained that "Seahorses belong to the Genus Hippocampus. All members of this genus have a forward inclination of the head, the length of which is at an angle with the length of the body."

The article also referred to Short-snouted Seahorses as Hippocampus breviceps. Ralph Richardson's article in the same Journal called Hippocampus breviceps Short-headed Seahorses. Both common names are acceptable. The Short-snouted Seahorses from England are a different species (Hippocampus hippocampus). They are also referred to as Short-nosed Seahorses above.

FURTHER READING

For more details about seahorses see : -

"The Improbable Seahorse" by Amanda Vincent, The National Geographic, Vol.186 No.4, October 1994.

"Seahorses: an Identification Guide to the World's Species and their Conservation" by Lourie,SA. (Sara), Vincent,ACJ. and Hall,HJ., published by Project Seahorse 1999. Includes details of seahorses and all their relatives including seadragons.

"Seahorses - Conservation and Care" by Neil Garrick-Maidment, t.f.h./Kingdom 1997 ISBN 185279071-7.

WEB SITES

BMLSS at http://ourworld.compuserve.com/homepages/BMLSS/News2002.htm

Project Seahorse at http://www.seahorse.mcgill.ca/

Steve Reynolds
---
The Seven Gills and The Single Shield
(Easter on Y. P.)
I'm sure readers are not yet thoroughly sick of my favourable comments concerning my Shark Shield so I've stretched my imagination again to concoct this title!
On a night dive (18/4/03) at Edithburgh Jetty we started off as a three-some, but as usual when I'm the sole photographer Paul and Leona Fitzgerald soon became frustrated with my slow progress and headed off towards the outer end.
While gearing up Paul had stirred the proverbial out of me with jocular comments such as "The day I wear a Shark Shield on a jetty dive will be the day I quit diving" and "Only a wimp like you would bother".
But Paul was strangely silent on this subject after the dive because Leona saw a sizable shark eating a dead ray under the jetty's outer end!
She only had a glimpse as it abandoned its ray meal and turned tail and fled out to deeper water. But from Leona's description of its long, thin, almost eel-like tailfin we guessed it was probably a Seven-Gilled Shark. (And if you thought my sense of humour was pathetic, try this out: Paul then commented that, strictly speaking, they should be called 'Fourteen-Gilled' Sharks for obvious reasons!)
Apart from the ray there were also a disturbing number of dead smaller whole fish (ie unfilletted) under the jetty. These were mainly slimy mackerel a species often used in craypots as bait. One suspects these were dumped overboard towards season's end. If so, this would not have been with the intention of attracting sharks of course, but nevertheless such shoddy behaviour can hardly be put down to ignorance, as few if any crayboat skippers using this jetty would be unaware of its intensive dive tourism focus.
Although I'd be drawing a long bow to speculate that Leona or Paul (but not me - I was wearing protection!) could've been attacked as a result, one does wonder….
Footnote: On a lighter note, I got some nice piccies of two of these slimy mackerel carcasses being consumed by hordes of isopods. It's an ill wind that blows noone any good!
David Muirhead
---
Announcements

From the Queen's Birthday Honours list in "The Advertiser"

Monday June 9th

Vicki-Jo RUSSELL. Fulham.

For service to conservation and the environment through encouraging community-based participation in activities aimed at conserving threatened flora and fauna in South Australia and for the establishment of the "Birds for Biodiversity-MLR" program

.

Birth Announcement

Philip and Margaret Hall have a new Grandson - Nathan Philip Lush.

Joanne Lush (Philip's daughter and Margaret's stepdaughter) gave birth to him on Wednesday 11th June at the Victor Harbor Hospital.

He weighed 3.840Kg and was 55.5cm long.

All are very well.

And here he is!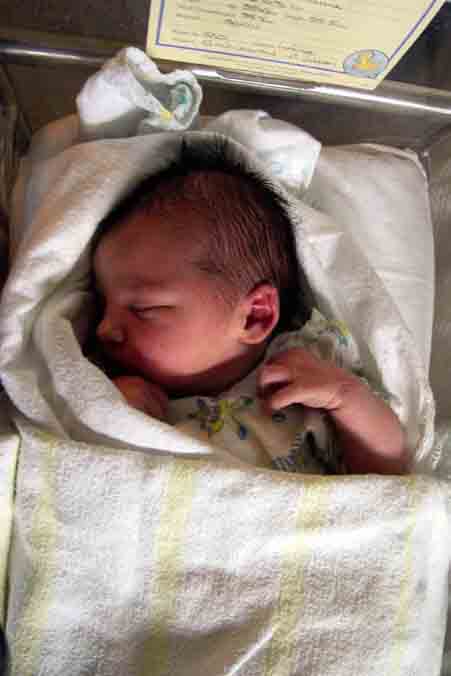 MLSSA Anniversary Trophy
The 2002/3 recipient Margaret Hall presented this to Phill McPeake.
This was to:
1. Recognise his efforts as Treasurer in keeping the Society solvent and keeping a tight rein on expenditure.
2. For his efforts at producing a superb calendar year after year.
3. For being a fountain of knowledge on many subjects.
---