Marine Life Society of South Australia Inc.
Newsletter
July 2005 No. 323
"understanding, enjoying & caring for our oceans"
Next Meeting
This will be held at the Conservation Centre, 120 Wakefield Street, Adelaide on Wednesday July 20th commencing at 7.30pm.
Our guest speaker will be Will Zacharin who will be speaking on the topic of the Sustainable Management of Fisheries .
Will was unable to address our June meeting owing to a computer failure.
Contents
Diving the Apple Isle Part 2
More About The Booya
Library Update
2005 June Long Weekend at Edithburgh
Anniversary Trophy
The trophy was awarded this year to Geoff Prince for his untold hours of work on the MLSSA calendars since its start in 1999. Although employed by our printers, Printnow, he spends much of his own time making sure each edition is correct and is the best possible.
A further thank you was made to Phill McPeake and Danny Gibbins for their work on recent calendars with the presentation of a bottle of wine to each.
ARTICLES
Newsletter and Journal articles are still needed. Please send any contributions in by Email, letter or give to me at a Meeting.
2006 Calendar
This is now available. AUS$8 to members and AUS$10 to non members. Please buy as many as possible and also sell to anyone who is interested.
We almost sold every 2005 calendar! A wonderful effort.
People who have seen the new edition say it is our best yet.
This Newsletter
The hardcopy of the Newsletter is in black and white as usual. If members prefer a colour PDF version then please email me.
by Chris Hall
Part 2
On the way back down to the jetty for the next dive we heard over the two way radio that some orcas (killer whales) had been sighted. While waiting for the boat I collected a few oysters from the jetty pylons and very nice they were too. When the boat arrived, it was a little late so, we hurriedly organised the dive gear in anticipation that we might get a glimpse of the orcas.
As we reached the northern point of Waterfall Bay we slowed down and searched the swells for any sign of these magnificent mammals. Then all of a sudden this large fin appeared about twenty metres from the boat, Pete and I dashed for our cameras with the hope we might get some good shoots. I had great difficulty managing my housed camera with strobes hanging off each side in the huge swells but Pete with his lighter and more manageable digital camera thought he'd got a couple of good shoots. There were three orcas, two adults and a younger one. They came within about three metres of the boat, just awesome to watch. At one stage there was an Australian fur seal swimming amongst them so obviously they all must have been feeding on a large school of fish. After about ten minutes they went on their way so we headed into Waterfall Bay.
Although we dived a different spot in the bay it was very similar to our previous dive without the weedy seadragons; however we were visited a numbers of times during the dive by some large rays. Again we exhausted our air before surfacing. A very enjoyable dive.
<![if !vml]>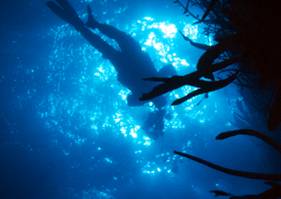 <![endif]>
Diving this part of Tasmania is very similar to the northwest coast of Ireland except for the fish life.
Back at dive centre, warm and showered Lorna offered to cook some scrambled eggs while Pete downloaded his photos onto his laptop. I had to wait until I got back to Adelaide to see my results as there was nowhere to get my slides processed and mounted. I'm slowly seeing the advantages of digital cameras. So while eating delicious scrambled eggs we were treated to a slide show of Tassie's marine life including orcas.
That evening we sat around the dinner table at the local hotel telling tales and discussing a great day's diving and arranging tomorrow's dives. It was decided that seven of us would dive the Nord, so another early start. This dive is for deep divers experienced to 40 metres and considered by some as one of Australia's best wreck dives.
The SS Nord formerly the Maria Goriainova was built in the Grangemouth and Greenock shipyards in 1900 and was registered in London to the Anglo-Saxon Petroleum Company. 80 metres long and 1057 tons she was powered by a 201 horsepower triple expansion steam engine, from twin boilers, driving a single screw (propeller).
On November 7th 1915 she was on her way from Melbourne to Hobart with a cargo of 12,000 cases of benzine used for fuelling cars at the time. Whilst trying to shelter from heavy seas she cut between the Hippolyte Rocks and hit Needle Rock at 5pm which sticks up from the ocean floor two metres from the surface. It is thought that the same rock claimed the SS Tasman in 1883.
Captain Mackay decided to head for Port Arthur but with such heavy seas she was not making way so a decision was made to beach her in Fortescue Bay. Rising waters extinguished the boilers so orders were given to let out the port anchor to secure the ship. All in all about 100 metres of anchor chain was let out but the ship drifted towards shore, it was then that the order was given to abandon ship. At 7.15pm the lifeboats were lowered and the crew headed for safety. Some of the Chinese crew made it to shore and walked to Port Arthur while the rest were spotted by a lighthouse keeper who saw the plight of the Nord and went to their assistance.
2am November 8th 1915 finally saw the demise of the Nord as she sank some nine hours after striking rocks off the Tasman Peninsula where she lays upright in 40 metres of water.
The day greeted us with clear skies and calm conditions. It couldn't have been better planned for the long trip to the Nord. We kitted up, loaded the trailer and braved the trip down to the jetty in the less than reliable 'troop carrier'. We transferred our gear from the trailer to the boat and got underway. Gary the skipper took the helm and the seven divers settled down in the boat to view the spectacular scenery of the Tasman Peninsula.
About 40 minutes later we arrived at our destination, Gary located the wreck and lowered the anchor. Once at anchor we kitted up, Gary carried out the dive brief and we entered the water-cold! About half way down the anchor chain we were entertained by an Australian fur seal skimming passed us and trying to bite our fins. At this point I looked down and could see the faint outline of the Nord, we had about 20 metres visibility. On we descended to a reef at 35 metres and about 5-10 metres from the stern of the wreck. The ship is in two main parts with stern at 40metres and the bow at about 42 metres. The middle of the ship is collapsed and is a haven for fish and invertebrates alike.
The stern which is most intact is covered with algae, sponges, anemones and these most beautiful yellow zoanthids. Amongst the wreckage swim common bullseyes, butterfly perch and a gurnard perch sat motionless on a steel rib. Above us the fur seal was darted and cavorted amongst our exhausted bubbles. I went down to look at the prop and registered 38.8 metres on my dive computer. I then headed up the anchor chain and was again entertained by the fur seal as it darted and swooped for our fins. It made it a very interesting safety stop. It was a great dive, probably one of the best wreck dives I've done in Australia but not quite as good as some of the wrecks I've dive in Ireland.
Back on board we readied for the trip back. The sea was now dead calm and the sky blue, with a warm sun slowly returning the warmth to our bodies. Gary steered the boat close to the cliffs as they towered above us and we got the full impression of their height, up to 300 metres in some places.
<![if !vml]>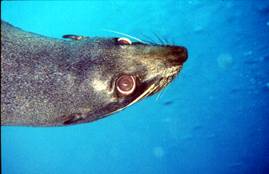 <![endif]>
After completing about a third of the trip Gary slowed down and steered close in to the cliffs to view some of the amazing rock formations amongst the cliffs, the Totem Pole and the Pinnacle. These narrow rock formations rise straight out of the sea for hundreds of metres. Those that had digital cameras indulged themselves in a photo shoot and those that didn't just looked on enviously.
The rest of the trip back passed quickly as Gary and I swapped stories of our time in the RAN (Royal Australian Navy).
Back at base we had time to relax and eat before the next dive.
Part of Waterfall Bay has a system of caves that burrow into the cliffs and this was to be our next dive, the Cathedral Caves. These caves can be seen from the surface at the southern point of Waterfall Bay. Some of the caves are over 100 metres in length and can vary from a tight squeeze to accommodating 4-5 divers.
Back at Waterfall Bay and anchored, Gary gave us an extensive dive brief as there had been a fatality in the caves about a year or so ago. Gary was to lead the dive and explained that anyone that didn't have at least a 100 bar going into the last cave would have to remain outside.
Once in the water we descended as Gary led and the rest followed in single file. As we entered the first cave the entrance narrowed and it became a little unnerving but as soon as you got used to the torch light in the dark it became more relaxed. There were a few tight squeezes where tanks banged against the roof of the cave. The floor of the caves is made up mainly of rock with some sand so silting wasn't a problem. We explored Skull Cave, so named because of the two large eye shaped entrances and then the Catacombs which is much tighter and guaranteed to produce a few scrapes. In one cave there are some fossils while all of them had crayfish and the usual array of invertebrates. At the entrance to the third and last cave, the Dog Leg, Gary checked our contents gauges to make sure we had the obligatory 100 bar. Once checked out it was on with the cave exploration. This was a relatively simple task as I followed Gary and where the cave turned to the left he ushered me on while directing the others. Once you turned the corner you could see daylight and the way out.
We all gathered at the exit of the cave and those that had enough air left continued the dive to observe some more intriguing marine life.
When we got back to dive centre we cleaned our gear and help prepare for the BBQ that evening while Pete collected a lot of rubbish and wood for the bonfire.
The sun was sinking in the west and evening closing in as John flashed up the barbie and Pete put a light to the bonfire. Soon the chops, sausages and hamburgers were sizzling away under the watchful eye of the 'Chef'-John while the rest of us stood around salivating as the cooking aromas wafted through the night air.
The call came "grubs up" and there was a rush of starving people for the BBQ'd meat and salads. We all sat around the bonfire eating, drinking and having our fill. As we sat back chatting and relaxing a brilliant full moon rose in the east cascaded by a billion twinkling stars. This was a perfect end to a magnificent day.
PICTURES by Chris Hall
To be concluded
by Steve Reynolds
In an earlier article titled "Cyclone Tracy Shipwrecks" I wrote about a schooner called the Booya. I have since found more details about the Booya in Captain James Gillespie's book "Traders Under Sail – The cutters, ketches and schooners of South Australia". Page 24 of this book features a great photo of the Argosy Lemal (the earlier name for the Booya) and one of her sister ship De Wadden on page 25. Captain James Gillespie's book says that in 1920 the Argosy Lemal was registered in Newcastle on Tyne in England by the Argosy Shipping and Coal Co. She came to SA and was registered at Port Adelaide in 1923. She was owned by Yorke Shipping Pty Ltd but they were later a subsidiary of the Adelaide Steamship Co Ltd. Gillespie says that she was then managed by MB Crouch of Port Adelaide (Reginald M Crouch of Adelaide became her new owner in 1949). She became well known in SA waters. In the mid-1930s she carried bags of malted barley from SA outports to Melbourne. Captain Gillespie was an able seaman on her for six months at that time. She would carry about 100 tons of bagged Geelong cement when she returned to Port Adelaide from Melbourne. When she was requisitioned by the Commonwealth Government in November 1942, she was used in New Guinea waters during World War II. After the war she briefly became known as the Ametco (acronym for "Australian Middle East Trading Company"). In my earlier article titled "Cyclone Tracy Shipwrecks" I wrote that "Reginald M. Crouch of Adelaide became her new owner in 1949 and she was registered in Melbourne as the Claire Crouch.
Captain Gillespie agrees with that on page 48. On page 24, however, he says that Crouch became her new owner in August 1956 (not 1949). There is a great photo of the Claire Crouch in Hobart on page 49 of Gillespie's book. According to Gillespie she successfully traded between Port Adelaide and Hobart for some years before being converted to an acid carrier. Special acid carrying tanks were installed in her cargo hold so that she could carry sulphuric acid from Port Pirie to Port Lincoln for some years. She was then sold to new owners in Townsville, Queensland in 1968. This is when she was renamed Booya and became a fuel supply vessel to a north Queensland prawning fleet. This, it seems, is what led her to Darwin Harbour where she was wrecked during Cyclone Tracy on Christmas Day 1974. Now I trust that I haven't confused readers too much with so many names (name changes). I myself have struggled with a few problems on this topic. For example, in my "Cyclone Tracy Wrecks" article I questioned the spelling of Lemal, thinking that it had been spelled as 'Lemael' in some source. I found a photo of a schooner called Lemael in "The First 100 Years of Semaphore 1883-1983" and thought that it was actually the Argosy Lemal. The poor photo in the Semaphore Centenary booklet looked very much like the one of the Argosy Lemal on page 24 of Captain Gillespie's book. The caption in the Semaphore Centenary booklet reads "3 masted schooner "LEMAEL" washed ashore in front of Wolverton in 1901 storm, Largs Jetty in background". I was excited to discover that "Wolverton" was recently the Lefevre Peninsula Hospital on the Esplanade at Semaphore. The reason for this was that I once lived across the road from the hospital (in a side street). What a fantastic coincidence to discover that the Argosy Lemal (or Lemael) had at some stage washed ashore on my 'doorstep'. My excitement soon subsided when I checked "South Australian Shipwrecks – A Data Base 1802-1989" by Peter Christopher. That's when I found out that the Lemael was a two-masted schooner built in Tasmania in 1892. She was then wrecked at Cape Banks in the south-east of SA in 1921. And the Lemael had washed ashore at Semaphore in 1901! It couldn't be the Argosy Lemal which had been built in 1917. But the Lemael that washed ashore at Semaphore in 1901had three masts and the Lemael that was wrecked at Cape Banks in 1921 had just two masts! It looks like more research is needed on this subject.
REFERENCES:
"Traders Under Sail – The cutters, ketches and schooners of South Australia" by Captain James Gillespie, 1994.
"South Australian Shipwrecks – A Data Base 1802-1989" by Peter Christopher. Published by The Society for Underwater Historical Research, 1990.
ISBN 0 9588006 1 8.
"The First 100 Years of Semaphore 1883-1983" (A Stroll Down Memory Lane" by Captain J Maitland Thomson), Semaphore Promotion and Tourist Association Inc.
Library Update
by Steve Reynolds
We recently purchased several (seven) books to assist with the identification and classification of marine creatures on the Photo Index slides. These books have also been added to our library for limited loan by Society members. The books purchased were: -
"Australian Marine Life" by Graham J Edgar
"Seahorses, Pipefishes and their relatives" by Rudie Kuiter
"A Guide to Squid, Cuttlefish and Octopuses of Australasia" by Mark Norman & A.Reid
"A Field Guide to Crustaceans of Australian Waters" By D.Jones & G.Morgan
"Marine Flatworms, the World of Polyclads" by L.Newman & L.Cannon
"1001 Nudibranchs" by Neville Coleman
"2002 Sea Shells" by Neville Coleman
"Seahorses, Pipefishes and their relatives" has been added to the Marine Fish book section of our library. This hardcover book by Rudie Kuiter is 'a comprehensive guide to Syngnathiformes'. It covers much more than just seahorses and pipefishes. There's a lot more fish in there than you would think.
The other six books have been added to the Other Marine Life book section of our library. "2002 Sea Shells" by Neville Coleman is a 'catalogue of Indo-Pacific mollusca'. Neville's "1001 Nudibranchs" is a 'catalogue of Indo-Pacific sea slugs'. "Australian Marine Life" by Graham Edgar covers both 'plants and animals of temperate waters'. It is a revised edition (2003). "Marine Flatworms – The World of Polyclads" by Leslie Newman & Lester Cannon was a finalist for the (Reed New Holland 2003?) Eureka Science Prize.
These books turned out to be better than I imagined when ordering them from Mountain Ocean and Travel Publications (through Dive Log). They gave us 10% discount off of all of the books which was a great help. The books themselves have already been a great help in identifying and classifying many of the slides of marine creatures in our Photo Index.
2005 June Long Weekend at Edithburgh
by Philip Hall
After a break of several years it was decided to restart the annual June Long Weekend trip to Edithburgh following a suggestion by Chris Hall. This turned out to be a great success, and those who did not come missed out big time.
<![if !vml]>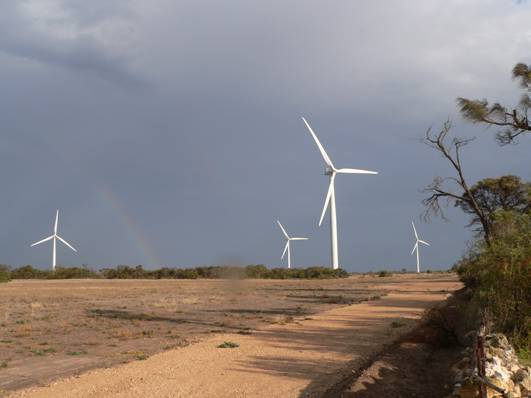 <![endif]>
Margaret and I were the first to arrive on the Friday afternoon and quickly settled in at the Caravan Park. We immediately noticed several changes to the area. The 55 wind turbines got the first visit and then we looked at the boat ramp improvements. The weather was not too bad, a little cold and windy with the occasional shower providing us with great rainbows over the turbines. Chris and Ann arrived later in the evening as did Talitha and Mark.
Saturday was glorious and the divers were soon getting ready at the Edithburgh Jetty. Well, Chris led the way and Mark and Talitha went in a little later. It was apparently good diving with reasonable clarity. Chris and Mark took plenty of pictures of a reasonable variety of marine life. Margaret and I went for a drive to Port Moorowie and came back along the coast via Troubridge Hill. On the way we saw whales spouting and breaching about a kilometre out to sea. The Whale Centre reported sightings of Humpbacks moving west on Friday so these may have been the ones we saw but more likely to have been some Southern Rights.
<![if !vml]>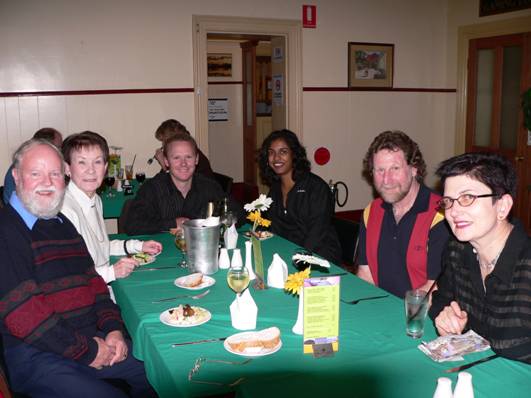 <![endif]>
That evening we all retired to the Edithburgh Hotel for dinner where we were remembered by the hostess. We had just finished an excellent (huge) meal when Kevin arrived. So we sat down again and carried on chatting. How Kevin managed to eat with all the talking I do not know.
Sunday started well with Kevin and Chris diving under Wool Bay jetty and finding plenty of Pipefish, Seadragons, Flatheads and other creatures to photograph. Margaret and I went down to Stenhouse Bay where we found in the Ranger Station and Information Centre a large information board with marine life pictures credited to MLSSA. Then we went on to Pondalowie Bay to see all the changes there. Phill and Barbara arrived at Edithburgh with their new boat whilst we were away and then after dinner we spent the evening playing cards. Chris and Kevin had a night dive under Edithburgh jetty but the viz was poor.
<![if !vml]>

<![endif]>
Monday was a bit changeable so Margaret and I went to Corney Point and on along the coast to Turton to see all the changes there. Quite interesting what they have done to the boat ramp! It was very windy and rough on that coast. We then went to Hardwick Bay and across to Stansbury to complete the trip. No diving for the others as they had to pack and return home except for Phill and Barbara who were to go to Turton but changed their minds and decided to stay at Edithburgh.
On Tuesday Phill, Barbara, Margaret and myself went to the Marine Centre at Port Vincent where we had a conducted tour of the Centre. Quite a lovely place to learn about the marine environment. Margaret and I returned home from there leaving Phill and Barbara to enjoy a further few days at Edithburgh.
All in all an excellent weekend with some good diving taking place. I hope more members and friends will come next year as it certainly is worth the effort. We all know the weather can be changeable but diving is usually possible one side of the peninsula or the other.
Pictures by Philip
Wind turbines with rainbow.
Dinner (L to R - myself, Margaret, Mark, Talitha, Chris, Anne).
Chris exiting at Edithburgh on the Saturday.
Marine Life chart at Stenhouse Bay Ranger Station—MLSSA credit at the bottom.