MLSSA
NEWSLETTER
JULY 1999 No. 257
"Understanding, enjoying & caring for our oceans"
This Newsletter
This is the MLSSA Newsletter, the monthly publication of the Marine Life Society Of South Australia Inc. Our Society is active in trying to protect our marine environment and this Newsletter usually contains articles about marine life and the marine environment.
Copyright - the contents of this Newsletter are copyright and may not be reproduced without prior permission of the Society.
Disclaimer - The opinions expressed by authors of material published in this Newsletter are not necessarily those of the Society.
Subscriptions
You can join the Society or just subscribe to our Newsletter and Journal. To do either, please download the form on this website and mail it with the appropriate payment to:
MLSSA Inc.
120 Wakefield Street
ADELAIDE 5000
Please send all general correspondence, subscriptions or Newsletter and Journal contributions to this address. Correspondence may be marked to the attention of the Secretary. Subscriptions may be marked to the attention of the Treasurer. Newsletter or Journal contributions may be marked to the attention of the Editor.
Meetings of the Society
General Meetings of the
Society are held on the 3rd
Wednesday of each month
at 8 pm sharp, at the
Conservation Council
120 Wakefield Street
Adelaide
Parking is adjacent to the rear door.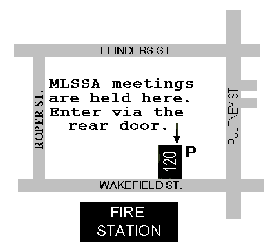 ---
July General Meeting
This will be held on July 21st at the Conservation Centre, 120 Wakefield Street. It will begin at the usual time of 8pm with the general business.
The speaker will be Helen Castle and the topic will be Marine Flora. Helen spoke at the MESA Conference Margaret and I attended and after hearing her speak we can heartily commend this talk to you.

---
Congratulations!
Society Members present at the June General Meeting were able to congratulate Ralph and Li Juan Richardson on their wedding on Wednesday 9th of June.
They spent their honeymoon with MLSSA at Edithburgh.
---
Greening Australia
The Leafy Seadragon-friendly Catchments Project
If you've ever seen a Leafy Seadragon alive in its natural environment, you're either lucky or very observant. You would have been swimming, diving or boating around the seagrass meadows and reefs close to the coast of SA or WA. These are the only places in the world where Leafy Seadragons are found.
Perhaps you have already seen a Seadragon or Seahorse. They all inhabit similar places, where seagrasses and seaweeds grow in temperate coastal waters.
Seahorses and Seadragons are among my favorite creatures. I find Leafy Seadragons (Leafies) particularly beautiful, with their many seaweed-like appendages, striking colors and markings. Because they look so much like swaying seaweed, they're well camouflaged in their natural habitats.
Being a mother of two, I'm particularly impressed by one amazing fact about seahorses and seadragons. The male gives birth to the babies! While the female develops the eggs (about 300 orange ones for 'Leafies'), she transfers them to the male who looks after them until they hatch. Male seahorses have even been observed having contractions as the babies are born!
While you may think the life of a seadragon sounds great - drifting gently around coastal reefs and seagrass meadows, looking stunning, having lots of babies, enjoying a delicate seafood diet - the fact is that seahorses and seadragons are threatened globally by habitat destruction. Seagrasses and seaweeds in coastal areas are dying and this means we're losing the homes of countless marine creatures.
Along the Adelaide metropolitan coast we've lost 2500 hectares of seagrass beds. The main reason is the poor quality of water flowing out to sea from rivers, creeks and stormwater drains. As well as toxins, this outflow water is full of sediments, or very fine particles of soil, and when they land on the seagrass they prevent light reaching the leaves. Plants need light in order to photosynthesise and survive.
Why is the water full of sediments? When we clear land and remove native plants, the soil erodes and washes or blows into creeks and rivers. When we grow plants that don't naturally belong in a place, they don't filter the water, hold the soil or provide habitat in the way that native plants do. So the web of life changes and we end up with a whole lot of effects we never counted on.
That's where The Leafy Seadragon-friendly Catchments Project comes in. We're working to restore the native vegetation of our creeks and rivers so the waters that flow out to sea are cleaner and healthier. Hopefully, then, we will stop losing so much seagrass and the magnificent seadragons will have a better chance of survival. This is one of the very important projects that The Advertiser Greening Australia Earth Keepers are working on this year.
Sheryn Pitman
(This article was adapted from one published on May 4th 1999 on the Education page of The Advertiser . Editor )

---
This attractive little Bullseye, probably the smallest of the Pempheris genus but also the most colourful of S. A's bullseyes, is quite common at Carrickalinga on the southern Fleurieu Peninsula. I saw schools of 10-20 fish under quite a few ledges on 3 recent dives there (13 - 15/1/99). Although nowhere as common as the Rough (P. kiunzingeri) and Common (P. multiradiata) Bullseyes, it is certainly not rare in gulf waters but could be overlooked by divers as adults often coexist with comparable-sized juveniles of these two larger species. In its usual habitat under shady ledges its colouring will not be appreciated unless one illuminates it with a torch or strobe light, when the 6 horizontal lines of orange/gold frosting on its body, and its bright yellow eye colour are suddenly apparent.
Next time you're peering under a ledge, take time to observe the bullseyes you are likely to see there and you may be surprised to find more than one species.
David Muirhead

---
Turtles,Tortoises &Terrapins
As mentioned in my article about diving in the freshwater ponds at Port McDonnell, I thought that what I had seen there had been two turtles. I even thought that they might be long-necked turtles, but then I read Neville Coleman's account of Piccaninnie Ponds in his book "Discover Underwater Australia". Neville referred to terrapins occurring in the ponds. I had mentioned this in our January 1998 Newsletter. Now I became curious about the differences between turtles, tortoises and terrapins.
I scanned through many of my books for information about the subject. I also referred to an article in our June 1992 Newsletter (No.179). That article said that marine species are turtles. A land-living species is a tortoise but these do not occur in Australia. A freshwater species is a Freshwater Tortoise which have clawed, webbed feet. "The Ultimate Visual Dictionary" says that terrapins are freshwater turtles, so now I'm thinking that freshwater tortoises and freshwater turtles (terrapins) are different creatures. The same book, however, says that tortoises are land turtles, so marine, freshwater and land species are all turtles? The book refers to all turtles belong to the order Chelonia. My "Wildlife Fact File", however, shows a Snapping Terrapin belonging to the order Testudines. The book "Biological Science - the web of life" refers to a Long-necked tortoise, not turtle. It also says that turtles have paddle-shaped legs (no feet?) and most live in the sea. Tortoises are confined to rivers and lakes (and ponds?). So where does this leave us now? All species are turtles. Land-living and freshwater turtles may be called tortoises. Freshwater tortoises (or turtles) may be called terrapins.
I have re-read an article in the January 1984 issue of "National Geographic". The article "Exploring a Sunken Realm in Australia" by Hillary Hauser shows a David Doubilet photograph of a 'long-necked turtle'. The turtle is said to be the Australian snake-necked tortoise in Piccaninnie Ponds. This article is very interesting. It is mostly about both Ewens and Piccaninnie Ponds and features Rodney Fox quite a bit.
So, it seems that my two 'long-necked turtles' are in fact 'snake-necked tortoises'.
Now for a fact from the book "Animal Physiology" by Knut Schmidt-Nielsen:- "Marine reptiles have salt problems similar to those of marine birds, but their kidney is even less efficient in its concentrating ability. The large sea turtles have a salt gland close to the eye. This gland functions like the salt gland of the birds, and explains the well-known fact that (female) sea turtles cry tears when they go ashore to lay their eggs in sandy beaches."
Steve Reynolds
---
Margaret and I attended the launch on Friday 4th June as the representatives of MLSSA. The venue was the Coromandel Valley Primary School, as a nearby park is being transformed under a Catchment scheme to help clean up the water flowing down the Sturt River.
Representatives of the Onkaparinga and Mitcham Councils were joined by the former State Environment Minister, David Wotton MP.
We met up with Tony Flaherty and Tony Isaacson before the splendid entertainment put on by Coromandel Valley students and a quintet from Blackwood High School Music Department.
David Muirhead was named as the provider of the photographs of the Leafy Seadragon which were on several posters adorning the walls. MLSSA received a special mention by Tony Flaherty during his talk and slide show on the threats facing our wonderful underwater world. The following speakers then spoke in glowing terms of the Catchment project and of the possible improvements to the environment it could produce.
The Leafy Seadragon-friendly Catchment Project was then launched by the Lord Mayor of Adelaide, Jane Lomax-Smith. Her speech was excellent and in it she explained how the health and presence of the Leafy Seadragon was a marker for the health of our Gulf waters.
Sheryn Pitman, who spoke at one of our meetings on the Project, was the organiser of this very informative and entertaining Project Launch.
Philip Hall

---
Phill and Barbara McPeake travelled up to Edithburgh on the Friday and were joined by Margaret and myself. Phill and I went down to the jetty to do some fishing in the afternoon and he caught enough Garfish for dinner and breakfast the next morning. The weather was windy and this turned to driving rain during the night. Peter Gilbert and Jean Cannon joined the group for a convivial evening. Ralph and Lei Jung Richardson arrived late that night. Geoff Prince came even later.
On Saturday we awoke to a very stormy day and some decided to laze around, whilst the more intrepid set off for walks and oyster buying expeditions, before we all congregated at the Edithburgh Hotel for a very animated dinner. Tony and Irene Isaacson had arrived during the morning after spending the Friday night camped at Wool Bay and also seemed to be very attracted to the local oysters.
The first dive of the weekend took place on Sunday morning. The sea was calm but a few rainstorms kept the spectators on the move. Geoff Prince joined Phill and Chris Hall in a dive which is described elsewhere. Ralph was unable to decide where to dive and eventually gave it away after various mishaps. This followed an inadvertent shower the previous night at the swimming pool when he had a too close encounter with a very large wave whilst investigating the local marine inhabitants. Chris and Jean had been joined by Chris's relatives, Keith and Anne, during the morning for the latter part of the weekend.
That afternoon we all enjoyed the hospitality of Peter and Jean at Port Moorowie. Tony and I were able to present Peter with his long service certificate. I also mentioned the finding of a ships bell at the edge of a nearby reef to Anne during an inspection of the beachfront steps on an expedition led by Peter. (This is the subject of an article on Page 10.) We eventually headed back to Edithburgh where the intrepid duo of Geoff and Ralph donned wetsuits and descended below the Edithburgh Jetty for a night dive. This is also described elsewhere. Please note that both fish collected and sighted lists are now being maintained for all MLSSA dives and these may be inspected at any time on request.
Monday was fine but cold and the general consensus was to have an early and leisurely return to Adelaide.
Philip Hall

---
My article about the wreck of the "Sir Wilfred Lawson" in our May 1999 Newsletter said that according to Peter Christopher and Ron Parsons the ketch was wrecked on Gilbert Reef, Port Moorowie on 20th March 1908.
Ron Parson's book described her as a wooden, 2-masted ketch built in 1878. He gave her measured tonnage as 52 tons whilst Christopher gives 47 tons (2240 lbs X 47). I have since found an old newspaper report about the wreck. The report says that the ketch was 54 tonne (1000kg X 54). These figures vary by some 7000kgs. See my article in our November 1998 Newsletter about the tonnage of ships.
It seems that, as I had first suggested in our November 1988 and April 1997 Newsletters, the ketch had been stranded at Port Moorowie (due to a navigational error). The Advertiser (date unknown) explains that the ketch had been destroyed in a storm one week after becoming stranded.
The main focus of the newspaper report was the discovery of the ketch's bell. The Advertiser may be from 1994 as it describes the bell as being 116 years old. The well preserved bell was found in less than one metre of water wedged in a reef 1km off of Port Moorowie. It had apparently lain there for 86 years. The bell underwent conservation treatment and then went on display in a museum on Yorke Peninsula. The article showed divers recovering the bell and a marine archaeologist studying it. There was also a photo of the two-masted "Sir Wilfred Lawson" under sail.
Steve Reynolds

---
The traditional MLSSA June long weekend trip to Edithburgh, seemed to be the perfect setting to do numerous dives. Despite the abysmal weather forecast conditions have to be pretty terrible not to be able to dive the Edithburgh jetty or the Point Turton jetty across the other side of the Peninsula. Having done a few spectacular night dives on the jetty I was keen to start the weekend with a night dive on the Friday night/Saturday morning and I manage to convince Ralph Richardson that it was a good idea. After an uneventful trip around to Edithburgh with only the occasional spots of rain and the Mighty Bombers ripping the Crows to pieces, I pulled up next to the jetty at 11:30pm. I started to have second thoughts as a wave broke over the rocks at the end of the jetty and washed over the top of my car. With about 30 knot winds from the NNE, conditions were the worst I'd ever seen at Edithburgh and the water was a dark murky brown. Dive Cancelled!
Saturday the weather was much the same and forecast wasn't good for the rest of the weekend. The jetty was out of the question for a dive so we went for a drive around Troubridge Point and down to Port Moorowie to see how the water looked around the bottom of the Peninsula. With the wind blowing directly off the land the water was quite flat and from the cliffs visibility seemed good. As it was starting to get late in the afternoon, the wind was howling and consistent rain was coming down, it was hard to get enthused enough to dive. Also Phill McPeake's story of a previous dive in that area, where conditions were calm on entering the water and changed while he was down, to end up washing him up onto the rocks was enough to make us write the day off.
Sunday the wind was still as strong but had swung around to the SW and water at the jetty was dead flat and despite the rain washing down from the streets entering the ocean next to the jetty, visibility looked pretty good. Chris Hall, Phill McPeake and myself decided we would enter the water by jumping off the end of the jetty and hence be as far from rain runoff as we could get. Ralph who was running a bit late was to follow but as he was getting geared up a heavy shower came through and soaked everything in his car, he had the doors open as well as the back. He abandoned his dive to try to get things dried out. On entering the water we were pleasantly surprised to find visibility was about 5 metres even after the storms of the last few days. Chris quickly had his camera out and was taking numerous shots with his macro lens. Hopefully he got a few good shots that we may see at a future MLSSA meeting. Phill was soon searching for any interesting specimens to collect for his aquaria. The colours of the growth on the pylons and rocks were absolutely beautiful as they always are at Edithburgh and I was soon poking my nose into all the gaps among the rocks beneath the jetty. There appeared to be fewer fish life about than normal for Edithburgh, with most of what was there being small and/or juvenile. Two large cuttlefish were deep in holes under the rocks and were reluctant to come out and play. Numerous schools of juvenile, nearly translucent, Bullseyes were about and a number of Shaw's Cowfish were swimming around the pylons. A large number of blue-striped goatfish were over the sand on both sides of the jetty. The water temperature was about 12 degrees and it was great to finally get under the water. We were under for nearly an hour and had time to have a good look around. The jetty appeared to be in as good condition as it normally is with no noticeable effects from the storms, the only area of concern being one step missing from the steps on the right hand side of the jetty. For lunch we had the pleasure of going to Peter and Jean Gilberts home at Port Moorowie. It's a fabulous house with a unique round architecture giving an amazing 360-degree vista, with some of the most breathtaking views out across the ocean. Watching the changing weather coming in across the water was fascinating and I'd like to extend my thanks to Peter and Jean for their hospitality.
Sunday night I managed to get Ralph to agree to a night dive again and we headed down to the jetty about 8:30pm. The water was still calm and the wind strong and it was 'fun' to squeeze into my wet wetsuit. We entered the water down the steps this time and were surprised to find it so much colder than during the day, it was down to 8 degrees. Ralph was after a few fish for his aquarium and quickly netted a small Common Gurnard Perch of which there were several about. Swimming out a bit to the right of the jetty we came upon a red/orange coloured octopus, it had a thin elongated body shaped like a pen lid and small skirt with thin tentacles. After searching for information on it on the net and through numerous books a friend of mine, Eddie Spicer, finally found a picture of the octopus and a reference to it being relatively common. Amongst a pyramid of concrete bricks that has been built up under the jetty we also came across a common octopus along with some Old Wives and Magpie Perch. Also of interest was a strange creature that looked a bit like a green worm but in fact was a Metaboneili haswalli. Despite the temperature we had a 65 minute dive and it only seemed to take about 2 days to thaw out.
Geoff Prince
The following letter, by MLSSA member David Muirhead, was published in the "LETTERS to the editor" column of the Saturday 19th edition of The Advertiser.

---
I am a veteran scuba diver although I've never been in a shark cage. Great whites have been investigating fishing boats throughout the history of recreational fishing in SA, even before scuba diving was invented.
Thus shark-cage diving tourism makes a convenient but implausible scapegoat for the tragic death of Tony Donahue.
Sharks are drawn to fish blood and offal, or struggling fish on lines or spears.
It follows that in any heavily fished coastal area such as Hardwicke Bay, traces of blood in the shallow waters carried afar by tides will attract great white sharks, even though there are few sealions, this magnificent creature's main food, in this area.
While fishing at Hardwicke Bay at Easter, I was alarmed to see many fish carcasses in the waters by the Point Turton boat ramp, despite the sign prohibiting this.
Based on the well-researched feeding behaviour of the great white, Tony would have been taken while resting in the water alongside his board and his wetsuited figure would have been mistaken for a sealion.
Although I do not support shark cage diving, I accept its enormous tourism value, but it seems obvious to me that if anyone is to blame for shark attacks in our waters it is the minority of irresponsible fishermen who dump fish waste in the sea at popular localities shared by swimmers, surfers and windsurfers.
David Muirhead
Glenelg

---
There are two major forms of marine plants :-
Those that flower.
Those that do not flower.
Flowering marine plants are called seagrasses.
Non-flowering plants are called algae.
ALGAE (non-flowering plants) have no roots and attach themselves by means of a "holdfast".
There are three main groups of algae. These three groups are based on the colouration of the plants. There are green algae, brown algae and red algae.
Green, brown and red algae can be found around most rocky substrates. They absorb sunlight which is tranformed into food material.
GREEN ALGAE (Phylum Chlorophyta)
Colour ranges from grass green to yellow green to dark or black-green. Examples of green algae are Ulva (sea lettuce) and Caulerpa.
BROWN ALGAE (Phylum Phaeophyta)
Colour ranges from pale olive or yellow brown to almost black. Examples of brown algae are Ecklonia (kelp), Sargassum, Cystophora and Scaberia.
RED ALGAE (Phylum Rhodophyta)
The largest group of non-flowering marine plants. Red algae can survive in low light which accounts for most of it occurring in deep water. Red algae exposed to the air are coloured from yellow to brownish red. Examples of red algae are Corallina and Porphyra.
SEA GRASSES (Phylum Tracheophyta)
These form underwater meadows where fish and other sea creatures breed. Sea Grasses (or flowering plants) are known as marine angiosperms. They have roots and grow in the sand or mud and so help to hold the sand and mud in place. They only have flowers at some times of the year but as these are underwater the flowers are very small. Sea grasses are very important and should grow wherever there is sand, as long as it is not too mobile.
There are three major types of sea grasses. These are :-
ZOSTERA (or Eel Grass) which looks like uncut lawn. Each blade is about 10 cm long and they wave gently in the ocean current. This is usually in very shallow water and is often exposed at low tide on sheltered mud and sand banks.
POSIDONIA (or Strap Weed) which is usually in deeper water but is easy to identify. It is the most common of all the flowering marine plants and forms meadows. Each blade is about 50 cm long and ½ to 1 cm wide. It is a green brown colour when it is alive. Most of the seaweed that washes up on the beach is Posidonia.
AMPHIBOLIS (Wire-weed or Sea-nymph) have flat leaves which are much shorter than those of Posidonia. They are arranged alternatively in two rows, and form tufts at the ends of the branches. Amphibolis can colonise less stable sand than Posidonia.
Steve Reynolds

---