MLSSA
NEWSLETTER
JUNE 1999 No. 256
"Understanding, enjoying & caring for our oceans"
This Newsletter
This is the MLSSA Newsletter, the monthly publication of the Marine Life Society Of South Australia Inc. Our Society is active in trying to protect our marine environment and this Newsletter usually contains articles about marine life and the marine environment.
Copyright - the contents of this Newsletter are copyright and may not be reproduced without prior permission of the Society.
Disclaimer - The opinions expressed by authors of material published in this Newsletter are not necessarily those of the Society.
Subscriptions
You can join the Society or just subscribe to our Newsletter and Journal. To do either, please download the form on this website and mail it with the appropriate payment to:
MLSSA Inc.
120 Wakefield Street
ADELAIDE 5000
South Australia
Please send all general correspondence, subscriptions or Newsletter and Journal contributions to this address. Correspondence may be marked to the attention of the Secretary. Subscriptions may be marked to the attention of the Treasurer. Newsletter or Journal contributions may be marked to the attention of the Editor.
Meetings of the Society
General Meetings of the
Society are held on the 3rd
Wednesday of each month
at 8 pm sharp, at the
Conservation Council
120 Wakefield Street
Adelaide
Parking is adjacent to the rear door entry.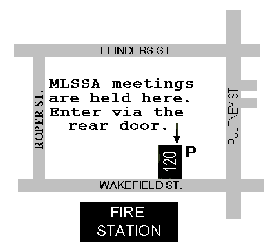 ---
This Month's Meeting
The June General Meeting will be held at the Conservation Centre beginning at the usual time of 8 pm on the 16th. The guest speaker will be Dr Mike Bossley. I do not think it will be too difficult to think of the subject of the talk he will be giving. The particular aspect will be revealed on the night.

---
The Society dive at Second Valley (see the report in the May Newsletter) has resulted in an excellent list of fish which were sighted. The main non fish interesting find was by Phill McPeake when he found two Sea Mice under a rock. I have only seen one other and that was many years ago. The fish list (plus a few cephalopods) is below.
Banded Sweep
Black Banded Sea Perch
Bullseye - Common
Bullseye - Orange-lined
Bullseye - Rough
Bullseye - Slender
Crayfish (Rock Lobster)
Cuttlefish
Dumpling Squid
Garfish
Goatfish
Herring Cale
Horned Blenny
Leather Jacket - Rough
Leather Jacket - Spiny-tailed
Leatherjacket - Bluelined
Leatherjacket - Bridled
Leatherjacket - Yellow-striped
Magpie Perch
Moonlighter
Old Wife
Pipefish
Scalyfin
Sea Sweep
Silverbelly
Squid
Tasmanian Clingfish
Toadfish
Tommy Ruff
Western Blue Devil - 2 juvenile
Western Talma
Whiting
Whiting - Weedy
Wrasse - Blue Throated
Wrasse - Senator

---
This is the copy of a very informative E-mail from Vicki-Jo Russell of the Threatened Species Network that was sent to MLSSA prior to the April AGM.
Dear Philip and MLSSA members,
Just thought I would send you a quick message to let you know some of the Dragon Search activities occurring at the moment in case you have not heard on the grape vine.
As you know a new national brochure and survey form was recently released and is being used by all the Dragon Search Offices around Australia (now in WA, SA, Tas., Vic & NSW). The MCCN (SA), TSN (SA) and AMCS (WA) paid for the printing of brochures in Tas. and Vic. as they are currently between funding cycles in those States and could not afford them and yet their data is vital.
This national brochure shows the new logo which has received good comments to date and lends itself better to the national program Dragon Search has now become and to merchandise eg stickers.
The Dragon Search Project in New South Wales recently received its first year of Coastcare funding at $30,000 and the position at 3 days per week was advertised and filled by Craig Woodfield.
On the 1st of April Dragon Search (SA) began its fourth year of operation now under the Fisheries Action Program.
In SA we have been working on establishing a national Dragon Search website with a domain name so that it easy to find. It will contain the survey form, brochure, contacts, graphic library (which people can down load from - due to the high demand) and links (including to MLSSA's Home Page). When we have designed the page we will be circulating it to the other States and MLSSA for your comment. There are so many Dragon Search enquiries that a Website seems like a reasonable way of dealing with the level of interest.
We have been working with Dr Connolly collecting beach washed Leafy Seadragons for his DNA and Otolith work, as they are reported by the public. This work is also being done in cooperation with the SA Museum, where we have arranged a depository for specimens, and who have also submitted their past records to the DS database. We have also been collecting Weedy Seadragons found in pilchard die off and have submitted them to Vet Lab for analysis.
We have continued to promote the project in a number of publications and through the Coastcare Network and of note recently we made a significant contribution to (although very little credit is given) an article which appeared in Wildlife Australia. This also of course showed off David Muirhead's photos.
The Marine Sticker Booklet released by The Advertiser and written by the TSN, WWF and SA Museum also contained quite a promotion of the Leafy and this and an article about the die off of the Weedy generated a large interest from the community and many records. That was a busy 3 weeks.
We have been ensuring that the changes to the database have been made, in keeping with the changes to the survey form and created a front page which makes entering the data accurately easier. The database is also being maintained and will be submitted to Janine Baker soon for the annual regional analysis.
We are putting together an introductory kit for Dragon Search which will include past newsletters, forms and introductions of the Dragon Search Offices around the country. This will prove useful for new volunteers and the growing number of international enquiries.
4 talks have been given so far this year and 4 displays.
We are putting together the final report for the Coastcare funding which will include the regional summaries of data and criteria about project management. To get a copy of the regional data talk to Tony in about 2 months.
An application was made by me to the Fisheries Action Program for the second round of Dragon Search (SA) funding under this NHT stream.
We are working with the Our Patch Program, Catchment Boards, Rotary Greening and of course Reef Watch to continue to develop on-ground catchment initiatives and messages linking catchment care and seadragon habitat and safety.
Tony is looking at the potential of a sponsored seahorse poster while other project officers around the country are looking at a number of marketing and sponsorship ideas which came out of the national conference.
The Weedy Seadragon model will soon be released by the Cadbury Yowie Range thanks to WWF working in conjunction with Dragon Search and our stamp was one of the most popular in 1998 according Australia Post. An official vote is being conducted by Internet and it will be interesting to see the final results. We are now looking at a Telstra Phone Card and a Leadlight Business has shown an interest.
We continue to collect any permit applications for collection of syngnathids and aquaculture developments in key sites and pass comment where possible and pass on to Project Seahorse. The TSN & MCCN is looking to push the nomination of some of the SA seahorse species listed under IUCN to the ESP Act in the coming 18 months.
Well it just scratches the surface but it gives you an idea. Thank you for your on-going support of the project. Don't forget that the next edition of The Dragon's Lair is due out in June and it will contain an article by David Muirhead.
Vicki-Jo Russell
Threatened Species Network (SA)

---
Tuesday the 4th of May saw both Sandra and I head down to the Port Victoria Jetty. How could we not go for a snorkel as the weather was great and the visibility in the water was 5 metres plus. The only small problem was getting in as the water temperature was quite cool.
After managing to finally brave these cool Gulf waters we headed off along the jetty in a westerly direction along the pylons. The first thing I noticed was the lack of fish life, whether this would change on high tide I do not know, but we did not see many fish at all and the fish that we saw were juveniles. Among these were Magpie Perch, puffer fish, several weedy whiting and schools of small fish swimming around us.
The only other creatures noticed on this swim were several species of shell fish and the majority of these were again juvenile Abalone, clinging to submerged bottles.
The growth on the pylons on this jetty is getting better each time I visit this area and in due time will be a bit like the Edithburgh Jetty with all types of marine plants. I did come across a bubble weed plant that had a huge bloom on it. I've taken pictures of it but do not know how they will turn out.
I must say that after not being in the water for some time this dive was very refreshing. The weather has been absolutely fantastic for diving on the Yorke Peninsula, but I hear that this may came to an end this weekend.
Ron and Sandra Bellchambers

---
Sunday 28/2/99
Walking the dog along the beach was all very well, and yes, breakfast and coffee at a Brighton cafe was very nice too, but we had a few hours to kill, the air was hot and still, and that quintessential ingredient, clear water, tantalised us every metre of the return journey from Brighton to Glenelg, reminding me of my 'reason to be' - appreciation of marine life.
Thus fate decreed a snorkel off the beach at Broadway Glenelg must then and there occur, and so it did - and lets not pretend that it was anything special, but different, well yes!
Living as I do in Glenelg, and knowing as we do that climax vegetation in the form of seagrass, which once luxuriated in the shallow crystal seas to within metres of low tide mark, has receded hundreds of metres seawards, I had not until now often bothered to wet my snorkeling gear so close to home.
But the circumstances above conspired to appease my unrequited if languid curiosity and I have to admit I was pleasantly surprised at the underwater scene that greeted the three of us.
It seems the unusually long hot rainless summer had through minimisation of stormwater and catchment discharge, restricted the now customary overgrowth of the ulva (sealettuce) and epiphytic algae, and I was impressed with the range of more long lived green and brown algae establishing themselves on the shallow (approx. 2 metre depth) low calcareous reef and sandy substrate which extends out for hundreds of metres from this shoreline with little variation in depth or bottom type.
There were a number of algal species which I tend to associate with relatively healthy, biodiverse environments and did not really expect to see in this quite degraded ecosystem. We even found a few abalone, one specimen under a shallow ledge approaching but not reaching legal harvest size, as well as two mating blue crabs.
During this 20 minute snorkel the range of fish life also seemed to support my impression of improving biodiversity bearing in mind that this was just at the beginning of an incoming tide. We saw a juvenile southern fiddler ray, a banded sweep, rough and six-spined leatherjackets and a horned blenny as well as a spotted whiting, red mullet and tommy ruffs.
Whether my anecdotal perception of a recovering ecosystem reflects a long overdue turning point in the local war against water pollution through better stormwater and other catchment management strategies or simply a transient phenomenon, due to a favourable summer remains to be seen but let us hope that the former is the case.
David Muirhead

---
I returned to Port McDonnell over the last October long weekend to explore the whole of Ewens Ponds and snorkel in Piccaninnie Ponds. We passed some divers entering a sinkhole at Tantanoola as we drove down to Mount Gambier. On our way to Port McDonnell we visited the Little Blue Lake. My buddy and I were only allowed a one hour snorkel in Piccaninnie Ponds.
We weren't allowed to wear weightbelts which meant that we were confined to the surface throughout the snorkel. We snorkelled through as much of the ponds as we could. We enjoyed excellent visibility and saw lots of fish including some large Bream. We also saw two turtles (Well, that's what I thought that they were) This will be discussed in another article.
We were able to explore all of the three ponds at Ewens Ponds, as well as the two channels that connect the three ponds together. The water was about 16 degrees and we enjoyed excellent vis again. We saw lots of fish again plus several yabbies. We exited at the third pond and walked back along the track t our car. On the way back to our cabin at Mount Gambier we stopped to visit the sinkhole at Allendale East. After tea at our cabin we visited the Blue Lake.
I can recommend a visit to the south-east to anybody.
Steve Reynolds

---
MLSSA is regularly receiving interesting E-mails from all over the world. Here is an edited selection of a few of the most recent arrivals. Replies have been sent.
Philip Hall
Sun, 07 Mar 1999
I was interested in getting a bit of info regarding your group and membership. I live in the USA and have a zoology B.S. My interest thus far is ecosystems of the ocean. Food webs, trophic etc.
Please respond with anything you think might further my little quest.
S. J.
(The following E-mail was forwarded to us from the British Marine Life Study Society, to whom it had been originally sent, as we were obviously a nearer contact.)
07-04-99
RE: Shorewatch Project Data
As a third year Environmental Management student at the University of Ballarat, I recently undertook a brief study on the shelter sites of crabs in Blanket Bay in the Otway National Park in Victoria, Australia.
The results of the study are as follows:
1 x Plagusia chabrus; Red Bait Crab/ Red Rock Crab
1 x Decorator Crab (species currently undetermined)
65 x Paragrapsus quadridentatus; Toothed Shore Crab
Full data is available on the sexes, carapace widths and substrate utilisation of all the above specimens if you require the information.
Now that I've participated in this great project, I'm wondering if you would be able to help me with any ecological information on these three crab species. I'm finding that detailed, quality material is difficult to come by. Any assistance would be greatly appreciated.
Yours truly,
L. F-W.
Tue, 13 Apr 99
Hello I'm J. C. from the University of South Australia. I am currently doing a project on Marine Strategy Plans for South Australia. In your March Newsletter you covered this topic. Could you please send me a copy of this information and anything you may have on Marine Strategy Plans for South Australia. Hope to hear from you soon. Thanks.
J. C.
Sat, 17 Apr 1999
Hi,
I am doing a research project on the sea dragon. I am having some difficulty finding the internal structure of both the leafy and weedy sea dragons. if you can send me some information and pictures of its anatomy, that would be great. Also, if you can send websites and titles of books containing this information it would be useful. Thank you for your time and effort.
V.
Wed, 21 Apr 1999
Hello,
I'm a Ph.D. student in France in marine ecology about coral reefs and I'm studying the corals of the Great Barrier reef. I need some information about the chemical environment of Snapper Island, Low Isles, Lizard Island, Ribbon Reef, Harrier Reef and Osprey Reef, like : temperature, Salinity, nutrients, intensity of light.....
If you have information I'm very interested. Thanks a lot to transmit them to me.
A. T.

Fri, 23 Apr 1999
Dear Sir, Madam,
We are final year students at Middlesex University studying for a BA in tourism management.
We are currently carrying out a research on the implication of scuba diving in the Julian Rocks aquatic reserve and we would appreciate your opinion on this issue.
It is suggested that a small proportion of divers is responsible for a large proportion of the damage caused by divers.
Question 1: Who is responsible for modifying the behaviour of destructive divers so they become more environmentally friendly?
Question 2: If they show no desire to amend their diving practices and reduce their contacts with the biota, should they be permitted to continue diving in the reserve?
Question 3; Should the commercial operator risk unpopularity and loss of revenue by not taking divers to the site again, or should there be legislation or regulations against contact with the fauna and enforcement by the management agency, such as exists in America marine reserves?
We appreciate your time and look forward to receiving your reply!
Yours Sincerely,
F. C., S. M., M. S., A. H., T. R., S. S., V. W., F. L..
Wed, 28 Apr 1999
Greetings!
I am trying to find a picture of an Australian Porcelain Crab to down-load from the Internet for my daughter's science project. She and her classmate have been having difficulties finding a picture of this particular crab. Any suggestions??
Many, many thanks.
N. B.
California
Sat, 1 May 1999
Dear Sirs,
I have just returned from a trip to Baja California where I was stunned by finding a large number of Paper Nautilus on the shore of Tecolote beach near la Paz.
They all had the mollusc inside and seemed hatching eggs. I have counted over 300 hundred of them and took some pictures. Shall you need those please advise me and I will be glad to e-mail them to you.
I decided to write to you after reading your very interesting article as I knew nothing about this beautiful creature before coming across them.
Best regards,
L. C.
(The following E-mail was received in response to my reply.)
Mon, 3 May 1999
Dear Philip,
I am transferring the pictures on a CD-ROM so that I can E-mail them to you, I will be able to send them in a couple of days.
When we found the shells, the octopuses seemed very tired, we have watched them for a while and noticed that they were "squirting out" the eggs, some of them left the shell after a while and seemed to be dying. The problem was that a lot of birds were flying around eating them.
I was able to bring with me a few empty shells as I found them beautiful.
My idea is that they were hatching the eggs in warmer water just to die after procreation, do you think this could be correct? I would welcome your comments.
Regards,
L.
---