MLSSA
NEWSLETTER
MARCH 1999 No. 253
"Understanding, enjoying & caring for our oceans"
This Newsletter
This is the MLSSA Newsletter, the monthly publication of the Marine Life Society Of South Australia Inc. Our Society is active in trying to protect our marine environment and this Newsletter usually contains articles about marine life and the marine environment.
Copyright - the contents of this Newsletter are copyright and may not be reproduced without prior permission of the Society.
Disclaimer - The opinions expressed by authors of material published in this Newsletter are not necessarily those of the Society.
Subscriptions
You can join the Society or just subscribe to our Newsletter and Journal. To do either, please complete the form inside the back cover of this Newsletter and mail it with the appropriate payment to:
MLSSA Inc.
120 Wakefield Street
ADELAIDE 5000
Please send all general correspondence, subscriptions or Newsletter and Journal contributions to this address. Correspondence may be marked to the attention of the Secretary. Subscriptions may be marked to the attention of the Treasurer. Newsletter or Journal contributions may be marked to the attention of the Editor.
Meetings of the Society
General Meetings of the
Society are held on the 3rd
Wednesday of each month
at 8 pm sharp, at the
Conservation Council
120 Wakefield Street
Adelaide
Parking is adjacent to the rear door entry.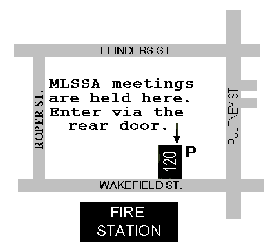 ---
This Month's Meeting
The March General Meeting will be held at our usual meeting place, the Conservation Centre, 120 Wakefield Street. This will be held on Wednesday 17th and it will begin at 8pm with the general business.
Following the break at 8.45pm we will have as speaker Peter Hunt from the Malacological Society of South Australia. This will be a general talk on the subject of seashells.
Peter will be also demonstrating a CD ROM on which he is generating a database of SA shells.
This is along the lines MLSSA is considering for our Photo Index and will provide us with a useful starting point for further discussions on the viability of such a project.

---
June Long Weekend
Could you please let me know if you are intending to go to Edithburgh with MLSSA this year. You can phone me on 82704463 or let me know at a General Meeting. I need this information in order to book a meal for the group on the Saturday night. In 1998 we had the best gathering for a very long time and all had a good time, so if possible we would like to repeat this again.
The traditional June Long Weekend at Edithburgh will be celebrated from Friday 11th to Sunday the 14th. People will need to book their own accommodation. This is usually made at the caravan park in the en-suite cabins so we can all be together. This makes it easier to plan dives etc. Bookings will need to be made soon as the park fills very quickly.

---
21 Years of Membership - Congratulations!
Last year we celebrated the occasion of Geoff Mower reaching his 21st year of membership of MARIA/MLSSA. He was the first person to do so.
This year three people will achieve this milestone. They are:-
Peter Gilbert
Phill McPeake
Steve Reynolds.
The presentation of a certificate and award of a one year Honorary Membership will be made at the April AGM. We hope all members will attend to make this a really festive occasion.
---
1999 Annual General Meeting
This will be held in April at the Conservation Centre.
All reports by Committee persons are to be sent to me ready for printing by 31st March at the latest. These will need to be sent out with the April Newsletter.
Committee positions are always declared vacant so I ask all members, whether on the current Committee or not, to consider nominating for them. You may also phone me with a nomination. All nominations must reach me in time to be published in the April Newsletter.
Please note that membership fees also become due as of the 1st April. They may be paid at the AGM or sent to the Treasurer prior to the meeting.
Philip Hall
---
On 2/1/99 at Noarlunga Tyre Reef we came upon a Weedy Seadragon as we descended the anchor line on this idyllic day. I initially suspected he had been drawn by curiosity to the anchor's resting place on a sandy glade surrounded by tyres. This seemed more likely than chance alone as an explanation, considering that he was the only Seadragon the three of us saw throughout this dive encompassing a fair area of tyre reef (and I can recall numerous other boat dives where the highlight has been an unusual or uncommon fish presenting itself for inspection to the first diver down the anchor line, but being thereafter scarce or absent, or at the least more difficult to approach, but please read on!)

Except when converged upon by two or more divers from differing angles (two of us had cameras) this egg-bearing male seemed content to stay put over this small patch of sand, so much so that he was I believe there throughout our approximate 40 minute dive. Certainly he was there on each of the 3 or 4 occasions that I passed back across this point during the dive (including one visit where I lugged a virtually new and heavy anchor found stuck in a nearby tyre complex back to our anchor chain for salvage purposes, with an attendant 'storm' of suspended sand and detritus), and he was still there as we made our final ascent. Another alarming incident he weathered occurred just as I was about to ascend, when a diver from another group accidentally dropped his weight-belt while seated on the side of the boat such that it landed with a thud on the sand only about 2 metres from me and the Seadragon.

In all I spent at least 10 minutes photographing and observing this Seadragon. Throughout my observations he displayed unusual behavior that I don't recall having seen before. From his 'resting' pose 10 or 20cm above the sand where he would be lazily holding station in a more upright position, he would fairly quickly (as far as seadragons go!) and deliberately descend the short distance to the sand and lie on the bottom stretched out almost straight, some times prone but more often tilled to either side. He would remain thus for periods of a minute or more motionless apart from occasional puffs of sand where water expelled from his mouth disturbed the bottom. His behavior was definitely not that of a sick or injured animal. Although I could not be sure, I thought that at least some of his eggs appeared empty or in a state of decay, so I at first wondered, rather fancifully perhaps, if he was trying to encourage one or other invertebrate scavenger species hidden in the sand to eat his empty egg cases and thus rid him of this burden, or even (but there was minimal current and hence little opportunity for shearing force or friction) physically wear them down or dislodge them. I have not heard or read of the fate of hatched Seadragon egg cases in those well-published cases where wild-caught captive egg-bearing males have given birth in aquaria - do the empty egg cases have a programmed automatic 'release' mechanism (eg. enzymatic bacterial lysis) in the hours or days after birth, or is the male Seadragon required to perform some instinctive behavior to achieve this goal?

But although I believe neither transfer of the eggs from the female to male nor fertilization by the male have been witnessed, I increasingly suspect that, despite the absence of a female to suggest recent egg transfer, the behavior described above related to egg fertilization. The antic described would ensure that the eggs had optimal exposure to spermatozoa released into the water, both by choice of slack tide with minimal dispersion by current, sheltered site surrounded by tyre complexes further minimizing current, and proximity to flat sandy bottom allowing the Seadragon to bath the eggs on his tail in a dense layer of sperm-containing water. If he had already released spermatozoa into the water this would also explain his reluctance to leave the site despite major disturbance (which I now regret!) by divers, anchors and alike. Whilst I am to some extent annoyed that I did not check this Seadragon's eggs more closely to determine if my vague impression that some were empty was correct, I did not however wish to interfere with his ritualistic stereotyped behavior by so doing. Closer scanning of my numerous photographs of this fish may yet clarify this.

A third but in my view less likely hypothesis to explain the observed behavior would be that he was in some way encouraging the eggs to hatch. I assume that such cryptic creatures would prefer algal cover for this critical activity, rather than the relatively desert-like, exposed site described, and despite excellent visibility and good lighting (by daylight, at approximately 11am, augmented by my Strobe's powerful pilot light) I saw no hatchlings.

All in all this was an intriguing experience and I am delighted to have the forum in 'Dragonsearch' to invite more knowledgeable readers to provide further comment.

David Muirhead
---
1999 Journal - Request for Articles
It is at this time of the year that we start to plan the new Journal. At the moment we have only been promised a couple of short articles.
Could you please consider whether you or someone you know would be willing to write on a suitable topic?
Please contact me prior to beginning any writing to make certain the topic chosen is suitable and would complement the other items.
Please remember the article should be ready to put into the Journal and be complete with all pictures and diagrams where necessary.
The author must either have the copyright to, or have the appropriate permission to use, any material in the article

---
Welcome - New Members
We would like to extend a warm welcome to two new members.
Jeff Prince has been made an Honorary Member for a year in recognition of the tremendous amount of work he did towards the 1999 calendar. He freely gave several hours of his time to the printing and trimming of it.
Alex Suskin joined MLSSA at the January meeting. He is well known in diving circles and I am sure he will make a large contribution to the Society.

---
Visitors
We also note the relatively large number of visitors who are attending General Meetings. It is also pleasing to note the greatly increased number of inquiries we are getting about the Society and its work. These arrive by phone, E-mail and sometimes by letter. It is to be hoped all this will lead to still more memberships. It is often members bringing friends and acquaintances along which leads to someone joining.
Philip Hall
---
Ron Bellchambers recently sent me an E-mail for MLSSA members giving details of his recent holiday on Eyre peninsula. In his introduction he mentioned the fact that two Great Whites had been sighted in their area, a 14 foot specimen out at Wardang Island and an 18 foot specimen out from Balgowan, ideal for studying he thinks!
"Sandra and I spent seven lovely days at the Kirton Point Caravan Park, Port Lincoln and what a beautiful location this is. The park over looks Boston Bay and looks out to the Lincoln National Park, truly lovely views, with cool breezes nearly every day a very comfortable place to spend a holiday.
While at Port Lincoln we visited the three National Parks that surround the area, these are the Lincoln National Park, Coffin Bay National Park and Whalers Way, I can honestly say that I took no favoritism to any one park and enjoyed them all, as they all had something different to see, with lush natural foliage and rugged coast line.
There are few areas where one could enter the water around these parks as there are steep cliffs to over come and if you are not into abseiling then you may as well forget going diving, plus I was told there are many areas that have terrible rips that run through the area, so asking locals of good and safe dive areas is essential. But occasionally you came across a spot that you could get down to access the beach and water.
I think the main thing that struck me while in Port Lincoln was just the sheer beauty of the area, costs if you were tenting on a powered site was not too expensive, as we were paying $16.00 a night and if staying for seven nights as a pensioner you were given two nights free. There is another lovely caravan park before you come into Port Lincoln and this is North Shields Caravan Park and although we did not go into this park, I had heard that it may have been a little cheaper, the cabins are around the same price as most other parks and bookings are a must.
I did pack my snorkeling gear, but could not get my scuba tank in as we were fully loaded, and I do not think Sandra would have taken it too lightly if I had left her home, so I could have got my scuba tank in. For those who have not enjoyed a relaxing holiday to this area before I would highly recommend it.
For those of us who enjoy a little fishing the Port Lincoln Wharf is the place to head, all types of fish can be landed here. We did do a little fishing here and caught a dozen and a half lovely Tommy Ruffs, the other thing was that the water here is so clean and clear, that you could see the bottom and it was like a nature study trip, we observed two large dolphins swim by, then two of the largest stingrays I have seen for a longtime just gliding along the sides of the wharf. Then a seal swam in and that was it for the fishing, but where else can you sit and observe these creatures in the wild without actually getting wet.
On the way home from Port Lincoln we called into Tumby Bay and went for a walk out onto the jetty. Again beautiful clean clear waters and I think a good Jetty dive as well would be in order here, and a lovely bakery can be found in the town.
To sum up this holiday would be to say magnificent and highly recommended for those that need to get away from the city and breath good fresh air and relax, stress free. Plus there is something for everyone, sight seeing, bush walks, good shopping facilities, plenty of eating places and friendly people."
Ron Bellchambers

---
I first commented on the regular occurrence of this large, distinctive leatherjacket in Adelaide metropolitan waters in the February '98 Newsletter. I later (April '98 Newsletter) reported a sighting slightly further south at Noarlunga Tyre Reef. Since then I have identified this species on Kangaroo Island's north coast (Western River Cove, 11/12/98 at approx. 15m depth - solitary large female) and Carrickalinga (13/1/99). The majority of fish sighted continue to be females, although I've added a photo of a male taken at Glenelg to the MLSSA Index. The latest encounter at Carrickalinga comprised three females all seen in the vicinity of a gutter with deep shelves along its sides, in only 6-7 metres depth, this being unusually shallow for this species in my experience. Although the three fish were within the same general area of reef and even within sight of each other for part of the time, they displayed no interest in each other and behaved seemingly independently of each other. On the few occasions where I have seen a male (Glenelg Barge 2/5/98 and 30/5/98, Glenelg Dredge 17/5/98 and Noarlunga Tyre Reef 15/3/98) there has always been an accompanying female, although the pair keep only a loose proximity when a diver approaches, and would for example each hide in a separate tyre complex rather than sharing one. A fellow diver living at Yankalilla, Greg Perry, reports seeing Blue-tailed Leatherjackets at Second Valley which would be to my knowledge the most southerly sighting on the Fleurieu Peninsula.

David Muirhead

---
Same Fish/Place/Date/Time but Two Years Apart
Ex-Port Adelaide footballer Eric Freeman surprised the authorities and himself when he caught the same tagged Snapper at Port Neill at about mid-day on 9th May in both 1992 and 1994.
Steve Reynolds

---
TORPEDO 32
We publish here a few items of news from the British Marine Study Society electronic Newsletter for February 1999. It may be found at:
http://ourworld.compuserve.com/homepages/BMLSS/homepage.htm
Or by going to the "Links" page of this Website.
MARINE WILDLIFE NEWS
Reports of marine wildlife from all around the British Isles, with pollution incidents and conservation initiatives as they affect the flora and fauna of the NE Atlantic Ocean.
11 January 1999
A Six-gilled Shark, Hexanchus griseus, was caught off Mevagissey, south Cornwall, and brought into Plymouth Fish Market.
A small 41 cm Sunfish, Mola mola, was caught off Polperro, Cornwall.
(Reports from Doug Herdson, National Marine Aquarium at Plymouth.)
8 January 1999
Jonathan Wills reported a large pod of around 40-50 Harbour Porpoises, Phocoena phocoena, seen in the area of Stoura Baa, about a quarter mile north of Hamna Voe / Boatsroom Voe, Lunna Ness (peninsula, north-east Mainland), in the Shetland Isles, during a monthly winter bird count. It is the largest school seen by Jonathan in this area since September 1994.
NB: The Shetland Isles are the place around the British Isles where the declining Harbour Porpoise can still be seen in large pods. In the south-east Shetlands, sand-eels are the most important item of prey.
5 January 1999
A bull Sperm Whale, Physeter macrocephalus, carcass has been found washed ashore on the beach at Flitsland on the west side of Noss (east of Bressay), Shetland Isles. It was 12 metres long and had lost most of its outer layer of skin, but was otherwise mostly intact.
Shetland Wildlife News Web Site
29 October 1998
A massive 340 kg (750 lb) Bluefin Tuna, Thunnus thynnus, was captured on a Mackerel long-line off Plymouth. (Corrected Report by Doug Herdson). The Bluefin Tunny, is usually the only large species of tunny found in British seas, although it is very scarce nowadays.The original report was of a Yellowfin Tuna, Thunnus albacares, but this is now corrected. Yellow-fin are found in the Caribbean Sea. This tunny is such a rare vagrant that it up to1978, there was only one record of a dead fish from off SW Wales in 1972.

---
The Yorke Peninsula town of Port Victoria is celebrating the 50th anniversary of the ending of the Windjammer era on the weekend of 28th to 30th May. This event is designed to commemorate the times and to keep alive the memory of those intrepid sailors who rounded Cape Horn with only windpower to drive the ships. They brought prosperity and world news to the area and each arrival was eagerly awaited.
The era began with the Cardigan Castle which left Port Victoria in 1879 with a cargo of wheat and it lasted for some 70 years. The last two grain carrying windjammers to leave Port Victoria were the Pamir on 28th May 1949 and the Passat four days later on the 1st June.
Proposed Programme (brief outline of events)
Friday 28th May
Arrival of the One and All at 8.00am
Welcome to the One and All
Opening of "Seas of Time" art exhibition
Exhibition of the "Windjammer 50 Schools Project Competition"
Vaudeville Concert
Saturday 29th May
Grand Parade
Street Stalls
Yachting Event
Disc on Port Victoria Oval
1950's Style Grand Gala Ball
Sunday 30th May
Hymn of Praise Service including a poem written by Max Fatchen.
Event closure
Notes
Radio 5CK will broadcast on the Friday from Port Victoria.
The One and All will be doing three hour sails for the public.
There is the Possibility of "Macca All Over" being broadcast from Port Victoria on the Sunday.
The full programme may be obtained by phoning:-
Mrs W. Dutschke - (08) 88342057
---