MLSSA
NEWSLETTER
MAY 1999 No. 255
"Understanding, enjoying & caring for our oceans"

This Newsletter

This is the MLSSA Newsletter, the monthly publication of the Marine Life Society Of South Australia Inc. Our Society is active in trying to protect our marine environment and this Newsletter usually contains articles about marine life and the marine environment.
Copyright - the contents of this Newsletter are copyright and may not be reproduced without prior permission of the Society.
Disclaimer - The opinions expressed by authors of material published in this Newsletter are not necessarily those of the Society.

Subscriptions
You can join the Society or just subscribe to our Newsletter and Journal. To do either, please download the form from this webpage and mail it with the appropriate payment to:
MLSSA Inc.
120 Wakefield Street
ADELAIDE 5000

Please send all general correspondence, subscriptions or Newsletter and Journal contributions to this address. Correspondence may be marked to the attention of the Secretary. Subscriptions may be marked to the attention of the Treasurer. Newsletter or Journal contributions may be marked to the attention of the Editor.

Meetings of the Society

General Meetings of the
Society are held on the 3rd
Wednesday of each month
at 8 pm sharp, at the
Conservation Council
120 Wakefield Street
Adelaide

Parking is adjacent to the rear door entry.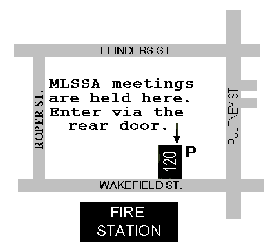 This Month's Meeting

This will be held at our usual meeting place, the Conservation Centre, 120 Wakefield Street on Wednesday 19th May. It will begin with the general business at 8 pm. This will be followed by David Muirhead showing more of his superb underwater slides. We will definitely be selecting several that are suitable for inclusion in the Photo Index, so your input is needed.

---
Annual General Meeting Report

The meeting was very well attended and the results of the election for Committee and Officeholders may be found on the back page of this Newsletter.
Phill McPeake and Steve Reynolds were presented with their Certificates for 21 years of service to the Society by founder member Tony Isaacson. Peter Gilbert was unable to attend and will receive his Certificate at the Saturday night dinner during the June Long Weekend at Edithburgh.
Following the meeting, we all enjoyed a snack and a good chat.

---
June Long Weekend
Final notice for the June holiday weekend. So far eleven people have definitely booked and five others have said they will also be going, but I still have to have confirmation of this. If you are intending to go and have not yet told me then please do so by the May General Meeting so that the Saturday dinner numbers can be confirmed.
Philip Hall

---
Western
Foxfish,
K.I.

20/1/99

On 12/12/98 I saw an adult Western Foxfish (Bodianus frenchii) at 14 metres depth near a large cave at Western River Cove, Kangaroo Island. This red member of the wrasse family is easily identified by the two large yellow blotches on the upper aspect of its body. This was only the second one I've seen (the first was at Pearson Island, Investigator Group) and, again I did not have a suitable camera setup and was therefore unable to get a shot.

'Sea fishes of Southern Australia' (Hutchins and Swainston) gives Bodianus frenchii's most easterly range as Port Lincoln, while 'The Fishes of Australia's South Coast' (Common, Glover, Kuiter) states that it is confined to Southern Australia from about Yorke Peninsula (SA) to the Houtman Abrolhos Islands (WA) in the west and off southern New South Wales in the east. This book gives Bodianus frenchii the common name simply of Foxfish. Hutchins and Swainston describe a closely related Eastern Foxfish (Bodianus species) from south-eastern Australia, while Common, Glover and Kuiter state that this is the Yellowfin Foxfish, an undescribed species.

In any case this exclusively south-eastern species is not recorded in SA waters in either book, so if one sees a foxfish in SA it is almost certainly going to be a Bodianus fronchii. But divers in SE Australia could easily be confused by the overlapping ranges of the 'Western' Foxfish (B. frenchii) and the 'Eastern' or Yellowfin Foxfish (B. species - undescribed), or if they only possess Hutchins and Swainson's book, be unaware of the existence of B. frenchii in these waters.

My sighting on K.l's north coast fits within the approximate range given by Common, Glover and Kuiter, as K.I. is at about the same longitude as Yorke Peninsula, however this may be the first actual record of the species for K.I. as distinct from mainland waters. I can however remember a spearfishing article in a 'Skindiving in Australia and New Zealand' magazine from my youth which mentioned foxfish at Althorpe Island which is visible on a clear day from Western River Cove!
David Muirhead

---
Re-release Policy for Latest Leafy Seadragon Permits
From - Regional Ripples - Summer1998/9

Release conditions have been placed on Leafy Seadragon collection permits issued by Primary industries SA Fisheries.
In the latest permit issued for collection of an egg carrying adult male to Ascidian Aquariums in Victoria, the latest condition stipulates that the male must be released as near as possible to its collection point after eggs have been released. There are also stipulations that a written report be provided and the details of the return to the area of collection be lodged to the Director of Fisheries.
There appears to be no conditions relating to the area of collection, so animals could be taken from a marine reserve or popular dive sites. How practical the re-release policy will be and what danger exists of introducing disease or viral infection into SA waters after transfer of animals from an aquarium situation is unknown.
Courtesy - Tony Flaherty

---
Brigs,
Brigantines
And
Barques

In recent newsletters I have written about sailing ships such as brigs, brigantines, barks, barques and barquentines. In our February Newsletter (No.252) I said that a brig is a "two-masted square-rigged vessel", that is a two-masted ship square-rigged on both masts.
A brigantine also has two masts but is only square-rigged on the fore-mast.
The February article also said that a barque "could have from 3 to 5 masts, fore & aft rigged on the after-mast, and square-rigged on all of the others". I have since read that a barque is a three-masted vessel (with a fore-mast, main-mast and mizzen-mast). A barque has yards crossed on the fore-mast and main-mast, and the mizzen-mast is fore-and-aft rigged. A yard is a spar slung from a mast to support and extend sails. A yard-arm is either end of the sail-yard. A four or five-masted barque is simply square-rigged on all masts except the after-mast (jigger) which is fore-and-aft rigged. To put it simpler, all barques, whether they have three, four or five masts, are all square-rigged on all but the last of their masts.
Steve Reynolds

---
Two
Barques
The "Fides" was a barque, as was the "Eugene Schneider". I wrote about these two ships (wrecks) in recent newsletters. My article in last October's Newsletter about the wreck of the "Fides" should have said that it was near Snug Cove, not "nug Cove". The article started by saying that the "Fides" was built in Finland in 1857. This information came from Heritage SA whereas Gifford Chapman's book "Kangaroo Island Shipwrecks" suggests that it was built twenty years earlier in 1837. This year (1837) was repeated in "South Australian Shipwrecks - A Data Base 1802-1989" by Peter Christopher.
My article in our February Newsletter spelt the "Eugene Schneider" as 'Schnieder'. My spelling came from The Advertiser (5/10/91) but when I saw the name spelt as 'Schneider' in Peter Christopher's book I consulted the Adelaide White Pages telephone directory. There were two columns of Schneiders and not one Schnieder so Peter's spelling seems to be the correct one.
Steve Reynolds

---
The Wrecks Of The "Kona" And "Sir Wilfred Lawson"
In our November 1988 Newsletter (No.136) and the April 1997 Newsletter (No.232) I wrote about the wreck of the schooner "Kona" at Mozzie Flats near Port Moorowie. My only source of information was a map of southern Yorke Peninsula. Peter Christopher's book "South Australian Shipwrecks - A Data Base 1802-1989" says that the Kona was wrecked on Scraper Shoal in Backstairs Passage, near Kangaroo Island in 1917. Peter's reference was Jack Loney's "Atlas History of Australian Shipwrecks".
Ron Parson's book "Ketches of South Australia" also says that the "Kona" became wrecked in Backstairs Passage. Both books say that the ship was built in San Francisco, California in 1901. She was sailing from San Francisco to Port Adelaide with a cargo of timber when she became wrecked.
Both of my articles said that the "Sir Wilfred Lawson" had been stranded at Port Moorowie in 1908. Peter Christopher agrees, although his book suggests that the ketch was actually wrecked there at Port Moorowie, on Gilbert Reef, on 20th March 1908. Ron Parson's book, however, clearly states that the ketch was wrecked at Port Moorowie. His book gives the following further details about her:- Wooden, 2-masted ketch built in 1878. Both books give her measurements and tonnage, although Parsons gives 52 tons (measured tonnage) whilst Christopher gives 47 tons which he describes as a "measure of volume, not weight, with one ton equalling 100 cubic feet". Parsons describes tonnage as "Measurement, not displacement or deadweight but calculated upon all enclosed space, less certain legal deductions, and worked out at an arbitrary rate of so many cubic feet to a ton (originally 'tun')". For more details on this topic refer to my article "More About The Tonnage Of Ships" in our November 1998 Newsletter (No.250).
Now back to the "Kona". She was a four-masted wooden schooner of 679 tons. She had a length of 184 feet, 39 feet beam and 14 feet draught. My dictionary says that a schooner is a small ship, especially a two-masted fore-and-aft rigged ship. Ron Parsons' book describes two-masted schooners, fore and aft schooners and topsail schooners in detail.
Steve Reynolds

---
The
Wreck
Of
The
"Elizabeth
Ann/Anne/Annie"

In our May 1988 Newsletter (No.130) I wrote about the old Port Minlacowie jetty. We had held a Society dive there over Easter 1988. We had twelve divers in the water and several family members waiting on the shore. The May Newsletter told of the history of the area including the wreck of the ketch "Elizabeth Ann". My article finished by saying that "I would love to dive at Port Minlacowie again one day, especially in the area where the "Elizabeth Ann" was grounded". The ship had apparently run aground near to the old jetty and the hulk or remains were apparently still evident.
Our April 1989 Newsletter (No.141) reported the opening of a new boat ramp just north of the old jetty site at Port Minlacowie. In December 1993 I returned to Port Minlacowie to fulfill my dream. I launched my boat at the new ramp and anchored in the area where I thought that the "Elizabeth Ann" had run aground. I enjoyed a good 55 minute dive there by myself. I didn't find any evidence of a shipwreck of any kind but I did enjoy the rock ledges and outcrops there. I saw lots of fish, starfish and nudibranchs.
I recently reviewed my information about the wreck of the "Elizabeth Ann". I found that different references refer to the name of the ship as the "Elizabeth Ann", "Elizabeth Anne" and the "Elizabeth Annie". It seems, however, that "Elizabeth Annie" is the correct name.
In his book "Yorke Peninsula - A Resident's Views", Allan Parsons spells the name "Elizabeth Ann" but the accompanying photo clearly says "Elizabeth Annie".
Peter Christopher's book "South Australian Shipwrecks - A Data Base 1802-1989" calls the ship "Elizabeth Annie" but I don't know what his source was. This book gives the following information about the ship:- Built at Port Adelaide in 1874. A wooden ketch of 64 tons. Length 68 feet, Beam 18 feet, Draught 8 feet.
In his book "Ketches of South Australia", Ron Parsons also calls the ship "Elizabeth Annie". This book may have been the source of Peter Christopher's information as it gives the same details as above, plus more information.
The "Elizabeth Annie" ran aground on 16th December 1911 and she became stranded close to the Port Minlacowie jetty. She was subsequently abandoned on 15th January 1912.
Steve Reynolds

---
BMLSS TORPEDO 34
- April 1999
Reports of marine wildlife from all around the British Isles, with pollution incidents and conservation initiatives as they affect the flora and fauna of the NE Atlantic Ocean produced by the British Marine Life Study Society.
14 March 1999
An unconfirmed sighting of a Turtle in Eyemouth Harbour. It was spotted by my childminder's family on a day out to Eyemouth, on the SE coast of Scotland. She was sure it was a turtle, about 1 metre long, and clearly saw the head and flippers/legs when it came to the surface. (There were seals around as well, so the only other option was possibly a baby seal) I'm not sure how frequently turtles turn up on this coast, but I would guess it's pretty unusual.
Report by Alan Pemberton BMLSS (Scotland)

10 March 1999
A 103 kg (total weight) female Porbeagle Shark, Lamna nasus, was landed at St. Peter Port Harbour, Guernsey. It was caught in a monofilament gill net off the south-west Coast of Guernsey in about 20 metres of water. The gill net was set for Sea Bass, Dicentrarchus labrax. The Porbeagle was wrapped in the net and dead when brought aboard.
Report by Richard Lord (Guernsey)
March 1999
A marine Special Area of Conservation (SAC) for Harbour Seals, Phoca vitulina , has been proposed under the European Community Habitats Directive for an area around the island of Sanday in the Scottish Orkney Islands. Scottish Natural Heritage (SNH) has begun a public consultation exercise on the proposed site. For more information, contact Ross Flett, Orkney Seal Rescue, at E-Mail: SelkieSave@aol.com
SNH also announced that it has deferred notification of the South East Islay Skerries, an important area for the Harbour Seal, as a Site of Special Scientific Interest (SSSI). SSSI designation is necessary to underpin designation as an SAC, for which the area has been proposed by the government as a candidate site. Although both the U.K. Sea Mammal Research Unit and the Advisory Committee on SSSI's pecialist adviser supported SNH's view that the site met the requirements for designation, the decision to defer notification came after the objection and compilation of a report by a local landowner, Sir John MacTaggart.
(Sources: Animal Concern; Orkney Seal Rescue; SNH)
Report from Paul Haddow, Pinniped News

---
Second
Valley
Dive
25/4/99

We couldn't have picked a better day or location for the monthly MLSSA dive. The temperature was in the low twenties, with not a cloud in the sky and not even a hint of a breeze. For my first dive as Dive Officer I had chosen Second Valley and pulling into the car park in front of the jetty, it looked like a good choice. The sea was dead flat and from the jetty it looked as if visibility would be good.
After waiting a while for "everyone" to turn up, it was decided that Chris Hall and myself would walk around from the jetty into the next bay and enter the water from there. Phill McPeake had his twin tanks rigged up and due to their weight decided the trek around the bay was a bit too far, so he thought he would try his luck from the jetty and see what he could collect for his aquarium. Ralph agreed to join him from the jetty.
We entered the water from the rocks and things were a bit disappointing at first. Visibility wasn't flash and there was a bit of a surge. We swam around to the right and as we got into some deeper water things calmed down and cleared up. The water was a pleasant 19 degrees and there was an abundance of fish life.
With a good mix of seaweed leading up to rocky outcrops there was a large variety of marine life, from numerous types of Leatherjackets, Garfish, Weedy Whiting, Senator Wrasse, Old Wives, Magpie Perch. We soon had our torches out and were sticking our heads into the many nooks and crannies among the rock faces. The majority of the Rock Lobster were quite small but there was one of a size to almost consider trying to sneak past Ralph. There were some large schools of Orange-lined Bullseyes which looked quite spectacular when the torch was turned upon them. A friendly Cuttlefish came out to play for a while and another one gave me what looked like a two tentacle salute.
I was hoping to see a Leafy Seadragon as I had the pleasure of seeing 3 of them on my last dive at Second Valley but no such luck. In what seemed like no time at all (72 minutes) we had to come up. We snorkelled back to the jetty and were pleased to see that the steps on the jetty had been upgraded since my last dive with metal grids placed on the bottom steps to help stop people from slipping. The highlight of the dive for me was a couple of Western Blue Devils which are one of my favourite fish.
Phill and Ralph also had a most successful dive, collecting a few good specimens for their aquaria. The highlight being a pair of fascinating creatures called Sea Mice, which are similar in shape to a Nudibranch but with fur and roll up into what looks like a piece of fluff when touched.
It was nice to get such a perfect day at this time of year and it made for one of the best dives I have been on for a quite some time. If anyone has any ideas on where they think we should dive, please feel free to let me know.
Geoff Prince

---
Bushland Conservation Pty. Ltd.
Let me share with you a wonderful experience I had last Sunday in the Tothill Range. The 3 previous days had each been in excess of 40°C and the nights hot too, so that the rocky ridges must have been fairly "sizzling"! After I heard it raining steadily on Saturday night, I rose early, and anticipating the wonderful effect of the still-falling rain in relieving the heat, - drove to the Range and our scrub.
What a great smell greeted me as I got out to open the gate. Damp, warm earth, gumleaves and "cured" grass - some of the great Australian aromas! The dead grass was the colour of rich fresh cream; the new little gum trees dotted through it (and in lines, where I had sown them!) had started their summer growth spurt, and were tipped with fresh light-green shoot, with droplets of water on them. There was no wind; the gentle rain was pattering straight down onto the still-warm soil, and wisps of low cloud were flowing over the ridgetop and down the gullies.
I walked up through the scrub to the central valley and the heathland, everywhere dripping wet and yet still warm from the heatwave. The trunks of the bent-low bluegums were all glistening green and tan; the massed white flowers of the Bursaria (Christmas bush) contrasting with the dark leaves and stems; the yaccas fresh and sparkling, with water trickling down their "skirts". Looking south, each receding ridge was shrouded in white mist, against which grey sheoaks were silhouetted. It reminded me of similar scenes I had seen in the heaths on Hartz Mountains in Tasmania.
A few grey kangaroos, their wet fur now almost black, gave an occasional thump of the damp ground as they hopped carefully away through the bushes. Mosses and lichens were beginning to freshen and their colours return. Two thrushes called through the fog. Thornbills and pardalotes were busily gleaning the dripping leaves, their wet wings "buzzing" as they flew past me to the next tree.
What a great experience it was to be present at this refreshing of the bush, to feel the cooling of the hot earth and rocks, as the gentle rain continued. Wet through but happy, I was again convinced of the merits of our combined effort to protect this great piece of bushland. Thankyou to each of you for your part. I hope that this description helps those of you unable to experience such pleasures to get a "feel" of the magic of this refreshing rain.
John Smythe
Riverton SA 15/12/98

This article and the following information and comment are published here by kind permission of the Nature Conservation Society of SA Inc. and were originally published in the April 1999 edition of their magazine, Xanthopus.
Philip Hall

The Bushland Conservation Pty. Ltd. Is a Non-profit South Australian company of 50 shareholders who have invested a minimum of $5000 each to acquire and place under heritage about 2000 ha of high quality remnant vegetation on Kangaroo Island and the northern Mount Lofty Ranges. A number of them (as you might expect) are National Conservation Society of SA Inc. (NCCSA) members and several are farmers. The company won a National Landcare Award in 1998. The letter reproduced above was sent to shareholders by long-standing NCSSA member, now-retired farmer, and the company's (unpaid) secretary and bookkeeper, John Smyth. John also undertakes much of the fencing, weed control, direct seeding of a small cleared area and at times, the regrettable but necessary culling of 'roos when their numbers are more than their habitat can comfortably support.

(Who said farmers are insensitive and neither notice or care about native bushland and animals? Eds.)

---
Seacliff Reef
Most times when I get to dive at Seacliff Reef, it is with a group of open water students. Sunday, the 18th of April was an exception. The "students" were two experienced divers, completing their Nitrox course. Nitrox is great stuff for those of us, younger at heart than our chronological age, as it significantly reduces the risk of decompression illness, if used with standard air tables. We were using it to extend our bottom time and reduce the surface interval. Having just completed a dive that took in the Glenelg dredge, barge and the adjacent little reef, with a 40 minute bottom time, we'd had a surface interval of just over an hour before diving Seacliff. Air tables would have allowed a bottom time of 14 minutes at 13 metres, yet on Nitrox, it was almost two hours. Plenty of time to look at the abundant marine life.

Like the majority of divers, I plead guilty to devoting more time to looking at fish than the flora and fauna and that dive was no exception. One gets a bit blasé, looking at weedy seadragons, silver drummer, blue devils and old wives and playing with cuttlefish, but that reef always offers something different for divers on the look-out.
The first bit of action that attracted attention was a leatherjacket chasing a wrasse. It turned out the wrasse had a decorator crab, minus its decorations, in its mouth. Finally, the wrasse darted into a weedy patch and vanished with its lunch, leaving a very disgruntled LJ! A movement in a small sandy patch revealed a tiny fish, needle shaped, perhaps 2 cm long. Its movement - an instantaneous sideways dart. Not actually turning, but one instant here, the next, in exactly the same position, but a centimetre away. A juvenile flutemouth?

Several small squid were also of the view that it was lunchtime. Watching them hover, then dart into a school of tiny fish, envelop one in their tentacles and simultaneously dart back, changing colour, was an amazing experience. Just off the reef, on a little sponge-covered outcrop, were three pygmy leatherjackets, one about thumbnail size and two about half that size and the same lemon yellow colour as the sponge. The last "memorable" sighting was a 5 cm fish looking suspiciously like a gurnard, except devoid of any blue or red colouring.

So much to see, so much to learn!
Alex Suslin



---