MLSSA
Newsletter
November 2000
No. 272
"Understanding, enjoying & caring for our oceans"
---
Next Meeting 15/11/00
The final meeting for the year, the November General Meeting, will be held at the Conservation Centre, 120 Wakefield Street on Wednesday 15th November and commences at the new time of 7.30pm.
This should enable members to get home earlier. A map of the meeting place is below.
We will end the year as we started, with a presentation by member photographers. Our "speakers" will be David Muirhead and Chris Hall who will be showing more of their wonderful underwater slides.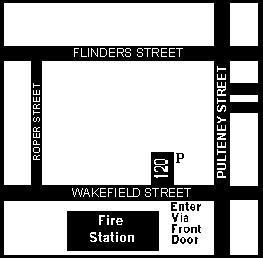 ---
2000 Journal
This is the final Newsletter for the year. Our Journal will be sent out in early December.
Future Journals will only be published when sufficient appropriate articles have been accumulated.
I would therefore encourage all members to consider writing an article that would be suitable for a Journal.
---
Calendar Monies
This matter is very urgent.
If you have sold any, or all of your calendars, then could you please get the money to me at, or prior to, the November meeting.
Could you also make an effort to sell more calendars as we have 100+ still awaiting sale.
---
Contents
Tasmania's Low-Light Creatures
Bathurst Channel
More About D'Entrecasteaux
Yorke Peninsula Report
Scuba Diving Ireland
Aquarium Diving
Coastcare 2000 Grant: "Jewels of the Sea"
---
Tasmania's Low-Light Creatures
Ninepin Point
Back in 1995 when I was our Editor I wrote about Ninepin Point Marine Reserve in Tasmania. It was in our May 1995 Newsletter (No.211). I didn't write very much, however. It was just an introduction to a photo of a sign that Philip and Margaret Hall had seen whilst on holidays there. I didn't say so at the time, but I didn't know where Ninepin Point was in Tasmania. I could easily have worked it out at the time to some degree. The sign in the photograph had suggested that it was in south-eastern Tasmania where the "waters from the Huon River mix with the clear waters of d'Entrecasteaux Channel". I was recently influenced to try to pinpoint Ninepin Point a little more. After a little investigation I managed to find out that it is near a beach resort called Verona Sands. A close look at the photo seems to indicate that the Point is east of Verona Sands which is on the east coast of the Huon River near Huon Island.
Huon Pines were discovered in that vicinity. So were the river and island named after the pine trees? No, both of them (and the pines) were named after a French explorer called Huon d'Kermandec. D'Kermandec was the second in command to Rear Admiral de Bruni, Chevalier (Sir) d'Entrecasteaux who explored the south-east coast of Tasmania in 1792. D'Entrecasteaux mapped and named many of south-east Tasmania's features including Bruny Island. There was some confusion over the spelling of the name and the Island's name was changed from Bruni to Bruny in 1918. The Channel between the island and the mainland was called d'Entrecasteaux Channel. Nearby Recherche Bay is named after d'Entrecasteaux's frigate (and presumably Recherche Archipelago in WA is also).
Now back to the pine trees. Huon Pine is a large Tasmanian conifer with the scientific name of Dacrydium franklinii. Franklin is a town in the Huon district of Tasmania. It was the first settlement in the area and it is named after Governor Sir John Franklin. Franklin sailed on HMS Investigator with Matthew Flinders in 1802. He eventually took up a property on the banks of the Huon River. He then was the Governor of Tasmania (known as Van Diemen's Land at the time) between 1836 & 1843. Franklin also became known as an Arctic explorer and he led an expedition find a north-west passage in 1845 but died during the expedition in 1847.
But now back to the pine trees again. Huon Pine grows very slowly. Its timber is a pale yellow, oily softwood and it has great water repellent qualities. It is an exceptional boat-building timber and is also prized for furniture making. The trees were first discovered at Huonville in Tasmania. They were given d'Kermandec's christian name and John Franklin's surname.
Now back to Ninepin Point. According to the sign that Philip and Margaret photographed in 1995, the waters from the Huon River are tannin-rich and dark brown (Tannin is a substance extracted from tree barks and it is used in tanning). The waters of d'Entrecasteaux Channel, however, are clear. When the dark brown waters of the river mix with the clear waters of the channel they create unusual light conditions. The surface layers of the Ninepin Point area are dark. This causes poor sunlight penetration. The poor sunlight only allows light-dependent algae such as kelp to grow in shallow depths. Red algae, which is usually found at deeper depths, thrives in the dark shallows. Many invertebrates and fish that normally occur at depths of 20m can be found at 8m. This situation was thought to be unique to Ninepin Point and it seems that the area was declared a marine reserve because of it.
Bathurst Channel
Later in 1995 I read a newspaper report about the discovery of new marine animals in "dark, tannin-stained surface waters of" a channel in Tasmania. I immediately thought of Ninepin Point and saved the paper cutting (The Advertiser?). I now realize that this is about another location on the other side of Tasmania. The location is Bathurst Channel which runs between Port Davey and Bathurst Harbour on the south-west coast of Tasmania, just above South West Cape.
The south-west of Tasmania is said to be one of the world's last frontiers. The area is a National Park called the South-west National Park and is said to be a "true wilderness".
It seems that run-off from nearby grass plains and hillsides causes dark, tannin-stained surface waters in the channel which is described as 'inky'. Animals normally found hundreds of metres below the surface occur at depths of ten metres in the dark, low nutrient waters. Other animals not previously known have also been hidden by the murky waters.
Marine biologist Graham Edgar accidently discovered (at least one of) the new animals when he was surveying nutrients, plankton and fish. He caught a skate which turned out to be a new species. Since then over twenty new species have been discovered in the area including nudibranchs, pipehorses and corals. These discoveries were referred to as "low-light creatures".
More About D'Entrecasteaux
Chevalier (Sir) d'Entrecasteaux's name was Antoine Raymond Joseph de Bruni (or Joseph-Antoine Raymond de Bruni). He was born in Aix-en-Provence in 1737 and lived until 1793. He became a French naval officer, an explorer and a governor. He was just 15 when he joined the French navy about 1753. He advanced in rank over the next 20 years or so and became Commander of the French fleet in the East Indies from 1785-7. After that he became Governor of Ile de France (Mauritius). In 1791 he was sent in search of French explorer Count La Perouse. Compte de La Perouse had arrived at Botany Bay in command of two ships in 1788 just as the First Fleet was leaving for Port Jackson on 24th January. The two ships were La Boussole & L'Astrolabe. That was the last time that La Perouse and his ships were recorded as being seen, but that is another story. D'Entrecasteaux's search was unsuccessful but he made important geographical contributions. As the commander of two ships, including the frigate Recherche, he charted the coasts of western and southern Australia (including Tasmania) and New Caledonia. Tasmania's Bruny Island (see previous article), D'Entrecasteaux Channel and Recherche Bay, and WA's Recherche Archipelago are all named after D'Entrecasteaux and his ship. Papua New Guinea's D'Entrecasteaux Islands were dicovered by him. It seems, however, that he died sometime shortly after this in 1793.
Steve Reynolds
---
I know it has been a long time since I last wrote of a dive adventure, well today the 3rd October 2000 was one of those perfect days here on Yorke Peninsula. Typical though, the weather became rough for the long weekend, but great when everyone goes back to work.
Two of my friends from Adelaide who are reasonably new to the diving, but have in the past year or so, completed more scuba dives than I have in nearly 30 years. So we decided it was off to Edithburgh, for a dive. Believe it or not this is one dive they had not been on, so they were in for a bit of a treat.
We left Maitland at about 10am and headed off down to our dive site. What a lovely day and every thing is so green down here on the Yorke Peninsula at the moment. So I just sat back and took it all in. We arrived at around 11.30am, changed into our diving gear and set ourselves up. Then, down the steps, noticing on the way that the steps here at the Edithburgh Jetty are not looking really good. This could mean another letter to the Central Yorke Peninsula Council about this before someone hurts himself or herself.
The water was cool as it is around this year, but very refreshing being the first dive for the season for myself. Isn't it funny though how things seem to go wrong when you have not been doing something for a while? Such as not enough weight on the belt to compensate and not flicking over the camera lens before entering. Well that is how it was for me, everything that could have gone wrong went wrong. So there I was with a heap of rocks stuck in my BC pockets and an iron bar in one hand and the camera in the other just to stay on the bottom.
I did think it was a bit strange when I started to take pictures of different creatures that my strobe was not functioning. It was not until I returned to the car and took my camera out of the housing that I noticed the lens cover was shut. Oh well! There is always next time hey?!
The visibility was reasonably good and the colours under the jetty were terrific as usual, like a lovely garden. As for fish life there was not a great deal around, several cow fish, both male and female, 2 very upset cuttlefish, flashing their beautiful colours at us, until we moved on. They were around the besser brick pile. The only other creatures I noticed were the spider crabs both juvenile and adults. All in all a lovely day.
Sunday 1st of October 2000
My daughter, her boyfriend Scott, Sandra and I ventured down to the Edithburgh Gala Day, as I had promised. On arriving we noticed that it was not as nice a day as we had had the year before. See, the sun really does shine for the Marine Life Society of SA. We were going to help out at the Deco Stop Bus with some of the SODS Members, but on looking through the bus there was very little in it to attract people to have a look around. In other years when the bus has been brought over, there was always been something of interest to see. Such as the television video display of the sea life and new diving gear, but there was none of that this year. This is why we left and had a look at what was going on at the Point Turton Fishing Competition. I really think that to show people what the ocean is all about is to bring our display tank down again to this Gala event. I know this was a big hit with everyone last year.
As for the Fishing Competition at Point Turton, well either the cold weather or cost of petrol to get there kept lots of people away. However FISHCARE Volunteer's had reported that they spoke to over 150 people and this was only up to around 12pm.
Monday the 2nd of October 2000
Dolphins Galore!
We headed off to Port Victoria to do a little fishing (yes, not diving) and while there spotted a pod of around 6 to 8 dolphins swimming in the bay. The reason for them being around was the abundance of squid, which have plagued the Yorke Peninsula all winter. Later that day we went over to Port Julia. This is a lovely little place well worth a snorkel, and there we did a bit of crabbing, but with no luck. But again a pod of dolphins came into this sheltered little area as well, and again they were after squid. As this area has been producing quite a bit of squid, it is great to see these creatures visiting these areas and they are a real treat for the children to see.
Just a small note to finish:
Edithburgh now has a large breakwater coming out from the boat ramp, and in time this should be a great place to see many varieties of marine flora and fauna.
Your Member @ Maitland, Yorke Peninsula.
Ron Bellchambers
---
The next article follows the one by Chris Hall which was published in the September 2000 edition of the MLSSA Newsletter.
Inishbofin, Co. Galway
The Island of Inishbofin has wonderful cliffs with sea stacks, blowholes, as well as magnificent beaches. Archaeological treasures on the Island include the fort of Dun Grainne and Dun Bosco's ancient castle. On the eastern end of the Island are the remains of a 13th century church where St. Colman's monastery was founded. The Island was used as a barracks during the Cromwellian era.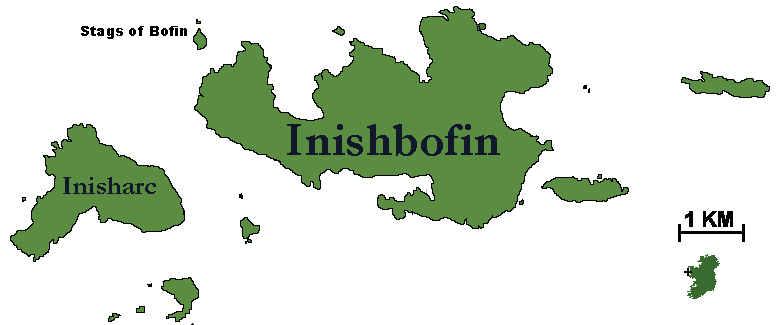 Inishbofin Island, West of Killary Harbour at the joint of counties Galway and Mayo, is one place you have to go to fully prepared, with boats, engines, compressors, spares, oil, fin straps, etc.
The island ferry leaves from Cleggan, a small harbour near Clifden on the T71 Galway to Westport Road. From Cleggan, which seems to survive on the existence of the island, there is a daily "mailboat" to and from Inishbofin. On occasions they have been cut off for long periods at a time due to bad sea conditions. It is advisable to check the weather before making a day trip.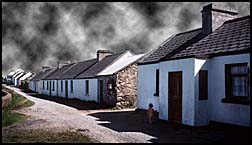 The island's only harbour being tidal, the ferry may not be able to tie alongside the sheltered harbour wall. Inflatables come to the fore in getting equipment onto land. You wait for the tide to rise to off-load the compressors and other heavy gear.
Stepping ashore on the "Island of the White Cow", you have come to a world of heady, leisurely beauty, where there are no laws, only courtesies and conventions, beyond the clutch of the troubles left behind. The world is suddenly something to contemplate from a distance, or ignore.
At the harbour stands Days Hotel, one of the two hotels on the island, both being on the South end. The other one is Murray's Hotel, only a 15-min walk away and they will transport your gear to it. The jeep used is only one of about 6 on the island. As with all the island people their welcome is extremely warm.
The inflatables are easily managed by mooring or bringing them ashore at the harbour area if you stay at Days Hotel or at the sheltered stony beach near Murray's Hotel. Some care needs to be taken when using the inflatables inside the protective peninsula due to some rocks and lobster pots.
A good first acclimatising dive for novice divers is just behind the peninsula under the ruins of the old castle that dominates it. You will find a flat sandy bottom, with lots of small rocks and sea life, at a depth of 5-8m. The area is sheltered from Southerly winds.
On the outer side of the peninsula there are many little gullies to dive, with one dive being quite different from the next, ranging from 5m to 30m, with some marvelous reefs. The one thing you appreciate is the amount of marine life around the island.
Visibility can range of course, according to weather conditions, from 5m to crystal clear waters with seemingly endless visibility.
The Stags of Bofin are at the NW tip of the island and provide for a fabulous dive with whatever depth you want. Diving here is only comfortably done by experienced divers, as this particular area is prone to a heavy swell making it unsuitable for the less experienced.
Thanks to: "Scuba Diving Ireland" and to "Irish Holiday Tour Guide Inisbofin" websites, for the information in this article.
Philip Hall
---
If you're looking for a diving experience that is a little different, may I recommend diving in an aquarium? And no, I don't mean donning your snorkel and sticking your head in your friend's home tropical tank. I am, of course, referring to the large-scale commercial aquariums such as those in Perth, Sydney, Brisbane, Townsville and now Melbourne.
These large and generally fantastic displays of Australian marine life are great for getting up close to critters that are naturally shy and/or dangerous, and also expensive to get close to in the wild. When I first arrived in Australia, one of the first things I did was to visit Sydney's two aquaria and book myself in to dive with the grey nurse sharks at Manly Aquarium. Just recently I added another aquarium dive to my growing list, when I visited Perth in July.
I love sharks unashamedly and am proud to be a small-scale ambassador for a largely misunderstood group of sophisticated and beautiful animals. So to be able to get up close with them under fairly controlled conditions was my idea of a really fantastic time! Some aquaria provide the dive gear and others require you to bring your own, but however you come, be prepared for the cold. The aquaria in Sydney and Perth display temperate animals, so the water temperature is generally pretty chilly, besides which I am a wuss and easily succumb to the chill.
You should get a very thorough briefing from an experienced staff member, this is usually the person who feeds the animals prior to your dive. This person will be your guide and dive master during the dive. They should tell you exactly the route to be taken, how to treat the animals, which can be touched and which can't, and roughly the total time of the dive. Emergencies are generally not too much of a problem as the donut-shaped aquaria are usually only 3-4 m deep, so you can surface without forming bubbles in the blood.
On both my dive experiences we were told not to wear fins and we also had to wear extra weight to keep us firmly on the bottom and out of the way of cruising animals. It is a very unusual experience to dive without fins, they seem like a natural extension of our legs when underwater and to try to kick and not achieve anything is really quite odd!
I met up with all sorts of enchanting creatures underwater and the chill which quickly snuck up, was no reason to get out! Grey nurse sharks, a notoriously grumpy and dangerous-looking species but actually very benign, cruised past us and one actually plonked itself on the ground right in front of us! We actually had to climb over a 3m shark! That's something you don't do everyday at Noarlunga! Large turtles sauntered by, various leatherjackets looked at us warily, and stingrays lurked under the sand. The most impressive creatures, besides the magnificent sharks of course, were the enormous skates that glided like Concordes over us, blocking out the light for several very long seconds as they passed, seemingly ignorant of our presence, although somehow I suspect they knew exactly what they were doing.
There were numerous other fish species that I cannot begin to recall, but each did its own little thing, hiding, playing, feeding, chasing and I watched quite happily in the enclosed little world, at the same time as being watched myself by bipeds gazing at us through the perspex tunnel.
This is a highly unusual experience and I would recommend it to anyone who is looking for something just that little bit more unusual to spice up a short holiday interstate. I have not been able to fully capture the magic of these aquarium dives in words, but if you want up close and personal with massive creatures, in a safe environment, and your pursestrings are a little tight, then just go for it the next time you have the opportunity to visit an interstate aquarium.
Alex Gaut
---
MARINE WILDLIFE NEWS
http://ourworld.compuserve.com/homepages/BMLSS/

homepage.htm
Reports of marine wildlife from all around the British Isles, with pollution incidents and conservation initiatives as they affect the flora and fauna of the NE Atlantic Ocean.
17 September 2000
A Leatherback Turtle, Dermochelys coriacea, was seen by James Wiseman three miles north of Hopeman in the Moray Firth.It was about 2.5 metres long. Although commonly seen off the Cornish coast in the summer and autumn, they are much rarer off north-eastern Scotland.
Report by Witek Mojsiewicz (Aberdeen)

7 September 2000
George Staples, a recreational fisherman fishing for Black Sea-Bream, Spondyliosoma cantharus, landed a Guinean Amberjack, Seriola carpenteri, originally identified as a Greater Amberjack, Seriola dumerili, to the East of Herm Island (Channel Islands, north of Guernsey) at a fishing mark called Noir Pute about 1.5 miles from Belvoir Bay.
Guinean Amberjack, Seriola carpenteri
Illustration by Robbie Carda (Fishbase)
He was fishing in 25 to 45 metres of water depth. (The water depth is very variable at the mark.) The Amberjack took a sand eel bait. The fish weighed 645 grams. This Amberjack is previously unknown in the English Channel. The identification has been confirmed by Alwyne Wheeler.
On 11 September 2000, Bas Gaudion, also caught an identical fish north-east of Roque au Nord to the north-east of L'Ancresse Bay, Guernsey.
Report by Richard Lord (Guernsey)
3 September 2000
Scientists from New York's Cornell University Bioacoutistics Research Program, using US navy recording equipment, have discovered the presence of Blue Whales, Balaenoptera musculus, thought to number about 30 to 50 of these huge cetaceans about 50 miles south of Fastnet off the southern Irish coast. This is the first record of their presence for over a century, since they were hunted off Ireland. Blue Whales swim over large areas off the oceans and are expected to move to deeper water during the winter.
This report first appeared in the Sunday Times
PORT OF LONDON HEALTH NOTICE 28th July 2000
DIURETIC SHELLFISH POISONING can cause sickness and/or death to those eating contaminated shellfish. As a result ALL shellfish beds in the Estuary are closed until further notice.
Beds include, Foulness, Maplin, Southend, Phoenix, Chapman, Barrow, Buxey and all Kent beds.
Information from John Colby
July 2000
The Axmouth Sea Discovery Centre opened at Axmouth, Devon (between Sidmouth and Lyme Regis).
This is the smaller type of Public Aquarium, with the seawater pumped in from the Axe estuary.
The display includes a few small tanks with rock pool and smaller sea fish and crabs etc., with one large pond-like tank with Bass, Black Sea-Bream,Trigger Fish and other marine fishes.
Entrance Fees: Adult £2.00 Children £1.00
Report by Jenny Nunn (Axmouth Sea Discovery Centre)
---
Coastcare 2000 Grant: "Jewels of the Sea"
Coordinator's report by Tony Isaacson October 2000
Most member readers would be aware that the Marine Life Society of South Australia secured a Coastcare 2000 Grant with the Department of Education Training and Employment (Hallett Cove School) as the local management agency. A significant component of the grant enables a school teacher time to coordinate the project and align it to The South Australian Curriculum, Standards and Accountability (SACSA) Framework. With eight of the twelve weeks of coordinator time used there is much to be gained by bringing readers of this newsletter up to speed with the Jewels of the Sea (JOTS) project.
As coordinator, I've been working from a home office to avoid situations that are inevitable when one remains at one's workplace with 1400 staff and students who might want a "minute" of one's time. JOTS is documented by four hundred e-mails that came in and out of tiik@adam.com.au. The home telephone was used only when e-mail was not an option.
The JOTS project is iterative and contingent on decisions at regular steering committee meetings. While a condition of the grant is to quantify the "in kind" contribution that is made by volunteers, I believe that the final number of hours that will satisfy Coastcare guidelines will be a fraction of the valued time that the steering committee and support network have contributed to this project. The acknowledgments list is already significant in size and diversity.
A variation to the original grant is being prepared to maximise use of the dollars that are available and to reschedule the November 1999 to December 2000 time line to a more realistic completion by water week (mid October, 2001).
Several factors have contributed to this strategy:
Delays in the Coastcare approval process and receipt of the cheque.
Full approval of the grant to maximise outcomes of the JOTS project.
Approvals for a full reprint of the 60 page "Octopus's Garden".
Substitution of a South Australian "insert" for the "Octopus's Garden" with a companion volume (40 – 60 pages) called "Jewels of the Sea" to link the kits and teaching strategies with the SACSA Framework.
Inclusion of a comprehensive southern temperate marine life teaching resource called A.B.Sea to be published by the Gould League by February, 2001.
Development of best practice exemplars for works (JOTS) linked to the final SACSA Framework (October to December 2000).
Use of eight weeks of a potential twelve week period that was available to me as a full time coordinator (read: impact of Sydney Olympics on South Australian school term 3, 2000 and DETE policy for leave in non P21 schools like Hallett Cove School).
A December 2000 completion resulting in the JOTS project being out of date before the final SACSA Framework is distributed for use by South Australian schools.
The last point is the most significant because feedback has indicated that there are folk who expect that the written part of JOTS would be more or less completed by now. Our focus has been an identification and assessment of some 200 items that have potential for the kits while holding off on the most appropriate way to link them with the new curriculum framework. This was justified on the basis of an independent review of the SACSA trials in schools. It recommended that the new curriculum document:
include less detail within the SACSA as a whole
focus on learner outcomes not on teaching and learning processes
devise a framework that can be used as a planning tool to help teachers in their curriculum decision making
reduce overlap between the Learning Areas
facilitate the connections between the Learning Areas through the Essential Learnings
focus on what learners need to know, understand and do rather than being constrained by traditional Learning Area ways of knowing
provide an extensive range of teaching guides in Stage 2 of the project to exemplify multiple ways of working with the framework and meeting the needs of the wide variety of learners
Blind Freddie would agree that writing a teachers "how to" guide that is to link JOTS to a curriculum framework with so many recommendations for change would be a waste of time and effort. The final draft of the SACSA Framework was promised for week one of term 4, 2000. At week three of term 4 it is only the interim draft that can be accessed from the URL. Those of you who might like to track progress of this vital document will find it at: www.sacsa.nexus.edu.au
The good news is that JOTS is ahead of the Stage 2 process and will be one of the first curriculum materials available to teachers that is linked to the SACSA Framework….so we had best get it right.
Meantime, the iterative process continues and the steering committee has resolved to develop 7 to 8 kits for South Australian Schools that will be available at a nominal cost recovery rate from the Nature Education Centre at Norwood:
A variety of glove puppets representative of SA marine biodiversity.
Three kits for Junior Schools with cross curricular activities.
Three kits for the Middle Schools focussed on a year 8 science unit.
The Gould League Coasting kit (funds permitting).
It is intended that all of the above will include copies of A.B.Sea, Octopus's Garden, Jewels of the Sea teachers' guide, an Australian guide to coastal and marine teaching resources (Marine Education Society of Australasia et al, 1997) and the CoMETS (Victoria, 2000) guide to coastal and marine teaching resources and MLSSA photography and its Beachcombing Guide.
Nearly 200 items are listed for consideration in one or more of the kits and it is the identification and sourcing of some items that could be assisted greatly by the MLSSA membership and the wider community. New ideas are always welcome and the wish list includes:
Permission to use language, culture, stories and dreaming that link indigenous South Australian groups to the coast and marine life. The Tjilbruke Dreaming and "Footprints in the Sand" are the only resources at this time.
Poems, songs, anecdotes, yarns, jokes, rhymes and other copyright free genre that relate to SA marine life.
A mini play, essay or illustrations on the theme: Leafy Seadragon friendly catchment care. (More information available: Sheryn Pitman, LSD friendly catchment care program, <pitman@adam.com.au>)
Black line illustrations, doodles and drawings from all ages.
Biological illustrations and keys for "Jewels of the Sea" – vertebrates and invertebrates. (eg. Smith and John, "Below High Water")
Puzzles, brain teasers, math problems (including one fish, two fish etc.)
Lamination for less than $5.70/poster (90cm x 63cm).
Photographs to illustrate marine biodiversity, show human impact, initiate discussions.
Sponsored or commercial calico bags, various sizes (~20-40)
Found objects: Swim bladder (Diodontidae), Slate Pencil Urchin, Listening Shell(s), Plastic and other items washed up from far away lands (message in a bottle ?), 20 Large abalone shells
Special Quests: Penguin Pelts, Dark and light surfaces, Shark Jaws, Shark skin(s), Sand papers ( 3 coarse grades), Clear display boxes with transport hardy lids (A4 x 6-10cm deep)
Posters: Seagrass Meadows, Sponge Gardens, Forests of the Sea (10 of each)
Discount books: The Hidden Forest (Jeanie Baker 2000), Inside Guide: Ocean (MacQuitty 1997), Australian Southern Shores (H Breidahl 1997)
Tiny treasures x 6 suitable for resin mounting: crab, Aristotle's lantern (urchin mouth), mysids and/or rock pool prawn (Seadragon snack packs), Sea star (5 arms and more), Brittle star, Feather like hydroid, Squid beaks and quills, Lace bryozoan, Amphipod (sea flea), Isopod (sea lice), Pycnogonid (sea spider), Native and Californian Brine Shrimp and others preserved in alcohol would be most welcome.
Pamphlets x 10 from Institutions and businesses connected with marine biodiversity and catchment care: We have - Rodney Fox, Maritime Museum, Nature Education Centre, MLSSA, MDC Star of the Sea, Gould League. We have listed - St. Kilda Mangrove Trail (in preparation Oct 00), Mike Bossley/Dolphin Research Foundation, MESA, WWF, AMCS, CCSA, Pt. Vincent Aquatic Centre, Noarlunga Aquatic Centre, Victor Harbor Whale Centre, Granite Island Eco tours and aquarium (Penguins), Zoo marine trail (Sea Lions/Penguins?), SA Urban Forest Biodiversity Program, SA Museum, SA Water, Catchment Boards, DEH Marine Section, Yellow Fish Road project, PIRSA..(which ones?)…..Others?
Video: A special project that might go beyond the time and budget constraints of JOTS. Archival footage, MLSSA footage and other sources. Digital capture from Hi8 format and 'in kind' access to editing facilities for a 15 – 20 minute snapshot of SA's marine biodiversity.
URL's: One to three sentence descriptions of potentially child and teacher friendly sites like: http://www.mesa.edu.au, http://www.mlssa.asn.au, http://www.dragonsearch.asn.au, htp://www.staroshb.adl.catholic.edu.au, http://www.mbayaq.org/
Fishing net: Any quantity/quality welcome.
Good ideas and copyright free material for printing in the JOTS guide for teachers.
Volunteers for major or minor tasks.
---