MLSSA
Newsletter
NOVEMBER 2002
No. 294
"Understanding, enjoying & caring for our oceans"
---
Next Meeting
Our next meeting will be held at the Conservation Centre, 120 Wakefield Street on Wednesday 20th November commencing at 7.30pm.
The details of our guest speaker will be posted on our webpage when available.
---
Contents
Marine Creature Collection
Portland Maru
Proposed Resort and Marina Development for Ningaloo Reef
---
2003 Calendars
If you have received any payments for the 2003 calendar then could you PLEASE get them to the Treasurer or a Committee Member as soon as possible.
Any unsold calendars should be returned at the same time if there is absolutely NO possibility of a sale.
---
Marine Creature Collection
I sent members with edresses a copy of a sales flyer I obtained whilst out selling calendars. The leaflet shows that immense quantities of marine creatures are being taken and sold worldwide every day. Member replies ranged from the highly aggressive to the more reasoned reply of "What can we do?"
I emailed Tony Flaherty for more information and received the following which I have permission to reproduce. This will give you an idea of the problem. Please read carefully then we can decide what we can do.
My email to Tony, together with a copy of the leaflet, read:
Hi Tony,
I am concerned at the volumes of creatures being sold through this company. Are the items collected in an environmentally friendly way?
Is this sort of sales promotion typical of the industry? How does MCCN view it?
Philip

The reply from Tony read, in part, as follows:
Hello Philip
I would not be able to comment on any one companies import operations - or specific species without some further investigation/information.

However some brief notes on the trade in general below -

The marine curio trade is one that can be of serious threat to a range of molluscs and invertebrates as well as some fish - (such as some seahorse species). However - typically there is a lack of adequate export information most species involved in the trade.

Internationally some of this trade (in listed species) is covered via CITES - the Convention on International Trade in Endangered Species - however as you would be aware - there are some gaps in the knowledge and listing of marine invertebrates covered by CITES.

The TRAFFIC organisation has done some preliminary investigations on the shell trade in some countries and US government agencies and NGOs have expressed concern over the curio trade - mainly with regards to Coral reef conservation issues.

One means of industry regulation is the introduction of accreditation schemes - this is slowly evolving in the US aquarium trade through organisations such as (US) MARINE AQUARIUM COUNCIL - such as their International Certification for the Quality and Sustainability of Marine Aquarium Organisms ... from Reef to Retail. More info at <www.aquariumcouncil.org>

However, I am not aware if a similar code or accreditation scheme is active within the marine curio/shell trade industry.

There are ranges of over-collection and exploitation problems in relation to the curio trade (often a by-product of shellfish meat trade) in a number of countries in Africa, South East Asia (Philippines) and in the Pacific.

There are a variety of issues/questions related to collection - ie life-cycles, natural history and rarity of species involved? Desirability of the species for collectors - ie will price induce over-collection? Is the curio a targeted collection or a by-product of a related industry - ie shell meat trade, trawling. (ie if it is a trawl by-catch - as well as management of the trade - there may also be a need to manage fishery practices, etc.)

As such I asked Environment Australia to provide a summary article for our MCCN newsletter WAVES article Feb/March 2000 - see below:
Australian Molluscs Considered to be Potentially Vulnerable to the Shell Trade.

Lara Musgrave, Sustainable Fisheries Section, Marine Group Environment Australia Winston Ponder of the Australian Museum and Jillian Grayson were commissioned in 1998 by Environment Australia to prepare a report on The Australian Molluscs Considered to be Potentially Vulnerable to the Shell Trade.
With the development of State Management Plans for Specimen Shell Fisheries, it was felt that there was a need to review the list of marine molluscs found in Australia that are considered to be potentially vulnerable to exploitation from the shell trade.
The list can be used as a guide to State and Territory Fisheries Departments when formulating their management plans for the export Specimen Shell Trade as required under Commonwealth Wildlife Protection (Regulation of Exports and Imports) Act 1982. The list can also be used by the Commonwealth for assessing the State/Territory management plans for the export specimens when assessing whether to grant an export authority or anyone interested in the status of Australian molluscs.
In order that the list can be effectively used Ponder and Grayson have attempted to identify species potentially or actually at risk both nationally and at the state/territory level. They were very much aware that the data used to assess each species was generally rather poor, due to the great lack of biological and other data about most of the species. Thus there must be recognition that the lists are tentative and will need regular updating. The source material was obtained from the literature, museum collection records, personal experience, consultation with professional malacologists in the state/territory museums, the fisheries departments, the Malacological Society of Australasia branches and a number of shell clubs.
In general, the fauna is very large, with perhaps more than 15,000 marine species. However, the specimen shell trade is only concerned with a small subset of these. In the years 1996-7 only 1682 species were exported, with the 1036 species in the top 21 families making up 83.9% of the total number of specimens exported. In all there were only 27 species for which more than 300 specimens were exported in 1996-7 and these comprise 28.8% of the total specimens exported. It seems reasonable to assume that these trends would be reflected in local usage of specimen shells.
Of considerable concern is that of the top 27 species exported (>300 specimens in 2 years), close to half (45.3%) are in the top 3 categories of vulnerability. There is little evidence that collecting for the purposes of obtaining specimen shells has any appreciable impact on the long-term survival of species, except in these few special circumstances which relate cowries and volutes. The study tried to determine the circumstances that might lead to a species being threatened by over collecting and these formed the basis of the criteria used to assess the vulnerability status of targeted species.
In general, however, the impact of habitat disturbance due to the development in coastal areas, pollution from terrestrial run off and fishing (especially trawling and dredging) are much more significant and may ultimately affect the long-term survival of even some relatively common taxa.
There are some general issues and recommendations noted in the report. It is suggested that a general definition of specimen shells be adopted nationally and that this definition should exclude the vast majority of mollusc species that are of no interest to the shell trade, collectors or amateurs. Management plans should focus on these specimen shell taxa and in particular those considered vulnerable.
The study found that on the basis of export figures they generally could see no reason to ban the export of any species but that there is a clear need to have management plans in place for the vulnerable species that are also targeted by the specimen shell trade. Of these the families most at risk are some species in the families Cypraeidae and Volutidae.
Any management plan needs to be both workable and enforceable. There is unlikely to be a significant allocation of resources and at the same time general acknowledgment that shell collecting is both popular and generally harmless. An option favoured by the Malacological Society of Australasia is to license collectors through societies that have in place codes of collecting ethics. Bag limits could be placed on some species targeted by collectors as specimen shells or for food.
One management option is to ban the sale of bycatch. Trawling operations have undoubtedly led to the depletion of many organisms and the destruction of suitable habitat such as sponges. The exclusion, however of the use of bycatch, the legal source of almost half the shelf commercial shell taxa, will merely drive prices up and the market underground.
There is the option to list some species under Commonwealth or State Endangered Species legislation. This option would probably result in the total or near total ban on the collection (and export) of those taxa. Ponder and Grayson would prefer to see the great majority of these taxa managed so that they were a sustainable resource. However, they felt that if the industry cannot, or will not, maintain harvesting at sustainable levels, listing is certainly an option that should be considered in a few cases.
To help overcome the problems with the data provided on export permits, the report recommends that a few spot checks be made each year on parcels being exported. Environment Australia has been considering the reports recommendations and as a result is currently developing a new shell export authority system. The new system will cover all non CITES species and split them into two groups. One being shells of concern (as identified by Ponder and Grayson) and the other, shells of less concern.
The full text of the Ponder and Grayson report can be viewed at:
http://www.environment.gov.au/bg/plants/wildlife/pondrpt1.pdf.
*****************
On fish and the curio trade - Project Seahorse considers "The international trade in seahorses for traditional medicines, aquarium pets, and curios is large, valuable and seemingly unsustainable. The combination of direct catch, incidental catch in trawl nets and habitat destruction has placed seahorse populations are at risk." - more on this is available at the Project Seahorse site.
<http://www.seahorse.mcgill.ca/backgr.htm#trade>
****************************************
Tony Flaherty
South Australian Coordinator
Marine & Coastal Community Network (SA)
c/o University of South Australia, Holbrooks Road, Underdale South
Australia 5032
Phone 61 8 8302 6568 Fax 61 8 8302 6239 - mobile 0429 678 869
E-dress - <sa@mccn.org.au> web - <www.mccn.org.au>
---
Built in 1919 and weighing 5865 tons the Portland Maru was a 385-foot long steamer, 51 feet wide with a draught of 36 feet.
The demise of the Portland Maru occurred in 1935 as a grain carrier. Having been loaded with grain at Port Pirie she called into Port Lincoln to be examined by divers because she had a slight list probably caused by poor loading. The ship's master satisfied, he decided to continue the journey home. Off the coast of Kangaroo Island she apparently struck an unidentified object. The master decided to head to Port Adelaide for repairs but she began to settle in the bow. When it became obvious that she wouldn't make port it was decided to beach her just west of Cape Torrens, KI. The crew was transferred to the tug Wato and the ship was left to the sea. Swept by moderate seas she began to break up where she now provides a haven for marine life and a most enjoyable dive.
I would consider this the best wreck dive I've had in South Australia, not because of the remains of the wreck but the marine life it supports, especially for the variety of fish.
Remnant Structure of the Portland Maru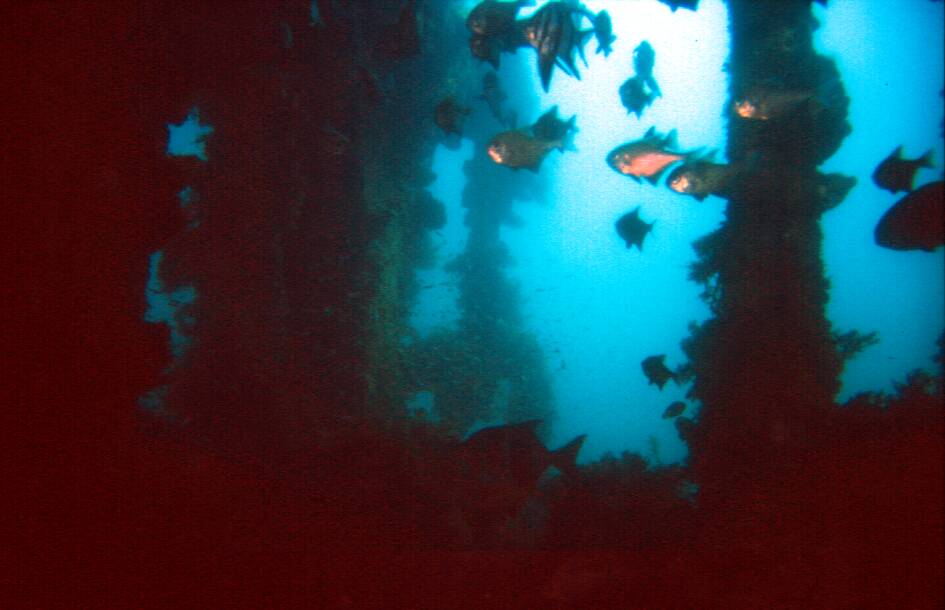 The wreck lies in about 15 metres of water and covers a reasonable area, certainly large enough to keep most divers occupied until they get to 70 bar. The visibility the day I dived was 8 to 10 metres but I imagine it could be much better depending on the time of year.
As a photographer I found this a great dive site for fish subjects. Diving down to the wreck you pass the boilers and end up on the bottom by some of the structure forming an arch. This is just full of schooling fish such as bream, silver drummer, bullseyes, sea and banded sweep. Before finning through the arch I took photos of a red snapper and a swallowtail. You then end up by the boilers towering up about 3 or 4 metres. Looking up at the boilers about a metre away were two large western blue groper hoping for a free feed of abalone. These two, a male and female, seemed to follow me for most of the dive.
In the protection of the boilers were a number of juvenile barber perch attended by a few adults. A few more photos. Swimming right round the boiler and accompanied by the blue groupers I came across a large area of algae where a number of elusive herring cale were darting about. I patiently settled on the bottom and attempted to photograph these elusive subjects but only managed to get a mediocre shoot of a female not the more colourful male.
Further on, resting on the bottom was a sergeant baker, a first sighting for me. They make good subjects because they just sit on the bottom amongst the seaweed. A couple of more snaps and onto the next subject. Another poser, a gurnard perch was about a metre away so that went into the photo collection.
Male Western Blue Groper
The male western blue groper was still following me around and getting quite tame so I was able to get a good close up his of his head.
By now I was starting to run out of film so I decided to try and photograph some trachinops which can be quite difficult. One shot turned out OK.
Two shots left so I decided on an elusive grooved-cheek goby, one was rubbish and the other was OK.
A very successful dive in relation to photography but also a very enjoyable dive, especially when you're looking through a viewfinder of a camera. I'd recommend this dive to any diver, the only draw back being its accessibility.
Chris Hall
---
PROPOSED RESORT AND MARINA DEVELOPMENT FOR NINGALOO REEF
At our June meeting we agreed to send the following letter to Dr Geoff Gallop, Premier of WA :-
19/6/02
Hon. Dr Geoff Gallop MLA
197 St Georges Terrace
Perth WA 6000
Dear Premier Gallop
Re: Proposed resort & marina development for Ningaloo Reef
We are deeply concerned about the above mentioned proposed development. We have heard of the potentially disastrous consequences this project has to destroy the precious wilderness that makes people want to visit the reef in the first place. We understand that a huge quantity of dunes will be destroyed to build a marina. This has a couple of disastrous consequences:
·

Marinas are an open invitation to invasive marine pests.

·

Without the dunes, which act as a natural barrier to the inland areas, the resort will be open to potential destruction if a cyclone goes near the area.

·

The dunes also are a part of the natural sand system and, if taken away, the coastline may have sand drift problems for decades.

The boats and boat owners have the potential to kill, injure and frighten away dugongs, whales and manta rays – the large animals that tourists and divers, in particular, come a long way to visit. The boats will also increase pollution, coastal erosion, and cause anchor damage to the reef.

We also understand and are concerned that a large quantity of limestone will be mined from the internationally significant Cape Range Peninsula.

The proposed resort is also a threat to protected species such as loggerhead turtles.

We ask you to reconsider the proposal and, through wide community consultation, develop a sustainable alternative to protect an area soon to be World Heritage listed.

Yours sincerely

Philip Hall

President

The reply we received read as follows:

Mr P Hall

President

Marine Life Society of South Australia Inc

120 Wakefield Street

ADELAIDE SA 5000

Dear Mr Hall

Thank you for your correspondence about the proposed Coral Coast Resort at Mauds Landing, north of Coral Bay.

The proposal to develop a marina and resort at Mauds Landing has been under consideration for many years and there is no doubt that it has been controversial from its inception.

At present, the proponents have provided a structure plan indicating how the area may be developed, together with an environmental report.

The proposal is currently subject to environmental impact assessment at the level of Public Environmental Review (PER) by the Western Australian Environmental Protection Authority (EPA). I am advised that the proposal is also being assessed under the Commonwealth Environment Protection and Biodiversity Conservation Act 1999.

In Western Australia, environmental impact assessment is a public process in which the proponent is required to prepare a document that outlines the potential environmental impacts of the development and how these are intended to be managed. This document is prepared in accordance with guidelines issued by the EPA and released to the public, which can then make comments to the EPA. The EPA then considers the proponent's document and issues raised by the public, and provides a report to the Hon Judy Edwards, Minister for the Environment and Heritage, on the potential environmental impacts and whether it considers these can be managed to an acceptable level. The EPA's report assists Dr Edwards in making a decision on whether or not the development should be allowed to proceed, and any environmental conditions which should be applied to it under the Western Australian Environmental Protection Act 1986.

The PER document prepared by Coral Coast Marina Development Pty Ltd was released for a 12 week public review period, which ended on 12 February 2001. During this time, a number of submissions were received, some of which raised similar issues to those you have included in your correspondence.

The Government made a pre-election commitment to seek World Heritage Listing for the Ningaloo Marine Park. Any decision to allow Mauds Landing to proceed would need to ensure that it did not compromise the proposed World Heritage nomination.

Please be assured that the Government will not be allowing a development to occur that adversely affects one of this State's principal natural attractions.

Yours sincerely

DR GEOFF GALLOP MLA

PREMIER

Steve Reynolds
---