Marine Life Society of South Australia Inc.

Newsletter

November 2004

No. 316

"understanding, enjoying & caring for our oceans"

Next Meeting

Our November meeting will be held at the Conservation Centre, 120 Wakefield Street, Adelaide on Wednesday 17th commencing at 7.30pm.

This will be the final meeting for the year.

Our speaker will be Mike Hammer who will be speaking on "Goby discoveries on Adelaide's back doorstep: new finds, invasive species and your chance to contribute".
---
Contents
Voyages of the HMS Lady Nelson
Rare Nudibranch Discovery
Confusion Over the Names of Two Ships and Two Brothers
Additions to the JOTS Kits
British Marine Life Study Society
---
Contributors
This month our authors are Steve Reynolds, Tim Hoile with a contribution from the BMLSS.
---
by Steve Reynolds
In my previous article titled "Memories of Tall Ships" in the August 2004 Newsletter, I wrote about how I was able to see the full-size replica of the HMS Lady Nelson during two visits to 'The Lady Nelson' Tourist Interpretive Centre at the City of Mount Gambier's Tourist Information Centre. Visitors that tour the display of the replica ship get to hear Lieutenant James Grant tell his story of discovery in the year 1800. The original Lady Nelson was a 60-ton brig built in England in 1799 specifically for exploration purposes. She was only 15m in length at the waterline. She had three sliding centreboards enabling operation in shallow waters and in many different conditions. She sailed to Australia and is said to have been the first vessel to sail along the entire southern coastline of Australia. Late in 1800, sailing from South Africa to Port Jackson (Sydney Cove), Lieutenant James Grant undertook the first eastwards passage along the southern coast of Australia in the HMS Lady Nelson. Although Lieutenant Grant did not chart South Australia's coastline, he sighted and named Gambier's Mountain (Mount Gambier) from the deck of his ship. In December 1800 Grant is said to have passed a large bight that he named Governor King's Bay after Philip Gidley King. This bay was what is now known as Port Phillip Bay. In March 1801 Grant surveyed Western Port in Victoria in the Lady Nelson. George Bass had discovered the bay in January 1798 when he first found evidence of Bass Strait. Later that year (1801) Grant was returned to service back in England and Acting-Lieutenant John Murray, a 22-year old Scot, took over the ship. In December 1801 Murray was back at Western Port in the Lady Nelson, having been with Grant earlier. In January 1802 Murray found the entrance to Governor King's Bay (Port Phillip Bay). It was a few weeks later before he managed to sail through the entrance, but by 9th March he had raised the British flag there before returning to report to Governor Philip Gidley King. Murray wanted to name the bay Port King but King decided that the name Port Phillip (after Governor Arthur Phillip) was a better option. Phillip was New South Wales' first Governor. It seems to be debatable whether it was Grant or Murray that first discovered Port Phillip. Some sources suggest that it was Murray. If so, then he beat Flinders to the discovery by about ten weeks. A few months later, Governor King gave Matthew Flinders use of the HMS Lady Nelson as a tender. On 22nd July 1802 Flinders left Sydney onboard HMS Investigator accompanied by HMS Lady Nelson. They were sailing northwards along the New South Wales coast charting the coastline originally visited by James Cook. By the time that they had reached the Cumberland Isles (Islands, near the Whitsundays) in October 1802, the Lady Nelson had run aground twice and broken her main keel. Flinders considered the Lady Nelson too much of a hindrance and sent her back to Sydney. She later played a large part in the opening up of Tasmania and she was the first vessel to explore the Derwent River. At the Island of Baba (Babar Is., Indonesia, near East Timor?) in 1825 her crewmembers were murdered by natives. The ship was then run ashore and set on fire. Apart from the full-size replica of the HMS Lady Nelson at Mount Gambier's Tourist Information Centre, there is also a 23m brig/brigantine* called the Lady Nelson. Her inaugural voyage was as a Class A vessel in the Hobart to Sydney Tall Ships Race (610nm) in 1988. Class A included all square-rigged vessels, mostly official national ships. This Lady Nelson was owned by the Tasmanian Sail Training Association and went on to become a sail training ship in Tasmania.
*"Brig" is said to be an abbreviation of brigantine. A brigantine is a "two-masted vessel with the fore mast being square-rigged, and the after mast fore and aft rigged". A brig, however, is described as being either a "two-masted square-rigged vessel with additional fore and aft sail on mainmast" or a "two-masted vessel square-rigged on both masts". A brigantine also has two masts like a brig but it is square-rigged on only the foremast. The after mast is fore and aft rigged.
---
by Steve Reynolds
At the beginning of June, former MLSSA member Dennis Hutson found lots of nudibranchs at the North Haven boat ramp. He took one of them home for his aquarium. He emailed a photograph of the nudibranch in his holding bucket to me because he wanted to me to identify it and tell him what it eats before he would put it into the aquarium. My nudibranch reference book did not include details of the specimen at all. I quickly forwarded Dennis's email on to David Muirhead and Thierry Laperousaz, Senior Collection Manager for Marine Invertebrates at the SA Museum's Science Centre, to see if either of them could help. Thierry was quick to reply, saying that the nudibranch is Polycera hedgpethi, Marcus (1964). He went on to say that this nudibranch was very interesting for many reasons. It is rare and has been recorded only from Western Australia, New South Wales and Victoria. It is believed to be an introduced species coming from California in the US where it was first described. This sea slug is a predator feeding exclusively on the bryozoan Bugula sp. (most probably B. nerita which is also an introduced species), so to keep it in aquaria means that you have to get the bryozoan as well. Thierry also said that he was very interested to actually collect a few specimens for the SA Museum mollusc collection as it would be the first record of this specie in SA. He guessed that the location would be somewhere in the Port River system where many feral species have been introduced in our waters (from ships ballast water). He wanted to know the exact location because the museum needed to access the locality in order to estimate the size of the population. When I told Thierry about the North Haven location, he started making arrangements to collect his own specimens there. Thierry also gave me the following internet link where I could find more about this creature - http://www.seaslugforum.net/polyhedg.htm .
Dennis later told me that he had disposed of his nudibranch humanely. He had felt that it would be wrong to return it to the ocean since it wasn't a native specie. He also said that when he was collecting more salt water for his aquarium he found several more. He said that they appeared to be grazing on ascidian and weed.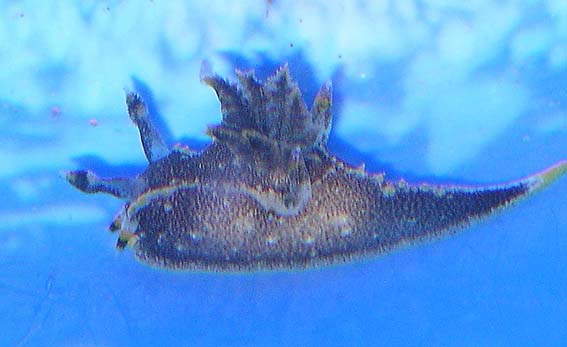 Dennis's photograph of Polycera hedgpethi
Dennis returned to the North Haven boat ramp on Wednesday 30th June for his weekly collection of fresh seawater for his aquariums. He found, as usual, more specimens of the nudibranch Polycera hedgpethi there. He collected two live specimens which he took in to Thierry Laperousaz at the SA Museum the next day. The very next day again, Thierry informed me by email that they had been able to take some photographs of the animal. They were also able to collect some of its eggs since they were apparently spawning everywhere. Nerida Wilson, the biologist specialist in nudibranch at the museum was quite interested in the specimen. The very next day again, Dennis met me at our local dive shop. He was pleased to report that his name was going down on record as being the first person to find the species in SA.
---
Confusion Over The Names Of Two Ships
And Two Brothers
by
Steve Reynolds
I have been writing quite a bit in recent years about matters related to Nicolas Baudin's scientific expedition to Australia from 1800 to 1804, and that's not about to stop. My major article on the subject was "Nicolas Baudin's Scientific Expedition to the Terres Australes" which was published in our 2001 Journal. That article started with the following comments: -
"Much has been written over the years about Nicolas Baudin's expedition to Terres Australes (Australia). . . I found there to be . . much confusion, contradiction and error. Don't be surprised if something that I say conflicts with something else that you have read. That seems to be the norm in these matters."
I have made some incorrect statements myself, especially in my earlier writings about the topic. This was due to reading incorrect information to start with. The more that you read, however, the more confusion and contradiction you encounter.
My article "Nicolas Baudin's Scientific Expedition to the Terres Australes" briefly described Baudin's ships. I now want to go into more detail about those ships.
MIS-NAMING OF THE SHIPS
There has been some confusion regarding the various names of ships used by Nicolas Baudin for his scientific expedition to Australia in 1800. There were just two ships involved at the beginning but these two underwent a few name changes and those names have often been misspelled.
'LE' OR 'LA'?
Firstly, there is the situation where the Geographe and the Naturaliste are often referred to as 'Le Geographe' and 'Le Naturaliste' even though "Le" is only just the French word for "The". As far as I can understand, "Le" was never part of the ships' names. "Le" is the male form of "The" in French, "La" being the female form. I have even seen the Geographe referred to as 'La Geographe', but then ships are said to be 'ladies' so "La" seems more appropriate. Apart from "Le" and "La", "The" is also represented in French by "L' " when the name begins with a vowel (and also by "Les" when the word in question is plural). The Geographe has, at times, been called each of the following: - (la) Galatee, (la) Galathee, (l')Uranie, (l')Uraine, (la) Serpente and (la) Sepente. The Naturaliste was originally called the Menacante.
BACKGROUND BEHIND NAME CHANGES AND MISSPELLINGS
Below is much of the background about these name changes and misspellings.
When Nicolas Baudin was appointed to lead a French scientific expedition to Australia in 1800, he was placed in command of two ships. The two ships that were offered to him were corvettes. A (modern day?) corvette is a small, fast naval escort-vessel, the smallest of the naval ships. Baudin rejected the two corvettes offered to him and chose two others. They were both corvettes of 350 tons. One was a 30plus gun ship and the other one was a 20-gun store ship. They both had their armaments reduced to just eight carriage guns plus a few other guns.
GEOGRAPHE
One of the ships, at least, was built at Honfleur (near Le Havre) in France between 1794 and 1800. This was the 30plus gun ship. She was laid down in August 1794 and was not completed until 1800. She is said to have been 124 feet long and 30 ½ feet wide. Her tonnage has also been given as just 300 tons (instead of 350 tons). She apparently had 24 twelve-pounder guns in her armaments. She has been described as a "general purpose three-mast single deck ship with a quarter-deck built to house scientists and the captain". At the start of her construction in 1794 she was being called the Galatee. Some sources spell this as 'Galathee'. For some reason, in 1797, in the midst of her construction, she was re-named the Uranie. Some sources spell this as 'Uraine'. Bruno Galland, the Head Curator (in charge of the ancient section) at France's National Historic Archives confirms that the correct spellings are Galatee and Uranie. Uranie is a name given as a symbol of one of the nine muses who presided over astronomy. The names 'Serpente' and/or 'Sepente' have also been mentioned. During the year of her completion and launching she became the Geographe. It has been said that she was still called the Galatee when selected by Baudin, even though he apparently didn't choose her until around 1800. Her name must therefore have changed to the Geographe about the time of her launching.
NATURALISTE
The 20-gun store ship was built as the Menacante (meaning 'threatening') but her name was changed to the Naturaliste prior to Baudin's expedition.
THE EXPEDITION
These two names, Geographe and Naturaliste, were apparently used in keeping with the expedition's scientific aims. The two ships were, after all, going to be carrying several geographers and naturalists. 'Geographe' is French for geography and 'naturaliste' is French for naturalist.
Both ships left Le Havre, France on 19th October 1800 with well over 100 people on board. To cut a long story short, the Naturaliste did not return back to France until 7th June 1803 and the Geographe did not return until 23rd March 1804. The Geographe was de-listed from the Fleet list in 1811.
TWO BROTHERS
There has also been confusion at times because of the participation of two brothers with similar names on Baudin's expedition. I speak of Henri and Louis de Freycinet who were also both Lieutenants (or Sub-lieutenants) at the time. They were, however, usually on different ships throughout the expedition. Their names were very similar because Henri, the eldest brother, had the full name of Henri-Louis Desaulses de Freycinet. Louis, the youngest brother, had the full name Louis-Claude Desaulses de Freycinet. Both brothers had "Louis" in their name. Some sources do not use the hyphen before or after "Louis". Some sources also separate Desaulses and make it into either "de Saulses" or "de saulces". Other sources suggest either "Desaules" or "Desaulces". Most sources just use either "Louis Freycinet" or "Henri Freycinet". When a source uses just "de Freycinet" , they are usually referring to Louis. One of my contacts, however, managed to turn Henri-Louis into "Louis-Henri".
HENRI
That same source told me that Henri was later to become a Baron, an Admiral, Administrator of the Island of Reunion (then called Bourbon) and later of French Guiana and Martinique, before ending his career as Chief Administrator of the Navy at Rochefort in 1834.
LOUIS & ANOTHER URANIE
Just to confuse things a little more, another ship called Uranie came to Australia later on under Louis de Freycinet's command. This Uranie was called (La) Ciotat when she was built as a military store ship between 1810-11. She was renamed Uranie in 1817 when she became a corvette or sloop. This Uranie has been described as being of 350 tons, 112 (French?) feet long (36m), 28 feet wide and with 14 feet depth of hold.
Freycinet was in command of her from 1817 to 1820 for a scientific expedition around the world. The ship visited South America, South Africa, Mauritius, Timor, The Moluccas, The Carolines, Australia, Tahiti and then she was wrecked off the Falkland Islands (on 14th February 1820). Freycinet's wife, Rose was on board with Louis for the entire expedition. Freycinet had secretly taken her aboard. They were both rescued by a passing ship and arrived back in France in November that year.
WEB SITE
The WA Maritime Museum has a web site which has details about this Uranie. Check it out at http://www.mm.wa.gov.au/Museum/march/treasures/uranie . The ship is described in detail at
http://www.mm.wa.gov.au/Museum/march/treasures/uranie/rose_etc.html . This page also tells of two books written about Rose de Freycinet being on the ship's voyage.
THANKS FOR ASSISTANCE
My thanks to the following people for their assistance with the above details: - David Offord, Mike McCarthy of the Maritime Archaeology Department at the WA Maritime Museum, Noeleen Bloomfield in the French Department at the University of WA, Bruno Galland, the Head Curator (in charge of the ancient section) at France's National Historic Archives.
---
Additions to the JOTS Kits

Marine Discovery Centre News

New Marine Storybooks

The Marine Discovery Centre has developed a set of 6 storybooks

about marine creatures living in our aquaria.

Set of 6 books A$50

Seahorse story only A$10

MLSSA has purchased six sets of this excellent production, one for each kit. This is our first addition to the kits since they were released to the Norwood Education Centre for loaning to schools several years ago.

The Marine Discovery Centre team developed our new marine storybooks, this included Ursula Quack, Allison Sammutt, and John Agnew. Our school staff also supported this very exciting 12 month project.

The stories, including "PJ 99" our first-hatched Port Jackson shark, the Seahorse Story, Rockpool Adventures, Sea Snails and Friends, Marine Discoveries and Beach Walk all emanated from our Centre. Each storybook was rigorously edited and evaluated by educators a number of times before final approval was granted. We are very pleased with the final professional product, in fact the first visiting teacher to see them bought a set for her own personal use.

We would particularly like to thank Ms Patricia vonBaumgarten from the Department For Environment And Heritage and Mr Vic Neverauskas from PIRSA Fisheries for their support for this venture. We would also like to thank one of our school parents, Stephen Rowe, Newstyle Printing, for organising the printing of our books.

You may wish to order a set or a single copy of our Seahorse Story. An order form is available from our website:

http://www.marinediscoverycentre.com.au

Tim Hoile

Director
---
British Marine Life Study Society
http://www.glaucus.org.uk/Homepage.html
June 2004
A pregnant male Seahorse, Hippocampus guttulatus, was discovered and photographed in Poole Bay, Dorset. This is the first recorded instance of a pregnant Seahorse in the northern English Channel and anywhere in the seas surrounding the British Isles and is therefore the first confirmed instance of successful breeding, which has long been suspected. Discharge of the young into the shallow sheltered ways of Poole Bay seemed imminent.
Report and Photograph © by Steve Trewhella (Poole, Dorset)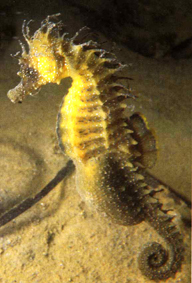 ---