MLSSA
NEWSLETTER
NOVEMBER 1998 No. 250
"Understanding, enjoying & caring for our oceans"
---
This Newsletter
This is the MLSSA Newsletter, the monthly publication of the Marine Life Society Of South Australia Inc. Our Society is active in trying to protect our marine environment and this Newsletter usually contains articles about marine life and the marine environment.
Copyright - the contents of this Newsletter are copyright and may not be reproduced without prior permission of the Society.
Disclaimer - The opinions expressed by authors of material published in this Newsletter are not necessarily those of the Society.
Subscriptions
You can join the Society or just subscribe to our Newsletter and Journal. To do either, please complete the form in this Webpage and mail it with the appropriate payment to:
MLSSA Inc.
120 Wakefield Street
ADELAIDE 5000
South Australia
Please send all general correspondence, subscriptions or Newsletter and Journal contributions to this address. Correspondence may be marked to the attention of the Secretary. Subscriptions may be marked to the attention of the Treasurer. Newsletter or Journal contributions may be marked to the attention of the Editor.
Meetings of the Society
General Meetings of the
Society are held on the 3rd
Wednesday of each month
at 8 PM sharp, at the
Conservation Council
120 Wakefield Street
Adelaide
Parking is adjacent to the rear door entry.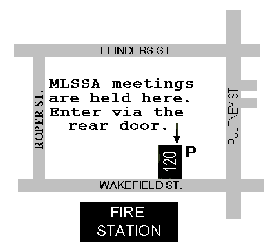 ---
Christmas Picnic
Venue: Victor Harbor, South Australia
Date: Sunday 13th December 1998
Time: 10.30 am
Meeting Place: Old steam train, near causeway
Possible Programme:
Dive/Snorkle (weather permitting)
Lunch
Sightseeing/activities
Dinner at the Crown Hotel
Phone: 08 8270 4463 for further details
---
Welcome
We are pleased to welcome Danny Glover and Liz Raymond to the Society. They became members at the September General Meeting. Although they are not divers they are interested in Conservation and the Marine Environment.
---
This Month's Meeting
For the final General Meeting of 1998 we will be meeting at the Conservation Centre, 120 Wakefield Street. We will begin at the usual time of 8 pm with the general business.
After the break we will have as our guest speaker, Louise Walsh from Redpath Technical Services. Her talk is entitled "The Use of Airborne Infrared Sensing in Emergency Situations Such as the Detection of Bushfires and Oilslicks".
You may recall the item in the September newsletter where two members went "Out on a Line". Images taken of these two intrepid gentlemen will be shown as part of the talk.
---
Publication Number 250
Another milestone (kilometrestone just does not have the same ring to it!) has been reached. When the first Newsletter was published by the Marine Aquarium Research Institute of Australia (MARIA) who would have thought that the present Newsletter would be available to the entire world via the Internet more than 20 years later? So many changes have occurred, not the least being a name change.
A recent letter from Member Brian Brock congratulated MLSSA on the keeping up of the Newsletter on a regular basis. Over the years there have been many different Editors and they have, without exception, done a great job to keep up the regular editions.
Before the age of computers I seem to remember it was a matter of typing onto Banda Sheets and then using the rotating drum spirit printer.
Then followed a huge step forward to the type, cut, paste, photocopy, whiteout errors, re-copy and then on to the final copy and print run.
Now, of course, the process is simpler but still consumes a large amount of time in putting the Newsletter together from the contributions supplied by members, the printing and distribution, and then finally posting it onto the MLSSA Webpage.
If any past Editors could send me an article on the difficulties they faced in the early years of MARIA/MLSSA or some other reminiscences then it could make interesting reading for new members.
---
Diving for the Seasearch Project around the coast of Wales
April. Pembrokeshire.
My buddy and I land on a mussel bed, 15m down in 3-4m visibility. Slowly, we cover ground against a slight current, noting everything we see. Small, stunted, snakelock-like anemones turn out to be rather more unusual trumpet anemones at the limit of their northern range. These are much more likely to be encountered in the Mediterranean. Colonies of the brittle, orange ross coral, a variety of sponges, including balls of yellow, spiky Tethia and bubbly Hemimycale, dead men's fingers, hydroids and many other anemones, are all noted in turn. Nearby, in patches of pebbles, we see a gravel sea cucumber, tentacles thrust upwards into the food-laden current - a strange sight.
We ascend, our cameras out of film and our slates covered in a jumble of barely decipherable notes. Later, over coffee, we discuss our day's findings, and complete our Seasearch forms. Seasearch is a project for amateur divers. It was launched in 1986, and is now managed jointly by the Marine Conservation Society (MCS) and the Marine Nature Conservation Review (MNCR). Its aim is to collect information on the seabed around the coast of Britain.
June. The Gower.
The diesel engines of our ex-military sea-plane tender take up so much room that there is only a small area in which to kit up. We are in a heatwave, and with the blazing sun on our drysuits, it is a real pleasure to hit the water.
The viz is very good at 8-10m, superb for the Gower, we are told by the organiser Suzanne - who makes us feel very wimpy as she dons a well-worn, faded wetsuit. Geologically, the Gower is composed of limestone. This results in a tremendous variation in the life of the area, and makes for fascinating diving.
On a shallow rocky reef, two silvery sea bass accompany us during a 45-minute dive. At one point, I look up from my camera to see one of them peering inquisitively at me, less than half a metre away, darting off only when I try to align the lens towards it.
Amid the fissured rock, I come across a tiny lobster - only as long as my index finger. Tompot blennies watch us from their hideaways, and velvet swimmers scuttle out of our way.
Fragments of mussel shell on the top of the bedrock outcrops indicate that there may have been beds here recently. We pick our way over the top, seeing starfish and the odd pothole. In a sandy gully bounded by low, fissured limestone sides, we come across a pogge and a long-spined scorpion fish, a tub gurnard and finally a lemon sole. Some of the anemones here are tropical-looking - vivid and intense, even at 10m plus.
The Oxwich Bay Wreck
This is our last dive of the weekend - a popular spot judging by the number of diveboats moored above it! It's a shallow dive and buzzing with life. We see an angler fish within a minute of reaching the bottom, many tompots under the plating, and wrasse and dragonets in the coarse sand to the landward side of the wreck. Candy-striped flatworms and colourful sea-slugs can be spotted on the rusting steel where plumose anemones are not in ascendancy. Above us, a huge bass studies us as we explore inside the hull, looking and behaving disconcertingly like a barracuda.
July. Abersoch
The venue for our first North Wales Seasearch is a resort better-known for boating than diving. Our group can clearly see why as we head out for the Half-Tide Rocks. Although these menacing rocks have claimed a few vessels, we decide to dive a few hundred metres away from the wreckage, and see what is there.
The life is richer than we had anticipated on the coarse gravel-sand. Clusters of delicate creamy soft coral are dotted here and there. We have just spotted some ross coral when my buddy suddenly starts pointing behind her. A seal has decided to come visiting and chew some fin. We enjoy his company for a few minutes before he gets bored and leaves.
If the sign of successful diving is being asked when more of the same is to be held, then all three diving weekends were a success. Most of us learned more about our undersea environment, and can now identify marine creatures that we were unable to recognise previously. Added to this, the resulting Seasearch forms meant that a lot of data was recorded. Hopefully, such information from divers will contribute towards forming the knowledge upon which future decisions concerning the sea will be based.
Adapted from an article which appeared in DIVER - June 1996
by Paul Kay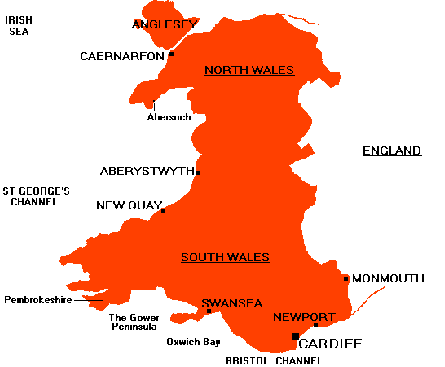 Wales
Showing the area of the dive sites mentioned in the article.
This article is a followup to the one titled "The Seasearch Project - British version of Reefwatch" which was published in the October Newsletter. The original article was made up of both and was thus too long to be included in our Newsletter as a single item.
Editor
---
More Boaring Reminiscences
The year was 1980, the place was Port Giles jetty and the fish was a Short Boarfish.
I cannot forget this dive, which came close to perfection in my experience.
Visibility was good, topside was calm with a light offshore breeze and shortly after entering the water I'd seen a large Mulloway, not much under a metre in length, resting on the shady bottom. Unfortunately, the fish took off a split second before I was in camera range, as expected for such a wary species.
But the next discovery made me glad I'd not wasted a hurried snap on the mulloway - there ahead of me, drifting almost motionless above the bottom near a pylon, was a bizarre fish quite unlike anything I'd yet encountered.
This extraordinary creature's profile was dominated by a huge dorsal sail-fin, making it taller than it was long, hence the rather unimaginative name Short Boarfish.
Although my first few photos were hurried, for fear of losing sight of this wonderful fish, it showed no real concern and the only difficulty it presented photographically was negotiating a side-on exposure without disturbing the sediment unduly. I had with me my old Rollei-Marin setup which only permits twelve exposures per dive, so I gladly used all of the roll on this star attraction.
The Short Boarfish (Parazanclistius hutchinsi) is a little-known species of Boarfish, probably not rare but rarely seen by divers, perhaps due to a preference for deeper reefs, although Gommon, Glover and Kuiter in "Fishes of Australia's South Coast", state that it is "apparently a shallow, coastal species, the known depth range being 10-79 metres".
Indeed the subject of this article, the only Short Boarfish I've seen, was at approximately twelve metres depth, but it somehow had the look of a fish better adapted to deeper, still waters.
Two other Boarfish species, the Long Snouted (Pentaceropsis recurvirostris) and Yellow-Spotted (Paristiopterus gallipavo), the latter sometimes referred to as the Brown Spotted, are common in South Australian waters and each has an unmistakable profile.
The Short Boarfish is distinguished from another uncommon Boarfish, the Longfin Boarfish (Zanclistius elevatus), mainly by the more prominent single, large, white-edged black spot on the posterior aspect of the dorsal fin, as well as by the proportionately greater height of the dorsal fin.
I have never seen a Longfin Boarfish though I live in hope!
David S. Muirhead
---
More
About
The
Tonnage
Of
Ships.
As explained in the previously published article about the "Fides" and the "Portland Maru", a ship's "tonnage" was usually determined by a system of measurements of length, breadth and depth. Prior to 1836 these measurements were determined by an Act. This Act is now known as the Old Act because after 1836 more detailed measurements were required, giving a more accurate estimate of a ship's tonnage. A new system has been used since 1855 (and is apparently still in use, with some variations) giving registered net tons or registered gross tons. "Net" means "free from deduction" or "after all deductions". "Gross" means "total, not net". "Tonnage" means "carrying capacity of a ship" but its not that simple, not with terms such as "net tons" and "gross tons". Then there is also "displacement tons". Then the situation has changed with the introduction of metric units. The unit used is now tonnes (the metric equivalent of tons). A ton is 2240lbs whereas a tonne is 1000kgs. A ton is equal to about 1016kgs and a tonn equals about 2200lbs or 98% of a ton. According to "Ketches of SA" by Ronald Parsons (page 17) "Tons" is not displacement or deadweight, but a measurement calculated upon all enclosed space, less certain deductions, and worked out at an arbitrary rate of so many cubic feet to a ton (originally "tun"). Many articles about ships and wrecks quote a tonnage figure. Sometimes tons and tonnes are confused. The carrying capacity and displacement tonnage also seem to have been confused at times. A book in our Society library ("Wardang Island Maritime Heritage Trail") clearly quotes "gross displacement tonnage" for each of the shipwrecks mentioned in it. All of the gross tons given were listed the same in a Reservoir & Paradise Dive Club newsletter. The newsletter listed 29 protected shipwrecks and gave their tonnage. A shipwreck feature in the New Year's Day issue of the Sunday Mail in 1995 listed 61 SA shipwrecks and gave their tonnage. As many as eight of those 61 tonnages were different from those given in the RP newsletter. Some varied by one or two tons but a few varied by between 20 - 110 tons for some reason or other.
Steve Reynolds
---
Granite Island Aquarium Proposal
A group calling themselves the Below Decks Project, based in Adelaide, are currently canvassing support for a below Decks Fish Viewing Platform incorporating an underwater S. A. native fish aquarium off the Granite Island breakwall at Victor Harbor. Comments on the proposal are being sought by the Development Assessment Commission. The local community appears to be generally supportive of the proposal.
David Muirhead
---
1998 Journal
The 1998 Journal will be sent, or hand delivered, to members and advertisers early in December. Others who are on our regular mailing list may order a copy for A$5 (A$12 Overseas) post paid by contacting MLSSA at our postal address, by phone or by E-mail.
At our September General Meeting we had the opportunity to view some video's brought in by members. I showed one concerning the Seahorse breeding facility which is operating in Tasmania. The following article contains more detail.
Editor
---
Tasmanian Seahorse Breeding Programme
According to The Advertiser of 30/12/97, Seahorse Aquaculture has established a seahorse farm at Beauty Point on the Tasmanian coast. They have invested A$2million in a captive breeding program and they hope that sales to the lucrative Asian market will lessen raids on endangered native stocks. It is alleged that about 20 million seahorses are poached each year, many from local waters, and fetch up to $1200 per kg in Hong Kong. Seahorse Aquaculture's managing director, Jeff Love believes that the breeding of a commercial cultured animal will reduce the poaching of them. Full production is expected by 1999 with Hippocampus abdominalis being bred in tanks, raised to maturity, then dried for the export market. Mr Love said "You can't stop the Chinese consuming seahorses, they've been doing that for 4000 years, but you can change what goes into the market. It's a great shame we need to exploit them at all, but we are taking less than 1000th of 1% (for breeding purposes) of the seahorse population around Tasmania." Professor Nigel Forteath researched the breeding program at the University of Tasmania's Department of Aquaculture for four years. Seahorse Aquaculture also has plans to develop an education facility promoting marine life.
A MLSSA member, Ron Bellchambers, sighted about 18 White's Seahorses, Hippocampus whitei, during a dive at Browns Beach, Innes National Park on the Yorke Peninsula on 23/2/97. The seahorses were floating on broken 'sea branches'.
The same member tells us that he saw some Big-bellied Seahorses, Hippocampus abdominalis, at Edithburgh jetty on the Yorke Peninsula on 30/7/97.
I myself usually find Short-snouted Seahorses, Hippocampus breviceps, at this same location. The only time that I recall sighting a Big-bellied Seahorse was at the Bluff, Victor Harbor in July 1986.
Steve Reynolds
---
Yorke Peninsula News - 8th September 1998
Well you will never guess what I have got into over here! It was what I was going to start at the beginning of the year, and yes, it is Certificate 1 in Aquaculture and it is finally being run by the Narungga TAFE, at Point Pearce and it started last Monday.
What I have been learning so far has been very basic measures and such, but we did make a formal visit to the Abalone Farm last Wednesday. At first I was a bit hesitant to start the course as I did not know how I was going to be received by the local Nungas, but my first day at the course was great and everyone got on really fine.
On Fathers day I had a SCUBA diving job on at the Abalone Farm. The intention was to change the seaward connections on the inlet pipe approximately 200 metres out from the pumping station as the pipes have been sucking a lot of sand. The new connection was supposed to stop this happening, but as usual nothing ever goes to plan and on first inspection, the cage (which is made of aluminium for the frame with a stainless steel mesh), looked fine except the back half was sunk in the sand. The problem started when we tried to open the front which is on a slide. Due to the cage being down for a year the salt water had more or less welded the aluminium together. After much prodding and banging underwater we finally opened the front. The cage was half full of sand and the mesh was clogged with a marine growth which looked like a jelly.
The next step was to free the top slide so we could get to the top of the inlet pipe but this had also been affected by electrolysis and proved impossible to shift. So all we could do was to clear out the sand and scrape the jelly like substance from the mesh with our knives. To help stop sand entering the pipe we raised the cage onto a pile of rocks.
To further remedy the problem of sand intake into the pipes we propose to put plan "B" into place (ah yes, good old plan "B"). This is to replace the existing cage and place an upright attached to a concrete post on the sea floor so the inlet is raised above the sand.
I will send further updates on local events soon.
Ron Bellchambers
---
---