MLSSA
NEWSLETTER

NOVEMBER 1999 No. 261

"Understanding, enjoying & caring for our oceans"

This Newsletter

This is the MLSSA Newsletter, the monthly publication of the Marine Life Society Of South Australia Inc. Our Society is active in trying to protect our marine environment and this Newsletter usually contains articles about marine life and the marine environment.
Copyright - the contents of this Newsletter are copyright and may not be reproduced without prior permission of the Society.
Disclaimer - The opinions expressed by authors of material published in this Newsletter are not necessarily those of the Society.

Subscriptions
You can join the Society or just subscribe to our Newsletter and Journal. To do either, please complete the form in the "Subscriptions" section of this webpage and mail it with the appropriate payment to:
MLSSA Inc.
120 Wakefield Street
ADELAIDE 5000
South Australia

Please send all general correspondence, subscriptions or Newsletter and Journal contributions to this address. Correspondence may be marked to the attention of the Secretary. Subscriptions may be marked to the attention of the Treasurer. Newsletter or Journal contributions may be marked to the attention of the Editor.

Meetings of the Society

General Meetings of the Society are held on the 3rd Wednesday of each month at 8 pm sharp, usually at the:-
Conservation Council
120 Wakefield Street
Adelaide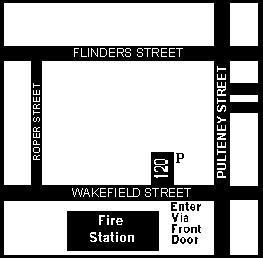 Parking is available down the side passage.

---
November General Meeting (Last for 1999)

This will be held at the Conservation Centre, 120 Wakefield Street on Wednesday the 17th November. It will commence with the general business at 8pm.
Following the tea break, Vickie-Jo Russell will talk to us about her recent trip to America and Canada with an emphasis on marine matters.
We will be entering the building via the front door but parking will still be available down the side passage.

---
2000 Calendars

We produced 600 calendars this year in two print runs. One of 500 which was entirely sold in ten days and a second of 100.
There are less than 40 remaining at time of printing this Newsletter (25/10/99) so if you want any then please phone me on (08)82704463 as soon as possible as the likelihood of a further printing is very remote.
Many thanks to all who did so much to ensure a successful effort. Thanks go especially to:-
Ralph Richardson for the hours he spent generating the calendar.
To Geoff Prince for the day and entire night involved in the printing.
To Philip and Margaret Hall for the time spent on editorial supervision, organisation, driving around and on many sales expeditions.
To David Muirhead for the photographs and many sales made.
To Chris Hall for photographs and to Phill and Barbara McPeake for assistance with collation.
Many thanks to all who have sold calendars.

---
Blast From The Past
Knights Of The Night Part 4

Well who's a clever boy ( me of course). Wait till I get to school Monday and down to the pet shop (gee, I think my head has grown). Now I ask you, who has an all glass tank, sorry aquarium, in New South Wales? Who has a fish room? Who has a breeding pair of catfish? Who is the renown breeder of catfish? Me of course. Well no one else I know of has bred catfish. Even the bloke at the pet shop said I was lying, as they can't be bred ( he don't know nothing).

Out of the 30 eggs I ended up with 15 babies ( there will be a pause here while the fry grow). Several months later I am now looking at 6 beautiful young catfish. This now deserves a trip to a proper fish shop to sell my fish ( got to be worth a pound each). The elderly gentleman (the old bloke) who owned the shop listened to my story with great interest and a big smile on his face (so he should, he was listening to an expert). When I had finished he told me this had been done many times before ( this was a big let down). He also told me that hobbyists had special rooms which were built to hold lots of tanks ( so much for my one tank shed). "Hold on to your pants," he said ( a bit of joy, maybe?) "I have not seen an all glass moulded tank before" (one out of three is not bad I surpose) "could I come and see it?" He did come and was impressed. He had given me a zac (sixpence) each for catfish. 3 bob (shillings) credit. With this money I brought a second hand air pump (it looked like the first one ever made, but at least it worked). No more pumping up that rotten inner tube.

Well that's all for now. Like all great works of art this one has also come to an end.

P.S. I hope that you have kept all these parts, The editor recommended that I punch a hole in the paper and thread some string through it and hang it on the back of the dunny door (Ha! They don't know everything ). I am 11 years old.

That's all folks! Barry Gooley

(Barry is both the Treasurer and Editor for the South Australian Aquarium Society Inc., both of whom are thanked for allowing us to include this series of articles in the MLSSA Newsletter.)

---
Snorkel At Gleeson's
So long ago - was it in a dream? - as teenagers we used to spearfish at Gleeson's landing on Yorke Peninsula during school holidays.
I recall the nervous anticipation of my first entry off this large fantastic platform reef and the thrill of seeing an abundance of reef fish. On one occasion a big school of Western Australian Salmon (Arripis truttacea) swept through, leaving us literally dizzy with excitement.
While holidaying at Hardwicke Bay at Easter I felt drawn to the old haunt and four of us managed to squeeze in a half hour snorkel in quite good conditions with a light offshore breeze and 7 metre visibility.
The schools of very big Silver drummer (Kyphosus sydneyanus) were as prevalent or even more so than I remember and there were some very large Moonlighters (Tilodon sexfasciatum) and Dusky Morwong (Dactylophora nigricans) perhaps a legacy of the near - extinction of Homo sapiens Var. spearfisheri!
The standout feature of the snorkel was a group of at least seven Port Jackson Sharks (Heterodontus portusjacksoni) in a small area of shallow reef, depth 2 - 4 metres. With scuba we may have located more. These fish were all adults with 3 or 4 heaped together and the others within a few metres, under ledges close to the reef platform.
This common species congregates seasonally in shallow water to mate and such behaviour has been reported much closer to home at Aldinga Reef. Whilst not in the same league as the annual great Cuttlefish action near Whyalla, being witness to this gathering gave this snorkel that special touch.
Hence egg-laying sharks have a remarkably ancient lineage and really are the dinosaurs of the sea. The eggs have a distinctive chitinous base with a double spiral flange and the female protects her newly laid eggs by wedging them in rock crevices with her mouth.
The Port Jackson Shark's teeth are adapted for its diet of predominately hard-shelled organisms such as molluscs, sea urchins and crustaceans. It's sharp front teeth contrast with the more prominent molar-like rear teeth suited to crushing and grinding, hence the genus name Heterodontus.

David Muirhead

---
Fossil
Thefts

Thanks to an early advice by Philip Hall, I watched the ABC's Quantum on 2nd September. The first part of the programme reported the discovery of stromatolite fossils about 3.46 billion years old in WA. The fossils were found by Kath Grey in the Pilbara region. Experts from around the world, particularly the USA and particularly the University of California, visited the site to judge whether or not the fossils were in fact those of stromatolites. We saw the experts study the fossils and photograph them in detail. We got to see live stromatolites found in WA's Shark Bay. These are said to be up to 3,000 years old. Whilst the experts studied the fossils, Kath Grey realised that some of her discoveries were already missing. They had been stolen sometime earlier. We heard how fossil theft had become a common problem lately. A dinosaur footprint fossil valued at $3,000 had been stolen but was fortunately recovered and the culprit charged. The experts agreed that the fossils being studied were in fact stromatolites. What is a stromatolite? All will be revealed in our next Journal. A value of $40,000 was placed on what remained of the fossils. The experts decided to carefully remove them all and replace them with imitation ones. This regrettable action is necessary thanks to a few greedy people.
Our May 1996 Newsletter (No.222) reported the theft of fossils from the Flinders Ranges. The Ediacara Fossil Reserve near Leigh Creek was proclaimed in 1958. The reserve contains some of the world's oldest fossils (from 560-570m years ago when the area was underwater) and possibly the most diverse range of soft-bodied specimens. Since the 1960s unscrupulous collectors have been ransacking the site and selling fossils overseas.
A 600m year old large sea pen fossil was smuggled from the reserve in 1991. It was offered for sale in Japan for $30,000 although it is estimated to be worth $600,000 on the black market. Four people were caught for the offence, one commercial dealer and three Australians.
Sea pens are unbranched, colonial octocorals which live on sandy or mud bottom, anchored by their stalk. They are known as pennatulids and/or pennatulaceans since they belong to the order Pennatulacea and the family Pennatulidae.
Six rare, 270m year old Permian crinoid fossils were also stolen from Gascoyne Junction in WA for export to Germany. The Permian period occurred 245 to 290 million years ago.
Crinoids are feather-stars and related to starfish and other echinoderms (order Echinodermata).
Other fossils stolen include that of an ancient jellyfish and opalised mollusc shells and crinoids. The mastermind behind the thefts became the first person to be convicted in Australia under the Commonwealth Protection of Moveable Cultural Heritage Act for illegally exporting fossils. He was fined $50,000 and placed on a three year good behaviour bond. The other Australians received fines of $10,000 and $1,000.
Fossil thefts threaten our country's fossil heritage and continue to concern scientists. The Commonwealth Protection of Moveable Cultural Heritage Act provides for a maximum penalty of five years gaol and a $100,000 fine.
In 1996 South Australia's State Heritage Branch announced tough penalties for the theft of fossils from the Ediacara Fossil Reserve. Thieves were to receive gaol terms of up to four years and fines of up to $15,000 for stealing, damaging or selling the fossils. The maximum fine could be imposed for each fossil taken.
In mid-October 1998 an SA Museum expedition discovered an Ediacara fossil of a jellyfish in a fossil reserve 80km north of Wilpena Pound in the Flinders Ranges. The fossil was 570m years old and believed to be one of the rarest discovered. The fossil was on a slab of rock weighing nearly half a tonne. It was on a hidden cliff ledge on a steep rocky hill-side yet within days of the discovery the fossil was stolen.
Somehow the slab was removed from the cliff ledge, carried down the steep rocky hill-side and trucked out of the reserve. The precision, speed and resources of the fossil raiders convinced authorities that an international syndicate dealing on the black market was involved in the theft.
In March 1999 police searching some premises in Whyalla found some missing fossils. They did not reveal how many fossils were recovered and no one was charged at the time.
In July 1999 a man was committed to stand trial on three charges of stealing geological fossilised footprints. The man had apparently hacked away a large slab of rock to steal a 120m year-old dinosaur footprint at Crab Creek near Broome in WA. (It would seem that it was this fossil that featured on "Quantum".) Also stolen were two rare 7,000 year-old human footprints from Beagle Bay and Lombardina.
The dinosaur footprints are believed to be from a theropod. The footprint is 20cm deep, 50cm long and 40cm wide. It is imbedded in a slab of rock weighing 30kg. Each of the three toes of the footprints measures 15cm. A theropod was known by Aborigines as the "giant emu man".
The man charged apparently faces a maximum of seven years gaol for conviction on each charge. That is more than suggested above. He could be a fossil himself when he finally gets released.

Steve Reynolds

---
Torpedo News Bulletins
(23rd June to 26th August)

26 August 1999
Fishermen (6 witnesses) from Cornwall report a large predatory shark off Padstow, Cornwall, with a length reported of 3.6 metres (11 ft). If allowances are made for exaggeration, it could be a Porbeagle Shark, Lamna nasus, that attains a length of 3 metres, or a Shortfin Mako, Isurus oxyrinchus, which could reach a length of nearly 4 metres. The Mako is a dangerous shark although attacks on humans are rare, virtually non-existent. Occurrences of the warm water Mako in British seas are usually recorded in August and are rare, although they are occasionally caught in commercial nets. The report appeared in the Sun newspaper when it was identified as the Great White Shark, Carcharodon carcharias, which is unknown from British seas. This identification has not been ruled out.

13 August 1999
A large 180 kg (400 lb) Swordfish, Xiphias gladius, was caught off the Cornish coast and put on display at Brighton. These large fish are extremely rare off the British coast. One was seen off the Isle of Wight a few years ago. (This specimen may actually have been caught further afield, e.g. Biscay, and brought in by the Newlyn boats.)

11 August 1999
Dr. David Hicks and the rest of the crew on a short voyage from Lundy to Tintagel spotted 30 to 40 Basking Sharks over a small area approximately 12 miles NNE of Tintagel (NW Cornwall). There were also isolated pairs 4 miles south west of Lundy.

Courtesy - British Marine Life Study Society

---
VNPA Green Guide To
Buying
(And
Eating)
Fish

On World Ocean Day, Tuesday 8 June the Victorian National Parks Association Inc. launched their public awareness campaign, Green Guide to buying (and eating) fish, at the Queen Victoria Fish Market in Melbourne. Guests were provided with the VNPA's new report 'The Ecological sustainability of Marine Fisheries', that ranks popular species of fish and seafood on environmental criteria.

Guest speakers were Valerie Taylor, world re-renowned marine naturalist, film-maker and photographer, and Dr. Scoresby Shepherd, senior marine biologist with the South Australia Research and Development Institute (SARDI).Valerie spoke persuasively in favour of attitude change. As a champion spear fisher she has loved fish as a hunter and as a diver. She spoke of the bounty she once took for granted. "We used to see walls of fish. They are gone". Dr Shepherd spoke of potentially devastating biodiversity effects of overfishing.

All guests were provided with "Fish Forever? Your Choice!" card so that consumers could choose their fish wisely. Using commonly sold fish it ranked them:

Best choice: Southern Calamari, Albacore tuna, King George Whiting, Blue Grenadier, Greenback Flounder, Sand Flathead, and Gummy Shark

Think again: Silver Trevally, Pink Ling, Tiger Flathead, John Dory, Southern Rock Lobster

Last resort: Broadbill Swordfish, Southern Bluefin Tuna, School Shark, Gemfish, Blue Warehou, Rock Ling, Commercial Scallop, Orange Roughy

They also list some frightening facts:

* 70% of the world's commercial important fish stocks are either over fished, fully fished or rebuilding
* Only 9 out of 100 Australian fisheries are capable of sustaining increased catches, a figure based on our very limited knowledge of most commercial species
* Overfishing of gemfish in eastern Australia has led to an emergency closure of this fishery.
* The slow growing swordfish is under great pressure from fishing. Over half of the breeding females in the north Atlantic have been wiped out in under 20 years.
* Each year, trawlers across the globe scour an area of seabed twice the size of the world's continental shelves, decimating seafloor communities.
* Australian orange roughy populations are no thought to be less than 30% of their original levels. These fish live up to 150 years and may take decades to recover for the heaving fishing they have endured since the 1980's.

Contact the VNPA if you would like to find out more about the Sustainable Fisheries Campaign on ph (03) 9650 8296 or visit their web site
Jody Plecas, Administrative Officer
Marine Education Society of Australasia (MESA)
PO Box 461, East Bentleigh Victoria 3165
AUSTRALIA
ph/fax 61 3 9503 9823
E-mail: plecam@bigpond.com
http://www.mesa.edu.au
---
Edithburgh Fair

After a very early start, Phill McPeake, Margaret and I arrived at Edithburgh, just before 9am on the Sunday of the October Long Weekend. MLSSA had been invited to set up a display. A tent had been provided for us at the shore end of the jetty.
A display stand had been loaned to us by the Conservation Council and this was soon set up and covered with pictures and notices.
Tables were arranged with calendars and other information leaflets and my 2foot show aquarium was readied for a creature display.
Phill then geared up for what he later described as an excellent dive. The tank now contained a very interesting assortment of starfish, brittle stars, nudibranchs, weed, scallops and various fish.
Up until this time many people had come in but not stayed long. Now all this changed! Crowds gathered and the tank was a focus of attention and questions for the rest of the day.
We were joined by Ron and Sandra from Maitland and they kindly looked after the display whilst we went to have lunch.
Steve and Noeleen Reynolds and a friend arrived and Steve joined Phill on his second dive. The tank was restocked and a group of seahorses caused much interest.
We sold several calendars and gave away much publicity information. The questions were endless and many people were astonished at the sealife to be found under the jetty. The children were constantly asking probing questions and a little four year old asked about every single creature in the tank. He is a future marine scientist without a doubt. MLSSA fully upheld its educational aims on this day!
Peter and Jean Gilbert visited late in the day and were most impressed by the display.
Just after 4pm Phill, Margaret and I dismantled the display and returned most of the creatures to the sea. Some were kept by Phill for future displays. Eventually we made our way home, very tired but happy at the way in which we had been able to show the wonders of our local marine environment to an amazed public.

Philip Hall

---
Timelines
For
Southern
Beaches

November
Tulip Spindle Shells lay egg clusters on rock platforms
Sea hares lay eggstrings in rock pools
Goose-necked barnacles on beach washed cuttlebones
Red jellyfish in bays
Many young Silver Gulls on beaches and jetties
Shearwaters (Muttonbirds) lay eggs in burrows
Gulls moult primary feathers
Luminous fungi on teatrees and banksias
Male Leafy and Weedy Seadragons with eggs
Adult male New Zealand Fur Seals start defending territories as beginning of pupping season starts
Start of Antarctic Fur Seal pupping season on sub antarctic islands
Start of Sub- Antarctic Fur Seal pupping season on Macquarie Island
Pilot whales close to shore (calving season started for long-finned pilot whales in Tasmania)
Sperm Whale calving season starts

From the Timelines Australia Project Newsletter and notes from MCCN (SA). Timelines Australia is a national project encouraging people to record and collate natural history information and analyse them to seek patterns of environmental changes such as local seasonal cycles. For more information contact the Timelines Centre, 240 Burns Road, Glenburn 3717, (03 5797 8495 or the Gould League in your state (Gould League of SA (08) 8277 2851).

Tony Flaherty - South Australian Coordinator - Marine & Coastal Community Network
The Network is a non government program (as opposed to an organisation) administered through the Australian Marine Conservation Society and funded through the Federal Government's Marine Program. The Network's role is to work strategically in order to raise community awareness of marine and coastal conservation and the need for improved marine and coastal management throughout Australia.
Focussing closely on marine issues, the Network facilitates information exchange between community organisations, government agencies, scientific institutions and industry.
We have a regional coordinator in each state and the northern territory.

---
Giant
Crab
Research
Project

Deakin University is studying the population structure and growth rate of Giant Crabs in South Australian waters. The University has called for expressions of interest from experienced Giant Crab fisherpersons to assist them. The National Giant Crab Research Project is being conducted in SA waters to the south-west and westerly from Kangaroo Island. The Principal Investigator for the project is A. Levings who can be contacted via fax on 035523 5196 or at PO Box 41, Portland, VIC 3305.
Steve Reynolds


---