MLSSA
NEWSLETTER

OCTOBER 1999 No. 260

"Understanding, enjoying & caring for our oceans"

This Newsletter

This is the MLSSA Newsletter, the monthly publication of the Marine Life Society Of South Australia Inc. Our Society is active in trying to protect our marine environment and this Newsletter usually contains articles about marine life and the marine environment.
Copyright - the contents of this Newsletter are copyright and may not be reproduced without prior permission of the Society.
Disclaimer - The opinions expressed by authors of material published in this Newsletter are not necessarily those of the Society.

Subscriptions

You can join the Society or just subscribe to our Newsletter and Journal. To do either, please contact:

MLSSA Inc.
120 Wakefield Street,
ADELAIDE
South Australia
5000

Please send all general correspondence, subscriptions or Newsletter and Journal contributions to this address.

Meetings of the Society


General Meetings of the Society are held on the 3rd Wednesday of each month at 8 pm sharp, usually at the:-

Conservation Council
120 Wakefield Street
Adelaide

Parking is adjacent to the rear door.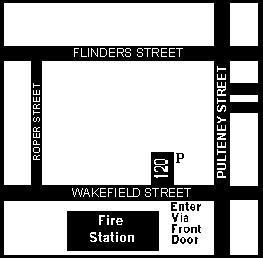 ---
October General Meeting
This meeting will be held on Wednesday 20th of October at the Conservation Centre, 120 Wakefield Street, starting at the usual time of 8 pm
This will be the first meeting where we will use the FRONT DOOR for entry to the building. There will be parking at the side as usual.
Following the general business we will be identifying the rest of the slides from the Photo Index.
We realise this is not to everybody's taste so we hope to have a computer available to enable us to show those without Internet access our webpage in all its glory.
Tony Isaacson will have two interesting video's to show as another alternative to slide identification.

---
1999 Royal Adelaide Show Results
The Society obtained the following results this year:
Best planted Marine Aquaria - First Prize
Marine Aquaria (Cold Water) - First Prize
Aquarium of Australian Marine Fish, tropical or cold water - First Prize
Champion Marine Aquarium
Thanks must go to Phill McPeake whose tank set up we used. Also to the helpers Barbara McPeake, Margaret Hall and Philip Hall who assisted in the setting up, dismantling and maintaining of the aquarium.
Thanks also go to Ralph Richardson who donated various creatures to complement those supplied by Phill.

---
"Haven't seen you at the last couple of meetings," President Philip noted.
"Moving house and a dive trip to New guinea," I replied.
"New Guinea, eh? In that case, you might like to write an article for the Newsletter."
We all know a Presidential request is as good as an order, and the penalty for not coming up with the goods is too terrible to contemplate, so here it is…..

The Deep and Meaningful Circumnavigation of New Hanover
Around mid-June, a small group of mainly Adelaide based divers boarded Mike Ball's latest luxury dive vessel, Paradise Sport, and sailed out of Kavieng, New Ireland, into the Bismark Sea for ten days of exceptional diving around New Hanover. Being two degrees south of the equator, we had to contend with thirty degree water temperature, some reasonable currents, coral-clad walls plunging into the abyss and a proliferation of marine life and colour that will only be bettered on the Maldives trip I'm doing in October!
To cope with the currents, we were given reef anchors - shark hooks without the barb, attached to a metre of strong cord, which hooked onto a suitable attachment on the buoyancy vest. These are brilliant little gizmos - you hook them in a suitable nook at the edge of a drop-off, where the big fish congregate and hover in the current, just above the reef. No exertion, no damage to the environment, and after a couple of minutes, the Dogtooth Tuna, Gymnosarda unicolor decide you're crazy but harmless and carry on with what they were doing before you disturbed them. It was disconcerting to note several of them carried sizable bite marks and one looked very much like the piscatorial version of Rodney Fox, photographed after the shark attack. Despite the savage mauling, revealing its innards, it appeared to hover and swim as well as its neighbours.
The Whitetip Shark, Triaenodon obesus , was well represented at Silver Tip Reef, with four two metre males. We did several dives there, including the obligatory shark feed, but it was much more exciting on the non-feed dives, to have them cruise to within arm's length, turning their eye towards you. These sharks favour shallower sandy-bottomed areas, such as this 23 metre deep location.
Just as exciting were the several large schools of Military Seapike, Sphyraena qenie. I would have called them Barracuda, until reading Allen and Swainston's Reef Fishes of New Guinea. Having hundreds of them slowly circle around you is an unforgettable experience. Just don't have any bright and shiny objects on your person!
"Keep an eye open for the Crocodile Fish," we were told, "it's got the body of a flathead and the head of a crocodile and blends in with the bottom." It wasn't until the fifth day that I saw one and the description was pretty well spot on. The only reference to Crocodile Fish I could find was in Gareth Nelson's Encyclopedia of Fish, which was Chaenocephalus aceratus, a singularly ugly critter that hangs around the Antarctic. So much for common names! Looking through various books for Flathead, I finally found it in Allen and Steen's Indo-Pacific Coral Reef Guide - the Giant Flathead, Cymbacephalus beauforti.
If you are into bizarre holothurians, Family Synaptidae win. Remember those huge - and hungry - worms in the movie, Dune? Euapta godeffroyi, a metre plus in length, crawling along the sand at night must have been the inspiration.
The Smooth Flutemouth, Fistularia commersoni got my vote for the most elegant fish. It's quite a sight, several 50cm specimens hanging motionlessly, head down, in a vertical position. however the "discovery" of the trip was made on a night dive, a brilliant yellow juvenile Anglerfish, Antennarius nummifer (?), barely 2cm long.
I could just as easily "rave" about the sea snake that decided to come on board one night, the cray I nearly caught with my bare hands, the DEEP dives and a host of other sensations and experiences. (No! Enough you say!) How then could things be better in the Maldives? October is the month that Rhincodon typhus occasionally passes through. I'd like to remember 1999 as the year of a close encounter with a white shark. If you're tempted, there are a couple of spots left on the boat!
Alex Suslin

---
Dyeing

After 62 years of living without dyeing, I am trying dyeing.
Why?
My wife Judy, collected three smelly purple starfish (Patiriella brevispina) from Semaphore Beach drift on 10/8/99. The occasion was a preliminary look for a beach walk I conducted on 14/8/99.
The intention was to dry the starfish for the grand-children. In view of their vintage, I decided to drop them into 90% meths/rainwater. Surprise, surprise, a beautiful orange colour was extracted from the tube-feet of the starfish by the meths. I had hopes it might dye wool, so conferred with a dyeing friend, who sent me some washed home-spun wool and a little alum. I put the wool in some of the coloured meths and evaporated most of the meths in the presence of alum mordant, in a waterbath.
The wool did take on the beautiful orange colour and the colour seemed to be retained, despite washing in plenty of rainwater. However, my suspicions were aroused by colouring of the paper onto which I had stuck the dyed wool. Under the microscope, it was apparent that the fibres had not taken up the dye properly. The colour was held between the fibres (a wick-ed effect). I do not know how to get wool fibres dyed beautiful starfish orange.
Brian Brock

---
2000 Calendar

This is now available from Philip Hall. The price structure is as follows:
1 - 19 copies cost $15.00 each + postage and packing
20 - 199 copies cost $13.00 each + postage and packing
200+ copies cost $11.00 each + postage and packing

You can place an order by phoning Philip on (08) 82704463 or mobile 0407395566.
E-mail contact may be made to Philip at:
philip@cobweb.com.au
or to MLSSA at:
mlssa@cobweb.com.au

To save you the cost of postage and packing it might be possible to hand deliver. We would need to organise a convenient delivery address or to see if other arrangements for pickup can be made.

If payment in cash is not being made then please make a cheque payable to "The Marine Life Society of South Australia Inc." and cross it "Not Negotiable".

We would appreciate payment on delivery.

---
Lady Musgrave Island is one of the coral islands that make up the Bunker group in the southern region of Australia's Great Barrier Reef. It lies approximately 100km north of Bundaberg, the centre one of Queensland's cane growing hinterlands. The island is a true coral cay, about 14 hectares in area, and rests on the edge of a coral fringed lagoon, about 8 kilometres in circumference. A national and marine park, it contains over 1200 varieties of marine fish, and more than 200 species of soft and hard corals. The island itself is covered with trees, and is the home to migratory sea birds. The coral sand beaches provide an offshore nesting area for sea turtles, and these reptiles, with manta rays, can be found in the waters of the lagoon.
On Tuesday 6th July, 1999, Kady and I visited Lady Musgrave Island with Lady Musgrave Barrier Reef Cruises. It was my intention to dive to observe manta rays, stinging hydroids, (Aglaeophenia and Millepora spp), corals, clown anemone fish (Amphiprion percula) and green turtles (Chelonia mydas).
We arrived at Bundaberg Port Marina at 7.45am, ready for an 8.15am departure. The large Catamaran, Lady Musgrave, left on time at 8.15am, with the weather overcast, 2 - 3 metre seas, and about 120 people on board, including a group of 8, with all their water and provisions, who were camping on the Island for a few days. Once we left the shelter of Burnett Heads, the estuary of the Burnett River which flows through Bundaberg, the boat began to rock!!!! The swell resulted in a continual bow to stern cresting and ploughing between waves. Many people soon began to feel nauseous, and it wasn't long before the very courteous and helpful crew were running around handing out empty "barf bags", and picking up full ones, to deposit who knows where, but certainly not overboard.
After two and one quarter hours, we entered the quiet waters of the lagoon, surrounded by the fringed reef, with the coral sand Island on the seaward side of the reef. A brisk breeze was blowing so that the waters in the lagoon were quite choppy. The Catamaran tied up to a floating platform, on which were lockers containing the diving gear, and three freshwater showers.
Whilst the tourists headed for the glass bottomed boats, Divemaster Tom called the divers onto the platform to gear up. Whilst we donned gear and rigged and checked regulators and BCD's on tanks, he collected the dive boat which was moored nearby. We climbed aboard, and motored to a sheltered part of the lagoon adjacent to the Island, known as Manta Bay. After a briefing, and buddying-up, the four divers entered the water and waited at the anchor rope.
After checking we were all OK, the Divemaster watched us all go down the anchor rope to the white sand below, adjacent to a coral "bommie", an isolated coral "boulder", about 8 metres below the surface, surrounded by white coral sand.
The water was pleasantly warm, about 22°C, there was a slight current, and although the sun was not continuously shining, visibility was excellent for the prevailing conditions, about 20 metres.
We wandered over the corals around the bommie, where I stopped to inspect some sea whips, and observe the myriads of blue demoiselles - "blue pullers" (or damselfish) darting in and out of the plate, leaflike, bushy and staghorn acroporid corals. Some of the most abundant corals were those of the pocilloporid family, such as Pocillipora verrucosa, with its purplish wart-like growths that cover their surface. One quite striking coral, belonging to the fungiid family, Fungia fungites, (or mushroom coral) was very noticeable in some sheltered spots. It consists of one very large solitary coral polyp with a disc shaped skeleton that may be as large as 15 cm in diameter. I spent a little time watching an anemone clown fish looking concerned as I lay watching it. They are a very territorial animal, and jealously guard their home anemone - darting out towards the enemy as a warning signal.
We then dropped into a 10 metre depression, and lo and behold, in front of us was a green turtle (Chelonia mydas), tucked in between some rocks trying to avoid being seen. We stopped, but it chose to get out quickly, bulldozer-like, bashing its way through coral barriers until it reached the open water.
What were very common and spectacular were the Holothurians or sea cucumbers, the only creatures on God's earth that breathe through their bums!!!
Thelenota ananas, the "prickly red sea cucumber" was everywhere, and really grew to quite a large size. One I picked up would have been almost 60cm long!
Also seen was the "Beche-de-mer" type sea cucumber, Holothuria argus, an extremely exquisitely patterned species, and one which when antagonized shoots out a large mass of white sticky strands that contain a toxic substance holothurin, that may entrap and poison an unwary predator. Crinoids (feather stars) were also in abundance - Himerometra bartschi in particular, although a yellow colouredpecies was quite attractive and highly visible.
In amongst the corals I came across a small giant clam, Tridacna gigas. It really did stand out from the rest of the coral base with its valves partly open exposing the wavy blue-green shape of its mantle so the symbiotic zooxanthellae were able to photosynthesise and produce organic materials which the clam can use. I presume it was open wide because of the lack of sunlight.
The fish life was spectacular. Although no Manta rays appeared (to my disappointment), there were a number of spectacularly coloured fish - butterflyfish (Chaetodon melannotus), Moorish Idols (Zanclus cornutus), Sailfinned tangs (Zebrasoma veliferum) and parrotfish (Scarus spp).
A regular checking of my pressure gauge told me after about 40 minutes that I had reached maximum bottom time we were allowed. Divemaster Tom had insisted that when tank pressure reached 500 Bar, we were to group together and ascend.
Being the naughty diver that I am, wanting to squeeze out the time I had left, and having just seen a school of what I thought were barracuda, I headed off to investigate. Something grabbed my fin and pulled it off!!! I turned around to see Tom, shaking his head and wagging his finger! It was time to go up. I put my fin back on, and sadly, started to do so.
As a last delightful experience, I was joined by quite a large batfish, which did not seem perturbed at all by my presence, staying close to my mask, gently moving backwards and forwards as I ascended, as though saying "don't go up, stay here with me"!!
We went back up the anchor rope, and swam to the stern where we clambered up over the rear platform to remove out gear. Divemaster Tom very carefully ascertained we were all OK, and then ensured we signed a form to that effect. It was obvious we were not going to be left behind!!!
The wind was blowing quite strongly as we headed back to the Catamaran moored at the "jetty" platform. I washed the gear, hung it up to dry in the lockers on the platform, changed, and then collected and ate the lovely tropical lunch the staff had kept for the divers - all the "tourists" had already eaten.
Kady had decided not to dive, but nevertheless spent some time wandering around the lagoon and fringing reefs in a semi-submersible whilst I was diving.
We went by glass-bottomed boat on to the Cay for a walk through the vegetation that grows there, with its bird wildlife. Unfortunately the heavens then decided to open, so we spent a lot of Island time actually sheltering under a wildlife information guide until the rain stopped.
Back on the Catamaran, it was, sadly, time to leave. As soon as we left the sheltered waters of the lagoon, the swell took over, and once again, most of the travellers brought their delicious lunches back to the mainland as a liquid in brown paper bags. What a waste!!!!
The dive was a magic experience. My only regret that I did not see all I had intended, and that I was not able to stay longer to dive again and again and again and.............
It is so easy to forget the stupid real world when one is 10 metres under water, surrounded by the beauty of tropical marine underwater life.

I would suggest this is the real world - get into it!!!!

Evan and Kady John

---
Blast From The Past
Knights Of The Night

Part 3

Here I am again. It is Saturday arvo 1956 ( by the way if any of you have missed parts 1 & 2 of this literary work of art back copies can be obtain for a small fee. ) I am just entering my fish room (old shed got renamed now that I have an aquarium). Light's on, water must be cool, tank looks a nice green colour
( Boy can I grow algae). Time to change half the water, Oh blast one of the catfish is stuck up the bit of hose that Billy cut off his dad's garden hose for me ( cost me a green tree frog). Can't see, the hose is black.

Can't shake it out, maybe if I swing the hose around it will come out. Yes it did!! Straight into the coal bin. I grabbed him. He's all black. Spose I had better wash him under the tap before I put him back into the "aquarium". He's swimming a bit funny, hope he's alright, anyway I drag the hose in and fill up the tank. I haven't got much time, got to be down the tip by 3 when the trucks from the Warf's come to empty out (lots of good stuff).

There doesn't seem to be enough hours in the day, it's 5.30 p.m. and I have to stoke up the chip heater (ugh!! I got to have a bath). Looking out of the window I see the lights on in the shed ( sorry, fish room). Must have a look. Oh Horror!! What have I done? What's all them things on the glass? They must be parasites, better see my big mate tomorrow.

Well my big mate came round but he didn't seem to be in a good mood ( maybe me banging on his door at 7 o'clock in the morning, I thought everybody got up early on Sundays). The light was on, doesn't seem to go out much now winter is here. All of a sudden he grabbed hold of me, lifted me into the air (banged my bloody head on the roof) and said "You bloody beauty!! Strike me pink!!" "You've done it" (done what? My pants are dry) "You've had babies" (Oh blast! Dad will kill me). "Well at least the eggs look fertile" (I thought only girls had them egg things inside them). "You've have bred, and you will have to look after them" (Oh geewiz! I only kissed Nicky once and touched her left pocket on her blouse).
I remember him looking at me strangely as though we were not on the same wave length, and then he said that my two catfish had laid eggs. With a bit of luck they will hatch and I will have baby catfish ( Thank heaven for that! I didn't like Nicky that much). Well! To say I was over the moon, "Yes" you can say that.

As you wait in anticipation for part 4 I'm taking Nicky to the pictures. She's got two bob and it only costs ninepence each ( I might marry this rich kid).

Next Issue part 4 ( I can hardly wait isn't it exciting).

Barry Gooley

NOTE Barry is both the Treasurer and Editor for the South Australian Aquarium Society Inc., both of whom are thanked for allowing us to include this series of articles in the MLSSA Newsletter.


---
Rathlin Island
Part 2

SS Lochgarry

Straying off course in gale force winds on the night of 20th January 1942 the Lochgarry struck rocks off Torr Point, Rathlin Island. The 1670 ton ship then sank ½ mile off the East coast of Rathlin with the loss of 26 lives. Tragically in 1988 it claimed another two lives, one a very good friend of mine, both died while diving on the Lochgarry.
I remember my first dive on the Lochgarry vividly. We left the harbour early one Sunday morning in a thick fog with about 5 metres visibility. Tommy, our skipper, wasn't sure whether he could find the marker buoy for the Lochgarry. We all had faith in his ability especially as he had found Richard Branson after he ditched in the sea after his historic crossing of the Atlantic in a balloon.
Tommy lived up to his reputation and found the marker buoy. With the fog all around we kitted up for our dive. It was eerie, hardly a sound and fog all around. I jumped overboard and swam to the buoy, ducked my head underwater and there 30 metres below I could see the black and white tiles of the galley. Not often do you have 5 metres visibility on the surface and 30+ below.
The Lochgarry rests upright on the seabed, with the hole in her bow from the damage suffered clearly visible from the fateful night.
This rates as one of the best wreck dives for me.

SS Lochgarry
Government transport formerly of MacBrayne's Hebrides fleet struck rocks off the Mull of
Kintyre and drifted, finally sinking off the east coast of Rathlin on 21st January 1942.
Lying in 33 metres of water, upright and intact.
Strong tidal streams ensure excellent visibility, but restrict diving to slack water periods.
Chris Hall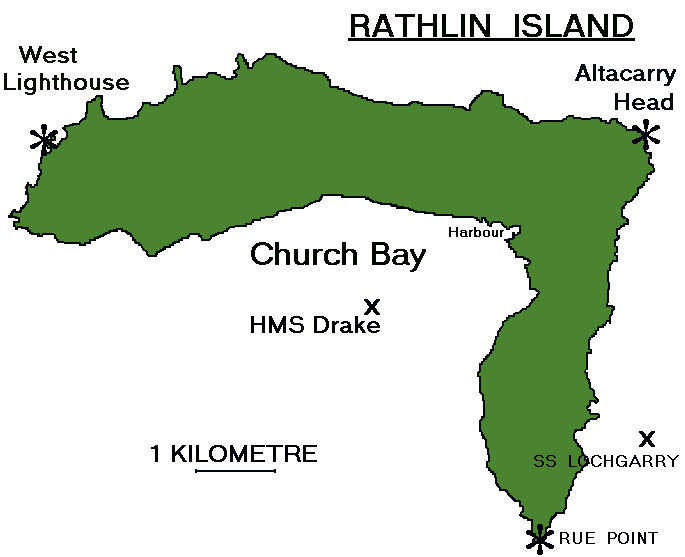 ---
The Malacological Society of South Australia Inc.
presents
The Third Australian National Shell Show
---
25th and 26th March 2000
---
MorphettvilleFunction Centre (Phar Lap Room)

Morphettville Race Course
Morphett Road
Morphettville 5043
South Australia

Plenty of free Parking available

---
For more information contact:-
Wayne Rumball Ph (08) 8381 3987 Fax (08) 8387 4956
Peter Hunt Ph (08) 8387 0812
E-mail hunt.trottpk@cobweb.com.au
Visit the MLSSA display at this show
---