Marine Life Society of South Australia Inc.

Newsletter

September 2004

No. 314

"understanding, enjoying & caring for our oceans"
---
Next Meeting
Our September meeting will be held at the Conservation Centre, 120 Wakefield Street, Adelaide on Wednesday 15th September commencing at 7.30pm.
Our speaker will be Kate Hutson. Her topic will be 'Parasite interactions between wild and farmed kingfish (Seriola lalandi)'.
---
Contents
Hallett Cove Reef Monitoring
Seadragons
The Leafy Seadragon
French Seadragon Article
The Recovery of Two of HMS Investigator's Anchors
Diving in Ireland - Diving the Forty-Foot
The Dredging of Eight Mile Creek
---
Contributors
This month our authors/contributors are Kevin Smith, Steve Reynolds, Philip Hall, Dennis Hutson, Chris Hall and Neville Skinner.
---
Fish Food Guide
Over the past two months I have included, as a centrefold, the two sides of the Sustainable Fish Food Guide put out by the Australian Marine Conservation Society.
I have included a wallet sized guide this month for everyone who is sent a hard copy of this Newsletter.
Should you want a copy then please contact AMCS at
http://www.amcs.org.au/
---
Hallett Cove Reef Monitoring
by Kevin Smith,
Reef Watch Representative
MLSSA will be taking an ongoing part in Reef Watch's "Adopt a Reef" programme. The commitment involves conducting underwater monitoring surveys at least 4 times per year. Data collected will contribute towards a greater understanding of temperate reef communities and perhaps indicate changes in reef condition due to human impacts. The arrival and spread of introduced species may also be detected.
The Hallett Cove reef was one of a range of sites included in studies of the status of reefs in the Adelaide region in the late nineties. The EPA released a report in 2003 based to a large extent on the results and reported that "the health of Adelaide's metropolitan reefs can be described as good in the south ranging to poor in the northern regions". The reef is an important site situated on a section of coast, which is generally difficult to access from land between Horseshoe Reef at Christies Beach and Seacliff reef offshore at Marino.
Situated less than 100 metres from shore at a depth of 2.5-7 metres, the reef is subject to strong wave action during storms and may be especially vulnerable to the effects of increased nutrients, heavy metals, sediments and turbidity from the storm water and treated water outlets of the expanding southern suburbs of Adelaide.
Monitoring activities will present some challenges to divers. Access is via a 5-10 minute walk either along the beach or a walking track on firmer ground. Entry to the water is from the beach although submerged rocks and onshore wind can make it tricky. Surface support from boats would certainly be of benefit. Surge from wave action will also affect the ease with which the survey work can be done as well as the accuracy of the data collected. Conditions change with the weather and the state of the tide and experience over time will hopefully suggest the best times to conduct the dives. Strong consideration will need to be given to the forecast conditions as scheduled dates approach. Easterly winds can provide easy and enjoyable diving.
Training for divers in the three monitoring techniques will be essential for participants and is available from Reef Watch. This could occur in conjunction with monitoring days on "our" reef or at other times at Port Noarlunga, which is both very accessible and frequently used as a training venue. Depending on the numbers of divers requiring training, groups or individuals from MLSSA could be trained on public training days or in sessions arranged just for us. The training is provided free of charge and a PADI dive specialty certification is available at cost price of $35 if individuals would like to apply.
MLSSA members and associates who are interested in training should contact myself directly or via the Secretary.
Calendar dates for monitoring over the next 12 months are: August 29 and November 28, 2004 and February 27 and May 29, 2005.
---
by Steve Reynolds
Photographs by Neville Skinner
Introduction
This article is just a brief description of seadragons. It mostly comes from some details that I had written for a display. My thanks to Neville Skinner for providing the seadragon photographs accompanying these details.
There are two kinds of seadragons, the Leafy Seadragon and the Weedy Seadragon. The Leafy Seadragon is so-called because of its numerous leafy appendages, which camouflage it amongst the seaweed.
Photo 1: A Leafy Seadragon
It is found only in southern Australian waters and is the most ornate or decorative of our seadragons. It is fully protected in SA waters. The Weedy Seadragon is the other kind. These are found from Western Australia to New South Wales.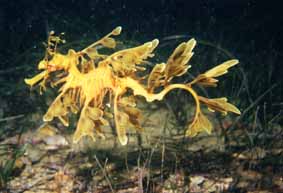 Photo 2: A Weedy Seadragon
Seadragons are related to pipefish and seahorses. They all have a tube-like snout for sucking up their food and it is the males that carry the young. Male seadragons carry eggs on their tail until the babies hatch from the eggs.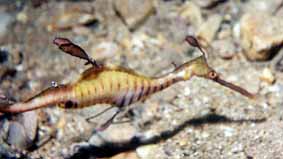 Photo 3: The tube-like snout of the Leafy Seadragon
Whilst diving at Rapid Bay jetty in 2000, Neville Skinner witnessed a diver holding a Leafy Seadragon in his camera framer so that he could take a close-up photo of it.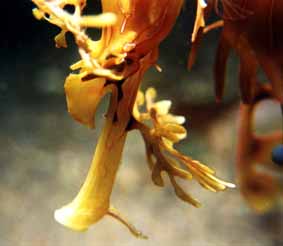 Photo 4: Diver holding a Leafy Seadragon in his camera framer whilst he takes a photo
Tourism SA's "Dive Secrets" pamphlet advises divers not to touch, chase or grab free-swimming animals (including seadragons) which may get injured, stressed or die as a result.
There is a code of conduct for diving with seadragons. It is called the "Diving with Dragons Code of Conduct". This code can be found by visiting
http://www.dragonsearch.asn.au/code/code.html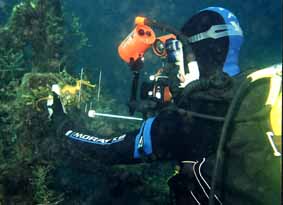 The Leafy Seadragon

By Philip Hall

They are fully protected in SA
There is a substantial fine for removing Leafies from the sea. This also applies to beachwashed specimens, they must be left on the beach. A Fisheries Dept. permit is needed to keep live or dead Seadragons.
It is the SA marine fish emblem
It has a sharp, bony, external skeleton
Leaflike appendages growing from the body, head and snout resemble its habitat
It can grow to 30cm
They live in seaweed and algae
They are only found in southern Australian waters
The male carries 100+ eggs in cup like supports on the tail where they are fertilised and need 3-5 weeks to hatch
They swim vertically and use their dorsal fin for movement and the pectoral fins on both sides of their neck for control
They feed on micro-organisms and tiny crustacea which are sucked up through their tube-like snouts
Colouration is light golden brown in the adult with white transverse lines across the face
The eyes are yellow and can move independently of each other
Their swim bladder assists with buoyancy control

These dot points were created on request for the Eco Voice Magazine for its use of a David Muirhead picture as cover picture for the June Edition (Issue 10).

French Seadragon Article

by

Steve Reynolds

In July 1999 a French aquarium magazine called "Aqua plaisir" featured an article about seadragons. The article is "Dans L'antre du dragon de l'Ocean austral…" by Pierre Constant. It mentions several familiar names such as Tony Flaherty, Scoresby Shepherd, Andrew Melville, Rudie Kuiter and . . the Marine Life Society of South Australia! The article comprises six full-colour pages featuring many photographs. It is, of course, all in French. If you would like to see a copy of the article, which was given to me by Christopher Deane, contact myself. It seems that the French call the Weedy (Common) Seadragon "le dragon commun" and the Leafy Seadragon "le dragon-algue". 'Algue' is French for alga or sea-weed. One of Pierre Constant's Leafy Seadragon photos also features in the April 2000 issue (No.28) of the French diving magazine "Plongeurs International" published by CIPI Presse. They have a web site at www.plongeurs.com .

BIBLIOGRAPHY

"Dans L'antre du dragon de l'Ocean austral…" by Pierre Constant, Aqua plaisir No.37, July-August 1999, page 66, published by Aqua Media whose email address is aquamedia@aquinet.tm.fr .

(I have now added this reference to my Seadragon Reference List (mlssa No.5036).
---
The Recovery of Two of HMS Investigator's Anchors
by Steve Reynolds
When Matthew Flinders had finished surveying the southern coast of Australia in 1802, he continued sailing his ship, HMS Investigator northwards in an attempt to chart the rest of the Australian coastline. This became quite impossible for him since the Investigator was badly leaking seawater. In early 1803 Flinders had to sail the Investigator to Timor. When he left Timor, he sailed down the coast of Western Australia to make his way back to Port Jackson (Sydney). He sailed wide of the coast to save time for the journey back and was unable to survey and chart the coastline. He only made one stop on the way back. That was at Middle Island in the Recherche Archipelago off of Western Australia in May 1803. The archipelago had been named "L'Archipel de la Recherche" by France's Rear-Admiral Bruni d'Entrecasteaux in 1792. It was named after one of d'Entrecasteaux's ships, the Recherche. WA's Esperance is named after his other ship, the Esperance. The Recherche Archipelago comprises some 105 islands and 1500 islets. Flinders had named Middle Island when he was first there in 1802. The island is situated about the middle of the Recherche Archipelago which stretches from west of Esperance to the Great Australian Bight. Middle Island is the largest island in the archipelago. Flinders had climbed Middle Island's 165m high peak to its summit on 15th February 1802 to survey the surrounding waters. It is now called "Flinders Peak". It overlooks the spectacular pink lake called Lake Hillier. The lake is saturated with salt and John Thistle collected some for the Investigator. John Thistle was the master on the Investigator. He was one of eight men who died only one week later at Memory Cove near Port Lincoln. At daylight on 21st May 1803 Flinders was preparing to depart from Middle Island but a fresh breeze started driving the Investigator towards rocks before the sails were loosed. Flinders used the ship's spare anchors to hold her. He then had to cut two anchor cables just before the ship cleared the rocks at noon. Flinders had lost both his best bower anchor and stream anchor. A bower anchor is one at the bow of the ship. The Investigator's best bower anchor was over 4m long and weighed over 1 tonne. It had giant flukes sharply offset like a massive arrow. The stream anchor was much smaller, being 3m long and weighing about 406kgs. In 1972 Doug Seton from the SA Museum organized an expedition with some of his fellow Underwater Explorers Club of SA members to find and raise the two anchors. They were both located in Goose Island Bay on 14th January 1973. The bay is so-called because Goose Island is situated in the bay, which is on the northern shore of Middle Island. The anchors were both raised up by the lighthouse ship Cape Don on 19th January 1973. They have now been preserved and restored. The best bower anchor is now located at the SA Maritime Museum at Port Adelaide. The stream anchor was placed in Canberra along with an anchor from James Cook's Endeavour.
REFERENCES:
My references for this article included:-
"Let's Go for a Dive – 50 years of the Underwater Explorers Club of SA", edited by Peter Christopher and Nicholas Cundell, 2004.
"The Skindiver's Underwater World" by Graeme R. Dodd, Fin-sport Publications, 1974.
"Matthew Flinders" by Thea Stanley Hughes, Movement Publications, 1991.
"A Hundred Islands in a Lonely Sea" by Howard Whelan, Australian Geographic No.27, July to Sep. 1992.
---
Diving in Ireland - Diving the Forty-Foot
by Chris Hall
Having completed the five obligatory snorkels I was now ready to start diving. After a few disastrous attempts to have my first dive, mainly due to the weather, things started to look up. The weather had started to improve and the sea state was improving from day to day. The dive program for the coming dive season was finalised and the Forty-Foot was first on the list for the following Sunday.
All keen and raring to go, four novices and a couple of experienced divers including the DO assembled at the Forty-Foot. This being the best shore dive for novices in Dublin meant that the area was swarming with divers of all levels of expertise. There were divers everywhere trying to kit up, worse than Rundle Mall on Christmas Eve.
Having got there early I was lucky enough to find a place to park and kit up but for those that were a little late it was pandemonium.
I struggled into my new wetsuit, put on my bootees and knife then had to wait around for the DO to check that I'd filled my pony bottle for my ABLJ correctly. Having been checked out by the DO we moved to an assembly point where we were assigned buddies and carried out buddy checks. We were then marched down to the entry point. One of the instructors entered the water. The DO on shore and barking orders like a sergeant major had us all assemble in single file, then we stepped off into the water one by one like a bunch of penguins. The incessant barking of the DO continued – give the OK signal, stick with your buddy, and put more air in your ABLJ. It was like being back in the military again.
Eventually we were all in the water, including the DO bobbing around on the surface and still bellowing. No need for him to put air in his ABLJ he had enough hot air to fill a barrage balloon.
We were the told to clear our regs, dump air from our ABLJs and given the signal to descend.
This is where the real fun began. For most of us this was our first dive, some of us had done a couple of shallow dives but nothing bellow five metres. Nearly every novice experienced problems clearing their ears, so instead of having a group of divers sitting on the bottom, some were on the bottom, some mid water and some on the surface. Eventually all except one were able to clear their ears and so began a life of underwater experiences.
The dive was memorable if only for the experience of being able to breathe underwater. Most of the dive time was taken up buddy breathing, giving hand signals and orally inflating your ABLJ. Having completed approx. twenty minutes bottom time it was time to surface. We surfaced close to the exit point so there was no need for a long surface swim back to shore.
Once assembled back on terra firma we were given a debrief which seemed to go on for ages especially as it was mid April and still very cold. Having survived all of this it was back to the car and some warm clothing. Once dressed the DO came around to check on everyone and invite us back to the pub for a pint. The best thing he'd said all day.
For the first article on the 40 Foot you will can refer to the AUGUST 2003 Newsletter, No. 302 available on our website. (Ed.)
---
Prepared for a CCSA Brief by Neville Skinner
Pictures by Neville Skinner

The Dredging of Eight Mile Creek
Eight Mile Creek was so named because it is located eight miles to the east of Port MacDonnell. Eight Mile Creek is the interconnection from Ewens Ponds to the sea, approx 2.3 kilometres in length, and as such it is a critical part of the greater Ewens Ponds system, carrying something in the order of 100 Mega Litres (approx 3 m3 per second) of water to the sea each year from the Ponds.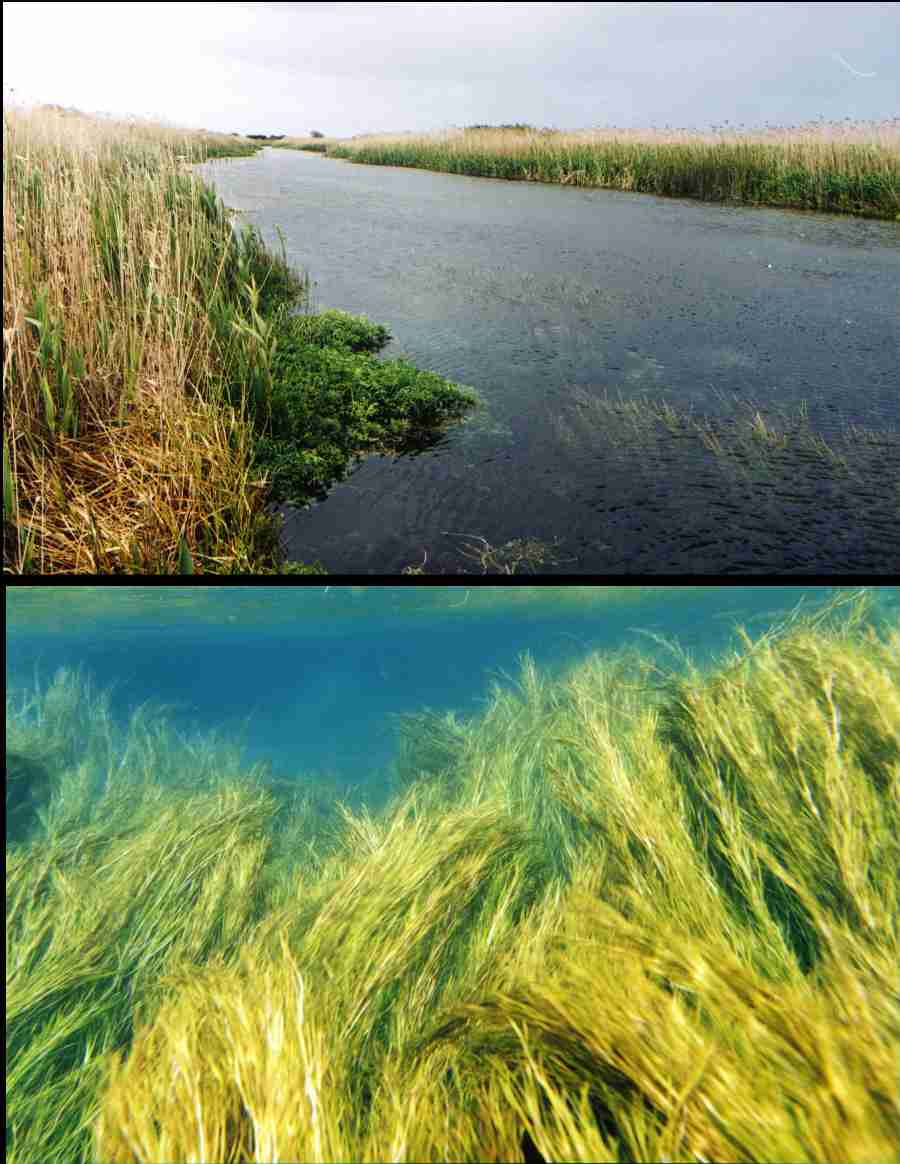 Pre dredging
Ewens Ponds consists of several freshwater ponds in series, formed by water pushing up out of the ground in a series of springs that actually continue past the Ponds and down Eight Mile Creek itself. The Ponds are fairly large in size, each extending to a depth of about 9-12m, and spread over a distance of around 300-400m, interconnected by narrow channels.
At one stage the third Pond contained a cave; today only the remnants of this remain, as it was virtually destroyed through the use of explosives used for the fishing of native freshwater eels some 30-40 years ago.
The Ponds, their interconnecting channels, and Eight Mile Creek provide an excellent location for snorkellers and divers alike, who visit the area all year round to admire the exquisite beauty of the site.
This beauty is provided by stunning waterweeds of various shades of greens and yellows, intermingling with the blues of the water, the browns and whites of the mud and limestone bottom, and the natural sunlight.
Visibility seems to reach infinity, as one can see as far as possible in the crystal clear waters containing various species of fish including the protected Southern Pygmy Perch, and the protected (and threatened) Ewens Pygmy Perch that feed on small shrimps and other invertebrates. The Southern Pygmy Perch can be found amongst the weed that grows in the creek as they are not strong swimmers, while the Ewens Pygmy Perch has a preference for the strongly flowing water. (The Ewens Pygmy Perch is only found in a very small area of the lower South East of SA, and in the Glenelg River system.) There are also Galaxias fish, native freshwater crayfish, marron and several other species of which I do not yet know the names.
About 40-50 years ago drains were run into Eight Mile Creek in order to lower the water table, so that the surrounding wetlands could be converted to dairy pasture. Today the dairy farms still exist, and so do the drains. A plaque at the entrance to Ewens Ponds marks the original water level of the area.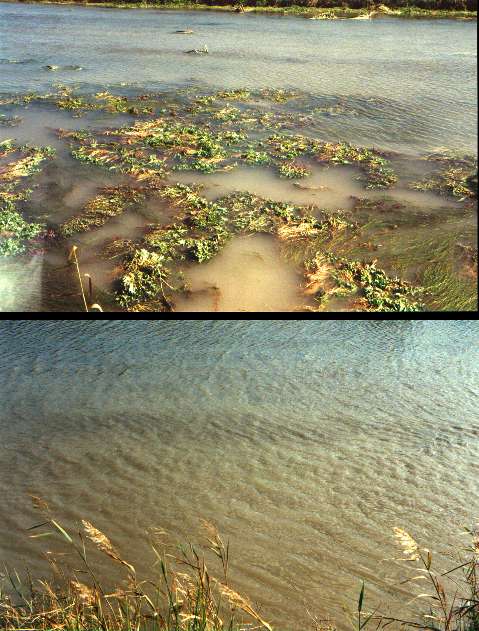 Post dredging
In order to maintain the drainage system our predecessors started the practice of dredging Eight Mile Creek, from the Ponds to the sea, as the removal of the waterweed causes the water to flow significantly faster. This results in a drop in the water level, which in turn more effectively drains the surrounding land.
Imagine my surprise last year whilst snorkelling down Eight Mile Creek from the Ponds to sea, to discover at a point about one-third to one-half of the way down, that the stunning beauty of the creek suddenly and dramatically turned to silty water, green from the algae contained within it.
How could this be?
The South-Eastern Water Conservation and Drainage Board, with approval from the Government, still continues the practice of dredging Eight Mile Creek. I know of no other creek of such diversity and beauty, and which is visited by so many tourists, including many overseas visitors.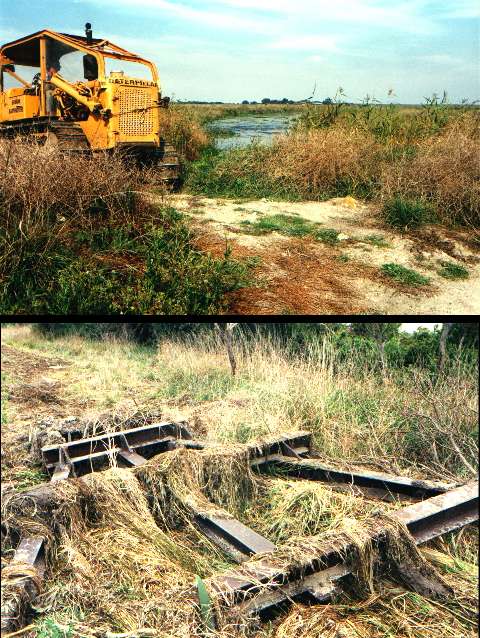 Try to imagine two caterpillar tractors, one on each bank of the creek, pulling between them a large steel cable about 20-25mm in diameter, to which is connected a dredge-shaped drag made from large steel girders possibly weighing as much as two tonnes. Try to imagine these tractors pulling that dredge up and down the creek for two days, at a speed of about 4-5 kph, under a 20-30cm high wave of water.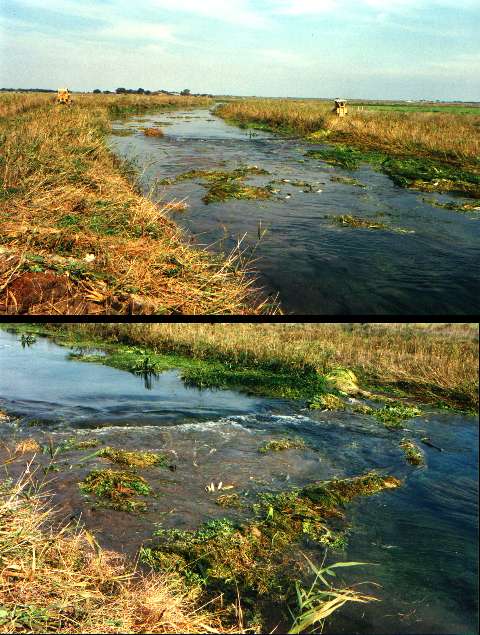 And try to imagine the devastation as the unique native waterweed containing the threatened and protected Pygmy Perch is carried out to sea, and then washed back onto the beaches by the tide, so that almost a kilometre long strip of beach is covered in rotting native waterweed.
Try to imagine the pelicans, and the 600 or so seagulls, along with other waterbirds, as they fight for a feed of our endangered freshwater fish.
And try to imagine not being sent to gaol if you or I did that!
This method is currently employed to clear a 1.2km section of Eight Mile Creek of its vegetation, which totally devastates that section of the creek from the Spencers Pond (man-made) outlet to the bridge adjacent to the mouth of Eight Mile Creek. (I understand that until fairly recently Eight Mile Creek was dragged all the way from Ewens Ponds Conservation Park.)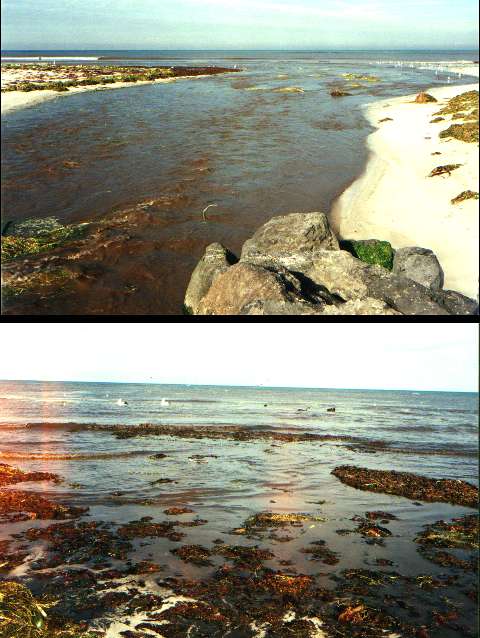 Entry to the sea

This is a practice of the past that was acceptable in the day when the land was being cleared of anything resembling trees and scrub. Why is it that this practice is still allowed long after land clearing has been legislated against?

This must not be allowed to continue within any part of Eight Mile Creek; it must surely be possible to drain the adjacent land through means that do not interfere with this environment.

The draft Management Plan of the South-Eastern Water Conservation and Drainage Board 2003-2006, listed amongst its 'Statutory Functions and Obligations' (South Eastern Water Conservation and Drainage Act 1992), "The enhancement or development of natural wetlands and the natural environment generally in the South East".

I believe the South-Eastern Water Conservation and Drainage Board should receive our every encouragement in this endeavour.

Your help in changing this situation is sought; the Government must realise this practice is no longer acceptable.
---