MLSSA
NEWSLETTER
September 1999 No. 259
"Understanding, enjoying & caring for our oceans
This Newsletter
Copyright - the contents of this Newsletter are copyright and may not be reproduced without prior permission of the Society.
Disclaimer - The opinions expressed by authors of material published in this Newsletter are not necessarily those of the Society.
Subscriptions
You can join the Society or just subscribe to our Newsletter and Journal. To do either, please download and complete the form in this webpage and mail it with the appropriate payment to:-
MLSSA Inc.
120 Wakefield Street
ADELAIDE 5000
Please send all general correspondence, subscriptions or Newsletter and Journal contributions to this address. Correspondence may be marked to the attention of the Secretary. Subscriptions may be marked to the attention of the Treasurer. Newsletter or Journal contributions may be marked for the attention of the Editor.
---
Next Meeting
The September General Meeting will be held on Wednesday 15th at the Hallett Cove R - 12 School. (The same venue as last month.) A map of the school and the surrounding area is below. The entrance is from Sandison Road.
We will combine with the Southern Diving group, SODS, for this occasion. There will be no General Meeting business discussed.
Starting at 8 pm we will spend 30 minutes or so looking at the aquarium setup. Then we will have our first speaker, Mr Michael Wescombe-Down who will be explaining a shark defence system for divers. Following the tea/coffee break David Muirhead will show some of his excellent slides of marine life.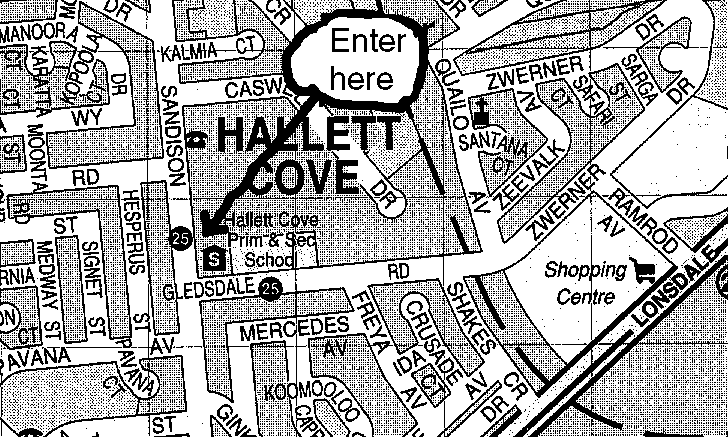 ---
2000 Calendar
We have decided to publish a calendar for the year 2000.
We hope everybody will assist with this project by both purchasing them and trying to sell them to friends, acquaintances and anyone else you can think of.
They cost $15 each with discounts for 20 or more and will be ready by the 1st of September for anyone wishing to send them overseas as Christmas gifts.
Please stress the fact that the calendars are entirely South Australian, both in content and production.
Any profits made will go towards the 2001 calendar.
---
The wreck divers Mecca.
Rathlin Island lies in the North Channel which separates Northern Ireland and Scotland. It is three miles from Fair Head, which is near the Giant's Causeway on the North Coast of Northern Ireland and fourteen from the Mull of Kintyre on Scotland's Kintyre peninsula. The island is eight miles long by two miles wide.
Its most famous claim to fame is Bruce's Cave where it is reputed that in 1306 Robert the Bruce sought refuge from the English and was inspired by a spider spinning its web.
For divers its claim is there are about 46 wrecks around a coastline of only a few miles. Some of these wrecks are in near pristine condition but lie in 60 - 80 metres.
The two most dived wrecks are HMS Drake and the SS Lochgarry. HMS Drake, a cruiser of 14,100 tons was torpedoed during World War 1. She lies in 18 metres in Church Bay. The wreck is broken up, mainly due to salvage operations, but large areas of the wreck remain intact including some of its 6 inch guns.
The Drake is great for night diving, shallow and with plenty of marine life and also a number of conger eels gliding in and out of various hideouts throughout the wreck.
More next Newsletter on the Lochgarry.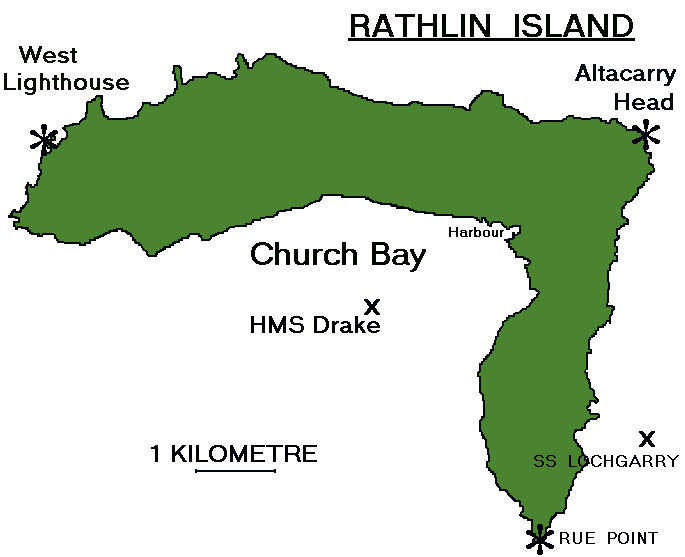 HMS Drake
14100 ton heavy cruiser torpedoed by U-79 on 2nd October 1917.
Lying in 18 metres of water in Church Bay, Rathlin Island.
Wreck is well broken up, having been salvaged and blown up several times by the Royal Navy.
Diving conditions are good with weak tidal streams and good visibility.
Chris Hall
---
Funding Confirmed For Further Ecological Study Of Leafy Seadragons
The next phase of scientific research into the ecology of leafy seadragons has been confirmed with the announcement of a Coast and Clean Seas grant to Dr Rod Connolly (Griffith University) and Dr John Keesing (South Australian Research & Development Institute). The scientific aim of this two-year program is to measure movement of individual seadragons. It will expand the previous study of movement funded by the South Australian Wildlife Conservation Fund, by tracking movement of a greater number of seadragons and doing so at different times of year. Many of the interesting biological and ecological questions that arise depend on knowing how much dispersal of seadragons there is between different locations. The results of this study are to be incorporated into a management plan for selected areas inhabited by leafy seadragons, with the overall effect of ensuring their protection.

Dr Rod Connolly

Griffith University

(This article was extracted from The Dragon's Lair Vol. 4, No. 1 July 1999.)
---
The Flora
&
Fauna
Of
Ewens Ponds
In my article "Ewens Ponds" in the January 1998 Newsletter (No.240) I wrote a little bit about the flora and fauna there. I briefly mentioned the pond vegetation when I said "The growth of weed in the pond is very beautiful". The recently released management plan for the Ewens Ponds Conservation Park gives more detail about the pond vegetation. Here is a list of the species mentioned:-
Water ribbon, Shield pennywort, Streaked arrowgrass (two species), Watercress and Spike-rush. Blue-green algae and the freshwater red alga Batrachospermum both get mentioned as do the scientific names of other algae and plants - Anabena, Oscillatoria, Lyngbya & Sium latifolium. The moss Fissidens rigidulus is found completely submerged at Ewens Ponds even though the genus is usually found within the spray zone of waterfalls.
My article in January 1998 also said that "I saw some schools of small, beautiful fish, a few yabbies and crabs, and a duck". The article also mentioned that Australian Grayling and Ewen Pygmy Perch had been recorded in the ponds and Neville Coleman said that the freshwater crayfish Euastacus bispinosus, sponges, hydroids, shrimps, frogs and terrapins were also found there. The management plan for the park lists some of these creatures in detail but omits others. Rats, mice, foxes and rabbits are land creatures that are found in the park. Seven frog, froglet and toadlet species are listed, as are ten fish species.
My article "Endangered Freshwater Species Protected In S.A." in the July 1998 Newsletter (No.246) referred to the Ewens Pygmy Perch and the River Blackfish. Both these species are found in the ponds and are protected species. A freshwater mussel is the only mollusc listed in the management plan. The only crustaceans listed are three species of crayfish or lobster. The freshwater cray Eastacus bispinosus is called the Spiny Lobster rather than the Two-spined Cray. The other two crays listed are the Burrowing Crayfish and the Freshwater Crayfish (Geocharax Sp.). The crustaceans and mollusc are said to be "potentially threatened". No crabs are mentioned! As for the duck that I saw, many aquatic birds are frequent visitors to the park including the Pacific Black Duck, Swamp Harrier and Straw-necked Ibis.
Steve Reynolds
---
The Fisheries & Aquaculture section of the Department of Primary Industries & Resources SA and Veterinary Pathology Services have completed pathology tests on one of two beach-washed seadragons found by Dragon Search participants during the pilchard die offs. Large numbers of weedy seadragons washed up along South Australian beaches late last year associated with the beach-wash of dead pilchards.

Pathologists tested gill and liver samples from a weedy seadragon found freshly dead at Nora Creina in the south-east of South Australia during the pilchard die offs in December last year. The second freshly dead seadragon reported to Dragon Search from the pilchard die off period at Streaky Bay is currently being tested.

The Nora Creina animal was in good condition with moderate fat stores in the abdomen and a large cluster of eggs was present. Gills were congested with some mucous on the surface. Numerous protozoan Thrichodina gill parasites were present, (as well as possibly some helminth worms). The pathologist mentions that Thrichodina are relatively common in water and can be present in gills without serious consequences. However they can multiply on animals under stress and can contribute to gill damage with secondary bacterial infection occurring.

Most Thrichodina, are found as commensal parasites on aquatic invertebrates, fish, and amphibians. These organisms are characterised by the presence of "teeth" that are used to attach the organism to its "host." That gives them a characteristic (and beautiful) appearance. If you want to view images of these sorts of parasites, visit the image gallery of the parasites at the University of Ohio website &lt http://www.biosci.ohio-state.edu/~parasite/trichodina.html.

For information on fish and other parasites visit the University of Missouri College of Veterinary Medicine website

< http://web.missouri.edu/~vmicrorc/Byhost/Fish.htm

As mentioned, presently there are no pathology reports for the other specimen from Streaky Bay. From the results so far any link to a virus was undetermined. Whether there is any correlation with stress related to breeding, or brooding animals moving closer in shore and thus being more susceptible to storm events will need more examination of national trends from the Dragon Search database. Dragon Search would like to take this opportunity to thank all the people that reported and donated beach-washed seadragon specimens.

Tony Flaherty

MCCN & Dragon Search (SA)

(This article was extracted from The Dragon's Lair Vol. 4, No. 1 July 1999.)
---
Wildlife Australia
David Muirhead has donated a copy of the Autumn 99 edition of "Wildlife Australia" to our Society library. This issue features several of David's slides including that of a Leafy with eggs which was on the front cover. A shot of the same Leafy appears on both the "Contents" page and the "President's" page. There is an article on pages 12 to 16 that features six of David's seadragon photos. The article titled "Searching for dragons - the enigma of southern waters" was written by Darrin Ratajczak. Darrin writes about Leafies and Weedies, research by Rod Connolly and the Dragon Search project. He also mentions the successful rearing of juvenile seadragons from captured egg-bearing males. David's name is mentioned some five times in this full-colour magazine. The Marine Life Society gets two mentions and myself and the Conservation Council of SA both get a mention too. I was rapt to have my name there as having "conducted the initial research that led to the formation of the Dragon Search project". The Marine Life Society is said to be "a non-profit conservation group that focuses on the protection and conservation of South Australian marine life". David's Horned Blenny slide is featured on page 24 as part of a six-page centre-spread of the best images from the Australian Wildlife Photographer of the Year competition. The 50-page "Wildlife Australia" is a Queensland Museum publication and retails for $5.95. Congratulations to David and many thanks for donating this magnificent magazine for our library (MLSSA No.5037). Darrin's article has now been listed in our Seadragon Reference List (MLSSA No.5036).
Steve Reynolds
Library Officer 1999-2000
---
Dragon Search Website
The National Dragon Search website is soon to be launched. Anyone who has ever wanted more information about Dragon Search or seadragons in general will find the website a most useful resource. Seadragon Sighting Forms can be downloaded in electronic format, along with all of the past issues of The Dragon's Lair, a photo gallery of leafy and weedy seadragon images, detailed information about seadragons and much more. The Dragon Search website address is:
It is expected the site will be up and running by mid July. Dragon Search would like to thank 'the.net enterprises' for hosting the Dragon Search website. the.net can be contacted on ph: (08) 8410 5443, or via their website
<http://www.tne.net.au/tne1999/ index.html
---
Giant Cuttlefish
During April to August each year, Whyalla hosts a magnificent breeding ground for the Giant Cuttlefish. I was lucky enough to go diving with these magnificent creatures off the fence line at Santos. Before the dive I was feeling apprehensive (Whyalla fishermen tell tales of great white sightings quite frequently) but as soon as my face entered the water, all apprehension dwindled. Before me were literally thousands, of the creatures displaying natural behaviours including breeding, male defensive behaviours while protecting the nest, nest selection and egg laying. There were so many of these creatures that by the end of my dive I was actually missing half of them due to their ability to blend with the sea bed.
Last year the population was almost destroyed by professional fishermen and following appeals by local divers to the government the site has been granted a total ban for the catching of cuttlefish over the next two seasons. However, local knowledge has it that fishermen still sit on the edge of the ban site and catch excessive amounts of these creatures for bait and human consumption.
A few divers in Whyalla are trying to educate people about this unique site, and with luck it will be declared a total ban area for more than two seasons. Take a look at this website -
http://www.cuttlefishcapital.com.au
and if anyone is passing through Whyalla during the winter months check out this unique dive site.
Amanda Hart
---
Edithburgh Street Fair
MLSSA has been asked to put up a display on Sunday 3rd October during the October Long Weekend. We have been offered a site for a tent and asked if we could put divers into the water to help show the recreational uses of the jetty.
We thought that an aquarium could be set up and any creatures found could be displayed, calendars could be sold and a display of photographs from the Photo Index put up.
Any other suggestions as to the display are welcome. If anyone could assist on the day then please contact me.
Philip Hall

---
Clean Seas project launched
A three year "Clean Seas" project in which Flinders University will play a major part was officially launched in Port Lincoln in July.

The $3.8m project, which includes $1.8m from the Federal Government, will result in cleaner coastal water and increased water supply for Port Lincoln as well as creating new economic development in the area.

The project includes developing ways of treating waste water from the local sewerage plant, stormwater drains and a fish processing plant to allow it to be put to good use.

Another major objective will be to establish a refuse scheme for sewerage effluent and expand a rejuvenated coastal wetlands system.

Flinders research scientists from Biological Sciences, Earth Sciences and Environmental Health are providing scientific support for the project which will be based at the University's Lincoln Marine Science Centre.

Professor Stephen Hall of Biological Sciences gave a presentation on the various scientific techniques to be used in the project as part of the launch.

The other partners in the project are the City of Port Lincoln, SA Water, Lincoln Lakes Development Company, the Environmental Protection Authority of SA, Proper Bay Road Fish Processing Factories, Shellfish Industries, Eyre Peninsula Regional Development Board and Wambiri Inc.

You can usually find "On Campus" at:

http://adminwww.flinders.edu.au/PRIO/OnCampus/

Welcome

We extend a cordial welcome to Michael Connell who joined MLSSA at the end of July. We hope to meet up with him at some of our general meetings and dives.
---
A Blast From The Past
Knights Of The Night
Part 2
Here I am again (O'Joy) with part 2, for those who missed part 1 in last month's mag. You can always wait till the book comes out (gunna be a best seller), or for the cheap skates you can collect all parts and have them bound in leather with a nice velvet cover.
Anyway out to the shed with my new mate to put my two catfish into the tank. "Well" said he, "It's an interesting set-up, to say the least" (he means what a mess). "Have you ever thought about putting a filter in your tank?". (What does he think I'm rich?). "Yes" I said "one day I will when I save enough money or dad marries a rich widow" (short pain behind left ear, guess who's behind me?). "Listen," said me new mate, "if your dad lets you, what about doing odd jobs for me on Saturday mornings and with my help we will set your tank up properly." "Yess can I dad? I'll be good." (Crossing my fingers behind my back, you can tell a fib and it doesn't count if you have your fingers crossed).
Well, after four Saturdays work , it was time to start on my new tank. First empty all the water out of the tank. The copper ( Oops, I mean policeman) pointed out the oily film on the water. "This is what has been killing your fish" he said. I thought it was all right, showed pretty colours in the sun. We then scrubbed the tank and were about to wash the blue metal that I had collected from the council yard, when he threw it away ( I risked my life and limb for that) and produced some River Sand from his kit bag. "Wash this and we will place it in the tank". (Happy now). O' by the way my two catfish have survived and doubled in size by this time (amazing). There was one male and one of the other kind (O' joy my little face beamed). Now the water we got out of the goldfish laundry tub.
Out of the kit bag came an immersion heater with which we heated the water to 74F. The catfish were placed in the tank. He then produced six plants out of his kit bag. The plants were long tall ones, Valoonaserearer, I think that's what he said, and this funny looking contraption with cotton wool In it. "Now," he said, "we have to keep the fish warm and the water clean. Also we have to have a light over your tank." (Did he have all this stuff in his kit bag?) "No, Well Yes, Sort of." He produced an inner tube from a truck (Boy, I can go to the beach which this --- no I can't ), he got dad's try pump out of the 'Willis' and he pumped the tube up, it was huge. (Must have been a big truck!) He placed a clamp on the tube and then he took the valve out ( that thing that sticks out ). He then put some rubber tubing on the valve and ran it into the tank. He opened the clamp slightly and hey presto air bubbles ( guess who had to pump the try up every morning and night).
Now for heating (kit bag again). He produced a long rod with a black base and a glass cover. Inside this contraption was a light bulb and a cord with a plug on the end. He placed this thing half way into the water (just the glass cover, silly) plugged it in and turned it on. Well that's a funny way to have light (wrong), as he explained the heat from the bulb would heat the glass cover which would in turn heat the water (what's he think, I'm silly?) I was, because it worked. We stood back and savoured the aquarium (not a tank any more). Look at what I have done, oops sorry, what we have done.
Well I did some work, dad got a heat sensitive thing sat on the side of the tank (with the help of some sticky stuff) cut power cable to the light! Big blue flash! Dad's gone white! Saying words that I never heard before, then turned the switch off on the wall ( I asked him to do it again but he said some of them words again). Well it worked 76ºF, the water kept clear. With the light on ( could only see in the aquarium when the light was on heating the water).
O'blast, got to pump that rotten tube up again.
Don't miss part 3. It's all about my two cat fish.
Barry Gooley
NOTE Barry is both the Treasurer and Editor for the South Australian Aquarium Society Inc., both of whom are thanked for allowing us to include this series of articles in the MLSSA Newsletter.

---